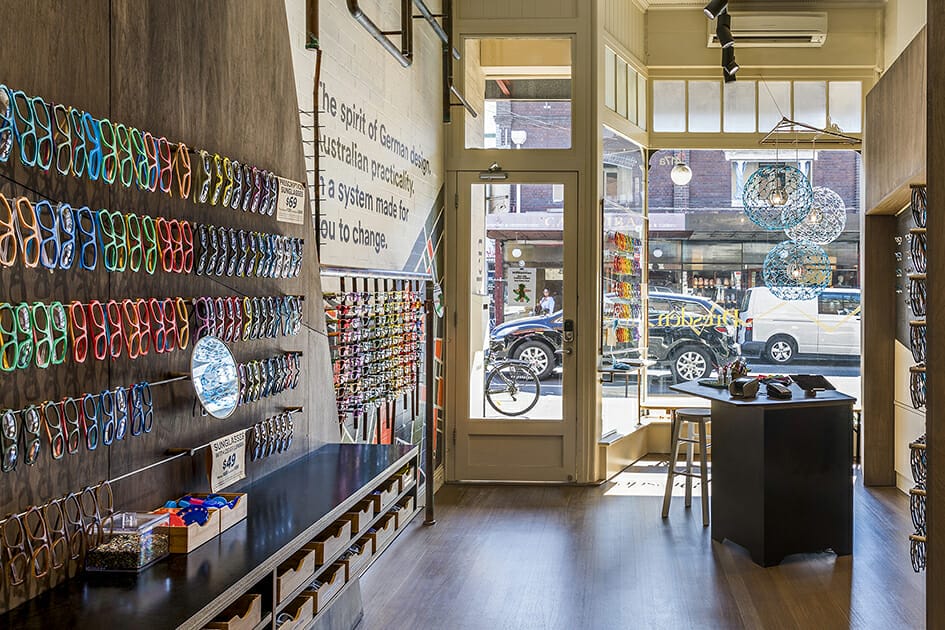 Dresden isn't your typical eyewear brand. The company has a strong commitment to the planet and its people – crafting playful eyewear in Australia from recycled and recyclable materials – and ensuring it's accessible at an affordable price, especially for people most in need.
"We're Australians, inspired by German design and craftsmanship, making our own frames right here in Australia with recycled and recyclable materials," states the Dresden website…it's a brave business concept, but one that's taking off against all odds.
The founders of this unique Australian company are Bruce Jeffreys and Jason McDermott. Prior to getting started, neither of them had any experience in optics – but they both had equally poor vision, and a frustration with existing eyewear.
"Essentially, we were two frustrated glasses wearers, because let's face it, glasses are annoying. You lose them, you break them. You scratch them. You forget them. They're fragile, expensive and hopelessly inconvenient," said Bruce.
The two were itching to come up with glasses that were more functional, versatile and dependable… but they had to be fun and at a price that enables wearers to afford backup pairs as well.
"We love the idea of craftsmanship – where there is a direct connection between making a product and the person it is being made for – in an age of outsourced, off-shore production, we believe this has been lost to a great extent," Bruce said.
[/vc_column_text][/vc_column][/vc_row]
glasses made from rubbish are going from a dream to reality. It's the very essence of 'again finding value' while helping clean up our oceans
When it comes to values of design, Jason said they were inspired by Germany. "Germany has maintained its traditions, yet has a hypermodern edge. "We also wanted to achieve the simplicity of a single frame style – one that works for men, women and children – made in multiple sizes. We began by with working with industrial design specialists to research Australians' face and sizes and test frame styles via 3D printed prototypes.
Family, friends, neighbours and strangers modelled the frames and gave feedback, and the overwhelming favourite was the classic, enduring style that has come to be our universal frame."
Despite working with a classic frame shape, Dresden is able to create completely different looks for customers by enabling them to interchange parts – there are four frame sizes and four arm lengths as well as a multitude of colours, materials and Zeiss lenses.
"We evaluated loads of lenses for optical quality, scratch resistance, lightness and other non-negotiables before settling on Zeiss," said Bruce.
VENTURING INTO RECYCLING
Creating a good looking interchangeable frame wasn't the only objective. For Bruce and Jason, sustainable use of materials was also top of mind.
"We want to be part of the solution to overcome the fairly daunting environmental challenge the world is facing. We believe in treating plastic waste as a valuable resource. Every small step we take to reduce our impact is helping unclog the ecosystem of discarded plastic, and giving a smarter, new purpose to those materials," said Bruce.
"Our main range is made from a recyclable Swiss nylon called Grilamid TR-90, a Polyamide 12 (Nylon 12) that we chose because it's the Rolls Royce of nylons – ultra durable and beautifully lightweight.
"However we also wanted to develop a range made from recycled materials. "We extensively researched the materials we wanted to use for our frames, arms and pins – marine waste, milk bottle lids, coconut husks, cardboard pulp and plastic keg lids were some of the products we have looked into. When talking to industry about the possibilities, we received a lot of positive feedback however as soon as they realised how strong the finished product needed to be, and how flexible, they tended to back away," he said.
As luck would have it, Bruce and Jason came across Astor Industries, a small manufacturing plant in Western Sydney that until then had been totally immersed in manufacturing car parts. "The auto-industry was shrinking and with it, their business, however we spoke to them about the idea of taking on the manufacture of our frames and it's turned out to be the perfect partnership," said Jason.
"Now we're working with them to mould our frames from a high quality recyclable plastic and experimenting with a range of recycled materials.
"We recently struck gold – we've trialled making frames from 'ghost nets' discarded by trawlers and washed up on the beaches of Arnhem Land. The same amazing durability that is so devastating to sea life makes this nylon ideal for us, as it's high performance and quite stretchy. And a super-high proportion of the net material can be recycled.
"So now, glasses made from rubbish are going from a dream to reality. It's the very essence of Wiederverwertung (again finding value) while helping clean up our oceans."
But the process doesn't end there. Dresden recycles its plastic manufacturing waste by granulating it and feeding it back into the production process, creating a zero waste, closed loop system.
"We're thrilled that so far we've saved 436kg of plastic from going into landfill which, at 25g per Dresden frame, is over 17,000 frames," Jason said.
MAKING EYEWEAR ACCESSIBLE
A major part of the Dresden philosophy is to make quality optics and clear vision accessible to all. To this end, last year? The team built a mobile trailer which they take "on tour" to regional centres that don't have ready access to eye care. Vision testing takes place inside the trailer and customers are able to choose their frame and have the lensescut and fitted within about an hour.
Dresden also supports Eyes4Everest, by providing single vision spectacles to volunteer optometrists who trek through Nepal several times a year checking the vision and providing eyewear and cataract surgery to Sherpas and their families.
Dresden currently sells its frames through its own practices in Sydney and Melbourne, and has plans to roll out up to 80 practices throughout Australia. Additionally, plans are in place to expand into Canada and New Zealand and boost its online offering. Bruce and Jason are exploring opportunities to open in developing markets such as India, where they hope to sell glasses at a price point of closer to AU$10 a pair.
"There are billions of people who need glasses but don't yet have them," said Bruce. "We hope to make a difference to the lives of at least some of these people by re-using plastic waste to make quality eyewear that's affordable."