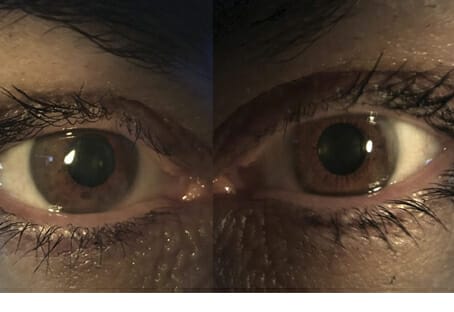 Unusual disorders test diagnostic skills and remind us all of the power of collaborative care to change lives.
In walks your next patient. Rosa (not her real name) is an office worker in her late 40s. She is warm and friendly, but it is obvious that she is extremely worried about her eyes.
Rosa gets tested because she is concerned that her vision has progressively deteriorated in her right eye over the last few weeks. She also sees haze, especially at night time. In Rosa's words, she is seeing "double of everything" out of her right eye, and lights at night look like "they flare up like the shape of an angel wearing a puffy skirt".
Rosa states that the vision in her right eye used to be as good as the left. She presses you about this: what can possibly cause such a drop in vision so quickly? Having only a prior history of mild reading glasses, you ask some questions, do some tests, and they find the following:
Rosa's visual haloes have disappeared, along with her mysterious corneal ectasia angel with the puffy skirt
There is no history of eye rubbing or keratoconus in the family, no flashes or floaters, no medication, alcohol, drug use, and her medical history is unremarkable.
Entering Visual Acuity at RE 6/60 (she pinholes to 6/12); LE 6/6 OU 6/6.
Best refraction at the time shows:
RE +8.00/-10.00 x 90 6/9-2
LE +1.75/-0.75 x 139 6/6 Add +2.50
Over a period of two years, Rosa had seen numerous eye care professionals. Now, three years on, she has been referred to see me by her new ophthalmologist. Vision in her RE by refraction now corrects to only 6/60.
Advanced testing results find:
On slit lamp her cornea appears to exhibit mild corneal haze, and even her left eye appears to exhibit some peripheral corneal haze at the limbal junction (Figure 1a and 1b). Rosa's pupil looks mildly asymmetric
on her RE.
No retinal problems on dilation
Rosa's Oculus Pentacam and topography results (Figure 2), and when she sees the Oculus refractive map on screen, she lights up and says, "That's exactly the angel shape with the puffy skirt I see!"
Additionally, Rosa has the following typical presentations associated with her condition:
Presentation in early to middle adulthood
Women present significantly more than men (as high as 5:1)
Presentation is almost always unilateral
Corectopia (pupil displaced from its central position)
Peripheral anterior synechiae
Corneal oedema
A 'fine, hammered silver' appearance of the corneal endothelium
Patients usually present with raised intraocular pressure and are very high risk for unilateral glaucoma. (Rosa's ophthalmologist had her glaucoma under good management with her intraocular pressures at RE 13mmHg; LE 15mmHg).
Diagnosis and Management
Rosa was diagnosed with Iridocorneal Endothelial (ICE) Syndrome.
To manage ICE Syndrome the following is essential between you and your co-managing ophthalmologists:
Gonioscopy to check for peripheral anterior synechiae
Endothelial cell morphology test to measure endothelial count, function and morphology (Sydney Eye Hospital performs this)
Corneal pachymetry as a measure of corneal oedema
Referral to ophthalmology for co-management for progressive corneal endothelial changes as well as very close glaucoma assessment, especially in the affected eye
Visual management of symptoms – specialty contact lenses to minimise the impact/symptoms of monocular diplopia, corectopia and high levels of corneal ectasia
Hypertonic saline to minimise corneal oedema and improve vision
Rosa had previously been fitted with hard contact lenses in the United Kingdom, however these were unsuccessful due to adaptation and fitting issues.
Despite her prognosis, this wonderful woman was stoic in her approach and keen to do everything she could to maintain, and even regain, vision in her eyes. With this in mind, we discussed specialty contact lenses.
I designed custom corneoscleral lenses to manage her huge corneal irregularity, and she is now successfully wearing the following contact lenses:
RoseK2 XL CL
RE 7.10/14.60/-3.25/-1.00 x 50 6/7.5 Boston XO Clear Standard edge lift all quadrants
LE 7.60/14.60/+1.00/-1.75 x 91 6/6 Boston XO Blue Edge lift all quadrants -0.50
Rosa's visual haloes have disappeared, along with her mysterious corneal ectasia angel with the puffy skirt.
Think Twice
The moral of this story is: Think Twice with ICE!
Managing ICE requires a great collaborative team of eye care professionals. Optimal management makes it essential to closely monitor and manage anterior ocular changes, namely endothelial changes, iris atrophy changes, corectopia management, as well as closely managing posterior ocular changes in their glaucoma status.
Additionally, in many instances of ICE syndrome, visual management of complex ocular complications, such as pupil decentration, high levels of corneal ectasia and poor vision can be assisted by referring a patient for specialty contact lens management.
Rosa's journey was long and emotional – it took several years to manage her condition and land in a position where her vision issues were what she would consider well managed. Now comfortably wearing her contact lenses, she is happy with the vision she has regained in her right eye. It is humbling to be able to help our patients by helping to restore and maintain sight, particularly in cases like Rosa's when so much good can be achieved with collaborative care.
Margaret Lam is an optometrist in theeyecarecompany practices in greater Sydney and Sydney CBD and an Adjunct Senior Lecturer at the School of Optometry and Vision Science at UNSW. She also works as the Head of Optometry Services for George and Matilda Eyecare.
Margaret practises full scope optometry, but with a passionate interest in contact lenses,retail aspects of optometry and successful patient communication and management. She has extensive experience in specialty contact lens fitting in corneal ectasia, keratoconus and orthokeratology and is a past recipient of the Neville Fulthorpe Award for Clinical Excellence.
Margaret writes 'mipatient' on alternate months with Jessica Chi.