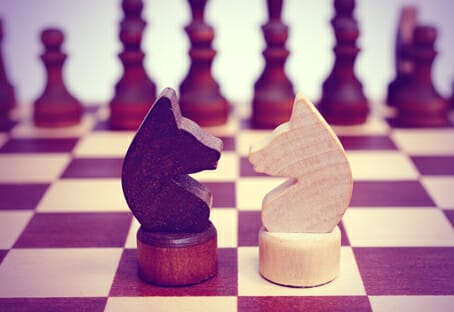 Life feels like a never ending competition.
We're reminded daily that we need to do more – we need to have more. Whether that be personally or professionally, enough never seems to be enough. In business, we feel this pressure from those we regard as our competitors. The noise can be overwhelming and is easy to get caught up in.
Of course competition in and of itself isn't a bad thing because it can drive us to do better. However, if our focus is solely on analysing our competitors, we shift our attention from ourselves and our own goals.
It's easy to get distracted by the success of others… easy to get caught up in believing that if they're doing well, we must be losing. Social media is a good one for that. We see the high points of people's lives paraded before us online but rarely their struggles.
What really matters though, is not what they're doing but what is 'best for you'. You're the only one who can decide what is important to you. Sure, learn from their success, but then move onto your own agenda.
Successful people pursue their own dreams. They're constantly competing with themselves.
Are you achieving your goals? Better still, do you have any goals? How long has it been since you reviewed your goals?
Set your goals based on the vision you inscribed for yourself. Dream big, then map out a plan for yourself.
What does life look like for your future self? How do you see yourself both personally and professionally, in one, five, 10… 20 years? A couple of decades looks forever away but that picture of where we see ourselves gives us something to aim at.
Break the years up into five year lots, then work back each year from there. Once you've done this, you'll have in front of you a clear outline of where you want to be.
In order to make those goals tangible write them down. As Albert Einstein once said,
"Paper is to write things down that we need to remember. Our brains are used to think." If you don't write them down, you don't have a goal, all you have is a desire.
Now, stick your goals on the wall as a constant reminder of where you're heading.
Some days you'll feel like nothing is going right, on others you'll just be marking time, but then there will be those days whern you'll smash it out of the park.
It's easy to get caught up in the trap of looking over your shoulder, particularly when you've just walked past a practice that offers "free eye tests". But when you know where you're headed, those distractions are momentary.
Successful people constantly pursue their own dreams, compete with themselves, evaluate their performance against their own goals, and define themselves by their own measure of success.
Test your own boundaries and you won't be distracted by what others are doing.
You are your greatest competitor.