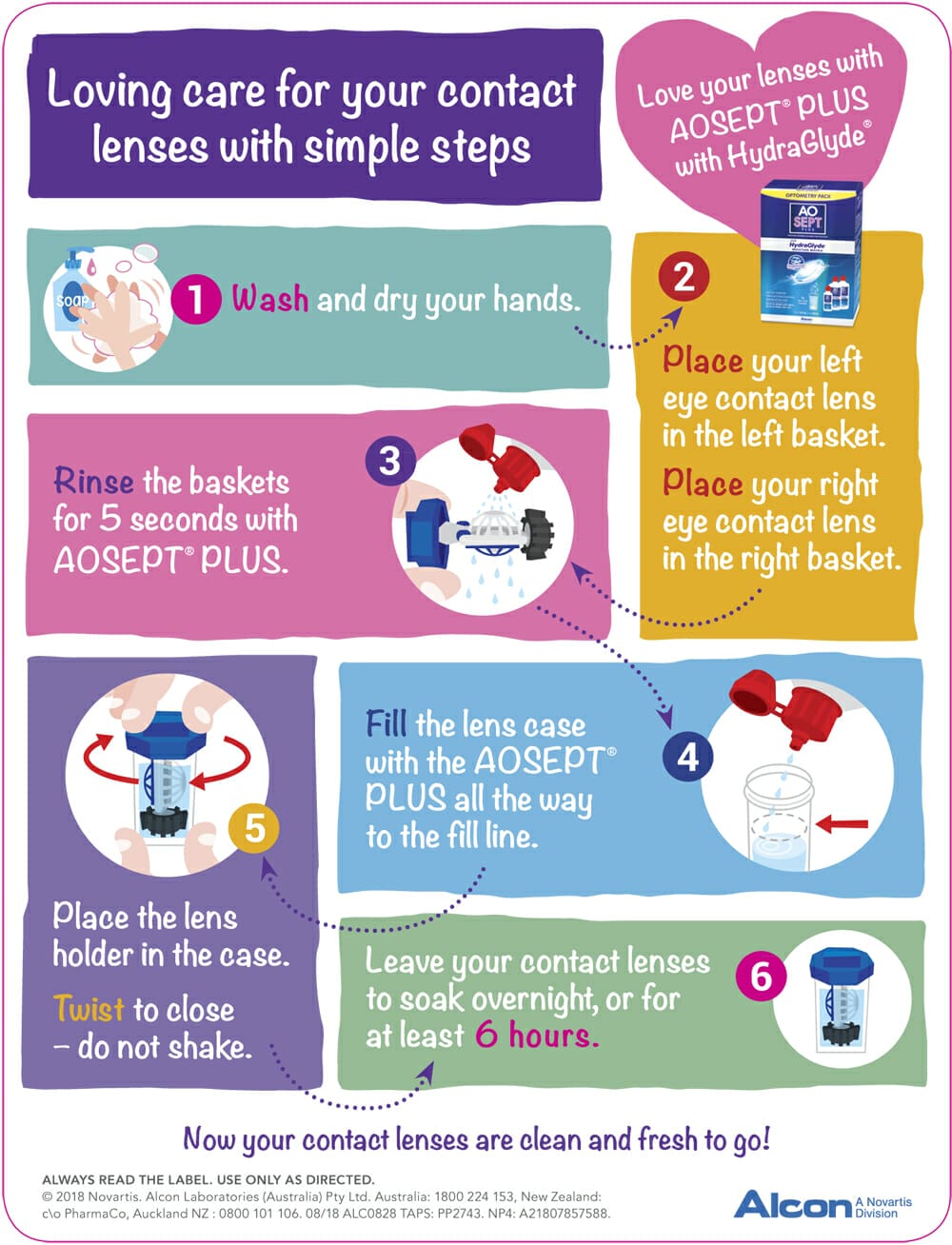 Alcon has launched educational materials to help parents with children wearing contact lenses understand the importance of contact lens hygiene and provide them with simple instructions on how to care for their contact lenses.
According to the company, awareness of contact lens hygiene is particularly important given the increasing number of people, especially children being under myopia control using Ortho-K.
Ortho-k patients often demand more than a multipurpose solution. When wearing contacts, materials such as mucous, protein, and other debris can build up on the surface during the day. Disinfecting contact lens solutions remove these materials as well as harmful germs. This may prevent the development of eye infections or other serious complications
An Alcon lens care product – AOSEPT PLUS with HydraGlyde® is a gold standard of hydrogen peroxide-based solutions for both soft and hard contact lenses. AOSEPT PLUS with HydraGlyde® contains no added preservatives. An easy one-step system with no tablet required, it improves compliance compared to multipurpose solutions1 and is suitable for both hard and soft contact lenses.2

AOSEPT PLUS with HydraGlyde®'s unique formulation contains:
Triple Action Cleaning System3-9
1. Hydrogen peroxide cleans and disinfects,3-6
2. A built-in surfactant removes deposits,7,8,9
3. Bubbling action enhances surface protein removal 7,8,9

Unique Wetting Agent to Improve Comfort
The HydraGlyde Moisture Matrix – a scientifically-advanced proprietary synthetic block copolymer – embeds itself on and within the lens and reduces surface hydrophobicity.9

For more information or to obtain educational materials, contact your Alcon Business Development Manager or Alcon Customer Service 1800 224153.
References:
1. Guthrie, S., et al, 2016. Is there a relationship between Care System and Compliance? Contact Lens Spectrum, 31:40-43
2. Aosept Plus Packaging Insert
3. Alcon data on file, 2014. In vitro antimicrobial activity evaluation of AOSEPT PLUS with HydraGlyde.
4. Alcon data on file, 2014. In vitro disinfection effectiveness evaluation of AOSEPT PLUS with HydraGlyde.
5. Alcon data on File, 2014. In vitro antimicrobial activity evaluation of AOSEPT PLUS with HydraGlyde against Acanthamoeba spp.
6. Alcon data on file, 2014. In vitro evaluation of disinfection effectiveness of AOSEPT PLUS with HydraGlyde against Acanthamoeba spp.
7. Alcon data on file, 2014. Cleaning Efficacy of nEOBO FID 120947A Using Image Analysis Method
8. Alcon data on file, 2014. In Vitro Protein Cleaning Efficacy Study Using the Bicinchoninic Acid Assay
9. Alcon data on file, 2014.
10. www.alcon.com/news/media-releases/alcon-launches-latest-innovation-hydrogen-peroxide-based-contact-lens-care
Alcon Laboratories (Australia) Pty Ltd. Australia: 1800 224 153, New Zealand: c\o PharmaCo, Auckland NZ : 0800 101 106
NP4 Number #: A21811916435