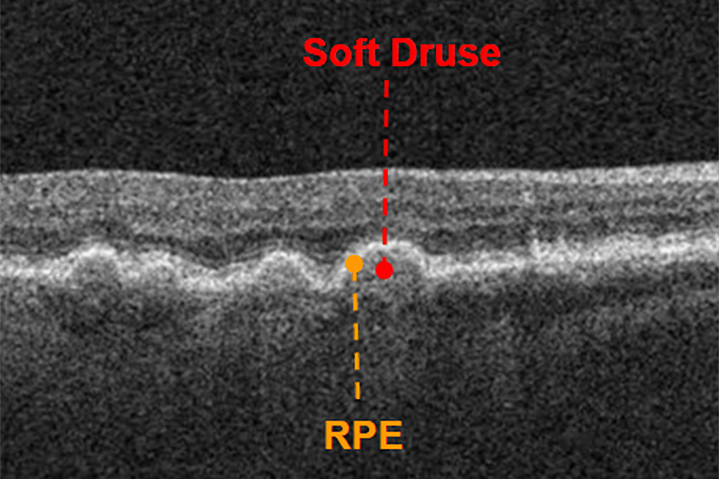 In the last of a three part series we look at the ocular conditions that can be identified with optical coherence tomography, how to differentiate them, and the diseases they may indicate.
Visually, it can be challenging to identify which retinal layer that the white spots and dots you see on optical coherence tomography (OCT) originate from. Additionally, it can be challenging to differentiate between hard exudates, cotton wool spots, and drusen.
Patients with potentially missed pathology can benefit when a more comprehensive investigation with OCT imaging is integrated into their routine eye examination
HARD EXUDATES
With fundus examination, hard exudates can be seen as reflective whitish/yellow lesions with distinct borders.2 On OCT imaging, they are visualised as highly reflective lesions within or near the outer plexiform layer. Depending on their density, hard exudates can also show up with a shadowing effect, and with an area of underlying hyporeflectivity.
Hard exudates are lipid deposits that arise from the retinal vasculature. When observed, it is important to check for macular oedema as this often accompanies hard exudates.
COTTON WOOL SPOTS
Cotton wool spots (CWS) appear on OCT as a whitish retinal lesion with an indistinct border. A CWS shows as local thickening in the most anterior layer on OCT, i.e., in the retinal nerve fibre layer.
DRUSEN
Drusen are localised extracellular debris found between the basal lamina of the retinal pigment epithelium (RPE) and the inner layers of Bruch's membrane, and can vary significantly in size.3
Soft drusen are located beneath the RPE, creating a dome-like hyporeflective elevation. As soft drusen are large accumulations of extracellular debris, they can look similar to pigment epithelial detachments on OCT.
Pigment epithelial detachments will appear optically empty, and soft drusen will show some reflectivity within the lesion. Cuticular drusen are smaller, and will appear as rounded, triangular lesions below the RPE.
Depending on their size and colour, drusen might mimic the appearance of hard exudates or CWS, however, drusen are located deeper within the retina in the RPE layer.
CONGENITAL HYPERTROPHY OF THE RPE
Congenital hypertrophy of the retinal pigment epithelium (CHRPE) is a benign, pigmented lesion located at the level of the RPE.4 CHRPE lesions, with areas of hypopigmentation known as lacunae, may grow in size with age.4
Visually, CHRPEs and choroidal nevi may look similar due to their pigmented appearance. On OCT, a CHRPE is seen as a flat and irregular RPE lesion with localised concavity. Thinning is visible on the overlying retina, especially the outer retinal layers.5 
with the use of OCT, the appropriate diagnosis of 'glaucoma suspect' was achieved
CHOROIDAL NEVUS
A choroidal nevus is a lesion of varying pigmentation, and can vary in size. It usually appears as a pigmented lesion with a regular, flat dark colour.
On OCT, choroidal nevi are seen as smooth, convex lesions with the appearance of thinning above the choroid, as well as deep choroidal shadowing.6,7,8
THE CASE OF PETRA*
Thirty nine year old Petra presented for a review of her eyes. She reported generally good vision but wanted a check-up for vision and eye health. Recently she had noticed a slight reduction in her vision, which she assumed was due to a change in her high myopic astigmatism prescription. Petra had longstanding floaters and mentioned having previous retinal detachment surgery in her right eye.
Entering Vision: R -10.00/-2.25 x 9 VA 6/6+ L -10.25/-2.75 x 180 VA 6/7.5-
Subjective Rx: R -9.50/-2.50 x 12 VA 6/6+ L -9.00/-4.00 x 175 VA 6/7.5+
Ocular Health Results 
Retinopexy scars were present on Petra's right superior retina following a previous retinal detachment on her right eye.
OCT helped to confirm mild asymmetric cupping (RE 0.35, LE 0.45), a lamellar hole present in the right eye, and a mild epiretinal membrane in both eyes.
Additionally, OCT revealed marked thinning of the superior retinal nerve fibre layer in both eyes, confirmed by ganglion cell analysis, which showed significant thinning in most sectors.
Humphrey visual field revealed full threshold fields in the right eye and mild central/paracentral depression in the left eye, with the Glaucoma Hemifield test outside normal limits.
Management 
Without an OCT, Petra's small reduction in vision could have been attributed incorrectly to a change in her high myopia. Instead, with the use of OCT, the appropriate diagnosis of 'glaucoma suspect' was achieved, and co-management with a glaucoma specialist commenced. Additionally, co- management with a retinal specialist was arranged to monitor and minimise the chance of future loss of vision for the lamellar hole.
In this case, as in many others, the use of OCT allows for better clinical diagnosis and better ocular health management for patients.
Patients with potentially missed pathology can benefit when a more comprehensive investigation with OCT imaging is integrated into their routine eye examination.
When used to complement retinal photography, OCT can help detect and diagnose retinal, macular, and chorioretinal lesions, ocular pathology in the vitreoretinal interface, and choroidal disease. This enables optometrists to initiate management and achieve better visual outcomes.
* The patient's name has been changed for patient privacy. Thank you to Hanna Kim, optometrist, for this case example. 
Margaret Lam practises full scope optometry, and has a passionate interest in contact lenses, retail aspects of optometry, and successful patient communication and management. She has extensive experience in specialty contact lens fitting in corneal ectasia, keratoconus and orthokeratology, and is a past recipient of the Neville Fulthorpe Award for Clinical Excellence. 
Margaret is currently the National President of the Cornea and Contact Lens Society of Australia and teaches at the School of Optometry at UNSW as an Adjunct Senior Lecturer and also works as the Head of Optometry Services for George and Matilda Eyecare. Margaret writes 'mipatient' on alternate months with Jessica Chi. 
References 
newgradoptometry.com/complete-list-ocular-diseasesoptical- coherence-tomography-oct/ 
Ota, Masafumi, et al. Optical coherence tomographic evaluation of foveal hard exudates in patients with diabetic maculopathy accompanying macular detachment. Ophthalmology 117.10 (2010): 1996-2002. 
Spaide, Richard F., and Christine A. Curcio. Drusen characterization with multimodal imaging. Retina (Philadelphia, Pa.) 30.9 (2010): 1441. 
Fung, Adrian T., Marco Pellegrini, and Carol L. Shields. Congenital hypertrophy of the retinal pigment epithelium: enhanced-depth imaging optical coherence tomography in 18 cases. Ophthalmology 121.1 (2014): 251-256. 
Shields, Carol L., et al. Photoreceptor loss overlying congenital hypertrophy of the retinal pigment epithelium by optical coherence tomography. Ophthalmology 113.4 (2006): 661-665. 
Say, Emil Anthony T., et al. Optical coherence tomography of retinal and choroidal tumors. Journal of ophthalmology 2011 (2011). 
Shields, Carol L., et al. Enhanced depth imaging optical coherence tomography of intraocular tumors: from placid to seasick to rock and rolling topography—the 2013 Francesco Orzalesi Lecture. Retina 34.8 (2014): 1495-1512. 
Shah, Sanket U., et al. Enhanced depth imaging optical coherence tomography of choroidal nevus in 104 cases. Ophthalmology 119.5 (2012): 1066-1072.