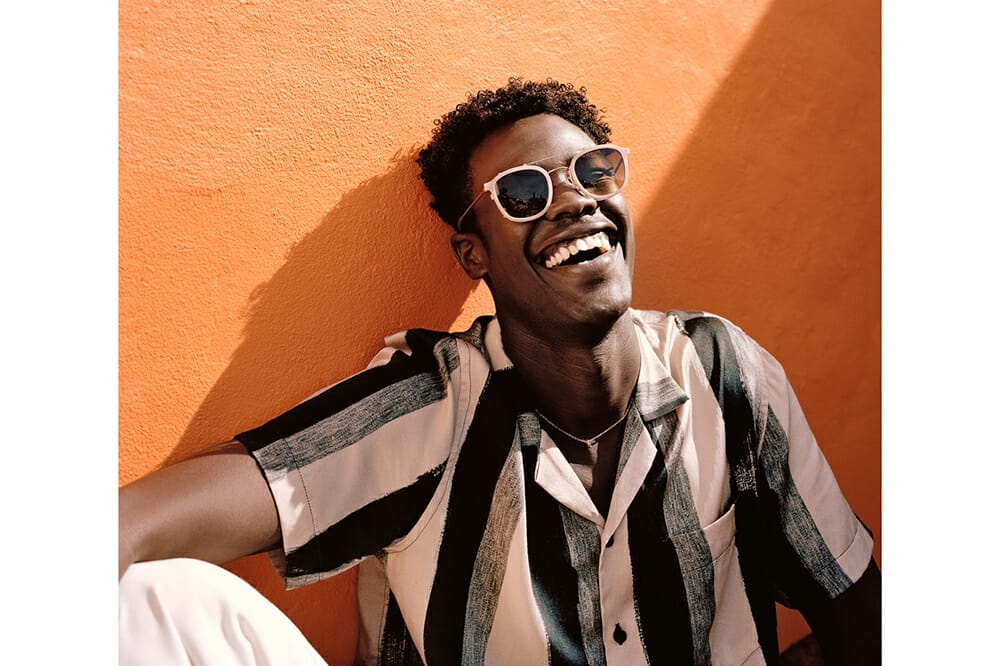 Bailey Nelson is an independent eye care company based in Sydney's inner city. From humble beginnings as a radical little start up in 2012, the company has grown into a business with an international presence and stores across Australia, New Zealand, Canada, and the UK. mivision spoke to head designer Ryan Nix about his approach to eyewear design.
When you joined Bailey Nelson as a designer, what experience did you bring to the table?
I joined the team in August 2015, with six years' experience as an eyewear designer. Before Bailey Nelson, I was working with an eclectic mix of international designers and helping them translate their brand DNA into eyewear collections.
I think my exposure to a range of different brands helped for two reasons; firstly, I had experience designing for a mix of customers and markets, and secondly, I understood how to build a cohesive range that looked and felt resolved.
What do you enjoy about designing eyewear?
I love that eyewear is tactile – it's a real object and one of the few products that qualifies as both a want and a need. I'm also a sucker for details, and find it amazing that such minute decisions have big impacts, like for example, how much a frame changes if you increase or decrease the nose bridge width by 0.5 or 1mm.
What are the key elements of great eyewear design and how do you integrate them into your frames?
Respecting the beauty and strengths of your chosen materials; obsessing over fundamentals like size, shape, and comfort; and creating silhouettes that are intended to stand the test of time. I believe it's more challenging to design beautiful and classic products than it is to come out with something avant-garde, and I've always loved the quote "simplicity is the ultimate sophistication".
We believe in our aesthetic, we design for different segments of our audience, and we have a rigid review process to ensure there's confidence in every single model before it ever lands on our shelves.
Where do you seek inspiration for your designs?
A mix of influences and observations inspire me. I'm drawn to artefacts on the verge of disappearing from history and have an ever-growing collection of ephemera including vintage movie posters, frames from the 1930s through to the 90s, and hand printed zines dedicated to a variety of underground subcultures. Pete (Bailey Nelson co-founder Peter Winkle) and I have visited every vintage eyewear store in Paris and Milan multiple times to find inspiration from classic shapes, and we see some of the most interesting new eyewear fashion coming from parts of Asia, especially South Korea.
It's important for designers to always have their eyes and ears open, but I try not to be too caught up in trends, and instead focus on how we can continue creating authentic products that are true to us, and delivered at the right time for our customers.
I am also always thinking about a specific type of person when designing new products. We never just design for the sake of designing, and with each new product we hope to either inspire a new customer or bring excitement to an old one.
Why does someone choose Bailey Nelson over other brands?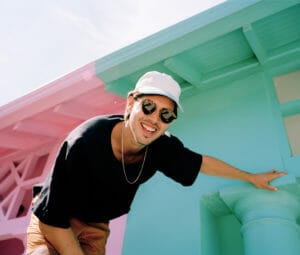 In the early days, people were blown away by the value for money – in fact many people would enter stores asking, "what's the catch?" Nowadays, I'd like to think people see us as an exciting alternative to the mass-produced brands. Because we're fully integrated, there's no outside pressure to add unnecessary decoration or gaudy branding to our frames, and as a result we pass value on by delivering the best components, materials, colours, shapes, and fits. I believe people are starting to see us as the smart choice, a place where you can get a world class product without the luxury price tag.
Has Bailey Nelson won any design awards?
You know what, I don't think we've ever entered our products into any design competitions!
What is unique about Bailey Nelson eyewear?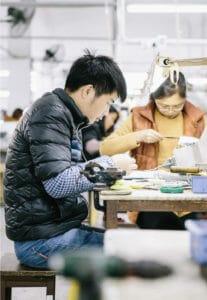 The unrelenting focus on perfecting what's essential and removing anything that distracts. We obsess over the smallest details and would never take shortcuts on components or materials – our aim is to deliver the best value in our industry, bar none.
The fact we work closely with not just the frame manufacturers, but also our component and material suppliers has been a real advantage. By developing these relationships, we've been able to add bespoke acetates, custom hinges and wire cores, and signature sun lenses to our range of frames.
For example, we only use Mazzucchelli acetate and work closely with the Mazzucchelli team to design custom acetates to use on the temple tips of some of our newest frames. This custom acetate took months to design and prototype and we think the result is incredible – hues of blue and aqua with gold detailing that remind us of the beautiful colours of Bondi.
How involved are you in the manufacturing process/quality control to ensure the end result is as you anticipated?
We source components and materials from a small network of renowned suppliers, including acetates from Italy, hinges from Germany, and titanium from Japan. Our frames are manufactured by a handful of different factories in China, each of whom specialise in a particular type of construction. We've built close personal relationships with these factories, and regular visits have fostered a true spirit of friendship and partnership.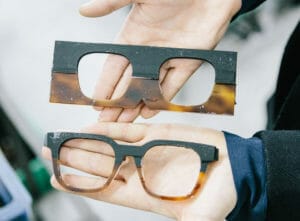 Visiting the factories to handover new designs also allows us to learn more about the manufacturing process. Some of us have turned into production experts thanks to the amount of time we've spent on the factory floor. And again, not just frame factories. We visit the hinge factories, the metal plating factories, and the acetate factory. We even visited our case supplier last year to identify where we could improve our packaging design.
Quality control is a big focus for us, and we're constantly improving by working closely with the craftspeople that manufacture our frames. Our review process also helps ensure that by the time a new model hits stores, we have confidence that it's the very best it can be.
What has Bailey Nelson got planned for the future in terms of design?
Experimenting with different materials to deliver technical innovation, introducing new categories (watch this space), and updating and refining our key models to ensure they remain in style and in demand.