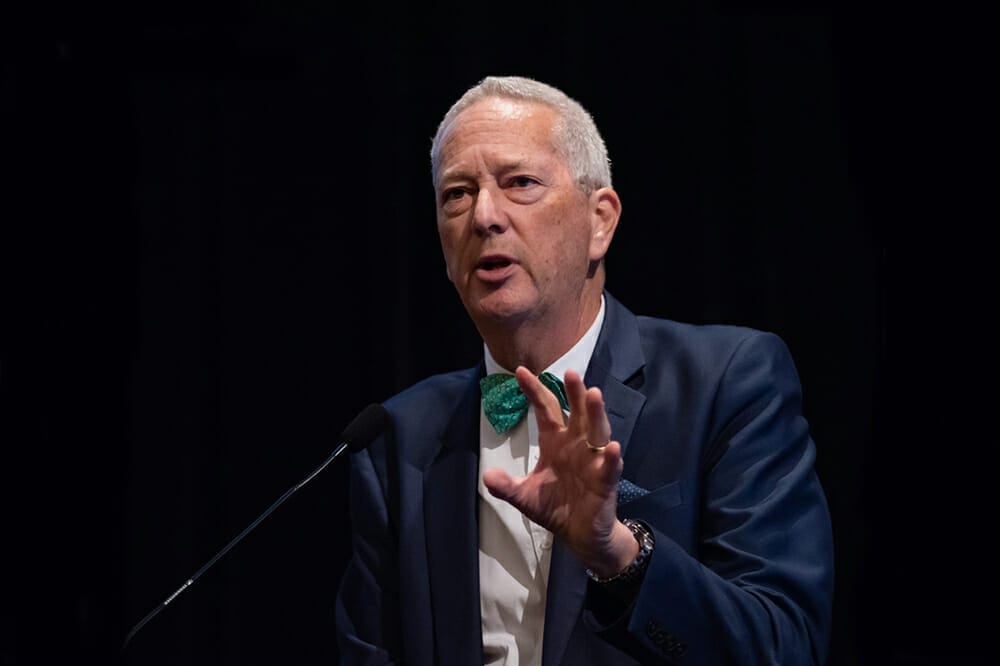 With a fresh new look, an iconic location, and a date that made the most of Western Australia's balmy weather, WAVE'19 – O WA's annual CPD conference – showcased the city of Perth at its best.
The 2019 WAVE conference was held from 30–31 March in the historical port city of Fremantle, at the iconic Esplanade Hotel. The conference offered high level educational workshops and lectures for optometrists, dedicated lecture programs for early career optometrists (ECOs) and dispensers, and of course, the Saturday evening poolside Sundowner. It was all made possible by sponsors including Alcon, Essilor, and Opticare, as well as Optimed and Device Technologies, which provided equipment for the workshops.
The diverse range of optometry topics… included rethinking contact lens aftercare, innovations in glaucoma management, blue blocking filters, retinal adhesions, diabetic retinopathy…
WORKSHOPS
WAVE offered delegates a rotation through four workshops that included Lachlan Hoy speaking about contact lens fitting and Dr Rhuju Mehta's hands-on gonioscopy workshop, with tips such as how to detect Schwalbe's line using the corneal wedge technique in the lightly pigmented angles.
Paula Katalanic, from the Centre for Eye Health, challenged our optical coherence tomography (OCT) interpretation techniques for diseases like glaucoma and retinal conditions. David Stephensen went through cases of complex contact lens complications and therapeutic management.
LECTURE SERIES
Myopia Control 
Lachlan Hoy presented on the importance of myopia control in today's world. According to the World Health Organization, the prevalence of myopia is predicted to increase from 22% in 2000 to 52% in 2050, and high myopia from 2.2% in 2000 to 10% in 2050.1 The statistically significant correlation between myopia of zero to -6D and ocular pathology, such as glaucoma and retinal detachments, challenges our thinking that myopia is more a pathological than physiological state of the eye.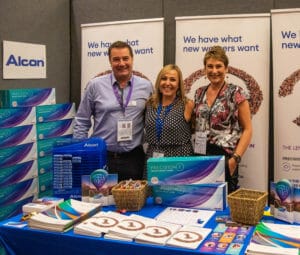 Increasing axial elongation in myopia is associated with increased incidence of ocular pathology and vision impairment.
Slowing myopia progression is a focus for optometrists, and only slight myopia control can be achieved with multifocal lenses and executive bifocals. Orthokeratology and multifocal contact lenses have a stronger effect on slowing axial elongation, however contact lenses carry a risk for microbial keratitis. Atropine has a strong effect on myopia progression and is dose dependent. Low dose atropine has been shown to slow myopia, however not axial length elongation, which is known to be associated with pathology.1
Ocular Drug Delivery Systems 
Alex Hui spoke about ocular drug delivery systems and advances. Currently, the main form of drug delivery remains eye drops. The ocular resident time of drops can be improved via instillation techniques, and careful formulation selection according to desired properties. An example is the addition of the muco-adhesive DuraSite to Azasite. Doing so reduces the dosage for bacterial conjunctivitis from a typical 28 doses to nine doses.
Posterior drug deliveries were also discussed, such as Vitrasert – an intravitreal implant which contains Ganciclovir – used in the treatment of cytomegalovirus retinitis. The most common complication for patients who receive treatment via posterior segment sustained drug delivery devices is cataract.
Optical Coherence Tomography-A 
Dr Graham Lakkis introduced the use of Optical Coherence Tomography- Angiography (OCT-A), and spoke about how it works and the interpretation of scans and reports. OCT-A takes advantage of the fact that in the retina all the vascular, neural, and retinal structures are stationary – only the red blood cells are moving. OCT-A sequentially images the exact same retinal area multiple times and removes structures that are in the same position each time so that all that remains is an image of the flowing blood. Its advantages over fluorescein angiography are that it is quick, there are no injections required, both eyes can be imaged together, different layers of the retina and choroid can be imaged simultaneously, and it has much higher resolution at the capillary level.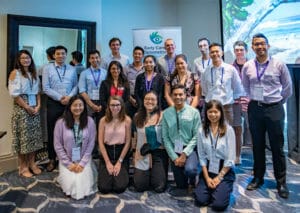 Detecting Ophthalmic Markers in Diabetic Neuropathy 
Professor Nathan Efron challenged our thinking about our role in detecting ophthalmic markers in diabetic neuropathy. He showed us that even in patients without any neuropathy, the cornea has reduced nerve fibre length and sensitivity, and tissue repair capacity is diminished. These patients are less likely to notice trauma and infection, and the cornea will take longer to heal, making contact lens wear a contraindication in patients with severe neuropathy. Diabetic patients with neuropathy already have reduced mobility and are prone to falls. Additionally, they have reduced inferior peripheral field sensitivity and slower healing times following injury. As optometrists, we need to expand our role when it comes to screening for diabetic neuropathy and also differentially diagnosing the visual field functions from glaucoma.
Neuro-ophthalmology and Binocular Vision Issues 
Steve Leslie spoke about sudden onset vertical diplopia as well as binocular vision issues in adults, and how to, as much as possible, detect any possible neurological issues. Symptoms experienced by people with vertical double vision often include one image tilted, blurred vision, pain, headaches, balance issues, difficulty reading, driving problems, and anxiety. Common signs we need to look for are closing one eye, head tilts, and chin down postures. Assessment should include exploration of the patient's medical history, medications, or systemic conditions such as thyroid issues, diabetes or hypertension. We also need to consider any previous history of extraocular muscle surgery, meningitis, or head injury, and we need to carry out a full neuro-optometric assessment of vision and ocular health. Some differential diagnoses of vertical diplopia due to a fourth nerve palsy include myasthenia gravis, third nerve palsy, multiple sclerosis, raised intracranial pressure, and blow out fracture. Clinical techniques such as the Parks three-step test can be used to determine which muscle is paretic, however this is most accurate if the cause is recent, and is not as diagnostic with chronic issues due to spread of comitancy.
Other Topics 
The diverse range of optometry topics covered at WAVE also included rethinking contact lens aftercare, innovations in glaucoma management, blue blocking filters, retinal adhesions, diabetic retinopathy, and visual field analysis in the OCT era.

The early carrer optometrists lecture stream was presented by optometrists and ophthalmologists and it included talks about ocular imaging, contact lenses in presbyopia, herpetic keratitis, binocularly reduced vision in children, anisocoria and a talk about how to be an effective communicator with team members and patients, presented by Provision's Retail Operations Manager, Rob Ellis.
The dispensing education program provided practice members with skills and education, and built on practice success. Topics included common success factors that lead to business growth and profitability, troubleshooting spectacle lens intolerance, growing the contact lens business in the practice, and the role of optometrists and dispensers in prevention of ocular trauma.
Thanks to Evan MacRae and Jude Martindale from O WA for organising another successful WAVE event.
Roxanne Medhora completed a Bachelor of Science in Biomedical Science (2010) and a Bachelor of Optometry (with Honours) in 2014 at the University of Auckland in New Zealand. She works as a locum optometrist in Western Australia. 
References 
1.Institute, WHO-BHV (2016). "The Impact of Myopia and High Myopia." Report of the Joint World Health Organization-Brien Holden Vision Institute Global Scientific Meeting on Myopia.