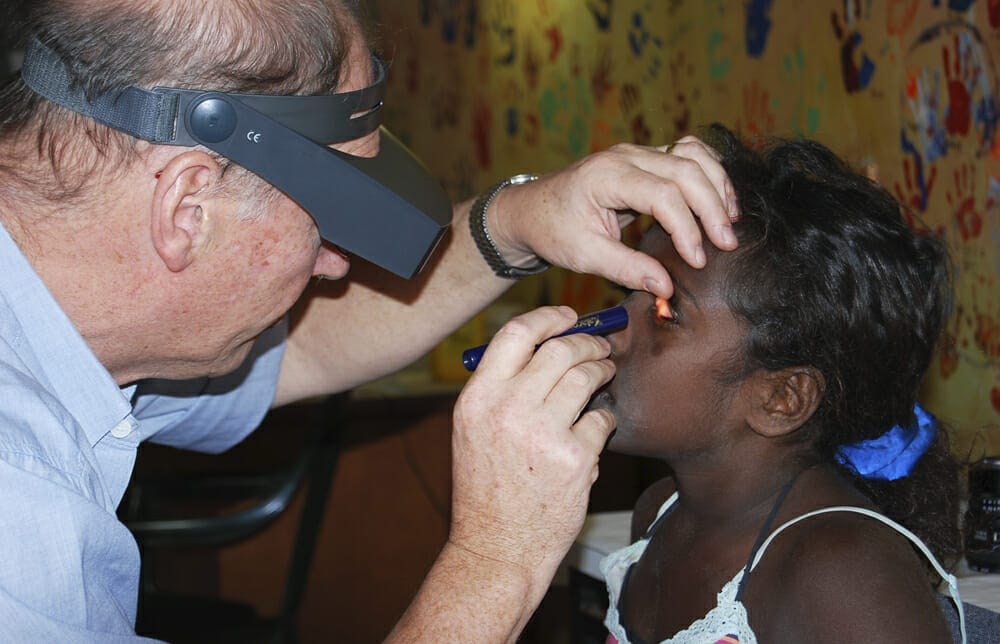 Eye health is one of few areas where real progress is being made to 'Close the Gap' between Indigenous and non-Indigenous Australians by 2020.
Critical to this success has been the development of regional groups to organise and coordinate eye care locally. Strategies being implemented will provide a template for the provision of other specialist services. Government funding and support is also essential.
Aboriginal children start life with much better vision than non-Aboriginal children. In fact, healthy Aboriginal adults have the best vision in the world. Half can see 6/2.4 unaided and some can see 6/1.4!
The key building block in providing better eye care is the development of regional groups to organise and coordinate care locally
However, we have known for decades that older Aboriginal and Torres Strait Islander adults have had unacceptably high rates of blindness and vision loss. Almost all of this is unnecessary, being either preventable or treatable.
Since the 1970s, many efforts have been made to address the high rates of blindness and vision loss among older Aboriginal and Torres Strait Islander adults. Yet despite good intentions and various recommendations, little solid progress had been made.
IDENTIFYING THE NEED
The 2008 National Indigenous Eye Health Survey showed that Aboriginal and Torres Strait Islander children had five times less poor vision than non-Indigenous children. However, by the time they were 40 and above, Indigenous adults had six times as much blindness. Although 94% of the vision loss could have been prevented or treated, one third had never had an eye exam.
Furthermore, the Survey showed that the amount of vision loss and unmet need was the same in the city and towns as it was in the most remote areas. For example, the unmet need in Fitzroy, where I live, was the same as in Fitzroy Crossing! We know that more optometry and ophthalmology services are needed in the remote areas, but when it comes to the city, the Victorian Aboriginal Health Service in Fitzroy is less than a kilometre from the Royal Victorian Eye and Ear Hospital – the largest eye hospital in the Southern Hemisphere. This finding raised the question: did we simply need ways to get people safely across Victoria Parade?
In fact, what was actually needed across the whole country was the better planning, provision and coordination of eye care services to make sure they were appropriate, accessible, and culturally safe.
The four main causes of vision loss and blindness were cataract, diabetic eye disease, refractive error, and trachoma – the blinding eye infection that still occurs in some outback areas. However, much of the vision loss could literally be fixed overnight. You give someone a pair of glasses and they see right away, you do cataract surgery and they see the next day. This is not rocket science, it just needs the well-organised eye care services we all expect to be available.
To try to address this, we established the Indigenous Eye Health Unit at the University of Melbourne with support from the University and a number of private donors, trusts, and foundations. We studied existing models of how eye services were provided and looked carefully at what worked and what did not.
We determined that eye care needed to be based in, or start from, the primary care setting, and preferably an Aboriginal Community Controlled Health Service. It needed to be provided as close to home as possible, and it needed to be resourced to meet the population-based needs.
THE ROADMAP TO CLOSE THE GAP FOR VISION
When we looked carefully at the patient journey, or the pathway of care, we likened it to a 'leaky pipe'. We found there were many leaks or cracks along the way, where people would fall out of the system. If you only fixed one or two leaks, the pipe would still leak. Two or three 'fixes' would not solve the problem, we actually had to address all the leaks.
Over three years of research, we engaged in extensive consultation with community groups, organisations, and providers. This work identified 42 'leaks' or recommendations for changes to fix the way eye care services were organised, coordinated, funded, and monitored. These formed the Roadmap to Close the Gap for Vision, launched in 2012.
a focus on Indigenous eye care… improves the quality of life of the individuals and… shows how to link primary care with specialist services, and so has lessons for a wide range of care
Since then some remarkable progress has been made. By the end of 2018, the first step on every one of the recommendations had been made, three quarters of the intermediate steps had been taken, and 19 recommendations had been fully implemented.
The 2015–2016 National Eye Health Survey showed the gap between Indigenous and non-Indigenous rates of blindness had been halved and was now 'only' three times. This is still totally unacceptable, however it does show that good progress is being made in eye health. It also shows that eye health is one of the few areas where real progress is being made to Close the Gap.
DEVELOPMENT OF REGIONAL GROUPS
The key building block in providing better eye care is the development of regional groups to organise and coordinate care locally. The regional model involves bringing together the key regional stakeholders – the Aboriginal Community Controlled Health Organisations (ACCHOs), the Local Hospital Network, the Primary Health Network, and the local and visiting optometrists and ophthalmologists.
These regional stakeholder groups need to assess their current services against their population-based needs, determine their local referral pathways, arrange the coordination and support needed for the visiting eye services, and pay particular attention to the local coordination and case-management required by patients who are referred. Then they need to monitor the implementation and progress of these plans. This approach has worked best in regions where there has been a dedicated regional implementation manager to keep things moving and everyone working together.
Aboriginal Eye Health Advisory Group regions are largely self-defined and have, as a hub, a hospital where cataract surgery can be performed. Currently there are regional stakeholder groups formed or forming in 53 of the 63 regions. Appropriate funding is still needed to support regional implementation managers in the remaining regions, and in regions where discussions and planning have only just started.
The regional stakeholder groups have been supported at state and territory level by jurisdictional coordinating committees which can help oversee and mobilise additional services, and track progress. In some jurisdictions the jurisdictional fund holders, who manage the Commonwealth contracts for outreach services, have played an important role in supporting the jurisdictional and regional groups. This has been very helpful.
Results from the collective work in the Grampians region of Victoria are an example of what is being achieved. Beginning in 2014 the Grampians Region Aboriginal Eye Health Advisory Group (GRAEHAG) met regularly to drive planning, implementation, data sharing, and evaluation to improve eye health outcomes. Gap analysis identified the need for additional optometry services through the Australian College of Optometry; the Grampians Medicare Local and the Department of Health and Human Services (DHHS) purchased slit lamps and a retinal camera, and provided training for use in local Aboriginal Medical Services (AMS); and free health promotion resources were developed with strong local community engagement. Barriers to eye services were dealt with, including lengthy waiting times for public cataract surgery.
As a result of their work, from 2013–2016:
Optometric visits increased five-fold from 2012–2016,
Diabetes exams increased by 55%,
Spectacle provision increased by 50%,
Cataract surgery increased by 64%, and
Surgery waiting lists were reduced to zero.
EYE EXAMINATIONS FOR PEOPLE WITH DIABETES
One of the key drivers in building regional services has been the provision of eye care to those with diabetes. Everyone with diabetes is at risk of developing blindness if they live long enough. Obviously good control of blood sugars, blood pressure, and blood lipids are all important. However, better control means people live longer and although their annual risk of retinopathy is reduced, their life time risk essentially remains the same.
Up to 98% of blindness from diabetes can be prevented by timely treatment. To know if treatment is needed, Indigenous people with diabetes need to have an eye exam every year.
Of course, all people with diabetes need referral if they have any signs of diabetic retinopathy. They also need referral if they have signs of cataract and refractive change, for which they are at a higher risk. Pathways for surgery and glasses are the same for people with diabetes as they are for those without. Moreover, those with diabetes form three quarters of those who need an eye exam each year.
It stands to reason then, that by addressing the need for annual eye exams for those with diabetes, we automatically put in place the referral pathways that all can use.
Several major changes have taken place to move this forward. First was the introduction in 2016 of the Medicare Item 12325, for non-mydriatic retinal photography. This was followed by the provision by the Commonwealth of retinal cameras to 155 ACCHOs with training on how to use them and to assess the images. For those who want to learn how to grade diabetic retinal photographs, a free online course has also been developed (www.drgrading.iehu.unimelb.edu.au). More recently, the Commonwealth funded program KeepSight was launched. This program uses the National Diabetes Supply Scheme (NDSS) to remind people with diabetes of the need for eye exams and to coordinate and share the results of exams with relevant health care providers.
ELIMINATION OF TRACHOMA
Another critical area has been to address the problem of trachoma in Australia's outback areas, particularly in the Northern Territory, South Australia, and Western Australia.
Trachoma is the blinding eye infection caused by Chlamydia trachomatis. The infection particularly occurs in young children and it may take some 150 or so episodes of reinfection before the damage and scarring is sufficient to cause in-turning of the eye lashes – or trichiasis – which leads to blindness in adults. The eye infection is spread by sharing infected eye secretions, and because the tears drain through the nose, it is spread by nasal secretions as well. Given this, young children may end up sharing infection between their brothers and sisters. The key to eliminating trachoma is to stop these repeated episodes of reinfection. The real way to do that is to stop the transmission of infected secretions from one child to another by keeping every face clean.
Australia has committed to the WHO Global Elimination of Trachoma by 2020 (GET2020) using the SAFE Strategy (Surgery, Antibiotics, Facial cleanliness and Environmental improvements). This deadline is now less than 18 months away.
Overall, good progress has been made in reducing trachoma rates in Aboriginal children in outback areas, from 21% in 2008 to less than 4% in 2017. However, currently some 17 community hotspots still exist where the rates of trachoma are 20% or more in children aged five to nine. More work needs to be done.
Concerted efforts to screen and treat children, their families and communities with an antibiotic, and promote clean faces, have been very effective. We have been working closely with communities, health providers, and others to convey the health promotion messages about clean faces and good hygiene. As a result, over 80% of people in the communities recognise and know Milpa the trachoma goanna and the message of "Clean Faces, Strong Eyes".
The antibiotic used is azithromycin. It is given as a mass distribution antibiotic (MDA) in a single dose once a year to a whole community. When the prevalence is lower, all those living in houses with affected children are treated. However, antibiotics on their own are not sufficient to eliminate trachoma. They can reduce the prevalence rates of infection and 'active' trachoma, but improved hygiene is necessary to stop the ongoing transmission of infected eye secretions.
WHO Safe Strategy 
The elimination of trachoma requires full implementation of the WHO Safe Strategy. It is one thing to know you need to wash your face whenever it is dirty, but whether you can do this or not is another thing. In order for children to be able to wash their faces, they must have access to safe and functional washing facilities at home, school, and preschool. This requires prompt and ongoing repair and maintenance to provide 'safe bathrooms'. To advocate for this, our message to service providers is, "Clean Faces, Safe Bathrooms".
Almost all the housing in Australia's outback communities is rental and tenants are not allowed to make any changes or do any maintenance. Repairs and maintenance on reported problems is undertaken on a three monthly basis by regional contractors who often use tradesmen from interstate. The tenants are expected to call a phone service to book repairs, but the system is clearly not working. Some 90% of the repairs only need a handyman and initially at least, only 10% require a tradesman.
In schools and preschools there is often little attention given to washing facilities; bathrooms are sometimes locked up, handles removed from taps so they can't be used, and an old trough outside may be the only place to wash. In some preschool centres there is only a plastic tub or bucket available.
The real problem we face, if Australia is going to honour its commitment to eliminate trachoma by 2020, is to make sure that children have easy access to safe and functional washing facilities. The major issue here is breaking down the cross-portfolio barriers between health, housing, and education to make sure bathrooms and washing facilities are promptly repaired and maintained to keep them in safe working order. Although there is some leadership at the higher levels, there needs to be real cooperation at the regional and local levels.
We believe that high level advocacy is needed to bring together senior ministerial and departmental staff to redraw government policy to make the prompt repair and maintenance a government priority. The aim should be to have appropriately trained and authorised handymen in every remote community who are enabled to provide prompt repair and maintenance in houses and schools.
OVERALL PERSPECTIVE
Some may ask, why spend all this time and effort on eye care? It is true that there are very many issues that need to be addressed with Indigenous Australians. Health is only one of them, and eye health is just one of those.
However, in 2008 vision loss was responsible for 11% of the health gap, behind heart disease and diabetes, but equal to trauma and ahead of stroke and alcoholism. Unlike these other conditions, most of the disability from vision loss can be fixed overnight.
The development of properly planned and supported eye services is really about developing effective links between primary care and specialist services. What is being developed for the more defined area of eye care should provide a template or example for the provision of other specialist services. What works for eyes will work for ears, hearts, lungs or kidneys.
Furthermore, the trachoma work with antibiotic treatment, and particularly the promotion of good hygiene, has much wider impact than just trachoma. For example, you can't wash your face without washing your hands. So the work on trachoma also reduces ear infections, respiratory infections, diarrhoea, and the skin infections that go on to cause rheumatic heart disease and kidney failure. If one can have the prompt repair of plumbing, a similar process can be followed for the repair of other housing defects.
Therefore, a focus on Indigenous eye care has much broader ramifications than just saving or restoring vision. It not only improves the quality of life of the individuals and frees family or community members who are carers, it also reduces a number of other important infectious diseases, and provides the exemplar for how other specialist services need to be designed and coordinated.
We are making good progress and vision is one area where the Gap really is being closed. But if we are to actually Close the Gap for Vision by 2020 we need two things; government funding for full regional implementation and support in breaking down the cross-portfolio barriers for proper house maintenance.
Melbourne Laureate Professor Hugh Taylor AC is the Harold Mitchell Professor of Indigenous Eye Health at the University of Melbourne. Previously he was Head of the Department of Ophthalmology at the University of Melbourne and the Founding Director of the Centre for Eye Research Australia. Prior to that, he was a Professor of Ophthalmology at the Wilmer Institute at the Johns Hopkins University in Baltimore with joint appointments in the Departments of Epidemiology and International Health. 
Professor Taylor's research interests include blindness prevention strategies, infectious causes of blindness and the development of health policy. His current work particularly focuses on Aboriginal eye health and the elimination of trachoma. Professor Taylor has written 30 books and reports including a book on trachoma, and more than 700 scientific papers. He has received multiple international awards and prizes. In 2001, he was made a Companion in the Order of Australia. He is Immediate Past President of the International Council of Ophthalmology, former Vice President of the International Agency for the Prevention of Blindness, and former Chairman for Vision 2020 Australia. 
Driving Ambition
mivision asked Professor Hugh Taylor about his instrumental role in the Roadmap to Close the Gap between Indigenous and non- Indigenous Australians.
Q. What has driven your interest and commitment? 
A. I first started work on Indigenous eye care in the 1970s, and I ended up doing a lot of work on eye care – particularly trachoma and river blindness – while I was at Johns Hopkins University in the United States.
After returning to Melbourne in 1990, I observed that little had really changed here in terms of equity in eye health over the past few decades. I tried to fit in some time around eye care for Indigenous Australians and issues with trachoma, but as the head of Centre for Eye Research Australia (CERA), and with my clinical responsibilities at the Royal Victoria Eye and Ear Hospital, I did not have much time. In 2008, I took up a personal Chair at Melbourne University so I could concentrate fulltime on trying to do what I could to close this gap for vision.
Q. How have you built trust with the Indigenous communities you are working with? 
A. It is of fundamental importance to work with community members and to be accepted. I have always tried to do this. Listening, respecting, doing things with them (as opposed to them), being open and honest, and following through are all important. It is also important to build long term involvement, not just fly in fly out once.
Q. Reflecting on the success of the Roadmap to Close the Gap in Vision (but understanding there is more to be done) how do you feel personally about your contribution? 
A. I feel I have been extraordinarily fortunate to have had the support of the University of Melbourne, and those who have funded our work, that has enabled me to spend the last 10 or 12 years really focussing on this issue. It has been a wonderful opportunity that has allowed me to bring my experience – in ophthalmology, public health, research, eye care in low income areas and so forth – to what needs to be done to improve eye care for Indigenous Australians.
However, of course the progress we have made is all due to teamwork, with many people contributing and working in partnership. I have a great team in the Indigenous Eye Health group and we have very valued collaboration with a wide range of community groups and other stakeholders.