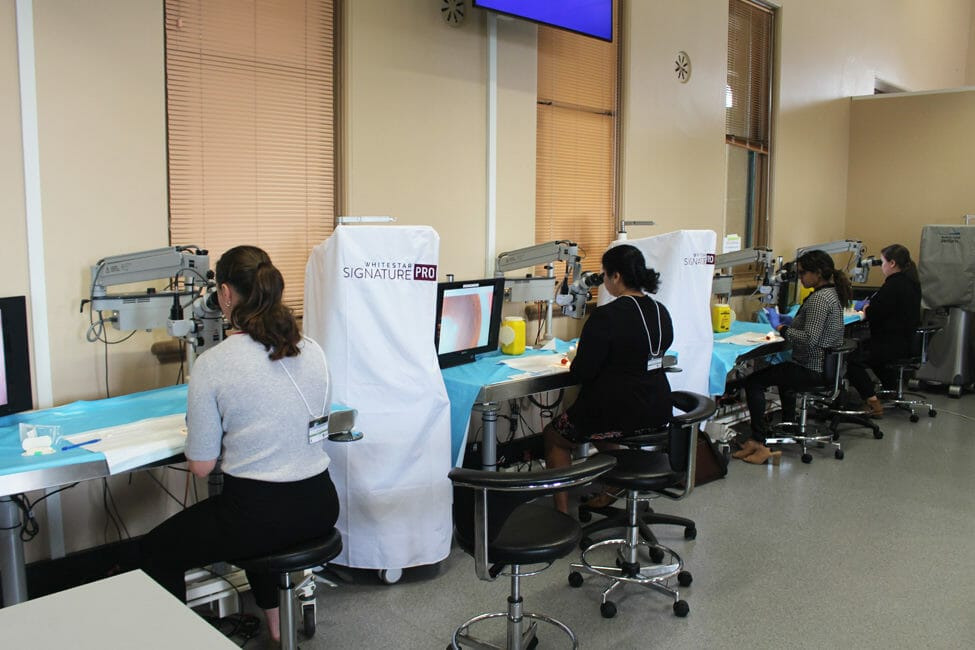 A group of 20 medical residents from Australia and New Zealand, seeking careers in ophthalmology, have attended an intensive wet lab training program at the Sight for Life Training Laboratory within the historic Sydney Eye Hospital.
 The two and a half day program is designed to provide the skills and training necessary for young doctors to performing micro-surgery prior to entering the ophthalmic operating theatre.
the opportunity for young medical residents to practise surgical techniques on human cadavers was exceptional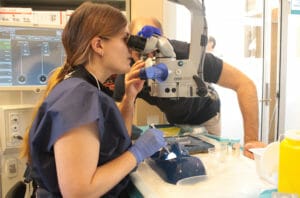 Instigated by Dr Graham Wilson (Clinical Senior Lecturer, University of Otago and Principal Investigator, Vision, The Dunedin Study), Dr Yves Kerdraon (Senior Lecturer, University of Sydney), and Con Petsoglou (Senior Lecturer, University of Sydney), the program emulates a microsurgical course initiated in the UK 29 years ago, which is now run 11 times a year, and attracts candidates from across Europe.
Dr Wilson has spent three years putting the infrastructure together and ran the first course in October 2018. The course involves significant collaboration of surgeons from New Zealand, Australia and the UK, the Universities of Sydney and Otago, Sydney Eye Hospital, the Sight for Life Foundation, and industry sponsors in particular, Johnson and Johnson Vision.
"Thirty years ago, junior doctors did much of their training in the emergency department," said Dr Wilson. "Today, less exposure to surgery during training and new techniques mean junior doctors emerge without basic surgical techniques. The first time they suture a patient is in theatre and because they're inexperienced, they can be nervous. So they're likely to drop a needle or break the suture. Or they suffer a headache because they haven't spent long periods looking into a microscope before.
"The more experience we can offer junior doctors, the more comfortable they will feel in surgery – which means, the better the outcome for the patient, the doctor and their colleagues."
AN "EXCEPTIONAL" EXPERIENCE
The two and a half day program, in early April, enabled the junior doctors to practice techniques for eye lid procedures, corneal suturing, and cataract surgery. These techniques were applied onto a number of different media including purpose designed surgical skills boards, pigs' eyes, human cadavers and the virtual reality eye surgery simulator. Candidates learnt about the design and functions of surgical instruments and how to hold them, how to place a variety of sutures, and tie different knots. Further, the residents learnt how to use a microscope correctly and the first steps as to how to use a phaco machine.
Dr Wilson said with a one to three ratio of teacher to candidates, there was enough time to experiment with techniques, make a few mistakes, and benefit from the guidance of consultants hovering over them.
He said the Sydney course has benefited greatly from the presence of Dr Nigel Cox, who set up the original course 29 years ago in the UK and is passionate about instructing future surgeons. "His experience in this field is second to none and his two visits means he has shared this with more than 12 local surgical demonstrators, who will continue with this method into the future," said Dr Wilson.
Dr Petsoglou said the opportunity for young medical residents to demonstrate surgical techniques on human cadavers was exceptional. "The human cadavers provide an ideal first opportunity to practise wound closure, lid surgery, peribulbar anaesthesia, emergency eyelid techniques and skin procedures. By the end of the two and a half days, residents have been supervised in performing techniques in a precise manner and thus avoid complications when returning home to future patients.
"Acquiring cadavers for training is expensive – to participate in such a program overseas would cost in the vicinity of AU$5,000. The Sight for Life Foundation partially donates the cadavers, which makes them more accessible for use in our programmes," he said.
"Additional support is provided by Johnson & Johnson Vision, and Ethicon (part of the Johnson & Johnson Group) which has supplied suture materials, surgical skills boards, phaco machines, simulation eyes, and the enormous quantity of consumables needed. Industry support is critical in such a course to provide candidates with the latest equipment and sutures to learn with."
Jonna Mathiessen from Sight for Life Foundation said providing the support to the training facility is all about ensuring tomorrow's eye surgeons are prepared for practice.
"Once they get onto the ophthalmology program, they don't have a lot of time to practice their skills in a wet lab. They're doing shift work, they're on call in theatres and clinics, and they're studying… It's amazing to see how upskilled they become having completed such an intensive program," said Ms Mathiessen.
PREMIER TRAINING FACILITY
The wet lab at Sydney Eye Hospital was established 11 years ago by Frank Bilson, Foundation Professor of Ophthalmology at the University of Sydney, who also established the Sight Foundation Laboratory. Professor Bilson gained approval for the training facility from then Federal health minister Tony Abbott and then Federal education minister, Dr Brendan Nelson. Further, there was a donation of $500,000 from a former patient, Ms. Marno Parsons AM, that helped set up the facility. Ms Parsons was a generous supporter of the Royal Blind Society and her generous donation has resulted in a world class facility being established. Today the wet lab is described by Dr Wilson as the premier training facility of its type in the Asia Pacific, teaching the latest developments in surgery and ground breaking research to specialists working in multiple health related disciplines throughout Australia and the world. The facility delivers pro bono services to the community to the value of around $300,000 every year.