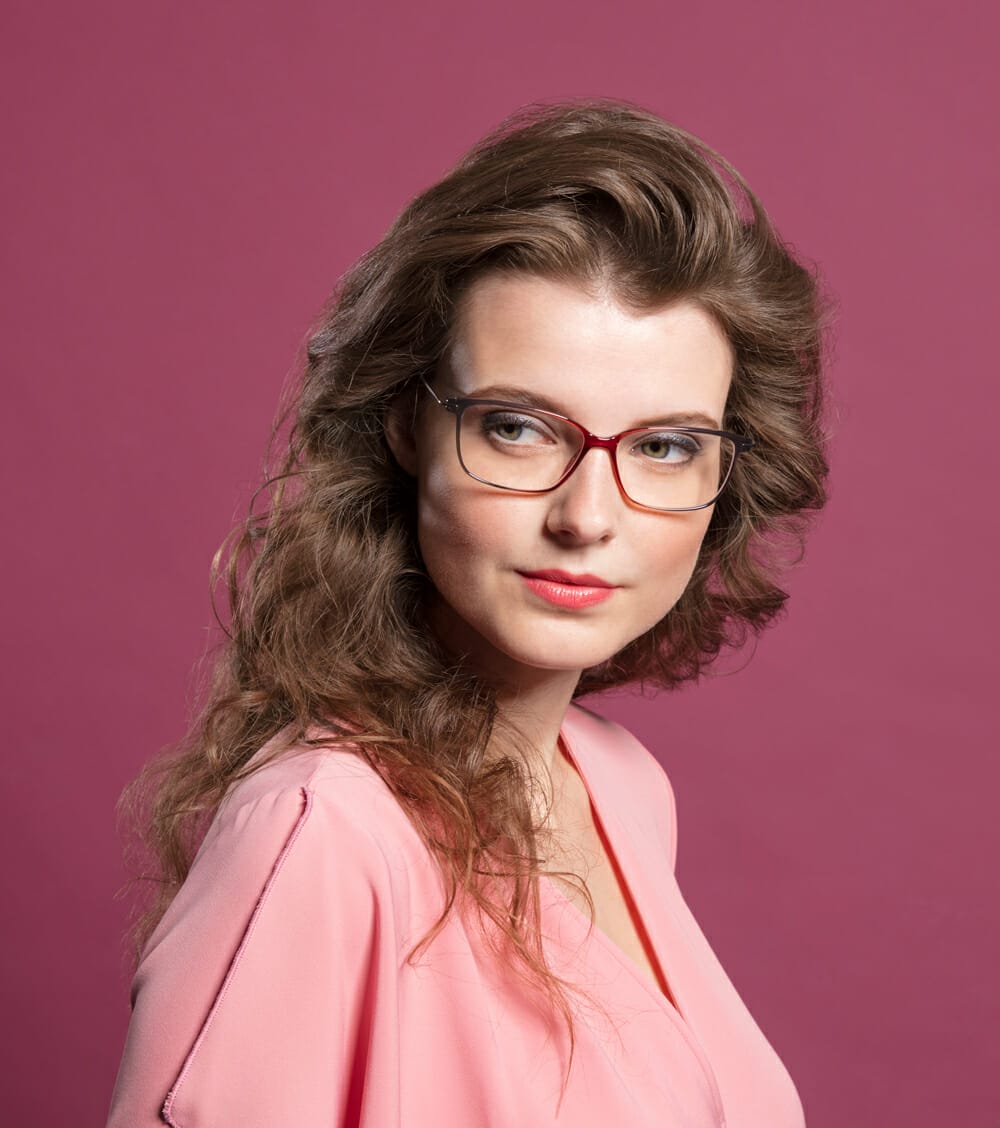 Stepper Eyewear is a family business that grew up in Germany and now, 50 years on, has a global presence. mivision spoke to Saskia, daughter of founder Hans Stepper, about the DNA of the brand and why it has attracted so many fans worldwide.
Saskia Stepper was born into eyewear. The daughter of Hans Stepper, founder of the eponymous eyewear brand, she describes herself as having "frames in my blood".
Visit Hans and Saskia Stepper at… O=MEGA19
"I grew up in the factory. Both my parents worked in the company, so I went there after school. When I was around nine or 10 years old, I loved to accompany my father to work on Sundays. There were some easy jobs which I could do, like bending the temple tips for a comfortable fit behind the ears or washing and drying the frames by hand… Later, during school holidays, I helped in the factory to earn some money…. I did the colouration with my sister."
From 1996–97, Saskia studied economics part-time while working as an assistant to her father in the Stepper factory.
"Eventually, the factory moved to the UK and then to China, and in 2011, I started to look after all the collections and to develop the colours for all of them as well. I still do this with our wonderful design team located in Hong Kong."
Now in her 50s, the plan is for Saskia to eventually take her father's place at the helm of the business.
"I will be Hans' successor. That means holding everything together, looking at how the business is running, trying new ideas and liaising with our customers worldwide. This is what we are both working towards at the moment. Hans' key focus is production, while I focus on the brands and their colouration."
Stepper designs, manufactures and distributes three collections:
Stepper, which is produced from TX5 and titanium,
Steppers, which is produced from TX5 and stainless steel, and
Zeiss eyewear, which comprises five different collections:
o Zeiss Eyewear, manufactured from TX5 and titanium,
o Zeiss Eyewear Sun Collection, manufactured from TX5 and stainless steel with Zeiss sun lenses,
o Zeiss Eyewear Architekt Kollektion, manufactured from 3D laser sintering and titanium, which won the 2019 German Design Award,
o Zeiss Eyewear Signature Collection, which is made from horn and titanium, and
o Zeiss Eyewear Kids' Collection, soon to be launched, which is made from TX5.
The Zeiss Eyewear Architekt Kollektion and Signature Collection are manufactured in Germany. The others are manufactured in Shenzhen, China where Stepper has its own production lines within one of the biggest frame manufacturing factories in the world.
Saskia is keen to reassure mivision of the high quality achieved, despite coming from these large scale manufacturing facilities.
"We have implemented additional quality control sections and have a quality control team that repeatedly checks the quality points every day," she said.
DESIGNED BY OPTICAL SPECIALISTS
Saskia says the key to the company's success lies in the fact that its eyewear is designed by optical specialists for optical specialists.
"Eyewear has to hold two lenses correctly in front of the eyes to ensure the best sight for the wearer. It has to be light, comfortable and should underline the wearer´s personality.
"I recognise the trends in the market and I have an eye for what suits our collections and what does not – whether it is our classic collection or our contemporary collection – I can see or feel the harmony," she says.
The range is massive with around 160 new models designed each year for Stepper and Steppers, and up to 25 new models for Zeiss Eyewear. Models are made up in two sizes and up to six colours.
Frame designs are also tweaked to meet the needs of around 50 distributors worldwide.
"Each country has its own design needs and its own niche in the market. Therefore, for us it is most important to listen to our distributors and to implement their wishes as quickly as possible in the coming collections… We get enjoyment when we see our distributors' positive reactions to our new designs, and when they find enough variety to make their own special choices for their country."
No doubt Stepper also gets enjoyment from customer feedback.
"There are countries where first-time Stepper wearers become fans and remain Stepper fans, choosing Stepper over and over again. These customers tell us they have never worn such comfortable glasses before," she said.
As Saskia prepares to step into her father's shoes, she is in no doubt about the company's future direction. It's simple, and it all comes back to meeting the needs of her distributors and their customers with new eyewear models developed in line with market trends. It's also ambitious – Saskia's aim for 2020 is to sell two million frames!
Visit Hans and Saskia Stepper at the Stepper Australia stand at O=Mega19
Stepper Eyewear is distributed through Stepper Australia, a division of Optique Line. Contact: (AUS) 1800 649 527; (NZ) 0508 678 478
The Early Days
Hans Stepper was born in December 1935, the son of an optician with a small shop in Stuttgart, Germany. As a young man, he became an apprentice dispensing optician and later graduated as a Master Optician. With a passion for eyewear design, Mr Stepper began manufacturing plastic frames by injection moulding rather than using the traditional method of cutting from acetate sheets.
In 1970 he founded Stepper Eyewear in Germany, in joint venture with an expert in plastic moulding technology.