Essilor has recognised the support that independent optometry practices have thrown behind the Transitions Style Academy, by awarding the five growth incentive competition winners with AU$10,000 each to be spent on practice makeovers.
The Transitions Style Academy, launched in March 2019, is a multi-faceted initiative that aims to educate and empower Australian optometrists and dispensers to feel confident and equipped in recommending the Transitions Style Colours and Transitions XtrActive Style Mirrors ranges to new and existing customers.
Although Transitions lenses have been very successful with mature patients, this is the first time they have been targeted at millennials.
We've been looking into the Essilor Visioffice 2 … This will help us get both practices set up at once and provide a bit more wow factor to the patient experience.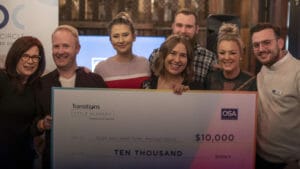 Tara McCabe, Marketing and Business Development Manager at Essilor Australia and New Zealand, explained the program strategy was initiated because many optometrists and dispensers felt apprehensive about recommending the brand to a younger audience.
"Through Transitions Style Academy we are equipping them with the language, knowledge and tools to feel confident during these interactions and communicate the benefits of the lenses to this group more effectively."
The Transitions Style Academy program kicked off with five 'Trendsetter Series' launch events for selected independent optometrists in Brisbane, Sydney, Melbourne, Perth and Adelaide. The launch was supported by a number of sales incentive programs and the appointment of brand champions – dispensers who can share their passion for the brand and host in-store events for customers – as well as brand ambassadors who have been using their influence and style acumen to introduce Transitions Style Colours to the youthful consumer audience.
$10,000 Prizewinners Revealed
The five Transitions Style Academy Sales Incentive program winners were revealed during O=Mega19 in Melbourne at two special events, one hosted by OSA and the other hosted by Essilor. All winning practices were presented with 'cheques' for AU$10,000 for a practice makeover.
OSA acknowledged two practices for their support of the new Transitions Style Academy; Vern and Sarah Howard from BlueFrog Optics (Wagga Wagga, NSW) and Stuart and Lauren Turner, from Warragul Optical (Warragul, VIC).
At an Essilor event, which also celebrated 60 years of Varilux, three practices were acknowledged for their support of the Academy; Andrew Godfrey and Mark McGorlick from Aspley Optical House (Queensland), Kurt Larsen from South Coast Optical (South Australia) and Joseph Florio from Visionary East Fremantle (Western Australia).
The announcements came as a complete surprise for the winners, who were visibly thrilled to have won.
Andrew Godfrey and Mark McGorlick from Aspley Optical House in Queensland described their practice as small and independent with over forty years serving the community's eye care needs.
"It was a wonderful surprise to be announced as the Queensland winners for the Transitions promotion," they said. "Our practice has always been a big supporter of the benefits of Transition lenses for our patients. The recent inclusion of Transitions Signature Style Colours has enabled us to offer our patients a more customised colouring with their choice of frames. We are looking forward to spending the win on improving our practice and continued care for our patients. We are very proud of our team here at Aspley Optical House."
Kurt Larsen from South Coast Optometrists in South Australia said Transitions has been very easy to offer to patients.
"Even if they don't know the brand, most people are aware of the product. We've started mentioning it both at the end of the consultation with the optometrists and also with the dispensers when they're working with the patient to select their lens options," said Mr Larsen.
"As for winning the prize, it was a very welcome surprise! We've been planning on investing in some new equipment for the practices for a while. We've been looking into the Essilor Visioffice 2 and were going to get them one at a time. This will help us get both practices set up at once and provide a bit more wow factor to the patient experience."