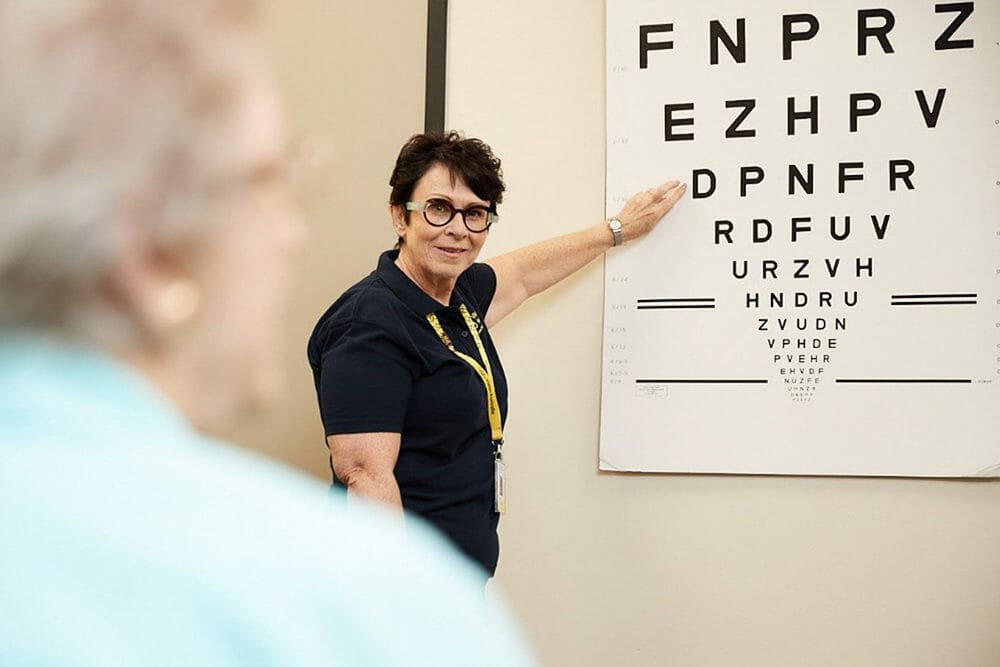 A referral to Vision Australia takes just five minutes yet it can make all the difference to the life and independence of your patients with low vision.
There is no doubt that each day in the life of an eye care professional (ECP) is becoming increasingly demanding, with longer hours and more administration, not to mention the commercial pressures of running a business.
Faced with these growing challenges, it can be easy to forget the significant difference that you can make for someone who is struggling with failing vision.
a referral to Vision Australia, that takes just five to 10 minutes, can ensure that your patients' vision loss is expertly and holistically managed
All too often, people with low vision are unaware of where to seek help to optimise their remaining vision and most importantly, to stay safe. Some are too embarrassed to articulate their concerns with their health care providers. And health care providers across disciplines can be at risk of assuming that another allied health professional has the patient's needs under control.
The simple fact is that all healthcare professionals have a duty of care to ensure that visually impaired patients have access to appropriate support when they need it. Additionally, all healthcare professionals are responsible for providing excellent risk management.
WHO NEEDS HELP WITH LOW VISION?
A study by Centre for Eye Research Australia (CERA) in 2004 found that over 480,000 Australians were visually impaired in both eyes (visual acuity <6/12) and over 50,000 of those people were legally blind (visual acuity <6/60 or visual field <10o diameter). Around 180,000 cases of vision impairment were due to causes that cannot be corrected by spectacles and 75% of those were caused by just five conditions; age-related macular degeneration (AMD), cataracts, diabetic eye disease, glaucoma and under corrected refractive error.
By 2024, the number of patients who live with visual impairment or blindness is expected to increase to nearly 800,000.
THE IMPACT OF LOW VISION AND BLINDNESS
While the prevalence of visual impairment is alarming, the emotional and everyday impact is the real issue. The CERA study revealed that people fear blindness and cancer as their two most dreaded health conditions. In fact, a third of people surveyed said going blind was worse than cancer.
This fear of vision loss is justified by the data; of the 70,688 visually impaired Australians who died in 2004, 584 deaths were estimated to result from visual impairment (an 'attributable fraction' for mortality of 0.83%).
Visual impairment also prevents healthy and independent ageing and directly impacts areas such as socio-economic status including lower employment rates, a higher use of health services, social isolation, emotional distress and an earlier need for nursing home care. When compared to fully sighted people, the risk of falling is twice as likely for people with low vision, cases of depression increase three fold, and loss of 'in home' independence can be three years earlier for these patients.
HOW CAN YOU HELP?
Optometrists are well placed to help people at risk of, or living with, vision impairment to maximise their independence and quality of life – a referral to Vision Australia, that takes just five to 10 minutes, can ensure that your patient's vision loss is expertly and holistically managed. Whether your patient is a newborn, an elderly person, or any age in between, Vision Australia has a suite of comprehensive services, aids and equipment to directly address their needs and help them manage their vision loss.
THE CASE OF CYNTHIA
Cynthia is a single, 55 year old librarian who has lived with non-insulin-dependent diabetes mellitus, type 2 diabetes for five years.
She recently visited her optometrist, complaining of increased blurred vision, especially when reading or watching TV. She also reported pins and needles and occasional cramping in her hands and feet.
Upon ocular fundus examination, a hazy fundus view was noted with bilateral macular lesions and retinopathy consisting of dot haemorrhages, exudate and blood vessel tortuosity.
Cynthia had been seeing an ophthalmologist who had previously performed laser photocoagulation on the retina. Visual field examination records showed central vision sensitivity loss and patchy peripheral sensitivity loss.
Cynthia was taking Diabex.
Her blood sugar levels ranged between 9.5 and 15.5.
Visual acuity was R: 6/36 L: 6/18.
Cynthia told her optometrist that her father had recently passed away from diabetes related complications and that she lived alone on the second level of an old apartment building with no lift.
She said with her failing eye sight, activities of daily living and work duties were becoming harder to manage, and she was concerned about losing her job.
Cynthia reported that having been an amateur opera singer, she loved the opera, and she also chaired a local women's association. She was no longer able to enjoy these activities because she had become apprehensive about leaving her apartment, especially at night, in case she fell over. Consequently, she was feeling isolated, which was causing her to become depressed.
DISCUSSION
Triggers for Referral 
Cynthia's visual acuities and field results, as well as the fact that she lives alone and was feeling depressed and anxious, triggered a referral to Vision Australia.
Immediate Concerns 
Her optometrist noted her risk of a fall due to her acuities and fields, as well as her mental health ("feeling depressed") were reasons for immediate concern.
Referral and Assessment 
Cynthia was contacted by Vision Australia and offered an assessment based on her optometrist's referral as well as her stated personal needs and concerns.
An orthoptist provided the initial assessment, which focused on her remaining functional vision. When Cynthia complained that 'spot tasks,' such as going shopping and going out were really hard, the orthoptist prescribed a portable hand held magnifier for everyday use. The aim was to help her identify information such as prices, ingredients, and use-by dates, and read items such as menus etc. Cynthia chose a magnifier with an LED light that was small enough to fit in her handbag.
Seeing at Home 
Next, an occupational therapist attended Cynthia's home. Cynthia told the therapist that she was bumping into things, especially at night, and had trouble finding things when she misplaced them.
Home modifications were implemented, such as new LED lights in the living room, bedroom, bathroom and kitchen to provide lighting without causing shadowing or glare. Safer kitchen utensils that contrasted with benchtops were recommended, a large button phone installed and loose rugs were removed to prevent trip hazards.
Following these changes, Cynthia said she felt much more confident moving around her home and felt more able to organise and find things.
Getting Around Safely 
Cynthia had said that although she felt unsafe leaving the house, she didn't want to be a burden asking for help. An orientation and mobility specialist supplied and instructed Cynthia on the use of a foldable long cane. Feeling safer, Cynthia now goes out at night into crowded environments, and is able to negotiate stairs. She also appreciates the fact that her cane identifies her as having low vision.
Working 
An adaptive technology specialist invited Cynthia to attend a clinic to discuss the tasks she had difficulty performing at work, which were mostly detailed work at her desk and computer. She was offered a range of electronic desk magnifiers to trial, and having chosen one, Vision Australia had it set up for her. Computer software was added to enlarge text and provide audio read out capability.
Social Activities 
To build on her social network, Cynthia joined Vision Australia's support and social groups and began regularly attending their meetings, especially the cooking and handicraft classes, which she loves.
She observed that being around other people in a similar situation increased her confidence and expanded her friendship group.
At one group meeting, Cynthia heard about the Vision Australia Library, where it is possible to access thousands of online audio and large print publications. Now she accesses the library on her iPhone via an app and, being a librarian, also volunteers at the Vision Australia library.
Holistic Care 
Cynthia is now able to live the life she chooses. Thanks to a referral from an optometrist who looked beyond the needs of her clinical and optical care, as well as help from Vision Australia, she has been able to remain independent, safe and employed.
Referring 
Referring patients to Vision Australia takes five minutes yet it can make all the difference to a patient's life. Mark Vision Australia's homepage, www.visionaustralia. org, as a 'Favourite' and click on the yellow box 'Refer my patient here'. Input basic patient details and, if possible, attach basic clinical information, then hit send. Easy.
Nabill Jacob graduated from University of Sydney with a Bachelor's Degree in Orthoptics and a Master's Degree in Community Health. As a Clinical Relationship Manager at Vision Australia, he delivers national and fully comprehensive services and support for vision impaired and blind clients, allowing them to pursue career, social, leisure and educational aspirations.