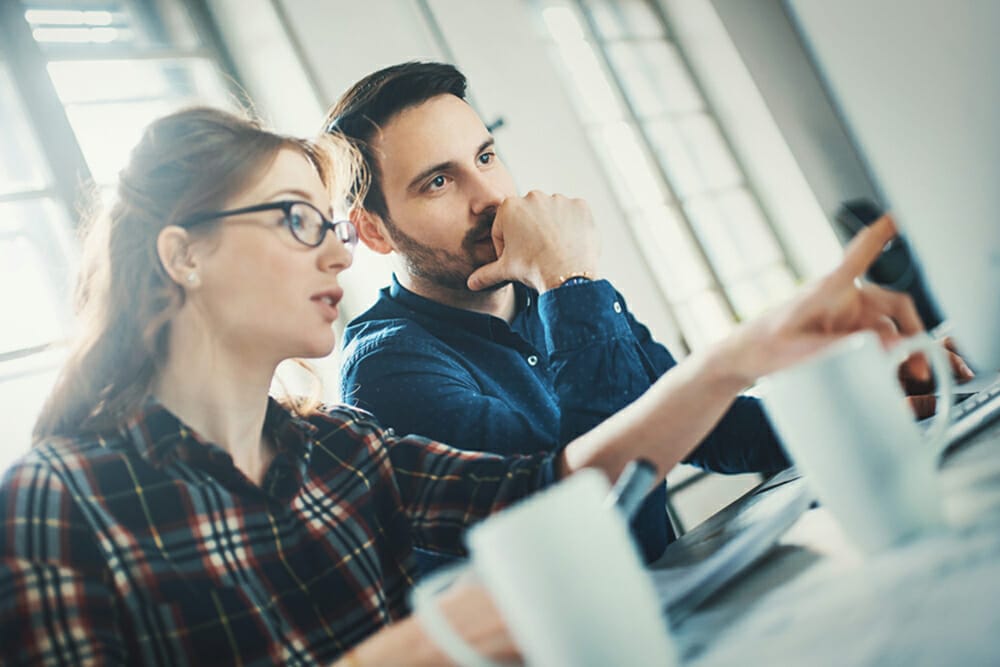 Optometry is a uniquely complex profession that combines retail services and marketing with technical products and clinical expertise. These elements are often at odds with each other, making every day a challenge for many practitioners.
This is especially true for the majority of optometrists for whom business management is not necessarily an area of expertise or even interest. Although universities increasingly integrate business basics into their optometry degrees, it's not until you're at the coalface that the theory learnt morphs into reality.
So where do you begin?
From the very first day you start thinking about owning a practice to the day you retire, your business success will come down to careful planning and skillful execution.
That's because, in the wise words of Ideology Consulting's Mark Overton, "a carefully assembled and practice specific business plan will ensure the direction of your business is clear, as are the steps on how to achieve your goals."
Easy said.
a carefully assembled and practice specific business plan will ensure the direction of your business is clear, as are the steps on how to achieve your goals
Ideally a business plan will include an executive summary detailing what your business does and describing its market; an overview or profile of your company; analyses of your industry, competition and customers; a marketing plan; an operations plan for daily activities and milestone achievements; an outline of the management team, their qualifications, and responsibilities; a financial plan with financial projections; and an appendix containing necessary supporting documents.
Putting together a comprehensive business plan like this will be time and thought consuming. However, it will reward you because, "The process of creating a business plan forces you to take a realistic, more or less detached look at your business as a whole. This allows you to identify areas of strength and weakness and highlight details which might otherwise be overlooked," says Mr Overton.
UNDERSTAND THE LEVERS
Preparing a business plan will also help you identify the levers available in your business, to plan out and realise the best possible gains.
According to Charles Hornor, Director of Communications at Specsavers, "These keys levers include training and development for all of your professional and support staff; marketing and recall to win new patients and retain current ones; product selection that suits the demographic segments that your practice serves; as well as having a keen understanding of staff costs, appropriate rates of pay and managing the business' numbers.
"Bringing this all together, it's important to remember that while you are providing a frontline community healthcare service, you must operate on a sustainably profitable basis if you are to succeed and truly unlock your practice potential," he says.
Of course creating a business plan is not a one off event – your plan should be a living, breathing document that evolves with your practice. Something that you can refer to often, enabling you to measure success, set new goals and prepare for change.
As Mr Overton says, "The most successful businesses in the world are those that anticipate change in the environment around them and are prepared for it when it happens. Most of us react when we see change happening. This is all right if you can react fast enough. However, some neither see nor react to change, which can be fatal."
Aaron Kangisser from The Optical Company believes making quick changes that are effective is one of the greatest challenges for small businesses.
"It is most important to remain focused on the customer while being nimble and dynamic in your decision making. It's a tough balance when there are new trials every day," he commented.
FIND YOUR DIFFERENTIATOR
Your plan should define your practice's point of difference and how you intend to exploit it.
Indeed, Steven Johnston, Chief Executive Officer of ProVision, believes this to be the single most important thing an optometry practice can do to unlock its practice potential.
"Clearly identify and then articulate what makes your practice different from the other 3,000 alternatives that patients have to choose from and then set about doing everything you can to embody that point of difference," he says.
"It's then about creating congruence between what you want to be and what your patient sees, feels and experiences. For example, if you want to claim the high ground on clinical excellence then one would suggest that you need contemporary diagnostic equipment and highly trained staff to substantiate that claim.
"Alternatively, if you want to be seen as a leader in fashion, then your practice presentation, frame selection and dispensing staff all need to be fashionable." For more ideas about differentiating your practice, read Soojin Nam's article on page 32.
With a big picture business plan in mind, you can start working on strategies to drive success in every area of the practice.
"The completed plan becomes the chief instrument for communicating your ideas to others – it allows you to take your ideas and put them into a concrete form," explains Mr Overton.
"The completed plan also provides a basis for coordinating, prioritising and importantly, implementing your ideas. Tasks can be delegated to staff, and their achievements measured. This ensures time is not spent doing unimportant tasks while the important things are left by the wayside."
IMPLEMENT BUSINESS SYSTEMS
Minimising wasted time is essential in a busy practice where optometrists rarely have the opportunity to concentrate on anything outside consultations.
Optometrist turned business broker Phillip Fent cautions that under these circumstances, the retail aspect of the practice, where in most cases most of the income is generated, can quickly become neglected.
"Great support staff are helpful, but without adequate attention being paid to all the different parts of running a business, the practice will have trouble achieving its full potential.
"Marketing, including recalls; buying and controlling stock, managing IT systems, and HR (payroll, staff recruitment, rostering mentoring and training etc), are all critical elements to the business mix."
This is where business systems come into play, says Peter Winkle, CEO at Bailey Nelson.
"Effective business systems are essential to seamlessly integrate the complex melting pot of an optometry environment that comprises retail, marketing, product and clinical.
"Systems are essentially procedures and processes designed to achieve a specific result. They form the framework for store operations and are critical in providing information, organisation and execution required to drive successful commercial outcomes.
"From a store perspective, business systems that unify marketing, merchandising, retail, people and clinical aspects of the business, serve to provide a clear measure of strengths and weaknesses, giving insight into what needs improvement and an understanding of where customer needs have not been met."
INVEST IN EXPERTISE
Consumers and patients are increasingly educated about the importance of their eye health and are encouraged to be more proactive in the management of their own healthcare.
Practices that invest appropriately in technology for screening of eye diseases or treatment of particular conditions can differentiate themselves and create a niche that drives success.
Effective business systems are essential to seamlessly integrate the complex melting pot of an optometry environment that comprises retail, marketing, product and clinical
But there's more to it than the initial investment.
"Investing in technology will set you back financially so it's important to analyse the competition and examine your market for opportunities before heading down a particular path," cautions Lily Wegrzynowski, Chief Business Development Officer at EyeQ Optometrists.
"Is there an unmet need for the particular screening or treatment you are going to offer – if you're thinking of investing in OCT, do you have a growing adult/ ageing population? If you're considering virtual reality for the treatment of amblyopia and strabismus, do you have a growing population of young families? Can you charge enough for the service to generate a return on investment that improves your bottom line and affords the maintenance and upgrades needed to remain at the top of your game? "
Investment in technology also necessitates upskilling your staff but the great thing is that if you invest wisely in areas of the practice that interest you and your team, and are good for the community, you'll bring them all along on the journey with you.
"Helping your staff to provide patients with holistic care will increase their professional satisfaction and encourage their loyalty over the long term," she said.
POWER UP YOUR PEOPLE
Of course the people in your practice are absolutely key to unlocking its potential – whether they're involved in administration, consultations, dispensing or running your front of house. That means hiring people with the right fit and encouraging their commitment.
"If you wake up in the morning and you can't wait to get to work, that enthusiasm rubs off on your co-workers and generates an ethos in the practice," explains Michael Hare, optometrist and owner of Eyecare Plus Southport and Benowa. "If you have everyone buzzing in the same way, patients notice the positive atmosphere… comradery at work delivers a service that is beyond what is expected."
For practice owners trying to exit their business, a professional team that is knowledgeable, enthusiastic, courteous and driven to help maximise sales (without being over-zealous) is essential.
"Staff can be your biggest asset," says Paul McKinley, Managing Director of Optometry Finance Australia. "A professional team will help build a strong database of repeat and referred patients, providing a pipeline of future sales and profitability for the practice… and that's the 'goodwill' component that is so important when it comes to selling your practice – it usually adds hundreds of thousands of dollars to the value."
Mr McKinley said in the lead up to a sale, other important ways to unlock the potential of your practice include ensuring it is clean, modern and well-presented and that there is a realistic lease in place.
"The remaining lease term is very important. We've had deals for practice purchases rejected by financiers due to the absence of a commercial lease…if a practice has no legally enforceable lease, and the practitioners are 'kicked out' then it can't operate. No trading means no revenue, and you can't make your loan repayments."
As Charles Hornor says, it all comes back to understanding the levers, and how you can work them in order to reap the benefits.
Steven Johnston, Chief Executive Officer
ProVision 
"ProVision has 10 business coaches spread across the country to help independent practice owners articulate their point of difference and turn this into their unique 'Why Choose Us?', which is then reflected in all of the practice collateral.
"We have seven marketers and graphic designers who can creatively turn your point of difference into tangible patient facing communications, be that signage, literature, promotions or in the digital space.
"Additionally, we have systems that enable efficient practice operation so that you can focus on executing the things that make you different. Corporate and franchise practices aim to homogenise the patient experience. At ProVision we want to facilitate a different execution of 'WOW' in every practice that we work with."
Visit: provision.com.au 
Lily Wegrzynowski, Chief Business Development Officer 
EyeQ Optometrists 
"Our goal is to provide personalised, holistic eye care within a unique relationship-driven business model. That means our optometrists are encouraged to maintain their clinical independence, and develop areas of clinical expertise. Support is customised and extends to a full range of back-end services that frees them up to focus on this. So we can look after everything from buying and merchandising opportunities, right through to personnel management, training, financial management (including payroll and accounts payable), IT services, practice fit out and design, and national and local area marketing campaigns.
"Importantly, this level of support also means our optometrists are able to enjoy a work / life balance often lost in the challenges of private practice. They can realise their dream to own their own practice with our support and to the level they need."
Visit: eyeq.com.au 
Philp Rose, National Business Development Manager
Eyecare Plus 
"It is critical that consistent communications with your existing patient database are maintained. It is also important to engage with your local community in an effort to attract new patients and therefore remain 'in the conversation'.
"Eyecare Plus provides the tools and support to make ongoing communication efforts easy and less time consuming for the practice owner. This means the owner can continue to concentrate on providing the best service and patient care possible… which in turn encourages word of mouth referrals."
Visit: eyecareplus.com.au 
Peter Winkle, Chief Executive Officer
Bailey Nelson 
"Our business systems reinforce our values of working collaboratively, underpinned with the notion of constant improvement, and the ability to pivot with the changing needs of the business. Be it marketing, merchandising, retail, people or clinical, all aspects of our company are unified by our business systems to provide stores the support they need to achieve commercial success and customer satisfaction. In addition to providing top-down support, our systems empower stores to function autonomously but within a framework that is aligned with company expectations.
"This is especially important as we expand and start to incorporate partnerships into our model. Partner motivations may differ from employed optometrists or store managers but our systems ensure consistency in operations and customer experience."
Visit: baileynelson.com.au 
Charles Hornor, Director of Communications
Specsavers 
"At Specsavers our approach is to provide a broad range of support services to our store partners. While it's well known how we support the marketing and recall process, product testing and back office elements, often less well understood is how much support we provide in areas such as leadership training for supervisors and managers; and also in a very wide range of professional development options and activities for both optometrists and optical dispensers.
"Our goal is to shoulder as much of the business burden as possible so that our partners can focus the vast majority of their attention on looking after their patients and developing their teams."
Visit: spectrum-anz.com 
Aaron Kangisser, Head of Commercial & Strategy
The Optical Company 
"The Optical Company (TOC) has launched a campaign called "Time for a Change" which offers to acquire independent businesses on attractive terms. Each acquisition is based on the individual business owners' requirements rather than on a single solution, and every arrangement is about maximising practice potential through our support model.
"Over the long-term TOC ensures business strategy, an end-to-end supply chain solution, communications and promotional planning, training and development, plus administration support across operations, finance and human resources. This combined support and focus allows practices to focus on their customer while being part of a professional and forward-thinking parent company whose purpose is maintaining variety and choice in the optical market.
Visit: theopticalcompany.com.au 
Paul McKinley, Managing Director Optometry
Finance Australia 
"At Optometry Finance Australia we help optometrists to obtain competitive finance solutions for practice fit-outs, renovations and new equipment. Additionally, we source finance so you can buy the commercial premises you're in. This enables you to build your capital wealth instead of paying rent to someone else. Financing can also be arranged via your self-managed superannuation fund.
"We also arrange working capital facilities that enable optometrists to help negotiate better supplier discounts, and we can assist your staff with their personal funding needs (mortgages, car and personal loans), thereby helping build employee loyalty."
Visit: optometryfinance.com.au 
Mark Overton, Managing Director
Ideology Consulting 
"Ideology Consulting has assisted hundreds of independent practices to create business plans to help them achieve their objectives. We will write your plan for you.
"The plan is presented in a functional and easy to read layout with specific tasks and activities allocated to practice staff in achievable time frames. Explanations are provided for each objective and a brief strategic analysis is included. Then we will help you implement it and provide you with essential resources and practice management assets."
Visit: ideologyconsulting.com.au 
Philip Fent, Managing Director Optometry
Business Brokers 
"As business brokers, we offer a confidential, free appraisal of optometry practices to our clients. This includes producing a report that examines the performance of various parts of the business, that can be benchmarked against similar practices.
"This allows us to identify areas of the practice that could be improved to unlock its full potential. A business plan could then be produced and implemented to achieve this outcome. "Maximising the potential of the practice is the best way to achieve the highest sale price."
Visit: optometristbusinessbrokers.com.au