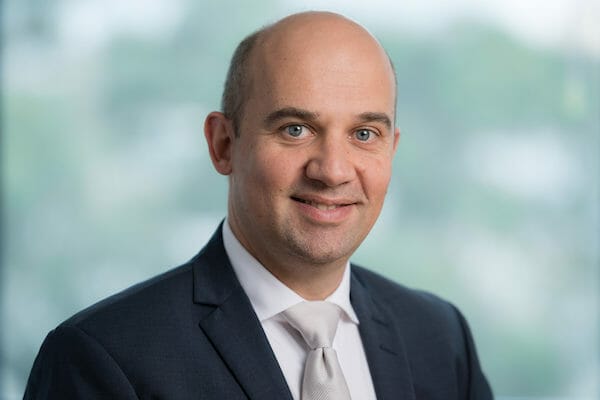 The Optical Distributors and Manufacturers Association (ODMA) has held its Annual General Meeting (AGM) and elected nine directors who will serve for the next two years.
ODMA's 2019 membership numbers (comprise) 4% contact lenses, 8% accessories/other 8, 13% lenses, 19%  equipment, and 56%  frames/sun
The AGM was held on 23 October and there were nine nominations for nine positions as follows:
Robert Sparkes         Optimed Pty Ltd
Richard Grills             Designs For Vision
Mark Altman             Device Technologies
Brad Saffin                 Marchon
Craig Chick               Hoya Lens Australia
Lionel Minter             Mimo Australia
Pierre Longerna       Essilor Australia
Sean Rosenberg      Frames Etc
Hilke Fitzsimons          Zeiss
Robert Sparkes from Optimed was re-elected unanimously to the Chair at the meeting.
Pierre Longerna
Pierre Longerna, CEO of Essilor Australia New Zealand, was newly elected to the board and will commence work for ODMA at a board meeting on 13 December.
Mr Longerna has a background in Engineering and Business as he graduated with a Master of Engineering from Ecole Centrale Paris, a Master of Science from UCLA and an MBA from INSEAD. He started to work with Essilor in 2005 in France where he held different strategic and commercial roles. Mr Longerna then moved in 2012 to Canada as the President of Nikon Optical US and Canada, and joined Essilor Australia and New Zealand as Country Manager in 2017.
Mr Longerna started his career in banking and management consulting working both in China and in Europe. His international business experience and cross-cultural company management will be of value to the Association.
2019 Activities
At the meeting, Chairman Robert Sparkes advised ODMA's 2019 membership numbers "had some ups and downs" and now stands at 50 members, comprising 4% contact lenses, 8% accessories/other 8, 13% lenses, 19%  equipment, and 56%  frames/sun.
Membership numbers reduced due to consolidations such as Healy Optical which merged into Frames ETC and Jono Hennessy into Sunshades. France Medical, MYM and Black Lilly were also lost from the membership base.
Summarising the year's activities, Mr Sparkes noted the success of ODMA's major activity – O=MEGA19 which was held for the first time with Optometry Victoria SA – saying surveys  indicated exhibitors and visitors were very happy with many stating "it was the best event ever staged".
ODMA and O VSA will together host the 4th World Congress of Optometry at OMEGA in Melbourne, in September 2021.
Mr Sparkes advised that O-SHOW 2020 will be held from 16-17 May 2020 at Hordern Pavilion, Moore Park Sydney, showcasing Australian leaders in equipment, sunglasses, frames, and lenses. The event is more than 50% sold already.
Member Services and Research
Mr Sparkes reported that circulation for Eye Talk, which has been owned by ODMA for five years, now stands at 3,065 magazine subscribers, 600 digital subscribers and 3,100 e-talk digital subscribers.
Revenue for Eye Talk is maximised revenue through advertising and subscriptions including supplements such as Equipment Mag and Look Book. The latter has been distributed to 6,000 non optical retail outlets such as hairdressers, hotels and airport lounges.
ODMA's latest optical industry research, Australian Eyewear Analysis, is complete and to be distributed to members, with new consumer research which has not been covered for eight years. The research concentrates on changes in the optical marketplace in that time.
In 2019, ODMA increased the content, updated and reprinted its Basic Lens Dispensing booklet, valuable member resource in a deregulated market.
Community Support
Mr Sparkes reported that ODMA continues to support Vision 2020, OGS (now incorporated into the Brien Holden Vision Institute) and Macular Disease Foundation Australia.
For the tenth successive year ODMA has offered scholarships in Optical Dispensing and will also provide scholarships to staff of ODMA members who undertake the Certificate IV in optical dispensing. ODMA provided the facilities for a national Forum on Optical Dispensing at OMEGA19 which was well attended. Eye Talk continues to provide free advertising for TAFE training courses in optical dispensing.
Universities
ODMA continued its involvement with the business and marketing plans for the UNSW clinic, which has now been in pace for 10 years. ODMA's dispensing mentoring program, now in its ninth year, sees trained optical dispensers working for ODMA members advising students about products and general dispensing.
Mr Sparkes thanked ODMA members who donate staff and resources for this purpose as well as ODMA member companies who supply frames on consignment to the university clinic.
In 201,9 for the tenth consecutive year, ODMA gave business presentations and facilitated workshops for fourth year optometry students, which encouraged them to pursue independent optometry.
Mr Sparkes concluded his presentation by thanking members of the ODMA executive who serve unpaid, giving up business time and covering their own incidental expenses. He acknowledged the valuable contribution of Phuong Nguyen who recently retired after serving on the ODMA board for more than 10 years, and CEO Finola Carey for her constant advice and support.