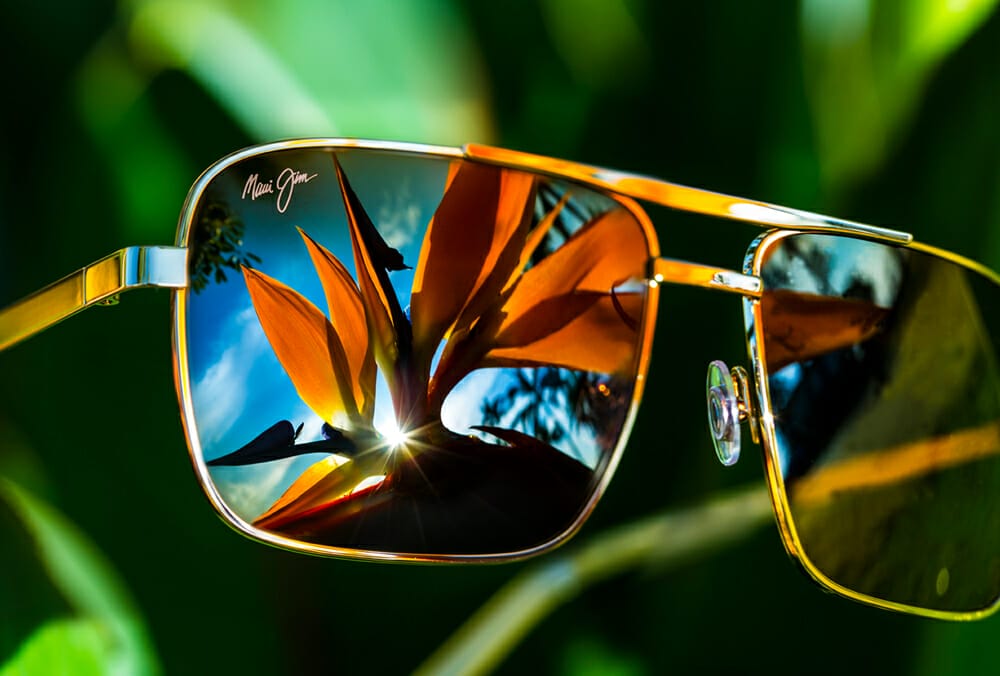 Maui Jim was founded on the beaches of Lahaina, Maui and designed to protect eyes from the harsh rays and glare of the island's sun.
That was back in 1980 and today the company is owned by Walter Hester. His vision, hard work, passion and stewardship has transformed Maui Jim from a small business solely selling sunglasses on the islands of Hawaii to the global success it is today.
There's no doubt that Maui Jim's beginnings were humble. In the early days its glasses were sold by the pool in the resorts of Maui to holidaymakers who had either forgotten or lost their sunglasses. The harsh Hawaiian sun provided the perfect testing ground for their polarised lens technology.
Maui Jim's goal is, and has always been to deliver the world's best views, full of colour, clarity, and detail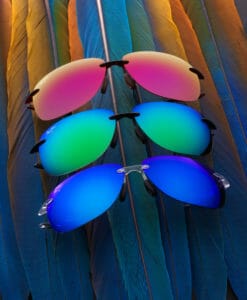 The founding partners discovered that people who bought Maui Jim quickly became their best advocates and salespeople; showing others around them how great the lenses were.
Fast forward 30+ years and awareness of, and loyalty for the brand continues to grow at a record pace. Maui Jim is now the official vision partner of aspirational brands such as Manchester United (including development of the co-branded 'Club Collection'), the ATP Tennis and the European Tour (golf). According to the company, it is the "number three sunglass brand in the world, the number two in the USA, and the number one premium polarised sunglass brand globally".
AN ALOHA CULTURE
Maui Jim's Hawaiian heritage and 'Aloha' culture is central to the brand's unique DNA. Aloha is more than a Hawaiian greeting. It is an attitude that emotes a sense of respect, trust, integrity, positivity and free-thinking creativity. It puts others first and acts out of kindness for one another. For Maui Jim, Richard Hoare, Maui Jim's Vice President – APAC/MEA, says that means customer satisfaction, be it trade or consumer, is paramount.
"We go out of our way to ensure the experience they have is a positive one and that they feel as if they are part of our extended o'hana (Hawaiian for family). As a result, Maui Jim Australia has won the coveted Australian Service Excellence Award – Small Business (cross industry competition).
TECHNOLOGY DRIVEN
Technology is also at the core of Maui Jim's phenomenal success; the brand is synonymous with superior lens technology and is often regarded as the category leader in sunglasses.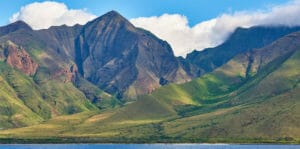 "As a lifestyle brand, we deliver styles that can be worn anywhere, by anyone, with a gender-neutral, 100% polarised collection that spans 150+ styles and over 600 pieces (SKUs)," says Richard. "We can comfortably cater to all ages, leaving us room to develop styles in every segment from sports all the way to fashion. Interestingly however, our fastest growing consumer is aged between 18–34 and we are developing marketing initiatives to maximise our impact and exposure within this age group."
Richard says Maui Jim's goal is, and has always been to deliver the world's best views, full of colour, clarity, and detail.
To achieve this, all Maui Jim sunglasses use the most expensive and most efficient polarising film to remove 99.9% of harsh glare, 100% of harmful UV and 95% of HEV (blue light). In fact, Maui Jim sunglasses are one of just three brands that have been recommended by the Skin Cancer Foundation as an effective UV filter for the eyes and surrounding skin.
Another competitive advantage is Maui Jim's patented lens technology and rare earth elements that enhance natural light (rather than dimming it), bring colours to life (richer, brighter and more vibrant) and increase contrast and depth perception. This is combined with other best-in-class lens treatments such as anti-reflective, anti-scratch, hydrophobic and oleophobic coatings, and patented lens materials for unrivalled clarity.
SERVICE RECOGNISED
The company's 'aloha spirit', mentioned earlier, is a central pillar and philosophy that is embodied throughout the business. Repairs are turned around in less than three days and at times at no charge; dedicated customer service personnel (as opposed to machines) always answer the phones and are empowered to deal directly with all stakeholders; and in terms of stock management, Maui Jim offers the trade an 'open exchange and returns policy'. Even emails start with 'Aloha' and end with 'Mahalo' (thank you).
This exceptional service has been recognised with countless awards including the 'Best Sunglass Company' (last nine years), 'Best Sunglass Rx Company' and 'Best Sunglass Rx Brand' in the globally recognised Vision Monday and 20/20 magazines' Annual EyeVote Reader's Choice Awards as selected by the trade (opticians, optometrists and ophthalmologists).
MANUFACTURING
All Maui Jim sunglasses are produced out of what most believe to be the two best countries in the world for optical product manufacturing: Maui Jim plano glass lenses are made in Italy and synthetic resin (plastic) lenses are made in Japan using the company's patented PolarizedPlus2 lens technology. Frames are also manufactured in these two countries.
Unlike many sunglass brands in the industry, Maui Jim has a genuine prescription program. To ensure total control of its prescription quality, accuracy and turn-time, Maui Jim has invested in two state of the art prescription labs – one in Peoria, Illinois at the global head office and a second in Braunschweig, Germany. The latter was opened in 2018 to cater to an everincreasing global demand for Rx, and to service the European markets more quickly.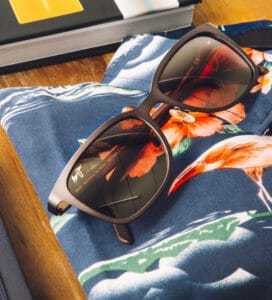 Production in both labs is fully automated, from cutting-edge direct surfacing through to finishing, and passes through five quality control check points. All waste and petroleum materials are recycled in an effort to be as green as possible.
Maui Jim recently launched MauiPassport 2.0, which is 66% wider than the original MauiPassport and provides a 20% reduction in astigmatism compared to the original MauiPassport design. Prescription lenses using MauiPassport 2.0 are digitally processed and fully compensated to accommodate the wrap of the frame and base curve, allowing the wearer to see accurately throughout the entire lens with distortion-free, edge to edge clarity and faster adaptation.
Richard says in terms of lens materials, MauiBrilliant is an industry best. "It's the lightest, highest-clarity prescription-ready lens available anywhere. With an ABBE value of 56, it offers optics nearly as clear as glass, and almost double the clarity of traditional polycarbonate lenses, yet it is one third the weight of glass."
WHAT'S NEW
In October this year, Maui Jim launched its newest sunglass lens material: MauiPure LT. This is the company's thinnest, most lightweight lens material, yet it still delivers 52 ABBE value optics.
"It is nearly as clear as SuperThin Glass, with exceptional impact and scratch resistance and has been launched with light as a feather frames for ultimate performance – the total weight of the frame and lenses is less than 10 grams! The temple tip pads have been minimised, and the nose pads have been designed for advanced airflow technology to give the wearer better grip and less slip," said Richard.
MAUI JIM OPHTHALMICS
Right now, Maui Jim's fastest growing segment and biggest opportunity is its ophthalmic range.
"The optical range expands Maui Jim's sun Rx parameters and also enables customers to order sun Rx lenses in optical frames.
"Our lab offers six clear lens options, including two high-index proprietary materials (Maui Blue Light Protect and Maui High Contrast). Our proprietary lens designs also speak to our heritage of providing only the best, with our MauiPassport Everyday and MauiPassport Office lens options.
"With additional features, world class customer service with one point of contact for frames and lenses, high quality materials including Italian acetate, digitally compensated Rx technology, exceptional warranties and a 90-day redo and nonadapt policy, our total offering is a serious contender on the world stage and one we will be focusing on for a long time to come," he concluded.
Contact Maui Jim (AUS) 1800 010 244 www.mauijim.com