Perhaps it's our geographic isolation, perhaps it's in the training, perhaps it's creative flair… Whatever it is, Australian designers punch above their weight on the international arena with increasingly distinctive eyewear … As industrial designer Colin Redmond says, "Australian eyewear is better, Australia just doesn't know it yet".
Australian eyewear designers are few in number, and yet they have made a significant contribution to the global eyewear scene over the decades.
Take for instance, artisan Peter Coombs, who draws on his Bachelor of Design studies in jewellery and metalsmithing to create eyewear which has been loved and worn by the likes of Raquel Welch and Elton John. He's even had one of his pieces travel in a space shuttle five million miles around the Earth.
Starting a new collection is about coming up with a new construction method rather than a bunch of new shapes or using a slightly different material
Or Paul Taylor, whose glasses have been personally selected by the likes of Jenny Kee, George Miller, Paula Yates and INXS lead singer Michael Hutchence. Hutchence's PT frame became part of his signature look and was most famously captured in Harry Borden's portrait on the Champs Elysees in Paris.
Then there's Hamish Tame, lead designer for Le Specs, who shifted the international sunglass trend from large frames to cats eyes, a style quickly adopted by Kim Kardashian.
According to Peter Coombs, who is also a national councillor for the Design Institute of Australia, this list of achievements barely scratches the surface. "We have a lot of amazing designers spotted around the country – the more you dig the more you discover," he told me.
POWER OF DISTANCE
Chat to Australian designers and you'll hear a common refrain: Australia's geographic distance from the rest of the world has provided freedom to create stand-out design.
"Australia doesn't have the rules of Europe – so people create their own designs – the designers who have done well overseas are those who have been a bit unique," said Jono Hennessey.
Hamish Tame agrees. "We have to work that bit harder to be noticed on the international stage… the way we do that is through our design… and the more we push the boundaries to come up with frames that are new, exciting, totally different, even wacky, the more attention we get."
While the international market embraces bolder Australian styles, it's the more conservative frames that sell best in Australia.
"When it comes to sales here, our flashier styles that sell well in Paris, don't sell as well here as our casual frames," said AM Eyewear's Simon Ponnusamy, who recently returned to Australia having been focussed on building his brand in Europe and America.
Optometrists also enjoy the opportunity to liaise with us and their clients to develop custom rimless eyewear
Similarly, Hamish Tame finds Le Specs' more fashion forward styles sell best in Europe while the more classic and unisex frames are the bigger sellers on the local market.
Whacky or classic, the good news, as Colin Redmond from Niloca points out, is that optometrists are increasingly aware of good Australian design.
"The local optometrist is certainly better educated than they were ten years ago. I find they're more aware of different types of 'designers' – some are badge designers putting their name on a generic frame, other designers are marketing focussed and heavily branded with great stories and emotive photos. Others come from quasi-design experiences and then there are industrial designers, like me, who are specifically trained to create consumer products. Industrial design involves the study of ergonomics, material sciences, production techniques, colour, art history, law, 3D printing, engineering, optical dispensing, life drawing and electronics."
Even so, Paul Taylor says there's potential to sell bolder frames in Australia – it just requires greater input from practice owners and their teams. Proving the point, he sells 90% of his eyewear, which is distinctive in both colour and shape, locally. However, he says it's not all that easy.
"I am disappointed that some Australian business owners and practice managers don't embrace and support local talent – it's the Aussie way to knock rather than support. In saying this, I do get wonderful support from my existing client base of course… so I focus on designing beautiful eyewear and sunglasses for my wonderful customers that love passionately what I do.
"I meet a lot of my stockists' customers at the style shows we do and I see, with my own eyes, the love they have for my designs. The success lies with the attitudes of business owners and their team members. A dynamic sales team with enthusiasm to match that of the Australian public is all that's needed for success. So to those businesses who resist?….well I will leave that to you: embrace local talent or continue to resist what other Australian's love – Australian designers."
TECHNICAL SOPHISTICATION
And what's not to love – along with great design, Jono Hennessey says Australian eyewear is distinguished by its technical sophistication and high production values.
"Whereas large companies tend to be more focussed on production costs, we are more hands on and prepared to manufacture at a higher price if that's what it takes to make sure we're getting the best product possible," he says. "Smaller Australian designers that have followed the money over and above quality have tended to dissipate."
As an example of the value add Australian designers provide behind the scenes, Jono says he only sources titanium from Japan and Germany "to ensure there are no imperfections", uses hinges and wires from one company in either France or Germany, and works with just four types of acetate to guarantee a hard material that protects against twisting and ensures polishing is long lasting.
"I visit the factories and always go into the barrelling room to make sure the polishing paste comes from only one of two countries and I check the woodchips are of the best quality."
For Peter Coombs, eyewear design is all about evolving methods of manufacture.
"Starting a new collection is about coming up with a new construction method rather than a bunch of new shapes or using a slightly different material – I'm trying to produce a lighter, stronger frame and within that, create beauty in the form. "The prototyping is all done by hand… as are the first five frames to ensure that everything is just right. From there we develop tools to cut and fold the metal and hand-make hinges, nose-pieces etc."
Peter and his wife Rebecca recently opened an eyewear atelier and gallery on Rundle Street, Adelaide, where customers can wander in, check out his complete collection which dates back to 1985, and watch him at work. The atelier also offers a highly sought after and rare opportunity for eyewear aficionados to have custom eyewear designed and made by a master jeweller.
"I work on my prototypes and hand finishing in the front window. People find it interesting to see the process of the frames coming together and it's a great opportunity to tell them our story," he said.
HAND CRAFTING A SELLING POINT
In a world where most manufacturing is hidden behind the walls of factories, the level of interest in Peter's work is understandable, as is the appreciation of products that are individually crafted by hand.
While Peter's entire production process takes place in South Australia, Per Anderson and his small team at W.eye hand-make all their frames in Cairns.
"People increasingly value the fact that our rimless eyewear is entirely designed and manufactured in Cairns," he said.
By keeping his business small, he is able to customise frames to specific buyers, something that his creative director, Kylie Lange loves.
"I work with optometrists or directly with clients to create bespoke eyewear," she explained. "Recently for instance, I worked with a client in Tasmania who wanted a round frame in peacock colours. By discussing frames she had worn before, the required measurement for the lenses, temples, bridge etc., we were able to create exactly what she wanted. It's really exciting to know that the frame you create is a one-off – there will never be anything quite like it.
"Optometrists also enjoy the opportunity to liaise with us and their clients to develop custom rimless eyewear," she added.
W.eye also operates a sister company in Cairns – Framecare – which repairs and modifies existing frames by hand. Handling around 200 frames a day, the boutique team does everything from replacing/fitting temples, nose pads and ptosis bars through to replacing diamantes, respraying, resurfacing and repolishing metal and acetate frames.
WEATHERING TRENDS
Fritz Frames has carved a niche for itself by designing and manufacturing wood composite frames, again, all on Australian shores. Fritz was at the forefront of the wooden frame movement, and while many other wood frame designers have fallen by the way-side, his technical craftsmanship, as well as his unique styling, have ensured his survival.
"Wood is not a great material for making glasses – it doesn't withstand the conditions or the physical torture put upon it, so we use a wood composite," he explained. "It's a wood veneer interlaid with composite fibres then finished with six layers of very hard wearing automotive clear coat.
"That means the frames don't absorb oils from the skin then disintegrate, and additionally, they don't cause allergic reactions which can come with the oils and wood fibres of cheaper frames."
PROVIDING SUPPORT
While boutique designers, like Fritz Frames, Niloca, Peter Coombs and W.eye are happy creating small series of each frame, or even individual pieces, others, like Sunshades and AM Eyewear are out to conquer a bigger market.
Since re-focussing his energy on Australia, Simon Ponnusamy says AM Eyewear has gained a much stronger foothold locally. "Our doors here have doubled in the past 12 months and our customers love that we are a local company because our prices are much cheaper for the same quality they're paying for in an international brand. They also love that they can receive aftersales parts and appro orders the following day," he said.
To stock a small, unknown local frame designer shows confidence, industry knowledge and passion in an optometry practice
"Next season we'll be releasing an optical collection in full titanium which focuses on value for money. Our goal is to give the independent practices a high-quality product range that can compete with the prices the larger chains can offer consumers. It will be a mixture of commercial frames and frames that make a statement. With such a broad range of stores in Australia, and tastes varying from our suburban to city stores, we know we need to accommodate a larger customer base."
Having joined Sunshades, Jono Hennessy says he is enjoying getting back to focussing on his designs in the comfort that his brands are now being exposed to a much broader international market.
"I joined Sunshades because they've created the most fantastic business and are now the biggest exporter of eyewear and sunglasses in Australia. Because they're a big company, they do things differently so there has been an adjustment, but it's great to have them managing the marketing and administrative side of the business," he said.
WHY GO LOCAL?
Colin Redmond has a succinct answer. "It's good for business to support Australian eyewear designers. To stock a small, unknown local frame designer shows confidence, industry knowledge and passion in an optometry practice. A patient's needs don't stop with a script, they also need the best lenses for their lifestyle and a frame which makes them smile when worn.
"Your patients should be stopped in the streets to receive compliments about their eyewear. But that only happens with a unique frame that's specifically suited to that person – something fresh, something not seen before."
Fritz Frames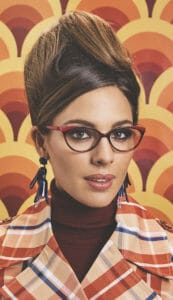 Fritz Frames are carefully hand-crafted on the Sunshine Coast from locally sourced timbers and composite-fibre. The material consists of up to 15 layers of wood veneer and composite-fibre, fused together under high temperature and pressure. Timbers are either kept natural or hand dyed in the workshop.
Contact: Fritz Frames (AUS) 0448 799 873
AM Eyewear
Building on our Australian Made namesake, AM eyewear prides itself on being Australian. In fact, its new rx-able shield collection was designed and developed by AM Eyewear founder Simon Ponnusamy, while gazing across the harbour at our iconic Sydney Opera House and Harbour Bridge – very Australian!
Contact: AM Eyewear (AUS) 02 9357 4550
Mako
Mako Eyewear designs and manufactures robust optical and sunglass frames suited to the demands of our outdoor environment. Designed in house, each and every frame uses cutting-edge technology sourced to meet and exceed an exacting standard.
Contact: Mondottica (AUS) 02 8436 6666
Niloca
Niloca frames are curiously creative, technically advanced and earth-friendly. The latest Chopstick collection pushes the design boundary with a stunning stylistic eco-piece, producing zero waste, but maximum avant-style.
Contact: Niloca (AUS) 0448 881 376
Paul Taylor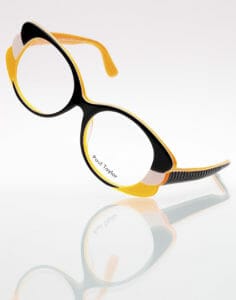 The early 90s saw the emergence of Paul Taylor designing stunning eyewear and sunglasses for a passionate audience. His Timeless Collection is all about the iconic signature designs from this era, many of which have a cult following. From classic cat's-eyes and bold round eyes, to the ever famous sharp and slick Hutchence design, Taylor's Italian acetates with German components provide the most superior quality available.
Visit: www.paultaylor.com.au
Chris Savage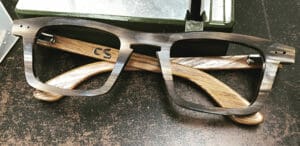 After more than a decade working as an optical dispenser, Chris Savage started designing and creating eyewear in his spare time. Based in Sydney's inner west, he has spent the last eight years researching and refining the manufacture of small batch eyewear using recycled and traditional materials such as wood, acetate, titanium, aluminium and hand printed textiles. Each pair is meticulously handmade and as unique as the materials they are created with.
Contact: Chris Savage (AUS) 0434 274 280
Le Specs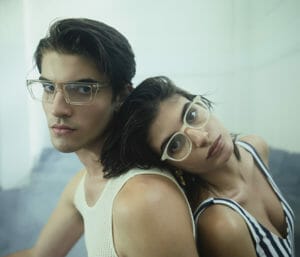 With a reputation as the ultimate summer accessory, and an international cult following, Le Specs has become a true trend-setter in the global fashion market.
Contact: Sunshades Eyewear (AUS) 02 8303 7300
Jono
Jono Hennessy Sceats revolutionised the eyewear industry in the 1980s with his magnificent design and daring experimentation with colour and shape… today he is reinventing again with his women's collection. Jono's labels – Jono Hennessy and Carter Bond – were acquired by Sunshades in July 2018.
Contact: Sunshades Eyewear (AUS) 02 8303 7300
W.eye
W.eye rimless eyewear (pronounced 'why') is custom handcrafted from pure titanium wire. Completely allergy friendly, lightweight and corrosive resistant, W.eye is available in customisable sizing for the perfect fit. The W.eye colour palette offers bold neon brights or subtle neutral hues applied by airbrushed ceramic coating or electro anodising. With an extensive range of over 40 lens shapes, including sunglass collections, W.eye allows your customers to craft their own unique piece of eyewear.
Contact: W.eye (AUS) 07 4032 4141
Peter Coombs
Coombs+Co atelier is the inspiration and namesake for the new Peter Coombs eyewear collection which has been designed, prototyped and produced onsite. The collection is a reflection of precious and refractive metals, the local cultural precinct, the atelier and of collections past. Made of high-polished titanium and Argentium silver, it comprises10 styles that evolve the design and construction methods used for the Peter Coombs 4 O'Clock collection. Available in two sizes, they're especially designed to fit smaller face widths. Custom sun lenses in various shades are also an option.
Contact: Coombs+Co (AUS) 0419 031 440
Aaron's Eyewear
Magic eyewear has been a well-known and trusted brand in Australia for over 20 years. Although now distributed by Aaron's Eyewear, Magic frames have been designed by the same person for the past 15 years – Aaron! All frames feature quality components and a varnish finish for the metals ensures they are more corrosion resistant and that colours last longer.
Contact: Aaron's Eyewear (AUS) 07 3367 8447