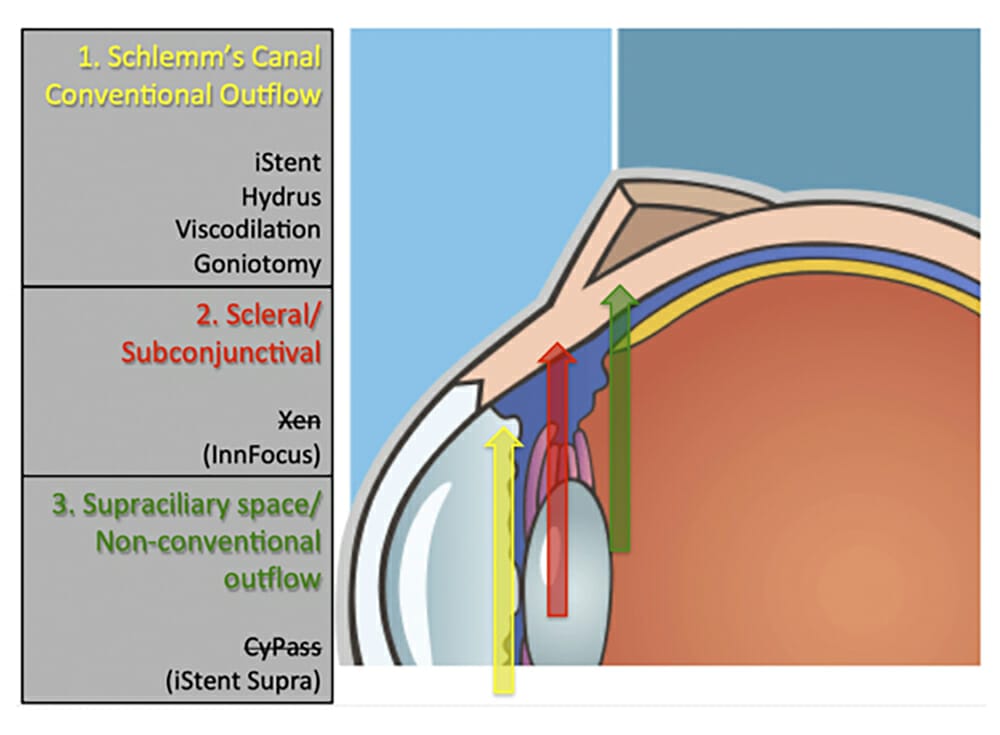 Researchers are eagerly awaiting results of a trial that will shed light on clinical efficacy as well as quality of life improvements that may be achieved when cataract surgery is combined with minimally invasive glaucoma surgery.
Minimally invasive glaucoma surgery (MIGS) has, without doubt, altered the therapeutic landscape of glaucoma treatment. The main benefit of using MIGS devices is the ability to decrease intraocular pressure (IOP), but with less of the potential complications commonly encountered with traditional glaucoma filtration operations such as trabeculectomy and glaucoma drainage devices.
MIGS procedures have three main outflow targets:
1) Schlemm's canal or the conventional outflow system,
2) The scleral or subconjunctival pathway, and
3) The supraciliary space or the unconventional pathway (Figure 1).
outcomes of this trial will better inform surgeons with high quality evidence on the true value of one MIGS device
Most MIGS devices reduce IOP to the mid to high teens and are therefore appropriate in patients with mild to moderate glaucoma. However, devices that target the subconjunctival pathway may be able to achieve IOP reduction in the mid to low teens as they function more like conventional trabeculectomy (Figure 2).
The first two devices that were approved by the Therapeutic Goods Administration (TGA) in Australia were the Hydrus microstent (Ivantis Inc, CA, USA) and the iStent trabecular micro-bypass device (Glaukos Corp, CA, USA). Both of these devices bypass the trabecular meshwork to target the conventional outflow system through Schlemm's canal. These two devices are currently approved for use in conjunction with cataract surgery and have been increasingly popular for use by both glaucoma specialists and cataract surgeons.
Since the approval of Hydrus and iStent, two further MIGS devices were subsequently approved for use in Australia: The CyPass Micro-Stent (Alcon Inc, TX, USA) and the XEN 45 Gel Stent (Allergan Inc, CA, USA). These two target different outflow pathways from the first two devices. The CyPass is aimed at diverting outflow to the supraciliary space, while the XEN is placed subconjunctivally and creates a bleb, similar to that seen after a trabeculectomy. Both these devices have had a rocky course since their commercial launch, bringing into question whether MIGS procedures actually improve patients' quality of life. By embracing MIGS (with the current limited long-term data on safety) over trabeculectomy, could we be swapping one set of potential problems for another?
CYPASS RECALL
The COMPASS study1 was a prospective, multi-centre, active-controlled clinical trial that confirmed the safety and effectiveness of the CyPass microstent over a two year period in patients with primary open angle glaucoma undergoing cataract surgery. However, the COMPASS XT trial (a three year safety extension of the COMPASS study) subsequently demonstrated that patients who received a CyPass microstent had a mean reduction of 20% corneal endothelial cell density from baseline compared to 10% in the controls at 60 months.2 The proportion of patients with >30% endothelial cell loss (a percentage considered unacceptable by the investigators) in the CyPass group was almost three times higher than in the control group at 60 months. The amount of corneal endothelial cell loss was increased with greater length of visble microstent in the anterior chamber. Subsequently in August 2018, Alcon voluntarily withdrew the product from the global market permanently.3 The US FDA followed up the company's withdrawal with a class 1 recall of the CyPass in October 2018.4 Class 1 recalls represent a situation where there is a reasonable chance that a product will cause serious health problems. In this case, the risk to the patient is corneal endothelial failure, leading to a thickened and hazy cornea, which will require corneal transplantation to restore vision.
During the consent process, the patient must be informed of the risk of infection…
For patients who have had the CyPass stent implanted, the recommendation by the FDA is to undergo periodic evaluation of corneal endothelial cell density using specular microscopy until the rate of loss stabilises.4 Eye care providers, including optometrists, should also evaluate the length of the stent visible within the eye of CyPass patients. Those with longer, visible stents within the eye need to be evaluated for endothelial cell loss as soon as possible. The rate of endothelial cell loss, and other factors such as the patient's age and time post-implantation, will determine if further invasive interventions, such as trimming or removal, are necessary.4
XEN 45 GEL STENT RECALL
The XEN 45 Gel Stent has been available in Australia since late 2017. In October 2019, Allergan announced a company-initiated product hold.5 During the company's inspection process, a small number of units in an unreleased lot were observed to have trace amounts of polishing compounds that are used in the needle sleeve manufacturing process. A voluntary recall of affected lots of the stent has also been initiated by the company.
Although the current recommendations from Allergan are not to remove any XEN stents, and to continue post-operative monitoring as per routine in patients with the device, the uncertain long-term clinical consequence of this finding has caused significant unease and anxiety in patients and surgeons alike.
Furthermore, since the introduction of the XEN stent, the Royal Victorian Eye and Ear Hospital (RVEEH) has been referred six cases of XEN-related infective endophthalmitis. In all six cases, endophthalmitis occurred due to breach or leak of the conjunctiva overlying the stent, or after a secondary procedure (bleb revision or needling). Given that the stent may act as a potential lifelong nidus for bacteria to spread from the conjunctiva into the eye, and that needlings are common after stent implantation,6 the risk of endophthalmitis must not be understated. During the consent process, the patient must be informed of the lifelong risk of infection, not just from the initial surgery of implanting the stent, but also from subsequent procedures that may be necessary to maintain the ongoing functioning of the XEN bleb.
QUALITY OF LIFE
While we should all support medical innovation, we should also exercise caution and discernment in adopting the latest surgical fads, whether MIGS or other procedures. That is why the Glaucoma Unit at RVEEH is conducting a prospective, randomised controlled trial comparing the second-generation iStent device (iStent Inject) in combination with cataract surgery versus cataract surgery alone. Recruitment for the trial has completed and two year follow up is currently taking place. In addition to clinical efficacy, of particular interest to the authors is the quality of life evaluation being conducted as part of the study to assess whether combined cataract surgery with iStent improves the patients' quality of life compared to cataract surgery alone. We hope that the outcomes of this trial will better inform surgeons with high quality evidence on the true value of one MIGS device, and also that more investigators take the time and effort to carry out similar studies on other MIGS devices for the collective benefit of our glaucoma patients.
Dr Jennifer C Fan Gaskin MBChB, MD, FRANZCO is a glaucoma specialist at Melbourne's Royal Victorian Eye and Ear Hospital and a research fellow at the Centre for Eye Research Australia (CERA) with her primary research focus being glaucoma surgery and novel methods of anti-fibrosis therapy. She is also a Victorian representative of the Australian and New Zealand Glaucoma Society and the RANZCO Continuing Professional Development (CPD) Committee.
Dr Brian Ang FRCOphth, FRCSEd, FRANZCO is a glaucoma consultant at the Royal Victorian Eye and Ear Hospital. He is part of the Expert Advisory Panel for Glaucoma Australia and the Associate Advisory Committee for the International Society of Glaucoma Surgery. He is also the webmaster for the patient website Vision & Eye Health. Dr Ang has over 60 clinical research publications and has published a book for aspiring ophthalmologists on how to get selected into an ophthalmic training programme.
References
Vold S, Ahmed, II, Craven ER, et al. Two-Year COMPASS Trial Results: Supraciliary Microstenting with Phacoemulsification in Patients with Open-Angle Glaucoma and Cataracts. Ophthalmology. 2016;123(10):2103-2112.
Lass JH, Benetz BA, He J, et al. Corneal Endothelial Cell Loss and Morphometric Changes 5 Years after Phacoemulsification With or Without CyPass Micro-Stent. Am J Ophthalmol. 2019.
www.alcon.com/media-release/alcon-announces-voluntary-global-market-withdrawal-cypass-micro-stent-surgical
www.fda.gov/medical-devices/safety-communications/update-potential-eye-damage-alcon-cypass-micro-stent-used-treat-open-angle-glaucoma-fda-safety
ascrs.org/about-ascrs/news-about/important-alert-regarding-allergans-xen-45
Schlenker MB, Gulamhusein H, Conrad-Hengerer I, et al. Efficacy, Safety, and Risk Factors for Failure of Standalone Ab Interno Gelatin Microstent Implantation versus Standalone Trabeculectomy. Ophthalmology. 2017;124(11):1579-1588.