Tasmanian optometrist Ben Armitage has developed a "quick, robust and easy" roadside visual acuity test that can be performed by a Police officer to determine whether a driver meets the visual acuity standards for driving.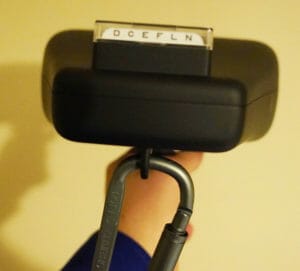 Mr Armitage, who has been working on the device for the past five years, said the concept came about as a result of frustration.
"It was an annoyance thing – too many people refuse to wear spectacles when they're driving and they're putting their own lives and the lives of other road users in danger," Mr Armitage said.
Studies show up to 8% of drivers on Australia's roads would fail to meet the legal standards of vision required to drive a car.1 Additionally, some surveys have shown up to 30% of drivers who know they should wear visual correction to drive, do not always wear their spectacles.2
SOPHISTICATED OPTICS
Acuidrive uses a lens system to replicate a traditional six metre testing chart within a hand held device. A tester is able to rapidly assess someone's vision for driving by requiring them to read just five letters. With 20 different tests available, the letters can easily be changed to double check the results and eliminate the chance of them being memorised.
While studies show dynamic peripheral vision and contrast sensitivity are arguably more important for driver safety than visual acuity, and Mr Armitage says these tests would be possible in future iterations of Acuidrive, they are unlikely to be incorporated.
This is because the secret to success for Acuidrive is speed and simplicity.
"Visual acuity is easy to explain and understand, whereas once we start talking about peripheral vision and contrast definition, things get more complicated and testing becomes time consuming," he said.
Explaining further, he said to be adopted by the Police, the device must be quick and easy to both learn to use and implement when roadside testing.
Additionally, it needs to be tolerated and accepted by members of the public, some of whom are "resistant to the Police being given extra powers".
Currently rules around testing visual acuity and driving differ across each State of Australia. The Northern Territory for instance, only tests vision when a person first goes for their licence. Other States require drivers to notify their appropriate authority if and when they need glasses for driving so this can be noted on their licence. Driving without spectacles, if they are required, is an illegal offence that can attract a fine.
Mr Armitage said rather than increasing the number of people fined, his aim is to get people to have their eyes examined and wear their glasses.
"The law is difficult to enforce because people don't often have their licence to hand when pulled up for random testing, and if a person has not recently had their eyes tested, they may not even be aware of the need for vision correction.
"Acuidrive will enable Police to immediately perform the visual acuity test to determine whether glasses are necessary before checking the driver's licence. If a person fails the test but spectacles aren't noted on their licence, they can be prompted to go into an optometrist for an eye examination.
"My hope is the fear of being tested by the Police will encourage people who need to wear spectacles while driving to put them on."
2021 COMMERCIALISATION
Mr Armitage liaised with innovation departments within government, the Police and academics at QUT in the process of developing the hand held device. He is now undertaking further work with QUT to refine its accuracy ahead of commercialisation.
"The plan was to undertake clinical trials, however gaining ethics approval for non-time critical research has become more difficult due to the COVID-19 pandemic.
"The device is safe to use in this environment, because it has been designed with a silicone mask which enables it to be easily and quickly sanitised. I hope to have it in Police hands sometime next year."
References 
McConnell Robyn A, Spall Andrew D, Hirst Lawrence W, Williams Gail. A survey of the visual acuity of Brisbane drivers. Medical Journal of Australia 155 (2), 107-111, 1991 
www.specsavers.com.au/eyecare/driving-and-the-law