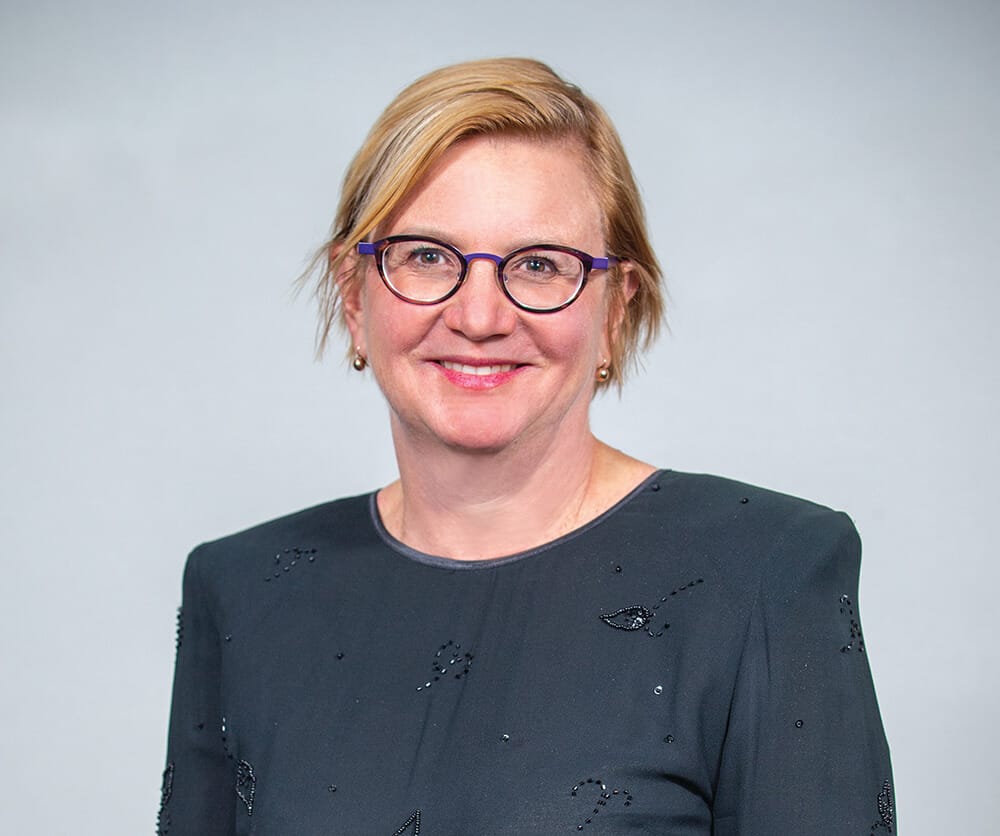 On 10 October, Clinical Professor Nitin Verma AM will formally take up the role of President of the Royal Australian and New Zealand College of Ophthalmologists (RANZCO). mivision spoke to outgoing President, Associate Professor Heather Mack, and incoming President, Clin/Prof Verma, about the past, present and future of the College's role in guiding eye care.
Associate President Heather Mack
Q. As the first female President of RANZCO, you have been celebrated throughout your tenure. What has it meant to you personally, to become the first female president?
It may surprise readers, but I did not contest the RANZCO President election on a gender platform. I ran on my vision for RANZCO and skill set to achieve this. During my tenure I have seen myself as the first among a very talented board of equals, all contributing according to their talents, irrespective of gender.
For me personally, being the first female President was a great honour and gave me the opportunity to contribute to the development of the ophthalmology profession using my governance and organisational skills.
Q. How do you believe your role as president has or will influence participation of women in ophthalmology going forward?
Throughout my career I have admired trail blazing women including Prof Dame Ida Mann, President of the Ophthalmological Society of Australia 1954; A/Prof Anne Brooks, the first female College Medal winner in 2019, breaking a run of 27 men; and Prof Justine Smith, the first female Editor-in-Chief of our college journal, titled Clinical and Experimental Ophthalmology, since its inception in 1973. Similar to these leaders I hope that I have been able to lead by example and demonstrate to younger women that leadership positions are achievable.
Q. Workplace bullying is something RANZCO has been working on – what do you believe has been achieved in this area and how much work needs to be done to ensure it doesn't occur – and has having a female president helped further this focus?
RANZCO ran surveys on Bullying, Harassment and Discrimination (BHD) in 2015 and 2018, with the 2018 results announced just as I came to office. This was the first step in publicly declaring that bullying is not acceptable, and gathering data to monitor the problem. The results of the surveys will shortly be published in an academic journal, authored by Prof Helen Danesh-Meyer, Chair of the Women in Ophthalmology committee. The results show that bullying occurs in ophthalmology, including surprisingly, patients bullying younger ophthalmologists. The results are similar to other medical specialities, and other professions in general.
In response to this my predecessors formed a Diversity and Inclusion committee, established policies on BHD, and Diversity and Inclusion, completely revised the Code of Conduct and the Complaints processes and began monitoring the percentage of women in RANZCO leadership positions. The Women in Ophthalmology Group was revitalised by Genevieve Oliver. There was no real improvement in the rate of bullying between the 2015 and 2018 surveys, however about 80% of respondents in 2018 were aware of RANZCO's efforts and 77% responded that RANZCO's efforts were 'about right'.
Having a female President has further highlighted the problem of BHD, but the problem is embedded in Western culture and more needs to be done over a much longer time period for further gains to be made.
Q. What achievements do you believe have been the most significant for RANZCO under your leadership and how will these make a difference going forward?
I consider my best achievements to be in promoting diversity in ophthalmology through the development of the Reconciliation Action Plan (RAP), the development of the 2021-2023 strategic plan and further improving RANZCO's board processes.
The RAP was developed under the guidance of Reconciliation Australia, and launched during RANZCO's Annual Congress in November 2019. A similar Maori Action Plan will be launched in 2021. The RAP is an acknowledgement of our First Nations Peoples, and brings to the forefront the need to consider diversity of all kinds, across all aspects of RANZCO's operations. Work is ongoing to imbed First Nations' views and voices into all areas of RANZCO's operations.
Much of 2020 was spent developing, finessing, and collaborating on RANZCO's 2021-2023 strategic plan, which will be launched in October.
My other major achievement has been further development of RANZCO's governance. In 2019, I commissioned an audit into our processes, and the board then implemented the recommendations. We have streamlined many processes, shortened board meetings from about six hours to two hours on Zoom, and now have effective Nomination and Governance committees.
Q. Collaboration between optometry and ophthalmology continues to strengthen. Optometry Australia has a 2040 vision which sees some optometrists working in clinical practices alongside ophthalmologists. How do you see the two professions working together (or not) in 2040?
Eye care professionals have worked as part of a collaborative team for quite some time. Practices often include ophthalmologists, orthoptists, nurses and other allied health care professionals. Ophthalmologists are of course doctors and through their many years of training are aware that treating a patient is much more than just treating their eyes. Whole of patient care, done in a culturally safe and considered way, is critical.
RANZCO is looking ahead to the future and considering the effects of COVID-19, telemedicine and artificial intelligence, and an ageing patient demographic on our practices. The future will see an increase in patients requiring treatment, including particularly intravitreal treatment for macular degeneration and diabetic retinopathy. It will be important for optometry and ophthalmology to work together and harness all skills in patient care delivery and not have two parallel tracks of patient care.
Improving the eye care systems means also addressing health inequity in Australia and New Zealand, whether it be caused by systemic factors, geography or varying levels of health literacy
Clinical Professor Nitin Verma AM
Q. You've said that A/Prof Mack will leave RANZCO in a strong position going forward. With this strength of position, what change do you hope to achieve during your tenure as President?
Heather has indeed brought the college to a strong position with improvements to processes and governance. This journey extends back to her time as honorary treasurer and has culminated with the development of RANZCO RAP and RANZCO's next strategic plan (2021 -2023).
I don't think there is too much I will change – I will be using the strategic plan as a blueprint for future directions.
These directions include maintaining the College's very strong focus on education. As part of the strategic plan we will continue to develop our online education platforms even further. These changes, of course, have been accelerated by the current COVID-19 pandemic.
Another important part of our educational activities encompasses interacting with other groups who are working towards the same goal: improving eye health outcomes for the patient and the community. With them, we will continue to make some of the best eye care systems even better.
Improving the eye care systems means also addressing health inequity in Australia and New Zealand, whether it be caused by systemic factors, geography or varying levels of health literacy. I'd like to emphasise that we don't just teach ophthalmology, we continue to educate the community and government on sustainable eye health.
Q. What do you believe will be the challenges faced in striving for these changes?
The rapid improvements and advancements in ophthalmology and eye care over the last four decades have allowed us to realise many of our dreams. The rate of change and new technologies being adopted to improving patient outcomes has not slowed down. The college has been steadily keeping pace with all these changes, but the COVID-19 pandemic has certainly brought things to a head. I believe that the future has come even closer, very quickly. RANZCO is working hard to ensure that we utilise all the science, research outcomes and information that is currently available to continue our journey.
Q. Collaboration between optometry and ophthalmology continues to strengthen. Optometry Australia has a 2040 vision which sees some optometrists working in clinical practices alongside ophthalmologists. How do you see the two professions working together (or not) as we head toward 2040?
I am aware of Optometry Australia's 2040 Vision indeed, I attended their workshop in Hobart and read the final document. Australia has a very well structured and robust eye health system. The eye care team includes ophthalmologists, optometrists, orthoptists, ophthalmic technicians, researchers, scientists, general practitioners, administrators and nurses. Overall, every one of these professionals has a very specific, well defined and important role to play in ensuring timely diagnosis, appropriate management and follow up so that the patient gets the best possible outcome for the problem they have.
One to one, there are very strong links between ophthalmologists and optometrists and they have been working side by side as long as I can remember. Individually, we work together to test, assess, diagnose, refer, treat and manage our patients.
I am sure that over the foreseeable future with new challenges, new technologies and new solutions becoming available, the two professions will continue their strategic partnership to ensure that ultimately the patient gets the best possible outcome and that the healthcare system continues to be one of the best in the world; a system that is sustainable, equitable and accessible.
That's what we are here for!
Q. COVID-19 has been a particularly challenging year for eye professionals and for patients, some of whom have been resistant to attending consultations. How will you, as President, work to support ophthalmologists in reversing this?
Again, education for all parties concerned is the key. During the COVID-19 crisis we have seen different groups of patients respond differently to the various threats that the pandemic presented. I manage a lot of patients with macular disease and it was a matter of concern that patients could not come for their treatment in a timely manner because of nursing home lockdowns or families being too scared to bring them in.
During this time we all have been following the government's public health advice and also have been communicating with patients and their families, their carers' as well as nursing homes and their general practitioners to clarify the situation. Patient advocacy groups have also been very important in spreading the message that delayed treatment could result in irreversible visual loss.
Closer to home in Hobart, once the optometry practices had reopened (after the lockdown), I did speak to the optometrists to ensure that they were up to date with measures to ensure patient safety so that they could also be advocates for patients not to miss any sight saving treatment in those uncertain times.
It is important to communicate with all the groups involved with patients in times of crisis to ensure that people are well informed and don't go blind or lose their vision.
The crisis is not over. The effort must continue. RANZCO regularly updates our website, triage guidelines and sends communications to all members. Communication is the key!
Q. There is much debate about affordability of private health insurance which can result in patients delaying or resisting care – is this an issue that RANZCO will focus efforts on?
RANZCO believes it is vitally important that patients continue to get appropriate care. Using the management of cataracts as an example: the bulk of cataract surgery, which is the most performed surgical procedure in Australia, is done in a private practice setting. The public hospital system simply does not have capacity to meet the demand and in the future, if too many people opt out of insurance, the whole system will be under even greater strain. RANZCO cannot solve this problem alone, and we are very aware that governments are concerned. We will continue to work with them on appropriate solutions.