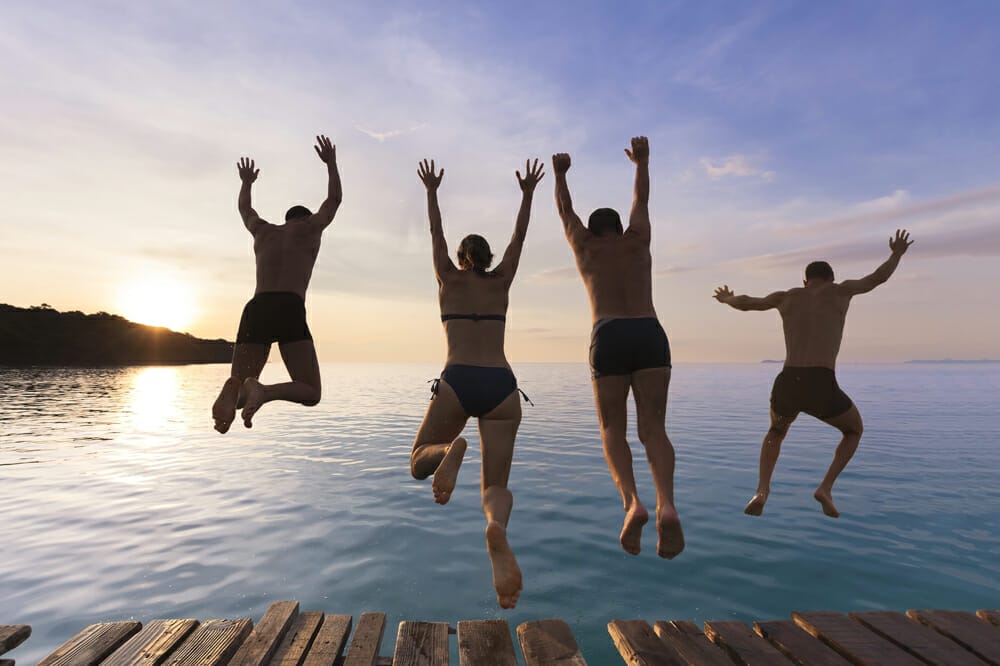 So, you've made the decision to get involved in myopia control? Well what are you waiting for? Don't just dip your toe in the water… jump right in and take your entire practice with you!
When it comes to myopia control, a 'one size fits all' approach is not appropriate.
To work in this area, you and your fellow practitioners must be ready, willing and able to offer the myopia control strategy that best suits each individual presentation. Additionally, your practice must be well equipped to offer the necessary solutions.
But most importantly, to be involved in myopia practice, you need to be prepared to see children. While this may seem rather obvious, it is easy to overlook what's entailed.
For example, you'll need to set up your appointment book with availability before and after school, and on weekends. These appointments should be allocated sufficient time (particularly for the initial visit) to both assess the patient and determine the most appropriate management strategy, allowing time for explanations and to field questions from the parent(s)/guardian of the child. Follow-up appointments are very important and you need to be prepared to see these children regularly.
You'll also need to equip your practice with age appropriate test charts, and prepare yourself for retinoscopy or cycloplegia (where appropriate). Autorefraction can also be a useful tool.
A corneal topographer is vital for orthokeratology (OK) and biometry, which is considered a critical measurement in myopia research, is a helpful measure to have. But that said, biometry is not essential in the management of a child's myopia, so don't let the absence of axial length measurement stop you from initiating a myopia management strategy.
PRACTICE EDUCATION
Well-informed staff members can become the best advocates for myopia control in your practice.
One of the most effective ways to make your team feel confident about initiating myopia control discussions with patients is to have an after-hours meeting on the topic, perhaps followed by dinner. It's important to pitch this at a level that all staff can understand and include discussion points such as:
What is myopia?
Myopia prevalence – how common is myopia?
Myopia aetiology – what causes myopia?
Risks associated with myopia – what's the big deal about myopia?
Myopia control strategies – what can we do to slow myopic progression?
Taking the initiative to summarise relevant articles or provide abstracts for the other optometrists that work with you keeps them up-to-date with the latest advances in management strategies. If they are not comfortable managing myopic kids, encourage them to refer the child internally to the myopia specialist so you can maintain continuity of care within the practice.
Expand Awareness 
To ensure your practice comes up in online searches for myopia control, it is vital that you update your website to include information about myopia and myopia control.
Parents often feel overloaded with information presented during the initial myopia consultations. To support their needs, offer resources such as brochures and handouts on myopia control sourced from manufacturers, links back to relevant pages on your website and links to sites such as www.myopiaprofile.com and www.mykidsvision.org.
CONSULTATION AND MANAGEMENT
To optimise outcomes, it's vital that you treat every patient as an individual, taking into consideration a number of factors, such their age and level of maturity, their rate of myopia progression, refractive and corneal astigmatism, as well as lifestyle, social and socioeconomic factors.
While there is plenty of detail about myopia management throughout this article in summary, thorough investigation of a child's myopia and risk of progression will include:
Previous correction – how long ago was it prescribed?
Lifestyle questions – sports, screen-time, time spent outdoors?
Are any parents or siblings myopic?
Dry (and wet if pseudomyopia suspected) retinoscopy.
Subjective refraction (binocular balance/ push plus).
Binocular vision workup – phoria, AC/A, MEM.
Topography – particularly if you are considering OK.
Management 
If the child is a pre-myope with a high risk of progression or a low myope with no evidence of progression, consider reviewing within six months. If, however, there is evidence of progression, consider what myopia control strategy best suits the patient's needs and situation.
It is important at this point in the consultation to spend time educating the parents about the risks that myopia poses to their child's vision later in life. Most parents assume that myopia is nothing more than an inconvenience that can be corrected by refractive surgery later in life. Once they understand the impact of limiting their child's myopic progression now, and how this will protect them from blinding eye disease later in life, they will usually be keen to engage in a myopia control program.
This is the most appropriate time to explain the various strategies that are available to manage their child's myopia including (if appropriate for their circumstances):
Increased outdoor activities,
OK,
Specialty soft lenses,
Multifocal soft lenses,
Multifocal hybrid lenses,
Bifocal/progressive spectacles,
Specialty spectacle lenses (e.g. DIMS), and
Atropine.
It is important to make a strong recommendation about your preferred strategy and explain your reasoning. Ultimately it is up to the parent and child as to which strategy they decide to implement at this stage, however the information you provide can help guide them in the right direction. Provide information (as described above) for them to take home and discuss as a family.
Take all the necessary measurements and information at the initial visit. Once the parents have decided on the most suitable option, the appropriate lenses can be ordered, and follow-up visits scheduled.
CHARGE APPROPRIATELY
Myopia control is a service which requires your expertise. It is not just about selling a retail product such as lenses that have myopia control benefits, but rather about providing a professional, tailored solution to protect children's vision on their journey to adulthood. Consider varying your fee structure depending on the complexity of the myopia control strategy employed and the amount of dedicated 'chairtime', ensuring that follow-up visits, topography, biometry, and other additional testing beyond the scope of a standard consultation are included.
RESEARCH AND UPSKILL
Myopia management is an incredibly rewarding specialty within the scope of optometric practice. It sets your practice apart and gives you the opportunity to change the lives of your patients and perhaps more importantly, the opportunity for them to see their children and grandchildren as they grow up.
Before you commence your myopia journey, and throughout, it's vital that you research all areas of myopia control (don't be a 'one trick pony') – read peer reviewed journals, talk to colleagues, find a willing mentor in myopia control and join professional organisations such as the Orthokeratology Society of Oceania (www.oso.net.au) and attend meetings/conferences.
Further resources to support practitioners who wish to develop their skills in myopia management (supported by Visioneering Technologies Inc) are available at managemyopia.org. 
Gavin Swartz completed a Bachelor of Vision Science at the University of Western Australia (UWA) before relocating to Melbourne to complete his Bachelor of Optometry. Following this he worked at the VCO (now ACO) as a Clinical Resident Optometrist while completing his Postgraduate Diploma in Advanced Clinical Optometry and a Postgraduate Certificate in Ocular Therapeutics. After returning to Perth, Mr Swartz became a partner in Abernethy Owens Optometrists, an independent group with five practices around Perth, working between the Fremantle and Floreat practices. He enjoys specialty and complex contact lens practice and is a passionate myopia control practitioner and orthokeratologist currently completing a Fellowship with the IAOMC. 
Gavin is involved in establishing and lecturing for the new Doctor of Optometry program at UWA. He is an Honorary Teaching Fellow at the University of Auckland, and a host practitioner for UNSW Masters students completing the Specialty Contact lens unit.