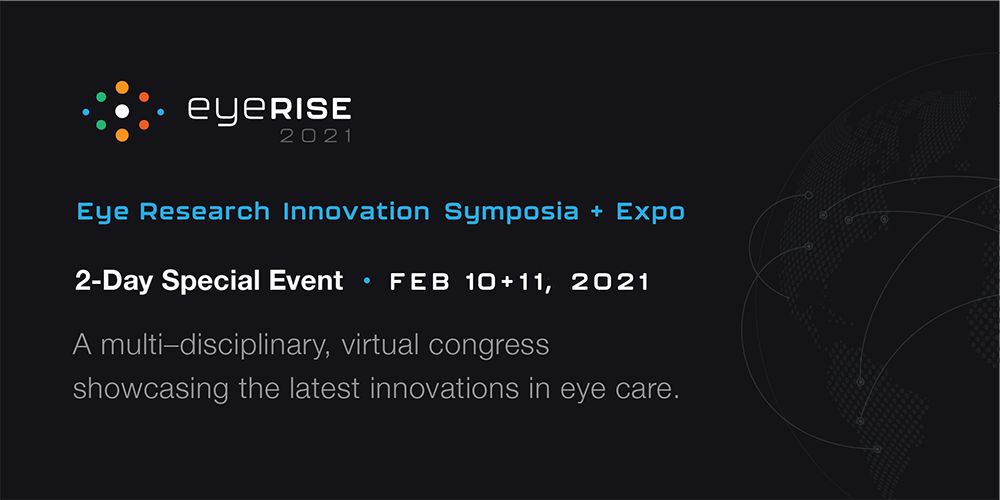 More than 40 speakers from 15 countries will share their expertise, experience and views at EyeRISE 2021, a free multi-disciplinary, virtual congress set to take place from 10-11 February (ANZ Time Zone).
The two day event will showcase the latest innovations in eye care and deliver clinical and practical education falling across the three "solutions-focused tracks" of:
• Building clinical confidence,
• Entering new markets: myopia and dry eye, and
• Too many patients, not enough time.
Each track will comprise a symposium, a roundtable discussion and an interactive workshop.
More than 40 speakers from 15 countries will share their expertise… at EyeRISE 2021, a free multi-disciplinary, virtual congress
Leading International Experts
Dry Eye
Associate Professor Jennifer Craig from New Zealand will participate in a roundtable discussion on Why cataract surgeons cannot afford to overlook dry eye. Other members of the discussion group are Professor Sunil Shah, Consultant at Birmingham and Midland Eye Centre (United Kingdom); Dr Christophe Baudouin Professor of Ophthalmology Quinze-Vingts National Ophthalmology Hospital (France); and Dr Jacqueline Sousa an ophthalmologist and Medical Science Liaison at Topcon (Germany).
Ocular Telehealth
Dr Mingguang He, Professor of Ophthalmic Epidemiology, University of Melbourne and Centre for Eye Research Australia, will moderate the symposium Future of medicine: ocular telehealth and mobile screening. He will be joined by fellow Australian Dr Angus Turner Founding Director Lions Outback Vision / Lions Eye Institute; Dr Gavin Tan Senior Consultant / Associate Professor Surgical Retinal Department of the Singapore National Eye Centre / Duke-NUS (Singapore), and Mr Thulasiraj Ravilla Executive Director LAICO Aravind Eye Care System (India).
Myopia Management
Other notable speakers include Dr Gary Gerber Co-Founder and Chief Myopia Eradication Officer at Treehouse Eyes (United States) and Dr Ian Flitcroft Consultant Pediatric Ophthalmologist / Associate Clinical Professor Children's University Hospital / Dublin (Ireland). They will speak at a symposium on Myopia management – putting theory into practice alongside Dr Maria Liu, Associate Professor UC Berkeley School of Optometry (United States and China); Dr Justin Kwan Senior Manager, Myopia Management CooperVision (United States); and Dr Leah Johnson Global Director of Professional Services Paragon Vision Sciences (United States).
International Swept Source OCT
Ophthalmologist Dr Rick Spaide from Vitreous Retina Macula Consultants of New York will moderate an International Swept Source OCT Symposium (ISSOCT) looking at retinal research and innovations. Speakers at this symposium are Dr Luis Arias, (Spain); Dr Netan Choudhry (Canada); Dr Gemmy Cheung (Singapore) Dr Pearse Keane, (United Kingdom), Dr Aaron Lee (USA), Prof Kyoko Ohno-Matsui (Japan); Prof Jose Maria Ruiz Moreno (Spain); Prof Vasilios Papastefanou, (United Kingdom and Greece); Prof David Pelayes (Argentina); and Prof Daniel Ting (Singapore). A broad range of topics will be discussed during this two hour symposium, ranging from Clinical utility of AI-Based OCT and OCT-A de-noising; predicting conversion to "wet" AMD using deep learning; and SS OCT A in DME biomarkers and future perspective.
The presenting sponsor for eyeRISE 2021 is Topcon Healthcare. Featured sponsors are Ophthalmology Management, Review Myopia Management and Review Optometric Management.
Register for eyeRISE 2021 here. If you are unable to attend eyeRISE from 9–10 February, you can view recorded webinars – simply register to gain access either before or after the event.