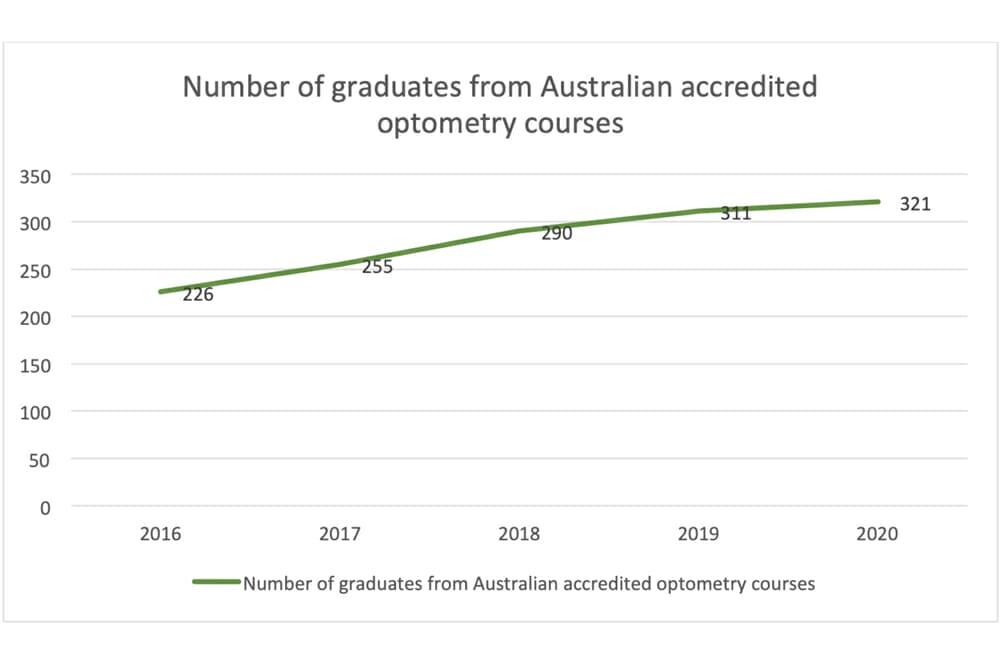 Specsavers is taking a strategic approach to graduate placements, aimed at filling gaps in the optometric workforce identified in a 2018 report by Deloitte Access Economics. Commissioned by Specsavers, the report investigated the supply and demand of Australia's optometric workforce until 2037.
The report outlined that the demand for optometric services would grow from 9.4 million in 2018 to almost 18.1 million by 2037. While the number of full time optometrists was expected to increase by more than 3,500, it determined that the nation was headed for an imminent and growing undersupply of optometrists. Moreover, in Tasmania, Western Australia and Northern Territory, as well as regional and remote locations across Australia, the report showed there was already a shortage of optometrists, while New South Wales and Victoria would likely be unable to meet their service requirements within the next 20 years.
Specsavers Director of Professional Communications, Charles Hornor says the Deloitte Access Economics workforce report explained how the sector was changing and has helped to inform Specsavers' approach, ensuring that there will be enough supply of optometrists in the future to meet the demand.
"To determine the demand for optometry services in the future, the report considered several drivers in the optometry industry including prevalence growth of eye conditions, the changing scope of optometric practices, population growth, the ageing population and Australia's high life expectancy rates, our rates of private health insurance coverage, growing household incomes and government policies.
"The supply of optometrists was measured through drivers including quantity of new graduates, current shortfalls, the feminisation of the workforce, our contingent of overseastrained optometrists, and the retirement age in relation to the age distribution of our current workforce," said Mr Hornor.
In response to the report, Specsavers offered extra support to universities to increase the number of graduate optometrists each year to mitigate this shortage. This has been seen through support of the development of the new Doctor of Optometry degree at The University of Western Australia, which is set to offer placements to 55 domestic and five international students from 2021, and the Bachelor of Vision Science degree at the University of Canberra, which will see its first cohort of graduates in 2022.
"Combined final year cohorts from Deakin, Flinders University, University of Melbourne, University of New South Wales and Queensland University of Technology have increased by almost 100 students since 2016. Optometry graduate numbers are set to grow further in the coming years as these universities increase their student placement opportunities and as cohorts from the new universities are released into the workforce. This is critical as we look to keep pace with the growing trendline of undersupply," Mr Hornor said.
In response to the significant maldistribution of optometrists as outlined in the report, Specsavers has also been intentional in its placement of employed new graduates within its Graduate Program, working to make more optometric services available in regional locations and certain states that are traditionally more difficult for recruitment.
"While a decrease in desire from graduates to be placed in CBD locations due to COVID-19 has had an effect, also mirrored by the decrease in CBD employment opportunities due to lower foot traffic in cities, the quantity of graduate optometrists being employed into regional and rural locations has more than doubled since 2018. We have driven this by working with our regional Store Partners to open more graduate opportunities in specific areas and by offering more enticing recruitment packages," he explained.
When analysing placements of Specsaversemployed optometrist graduates by state, there is a clear requirement for more optometrists to work in states where shortages already exist.
"Over the past three years, we've employed 130 graduate optometrists into placements in New South Wales compared with just eight in Tasmania, and one in Northern Territory. We also only employed 32 graduate optometrists in Western Australia. The problem in Western Australia is on track to be mitigated by 2023, when the first cohort of University of Western Australia students graduate, and we will continue to work on our approach to spread the workforce into other states," Mr Hornor concluded.