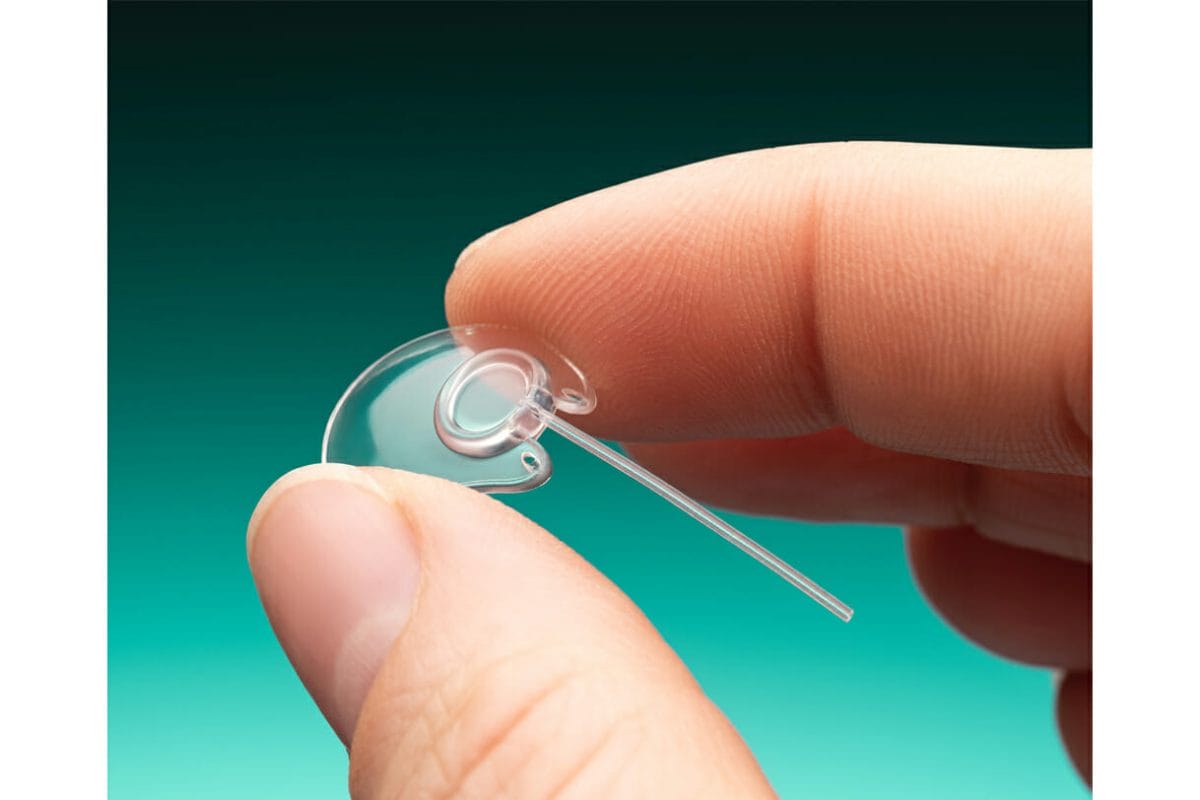 Kiwi ophthalmologist Professor Anthony Molteno is best known for developing the world's first glaucoma drainage implant, known as the Molteno. Still considered the 'gold standard', this innovative device has saved the sight of thousands of patients worldwide who have severe or complex glaucoma by lowering intraocular pressure over the long-term.
Professor Anthony Molteno has been making his mark in ophthalmology for sixty years since pondering the problem of managing intraocular pressure (IOP) in glaucoma patients back in 1966. At that time he noted that while managing IOP seemed to be "a simple problem", the drainage procedures of the day frequently failed.
"You've got pressure and you should be able to let it out," he wrote.
By 1969 he had the solution, the Molteno glaucoma drainage device. Human and animal studies demonstrating the efficacy of the device were published in the British Journal of Ophthalmology that year.
Associate Professor Michael Coote believes the device is one of Professor Molteno's greatest achievements.
"I don't have many heroes in my life but this guy is one of them. He's changed the way things are done," A/Prof Coote said… "He's an amazing thinker and an amazing guy… he's been a fabulous contributor in our region."
The latest iteration of the Molteno – the Molteno3 Glaucoma Drainage Device – consists of a small plate and a tube, and creates a new drainage channel through which the eye's fluid can flow from the front chamber of the eye to the bleb.
The Molteno3 has been clinically validated to deliver consistent, long-term reduction in IOP in cases of severe or complex glaucoma, including primary open angle, pseudoexfoliative, neovascular and uveitic glaucoma.1
Indeed, over a three-year follow-up period, Molteno3 deployed as a primary surgical option, achieved a high rate of success at 91%. Failure was defined as IOP >21, IOP reduction ≤ 5mmHg, or IOP reduction <20% reduction at two consecutive visits after three months' follow-up, reoperation for glaucoma or loss of light perception.1
With a contoured polypropylene plate that measures just 185 mm2*, this device occupies less sclera and requires less manipulation of the extraocular muscles than devices with a larger plate. Repositioning is relatively easy should this be necessary to achieve the desired outflow.
A/Prof Coote says the procedure is straightforward and can be completed within 30 minutes. He said a key to success is to ensure the eye is firm which, in some cases, may require the use of viscoelastic.
"While some say glaucoma operations are the last resort of a gambling man, if you find the right device, and do the right thing with it, glaucoma surgery can be a sight saving procedure. It's not about doing the operation, it's about making sure it works," he said. "I genuinely like Molteno implants, they're the right size, they work well in my hands," he added.
In recognition of his achievements, Professor Anthony Molteno has received many awards including the Goldmann Medal from the International Glaucoma Societies in 1998 for the most significant contribution to the understanding and treatment of glaucoma. In 2014 he was awarded the International Society of Glaucoma Surgery Medal for outstanding achievement, and in 2015, the American Glaucoma Society Innovator Award. He was admitted as an Honorary Fellow of the College of Ophthalmologists of the Colleges of Medicine of South Africa in 2001, and an Emeritus Member of the Glaucoma Research Society in 2011. In New Zealand, where he was head of ophthalmology at the University of Otago Dunedin School of Medicine from 1987 to 2014, he was awarded an Officer of the New Zealand Order of Merit in the New Year's Honours List in 2005 for his services to ophthalmology and people with glaucoma.
*Molteno3 SS Model. Molteno3 SL model at 245mm2 also available. 
Associate Professor Michael Coote and Dr Bob Wang
Mr GB* was first seen in our clinic at the age of 75, five years ago. With family in Australia and Europe, he lives half the year in Eastern Europe and the other half in Australia. He is diabetic with moderate control, and has stable thyroid-associated ophthalmolpathy with moderate proptosis, but reasonable lid closure.
At his initial consultation, Mr GB's left eye had light perception vision with an IOP of 30 on maximum tolerated medical therapy (MTMT), having failed multiple surgeries in Europe. The left eye was painful, with a decompensated cornea and medicamentosa.
His right eye had a failed trabeculectomy following possible blebitis 12 months prior; IOP of 27 on MTMT; mean deviation of -21; and a retinal nerve fibre layer thickness (RNFL) of 38 μm.
His pre-operative visual fields are shown in Figure 1.
Given Mr GB's advanced disease and manifest inadequate IOP control, he underwent glaucoma surgery.
The choice of surgery was determined by his travel habits (which were not for negotiation) and his war-torn conjunctiva. We opted for a Molteno 3 – 245 mm2 implant in the supero-temporal quadrant with pre-treatment of 0.4mg/ml mitomycin on a sponge. The tube was occluded with 8-0 Vicryl with a 'Sherwood Slit' temporary drainage port in the distal tube (Figure 2).
Mr GB initially had IOP of around four to six with modest reduction in visual acuity. He was seen for three post-operative visits, every three months of that year and since then, has had half yearly reviews between international travel. Eighteen months postsurgery, Mr GB's IOP rose to 13 and he was placed on Timolol 0.5% BD (Figure 3). Five years after surgery Mr GB continues to do well. At the time of publishing, his IOP was nine, his visual acuity 6/7.5 unaided (improved); and central corneal thickness is 612 (stable) (Figure 4).
*Patient name changed for anonymity. 
Associate Professor Michael Coote MB, BS, FRANZCO, GAICD is a senior glaucoma consultant at the Royal Victorian Eye and Ear Hospital Melbourne and the managing partner of Melbourne Eye Specialists, an academic private practice in Melbourne specialising in Glaucoma management. He is a Board Director of St Vincent's Health Australia and chairs the Board Sub-Committee in research and education and is a member of the Board Quality Committee. 
A/Prof Coote is an active glaucoma surgery researcher. He developed the CERA model of bleb porosity testing and has published 50 peer reviewed manuscripts, authored eight book chapters and has given over 50 international lectures. He is currently on the Executive team of the International Society for Glaucoma Surgery. 
Dr Bob Wang MBBS, B.Optom, FRANZCO is an experienced cataract, glaucoma and medical retinal specialist. With a strong interest in research, he has numerous peer-reviewed publications and has presented his research at many national and international scientific conferences. Dr Wang has an active role in teaching and mentoring medical students and ophthalmology registrars. He consults at Melbourne Eye Specialists and Springvale Eye Clinic, at the Royal Victorian Eye and Ear Hospital, The Alfred Hospital and Monash Health. 
Reference 
www.glaucoma-molteno.com/physicians/molteno3