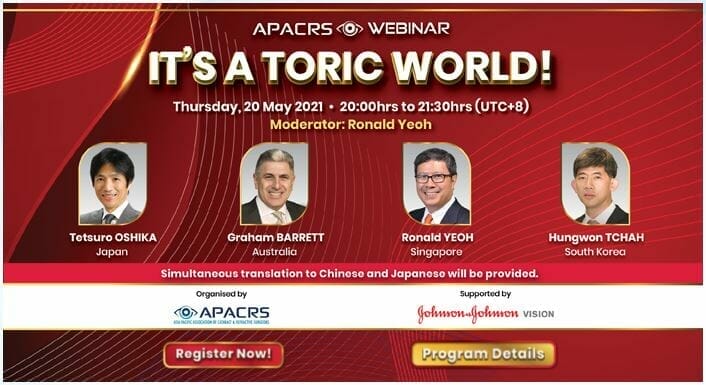 Thursday 20 May,
8pm- 9.30pm, Singapore, Perth (UTC+8)
9pm – 10.30pm, Japan, Korea (UTC+9)
10pm – 11.30pm, Sydney, Melbourne (UTC+10)
The correction of post-cataract surgery astigmatism has never been more relevant than now, with a plethora of new extended depth of vision (EDOF) and trifocal intraocular (IOL) designs coming on stream.
On Thursday 20 May, 2021, leading surgeons from the Asia Pacific region will present a free webinar on toric IOLs for ophthalmologists and optometrists.
Hosted by the Asia Pacific Association of Cataract and Refractive Surgeons (APACRS), and supported by Johnson & Johnson Vision, the 90 minute webinar will be moderated by Ronald Yeoh, Medical Director and founding partner of Eye & Retina Surgeons, Singapore.
Titled, It's a Toric World, four eye specialists will discuss the latest in biometry formulas to optimise outcomes and look at new toric IOL designs and the use of femtosecond laser assisted cataract surgery (FLACS) to manage astigmatism.
Webinar Topics
It's A Toric World will offer the latest information on:
Optimising Outcomes in New Toric Design IOLs ­– presented by Tetsuro Oshika, Chairman and Professor of Ophthalmology at the University of Tsukuba, Japan.
Mastering the Barrett Toric Calculator – presented by Graham Barrett, Professor, Lions Eye Institute; Consultant Ophthalmic Surgeon and Head of Department at Sir Charles Gardiner Hospital Perth, Australia,
Clinical Tips and Pearls with Toric II – presented by Ronald Yeoh, Medical Director and founding partner of Eye & Retina Surgeons, Singapore.
Laser Cataract Surgery: Address Unmet Needs in Astigmatism Management for Cataract Patients – presented by Hungwon Tchah, Professor of Ophthalmology at  Seoul National University, Seoul, South Korea
This webinar is pending approval of 1 CME point (Category 1B) by the Singapore Medical Council.
Simultaneous translation to Chinese and Japanese will be provided.
Register Now
Register here before the event to ensure you have access.