Orthokeratology has become an increasingly popular treatment for children and young adults who want to be glasses-free – especially those who play contact sports or work in environments that can cause problems for spectacle-wearers. Heidi Hunter, Australian clinical optometrist at Custom Eyecare in Newcastle, has been fitting orthokeratology lenses for 10 years and recently started introducing Menicon Alpha Ortho-k to her patients.
"Dealing with Angelo at Menicon has been fabulous; the technical support has been great, customer support has been great. Their ordering system is very user-friendly which is a big plus for me. And the patients' feedback from Menicon ortho-k lenses has been that they are very comfortable," said Ms Hunter.
Elaborating on her experience she said, "The lenses we've been using from Menicon are done with trial fitting. We've been popping the patient in a diagnostic lens, and they sit with their eyes closed while wearing the lenses for somewhere between 20 minutes to an hour, and that serves the patient a lot of benefits."
Ms Hunter explained that even after a short time of trial, patients get to experience some of the "magic effects" these lenses can have. "When we remove that lens, we can retake their maps and you can actually see that it has already started to gently reshape the cornea, and also the patient has had an improvement in their vision."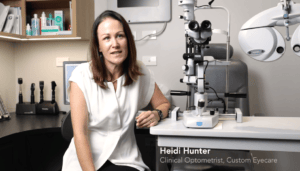 Watch the video here to hear more from Heidi.
About Menicon Alpha Ortho-K
Menicon Alpha Ortho-k is suitable for most people with mild to moderate myopia, with or without mild astigmatism. A high oxygen-permeable hard contact lenses with a special design on the inner surface, the contact lens improves myopia by correcting the corneal shape and making it flat while sleeping. The corrected corneal shape is maintained for a certain period of time after removal of the lens, which enables comfortable, clear vision with unaided eyes during the day.
Contact: Your Menicon Representative