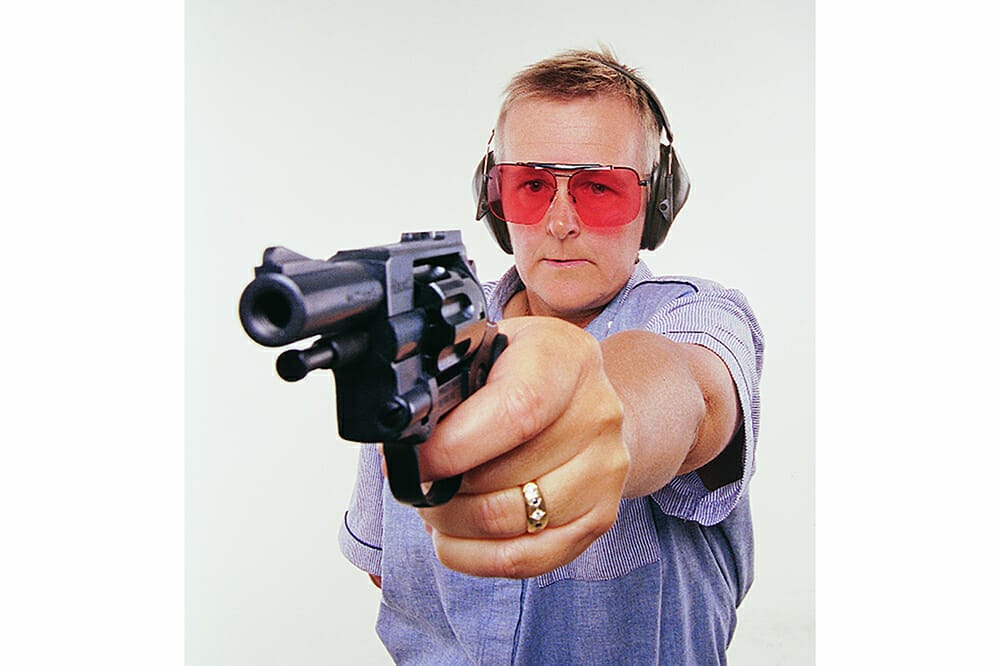 The long awaited Tokyo Olympic Games commences next month, having been delayed a year by COVID-19. The first medal to be contested in this quadrennial international multisport event is for shooting, with the women's 10m air rifle event taking place on 24 July.
For recreational and competitive shooters, there's no doubt that precision vision can provide the advantage. Stuart Kearney explains the technology behind High Scorers eyewear – specially designed shooting frames and lenses – and how they can offer your practice a point of difference that will attract a growing niche audience.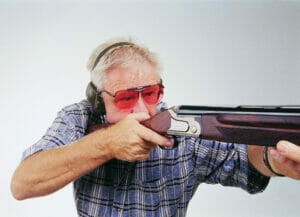 A total of 33 sports will be contested at the Tokyo 2021 Olympics, which opens on 23 July and runs through until 8 August 2021. The shooting events – all fifteen of them – will take place at the Asaka Shooting Range, one of the outlying venues away from the centre of Japan's capital city. Making a debut at the Games are three mixed-gender team events, in addition to the six events for men, and six for women across air rifle, air pistol and shotgun disciplines.
The rifle and pistol competitions take place indoors, with shooters taking turns to fire pellets from a set distance at a stationary target. Shotgun competitions take place outdoors and see athletes take shots at a moving clay target (sometimes known as a clay pigeon), that has been fired into the air from a trap at over 100 km/h.
During the Tokyo 2021 Olympics, each event will have a qualification phase, with the best performing athletes booking a spot in the semi-finals/finals to compete for the gold, silver and bronze medals on offer.
These events are expected to increase interest in shooting sports significantly, presenting opportunities for the optical and dispensing industry to develop a new customer base – or perhaps develop an existing one they barely knew they had.
Sporting shooters may, at times, be given a 'bad wrap'; depicted as rednecks, potential bank robbers and terrorists.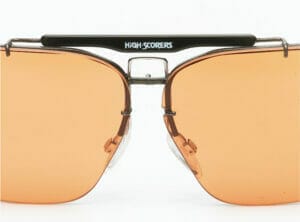 However, shooting sports are incredibly safe, with Australia's national shooting body, the Sporting Shooters Association of Australia (SSAA), claiming that there has not been an accidental death occur on the several hundred shooting ranges within Australia. Competitions and matches are run meticulously with the safety aspect obviously paramount.
The contribution to gross domestic product, or the economic footprint, from recreational hunting and sport shooting activity in Australia in 2018 was estimated to be AU$2.4 billion, comprising $0.8 billion directly and $1.6 billion as a result of flow-on economic activity.1 
It is estimated there are 642,000 recreational hunters and shooters across Australia,1 and around 800,000 registered firearms.1 A recent survey from the Sporting Shooters Association in South Australia showed 62% of its membership were 51 years or older.2 Am I the only one thinking baby boomers, disposable income, and presbyopia?
 VISUAL REQUIREMENTS
The visual requirements of shooters are unique, and it is quite common for them to have multiple lenses and glasses to support the various shooting disciplines they compete in.
Shotgunners only require distance vision correction as they're shooting targets at a distance. This requires the firearm to be pointed, rather than being aimed like a handgun or rifle. The bead (the little front sight) is used to keep track of the gun in the peripheral vision while the shooter focusses on the target.
Rifle and handgun shooters use what is termed 'iron or open sights', and require the sights to be in focus because the firearm is aimed and requires more accuracy. Generally, adding +1.00 dioptres to the distance prescription accommodates this. Multifocal lenses are inadequate and make it very difficult to use optical devices, like telescopic sights, on a rifle or handgun – the results are almost always substandard. Additionally, telescopic sights, or scopes as they are colloquially known, must be set to a specific prescription and readjusted if the prescription changes. Many shooters are unaware of this.
INTERCHANGEABLE SPORTS VISION SYSTEM
In the 1970s, business entrepreneur and shotgun competitor Heinz Straub developed and patented what he referred to as, "the world's finest sports vision system" – an adjustable shooting spectacle frame with a series of interchangeable coloured lenses known as the High Scorers Hi-Lo.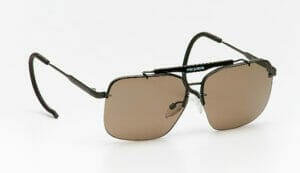 Heinz determined that a hundredth of a second can mean a lot in competitive shooting. For trap and skeet shooters, fast target spotting and superb eye and trigger co-ordination are essential for a high score. For others, it's the ability to perform in spite of changing light and background conditions that helps achieve consistent results.
High Scorers Hi-Lo plano lenses are made from tinted polycarbonate, which is renowned for its excellent light transmission and optical properties, as well as impact resistance. Interestingly, polycarbonate has the same properties as PMMA, the original hard contact lens material, which is widely used for safety glasses.
With an interchangeable lens system, High Scorers also offer the advantage of flexibility, which means one system can equip a shooter to compete across various disciplines. A pistol shooter, for example, may shoot matches with iron sights requiring a +1.00 dioptre adjustment to the distance vision, then switch to compete with a shotgun requiring distance vision only, and a scope to which we may add +0.50 dioptres. That same shooter will add tints to the lenses for dull days and bright days… and if they're presbyopic, they'll also need a pair of multifocal lenses and spectacle frames for their day-to-day activity outside of shooting.
With their innovative design and performance, several High Scorer models won Australian Design Awards in both 1978 and 1981. The glasses were also finalists for the Prince Philip Prize for Australian Design in 1979. Today, High Scorers are distributed in Australia by Straub Optical. Although used for many sporting applications, Australia's shooting fraternity remains the brand's strongest market. Outside Australia, High Scorers are exported to some of the world's best competitors in China, the United States, Iran, Germany, Malta, Spain, England, Ireland, Singapore, and Japan.
SPECIALISE TO DIVERSIFY
Unlocking new markets, or developing emerging markets can be the key to building your business, especially during unprecedented times created by a volatile economy and increasing competition. One way to do this is to get to know your patients better – not only their ocular concerns but their interests and hobbies – then let them know how you can help and add value.
Ultimately, it is your expertise and the relationships you build with your patients that will keep them coming back.
Proactive Care Counts
Customer service is about meeting or exceeding your patient's expectations. How? Judicious questioning! Lever the relationship. An excellent example of this was the Lyndon Jones, et al3 experiment in the 1990s regarding contact lenses.
The experiment involved two private practices and 80 consecutive patients in each practice. Practice number one reactively responded to contact lenses, and as a result, six out of the 80 patients became new contact lens wearers.
Practice number two proactively promoted contact lenses. As a result of their efforts, 38 out of the 80 patients became new contact lens patients.
We know contact lenses and spectacles are not mutually exclusive, therefore patients will purchase both spectacles and contact lenses. The same applies to shooting glasses and spectacles.
While there are close to 1,000,000 licensed sporting shooters in Australia, the number of shooters may well be double this. I recently supplied frames and lenses to a shotgun competitor in Queensland along with frames and lenses for his two young daughters. As the girls were minors, they are not licensed. Additionally, many partners of club members shoot socially, share equipment, and are not necessarily licensed.
Stuart Kearney has worked in the medical devices industry for over 30 years. Much of his time has been spent researching and developing contact lens materials and contact lens designs, artificial corneas and orbits using hydrogel materials, and intraocular lenses. Mr Kearney has an MBA and a Masters of Marketing from the University of Adelaide and the University of South Australia respectively. 
He has presented to optometrists around Australia on the mechanics, geometries and technical attributes of contact lenses, and has extensive experience training optometrists to fit contact lenses including rigid gas permeable and keratoconus lens designs. 
Mr Kearney owns Straub Optical Pty Ltd in Adelaide which manufactures and distributes High Scorers eyewear. 
References 
Economic and social impacts of recreational hunting and shooting September 2019. sifa.net.au/wp-content/ uploads/Report-Economic-and-social-impacts-ofrecreational- hunting-and-shooting.pdf 
Sporting Shooters Association of Australia, Have Your Say Survey Report. SSAA SA 2019 Have Your Say Survey Report v2.pdf (dropbox.com) 
Jones, Lyndon, Jones, Deborah, Langley, Claire, Houlford, Mark. Reactive or proactive contact lens fitting- Does it make a difference? December 1996.Journal of The British Contact Lens Association DOI 10.1016/S0141- 7037(96)80031-0