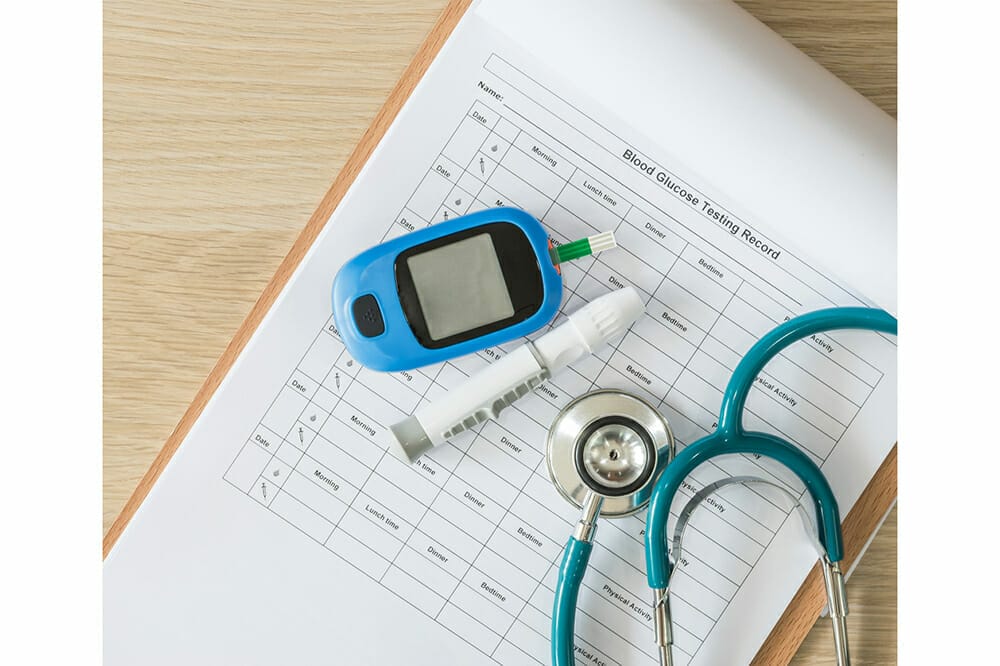 Evidence demonstrates the positive eye health outcomes that can be achieved for people with diabetes when collaborative patient engagement strategies are combined with the use of technology to support best practice care and appropriate referral.
It is no secret that diabetes is the leading cause of preventable blindness in working age Australians.1 
An estimated 1.7 million Australians are currently living with diabetes. Of those, between 25–35% will experience some form of diabetic retinopathy in their lifetime. Sadly, 15% will also present with sightthreatening diabetic macular oedema.2 
The prevalence of diabetes is predicted to increase substantially in coming decades too. Not only is there a significant economic cost – estimated at AU$2billion a year1 – all Australians living with diabetes are at risk of losing their sight.1 
Yet, that vision loss is preventable.
…Specsavers is committed to improving health outcomes for patients with diabetes…
Specsavers is committed to reducing vision loss in people with diabetes by improving timely access to eye care, with collaborative patient engagement strategies, and by leveraging technology to support best practice care and appropriate referral.
It's a commitment we cemented more than two years ago, and has included joining the national diabetes eye screening program, KeepSight, as a founding partner. We are now analysing more than 24 months of patient data to see just how much of an impact this diabetes action plan has had in improving patient outcomes.
THE JOURNEY SO FAR
One of the first steps in Specsavers' diabetes action plan was to ensure optometrists identified all patients with diabetes in a way that was measurable; a baseline is essential to understand existing optometric attendance rates for this at-risk group and to gain insight into their interactions with optometrists and resultant outcomes.
To do this, in December 2018 we changed our practice management software to enable standardised identification of patients with diabetes as part of optometrists' clinical record keeping. Prior to this at Specsavers, and in most patient management systems, it was common for diabetes to be noted within the patient file, but this was not always traceable if entered as free text.
With an estimated 50% of people living with diabetes not receiving regular eye checks in Australia,1 this vital first step enables us to track the outcomes for patients with diabetes, and identify where opportunity exists to better address the reported lack of engagement with eye health checks.
Over time, further enhancements were made to the software, including the integration of Oculo for easy referrals to ophthalmologists. We also directly integrated the KeepSight portal, enabling optometrists to register consenting patients with the click of a button.
The KeepSight program – a 'once in a generation' opportunity to significantly reduce diabetes-related vision loss across Australia – focuses on proactive, targeted patient communications and reminders to encourage people to have timely eye checks to prevent risk of vision loss due to their condition.
Underpinning all of these process changes was an education and engagement plan to explain the reasoning behind, and outcomes of, these changes, and to engage our optometrists with the strategy. Every one of these steps was critical to developing an integrated, systematic and sustainable approach to improving care for patients with diabetes.
Fast forward to March 2021, and that approach has produced significant data that is already revealing a positive impact on health outcomes for patients with diabetes.
A FIRST LOOK AT THE DATA
In December 2018, 4.7% of all patients presenting to Specsavers for an eye test had diagnosed diabetes. As of March 2021, this now sits at 7.8%. Looking at the data holistically over the past two years, 6.4% of all patients seen at Specsavers have been patients with diabetes. This aligns with currently reported national prevalence rates and we predict that over time this will increase as we see the measurable influence of more timely attendance for the 200,000+ patients who are now firmly part of the KeepSight care ecosystem.
Looking at the most recent data obtained, 60% of patients with diabetes seen in March 2021 were patients who had previously been seen at a Specsavers clinic. This is indicative of patients returning for recall within their recommended timeframes and demonstrates the value of combined Specsavers recall and KeepSight reminders. The remaining 40% is made up of either first time attendees or those seen elsewhere by an optometrist.
DEMOGRAPHIC BREAKDOWN
Interestingly, even though Specsavers sees a higher volume of female patients across its practices, only 5% of females presented with diabetes, compared to 8.4% of males. This aligns with Government reporting which states the prevalence of diabetes (based on selfreported data) was higher for males (5.0%) than females (3.8%).3
Our data also aligns with previously reported studies that prevalence of diabetes increases dramatically with age.3 Data shows that 1.2% of patients under 40 identified as patients with diabetes, increasing to 7.4% for those aged 40–64, and increasing further to 13.6% for those aged 65+.
In terms of geographic location, the data shows a higher prevalence of patients with diabetes in metro and regional areas (6.4% and 6.9% respectively) compared to CBD practices (2.5%), which tend to service younger patients.
Looking at the data on a state-by-state basis, it is interesting to observe the impact of COVID-19 restrictions nationally in 2020, and subsequent lockdowns in Victoria. During these times our clinics were open for urgent and essential care, and while overall patient volume dropped significantly in all states from March to May, the prevalence of patients with diabetes attending clinics remained stable, indicating the importance of access to optometric care for these patients during this time.
REFERRALS AND THE EFFECT OF COVID-19
There was a defined 'spike' in referrals during national COVID-19 restrictions. This can be explained by changes in the type of care provided in this period. While the percentage of patients with diabetes presenting during this period was relatively stable, the total volume of patients with diabetes dropped. It is likely that patients at low risk of retinopathy deferred appointments, skewing the nature of attendances towards urgent and severe diabetic retinopathy, which are more likely to require referral.
Over the past two years, for those patients referred, 12.6% were referred more than once, with an average timeframe of 364 days between referrals. This shows that optometrists are setting appropriate recall periods to monitor patients at risk of worsening retinopathy, as recommended by the RANZCO referral pathway, and referring patients again for specialist care when indicated. Similarly, the breakdown of referrals by diabetic retinopathy classification also follows reported prevalence rates of the different types of diabetic retinopathy.2 The majority (58%) of referrals were classified as mild to moderate retinopathy, 12% as severe non-proliferative diabetic retinopathy, and 8% as proliferative diabetic retinopathy.
RECALL AND THE IMPACT OF KEEPSIGHT
Ultimately, eye care for patients with diabetes rests on the foundation of effective and appropriate communication with this patient group. As a founding partner of KeepSight, Specsavers' five-year ambition is to increase the return rate of patients with diabetes for an eye test to an ambitious 80%.
The KeepSight program, two years on, is still in its infancy and many patients are only now reaching appointment return dates. However, we are already seeing an increase in adherence to recall. While those patients under 40 have maintained a similar response pre and post-COVID-19, we have seen a lift in recall response for patients aged 40–64 and 65+, currently sitting at 34% and 42% respectively. Male and female patients with diabetes continue to respond to recall at similar rates, 29% and 28% respectively.
Overall, the return rate for patients with diabetes within recommended timeframes is nearing 40% nationally, demonstrating a growing positive adherence to recall. This is almost a 10% increase since the beginning of 2019 and speaks to the incremental momentum building through the KeepSight initiative, with this trend expected to continue in the coming two to three years.
CONCLUSION
The impact of diabetes-related health issues in Australia should not be underestimated. It has been referred to as the 'silent pandemic' and will be the biggest challenge to Australia's health system, particularly due to the additional load on the healthcare system that exists due to COVID-19.
As primary care providers, Specsavers is committed to improving health outcomes for patients with diabetes, and that means working closely with our own optometrists to embed the systems and processes whereby recall timeframes are effective, while registration and update of patient attendance onto KeepSight is second nature. It also means engaging with GPs and ophthalmologists on a consistent basis for the electronic supply of eye reports and patient referrals via Oculo.
Using a coordinated approach, and working side-by-side with the team at Diabetes Australia, KeepSight is already demonstrating a measurable impact on patient adherence to recall and optometry attendance rates. The positive effects of this will compound over time as patient behaviour is changed through routine recall and education.
The data collected so far from this initiative demonstrates a sustainable model for preventative eye care for Australians living with diabetes.
Dr Ben Ashby is the Director of Optometry at Specsavers Australia and New Zealand. 
References 
The economic impact of diabetic macular oedema in Australia. Deloitte Access Economics. 2015. www. diabetesaustralia.com.au/wp-content/uploads/Theeconomic- impact-diabetic-macular-oedema.pdf 
Stuart Keel, Jing Xie, Joshua Foreman, Peter van Wijngaarden, Hugh R Taylor, Mohamed Dirani. The Prevalence of Diabetic Retinopathy in Australian Adults with Self-Reported Diabetes: The National Eye Health Survey. Ophthalmology. 2017. DOI: 10.1016/j.ophtha.2017.02.004 
Australian institute of Health and Welfare. 202. www. aihw.gov.au/reports/diabetes/diabetes-snapshot/contents/ how-many-australians-have-diabetes 
RANZCO Referral Pathway for Diabetic Retinopathy. ranzco.edu/wp-content/uploads/2018/11/RANZCOReferral- pathway-for-DR-2016.pdf