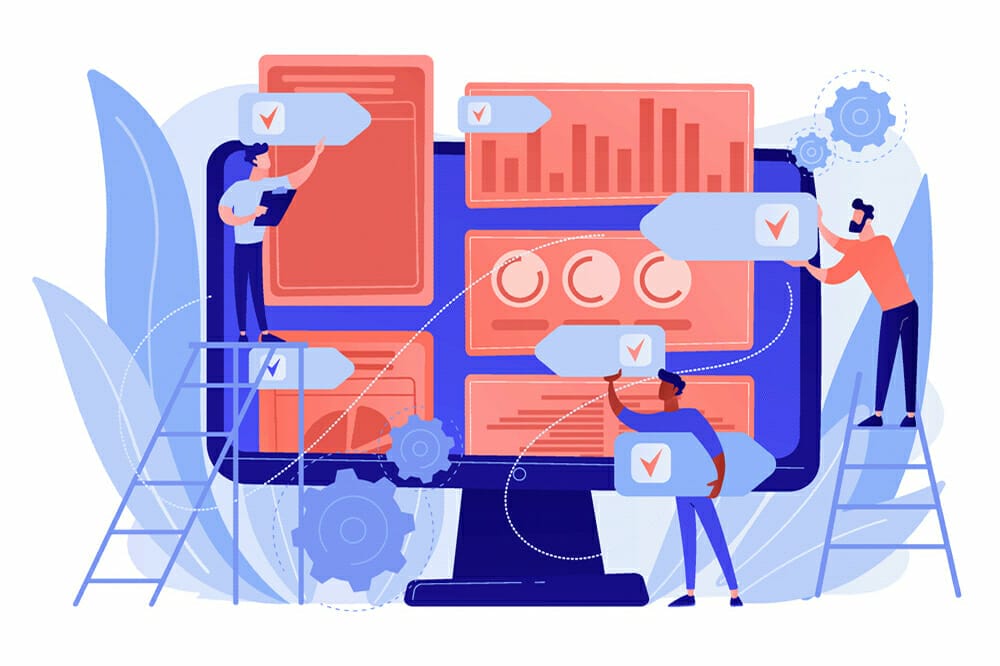 The greater and more effective your digital presence, the easier it is for people to find you online. Not only that, your digital presence can also create a brand personality for your business, helping to create a connection between your business and the customer. In essence, your digital presence serves as a passive marketing presence 24 hours a day, allowing potential customers to discover, engage with, and reach out to you when it is most convenient for them, from any device they may be using.
Having discussed how to audit your digital presence, in the July issue of mivision, it's time to think about ways to grow your digital footprint and expand your digital presence going forward.
In marketing there is a concept referred to as the Rule of Seven. This rule states that it takes around seven interactions with your brand before a purchase or conversion takes place. Of course, this is not a hard and fast rule – some customers will convert much faster and others will take a lot more coaxing. However, the more expansive your digital presence, the more likely it is that potential customers will have multiple exposures to your brand.
Your website is the core of your digital presence and unless it's well optimised and well designed, all your other efforts are likely to be much more difficult
FIVE WAYS TO HELP BUILD AND SCALE YOUR DIGITAL PRESENCE
Your Website is the Hub of Your Digital Presence 
There are a number of different steps you can take to build and grow your digital presence, but no matter what approaches you are taking – email lists, social media search engine optimisation (SEO) and the like – they all lead back to a central digital hub. Your website is the core of your digital presence and unless it's well optimised and well designed, all your other efforts are likely to be much more difficult.
The effectiveness of having an attractive, useful and engaging website is twofold. Easy to use and attractive websites are, as a whole, more engaging for customers. The more customers spend time on or visit your website, the higher it will organically rank in search results. This doesn't mean that efforts into website and SEO optimisation aren't needed, but creating a website that customers will want to visit can kick-start your ascension in search rankings.
Although your site's value isn't simply determined by its design and usability, as a base it needs to be user friendly and mobile optimised with clear avenues through which visitors can contact your practice or book an appointment. This means prominent contact details and booking buttons on every page upon which a potential customer will land.
In addition to convenience, your site needs to have value to potential customers. How you choose to offer value is up to each practice. You could take a content first approach and put together a library of articles about various eye conditions, treatments, tips on protecting your eyes and the like. You may wish to concentrate on having an easy to browse inventory with a virtual fitting room giving potential customers the ability to virtually try on new frames from the comfort of their home.
Content is King 
SEO is the practise of making your website appealing to search engines so it will rank higher in web searches. The vast majority of clicks through to a site come through Google searches, and of those searches, the overwhelming majority come from the first page of search results. Having your site appear on this first page of results is the surest way to get people to visit. This can be a difficult feat.
One of the key driving factors in how your page ranks are backlinks. A backlink is a link from another site to yours.
Backlinks tell search engines that your site is respected and has authority, resulting in it being elevated in the search rankings. That said, not all backlinks are equal. A backlink from a domain with little authority typically won't confer much juice. Backlinks are categorised in a few different ways – organic, artificial and toxic.
Organic backlinks are the most desirable. These are the links that occur naturally, with someone finding your site or content and linking to it. These are typically the best quality links. Unfortunately you may also accrue toxic links organically.
Artificial backlinks are those gained through buying links, doing link swaps, commenting on blog posts with your URL inserted in the comments etc. Artificial backlinks aren't necessarily bad, but Google isn't fond of them and, depending on how you obtain the links, may lead to search penalties rather than rewards.
Toxic backlinks are backlinks from 'bad' sites. These sites may have a low trust score, have mirrored content or poor design, such as a large ratio of HTML to visible text. Toxic backlinks can, and will, negatively affect the authority of your website.
Gaining organic backlinks to your practice page is typically very tough. This is where content comes in. Carefully created and curated content, focussing on keywords related to your practice – such as treatment specialities, tips for eye care, articles on common eye conditions etc. – is an effective way to accrue organic backlinks as well as give potential customers other avenues through which to find your site.
Add Avenues 
In addition to targeting keywords and creating shareable content, an easy and reliable way to give your digital presence a boost is to take advantage of business listing and review services. These sites, such as Google My Business, Yelp, StartLocal, TrueLocal, and the Pink Pages, typically offer free business listings featuring practice details, contacts, and a link through to your website.
The value of these listings are twofold – not only do they give potential customers a new avenue through which to find your practice, the link to your website on the listing is treated as a backlink, helping you rank better in Google search.
Build an Email List 
Although it may seem like a rather antiquated idea, having a mailing list is an excellent way to connect with both new and existing customers or patients through newsletters, emailed recalls or special offers and deals.
There are a number of different methods you can adopt to populate your email list, but offering some kind of incentive for joining will typically garner more opt-in. As an example, you may offer periodic specials that are exclusive for mailing list subscribers. In this way, you can offer an incentive for people to stay subscribed rather than signing up, using a one-time incentive, and then unsubscribing.
Contact doesn't have to be constant when it comes to mailing lists, but it should be regular. A monthly newsletter with information about any changes to the practice, news, new offers or treatments available, and any special offers is easy to create and schedule and won't be frequent enough for subscribers to feel like they're being spammed.
Expand to New Social Media Platforms 
According to the Digital 2021 report by We Are Social and Hootsuite, social media is continuing its meteoric rise in importance. Between January 2020 and January 2021, the number of global active social media users grew by around 13.2%. In more confronting numbers, that equates to somewhere in the vicinity of 490 million new active social media users.
Facebook is by far the most popular social media platform, with around 2.74 billion users, but that doesn't necessarily mean that you should concentrate all your social media attention on that platform alone. While it can be a powerful tool for engagement, it may not necessarily be the most effective for your practice.
Expanding to other social media platforms may be of great benefit to your practice, as different platforms may be more suitable for the kind of content you wish to share, or they may better target the community you wish to interact with. The list of top 20 websites in the world when considering overall traffic, as compiled by SEMrush, contains six global social media platforms with traffic totalling over 45 billion visits a month. These platforms – YouTube, Facebook, Instagram, Twitter, Whatsapp and Reddit – all provide unique ways to connect with your community, as well as different user demographics. Add to that list Pinterest, TikTok and LinkedIn, and there are a huge number of opportunities for engagement and growth to take advantage of.
Specific uses for platforms vary. Pinterest, for example, may be a perfect avenue through which to showcase fashion frames. According to Pinterest, 78% of users say that content from brands is useful, a number far higher than any other social media platform. Facebook, on the other hand, is a better platform for sharing content and engaging with your community. Decide on the approach you want to take with social media, and the demographic you wish to target, then choose your platforms accordingly. Just don't spread yourself too thin. Regularity is important, so if you only have time to post regular updates on one or two social media platforms, don't try to establish a presence on a half dozen.
Daniel Wilks is a writer at MyHealth1st, a company that is dedicated to providing practitioners with the tools and technology to help grow their practice and deliver healthcare to those in need across Australia. In addition to online booking, MyHealth1st has developed products to increase reviews on Google, and drive new patients through practice doors with managed digital marketing and much more.
Visit www.myhealth1st.com.au or call (AUS) 1300 266 517.