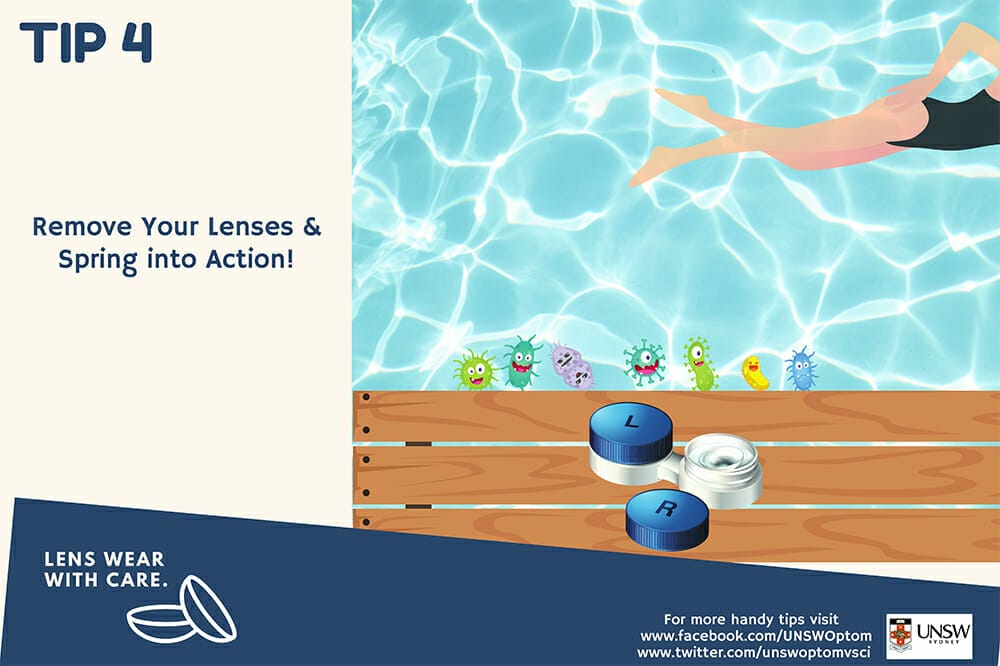 Eyecare professionals are urged to get behind a powerful new campaign targeting contact lens wearers and highlighting risky behaviours.
The campaign, titled 'Lens Wear with Care' will be online from 17–21 August, and its creators at University of New South Wales School of Optometry and Vision Science (SOVS), have developed a range of free resources that eye care professionals can use to spread the word.
These free resources will no doubt help spread the word about healthy contact lens wear

Risks of Poor Hygiene Highlighted
Developed by Dr Nicole Carnt and her final year Masters students Danica Chua and Gerry Wang, the attention grabbing campaign aims to draw attention to the risks of poor hygiene and enforce better contact lens water-related behaviour.
Many contact lens wearers are unaware that water and contact lenses are a dangerous combination. They don't understand that simple, everyday activities, like not properly drying their hands, swimming, showering or using spa pools while wearing contact lenses, can be highly problematic.
Water – whether it be tap water, pool water, lake water, or shower water – contains microorganisms and in particular, Acanthamoeba that could increase the risk of very significant and sight threatening eye infection.
Proven Effectiveness
Dr Carnt leads a multi-disciplined team investigating genomic, environmental, and behavioural risk factors for contact lens associated keratitis. Her study to determine the impact of a 'No Water' warning sticker on contact lens cases led to the production of a sticker that is now available to source from the Cornea and Contact Lens Society of Australia.
Optometrists Adam Samuels and Stephanie Yeo work with Dr Carnt and their PhDs involve work around developing other interventions to help contact lens wearers become more adherent and hygienic as well as research looking at the effects of hygiene misinformation.
"We were thrilled to see some of our Aussie swimmers win medals in Tokyo. What made it even sweeter for us was that they didn't wear contact lenses in the pool during the competition," Mr Samuels and Ms Yeo commented. "Wearing prescription goggles is the safest way to see clearly in the pool or ocean," they added.
How Can You Support Lens Wear with Care?
Dr Carnt and her team are encouraging all optometrists to get on board with the campaign and help promote contact lens hygiene by using resources that are freely available.
"We'd like optometrists to recognise that poor hygiene is the norm," she said. "These free resources will no doubt help spread the word about healthy contact lens wear".
Contact UNSW Clinic or access the toolkit
Like, comment and share UNSW Optometry clinic's posts on Facebook (UNSWOptom) and Twitter (UNSWoptomvsci).
Encourage your patients to visit the following informative pages:
For other resources to help promote healthy contact lens wear and care throughout the year, Cornea and Contact Lens Society of Australia.