As spectacle lens technology becomes increasingly complex, the dispensing approach must become more sophisticated, so we can maximise visual outcomes for every individual. Fortunately, there's some impressive lens dispensing technology available to do much of the work.
Pulling out a pen to dot up a patient's new spectacle frame is becoming a thing of the past. All the major lens companies now offer state-of-the art dispensing technologies that not only look impressive in the practice but greatly assist in achieving precision results. As a consequence, patients are deriving more value from their glasses and practices are benefiting from fewer costly remakes.
While some dispensing technologies take up considerable room in a practice, others are as subtle as a mirror on the wall and an iPad in the drawer.
The innovative DNEye Scanner 2 measures the individual anatomy of the eye
HOYA VISUREAL MASTER AND IDENTIFIER
Paul Lee from The Eye Piece, high-end practices located in Wahroonga and the CBD of Sydney, chose to go with Hoya's visuReal Master centring system, which uses a 'ground-breaking' six-camera set-up to automatically take multiple photographs of the patient as a basis for determining all relevant centring data with complete precision.
"In 2019, we were relocating to a new practice in the city, which made it the perfect time to incorporate technology that would take us forward," said Mr Lee. "Having spoken to Hoya, I knew the visuReal Master was coming, so we briefed our architect on designing an area in which it would sit."
To the patient, the visuReal Master appears to be a regular mirror within the display area. The software within is user-friendly, fast and can be used on any web-enabled device.
"There's no need to put a cumbersome jig around the frame and, because the patient is standing in front of what appears to be a normal mirror, they're more inclined to assume a natural posture," Mr Lee said.
Mr Lee also uses the Hoya Identifier consultation program. This interactive tool engages the patient, guiding them through a series of lifestyle questions, then combines the information gathered with their prescription, frame fitting parameters and most importantly, their previous lens wearing history to create a lens that is 100% personalised to their lifestyle.
According to Hoya, valuable knowledge acquired over the years, from a data set of millions of Identifier interactions, has been incorporated into improvements to the Identifier algorithm.
"Being in a city location, we often find our patients are short on time, so we capture the images using the visuReal Master, then show them the amalgamated photo it generates, and gather the required information. Rather than hold them up, we sit down and do all the measurements after they've gone," Mr Lee said.
Mr Lee said the Hoya visuReal Master and Identifier definitely enhance the patient journey. "We're selling premium lenses and our patients are increasingly aware of the need for accuracy to get the best results from them, so they understand the need to capture so much data. They're also impressed by it. I now have new clients calling up, because they've heard about our dispensing technology and they want to have it used on them."
From his team's perspective, Mr Lee said the Hoya visuReal Master and Identifier were easy to learn to use, although some needed to familiarise themselves with using a touchscreen.
"It's been such a positive investment for us and it's made dispensing as simple as a one, two, three-step process. I can't understand why a practice wouldn't want one," he concluded.
The Identifier is available as an IOS App as well as online for use on any device.
Contact: Hoya Sales Consultant 
SHAMIR SPARK MI UP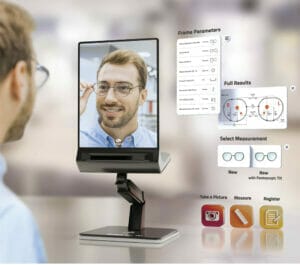 Shamir describes its Spark Mi Up as "an advanced measuring device that allows eye care professionals to take all the required measurements from just one picture".
This compact measurement tool looks like an ordinary tabletop mirror and is suitable for the countertop or test room alike.
Pierre Elmurr from Primary Eye Care in Burwood and Mona Vale, New South Wales, says the Spark Mi Up fits into his marketing strategy of using technology to differentiate his clinic from competitors.
An orthoptist and sports vision scientist, Mr Elmurr said the Spark Mi Up was a natural choice for his clinics, which have used the Shamir lab for 98% of optical prescription lenses for the past eight years. Size and portability were also a factor, with the instrument fitting neatly into existing dispensing station tables.
"It made sense to invest in their dispensing technology. The software is user-friendly; a 30 minute tutorial with the sales representative was sufficient, and my staff enjoy having extra equipment at their disposal for checking heights and PDs, which are accurate with this instrument. It's also great for teaching new optical dispensing staff," he added.
The Spark Mi Up has adjustable arms that let you position the mirror accurately in front of your client, allowing them to sit comfortably with a natural head position. There are no gadgets, clips or rulers required, and usefully, it clearly sees the patient's pupils, even through dark lenses.
Mr Elmurr describes this as a "major difference… with prescription sunglasses, we no longer have to remove the tinted lenses or use a torch to take heights, so it saves a lot of time and looks very professional".
Mr Elmurr said this level of professionalism doesn't go unnoticed by patients. "They have commented that their previous dispensing experience did not include such technology, so perception for the business is invaluable."
Contact: Shamir (AUS) 07 1300 553 465 
RODENSTOCK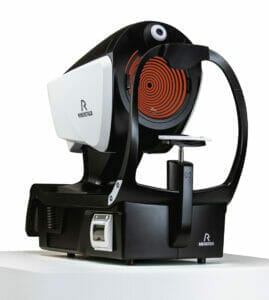 Rodenstock's DNEye technology, combined with its next generation innovative measurement terminal, the ImpressionIST 4, enables optimum consulting and adaptation.
According to Brett Parsons, from Harris Blake Parsons in Ringwood, Victoria, together these technologies are resulting in less remakes from inaccuracy, less remakes on multifocals and complex prescriptions and greater patient and staff satisfaction.
The innovative DNEye Scanner 2 measures the individual anatomy of the eye, and Rodenstock claims to be the only manufacturer in the world to transfer the acquired biometric values to the lens.
When investing in DNeye technology, Mr Parsons said, "We thought it may provide more individualised spectacle lens solutions and clinically assist our optometrists to improve patient management.
"It measured up to expectations – patients are excited with the new technology and they appreciate the individualised lens options available to them, but ultimately they really appreciate the sharp vision and visual comfort they experience with their new spectacles."
He said equipment installation and the learning process were relatively straightforward, with Rodenstock providing information on the science behind the technology, in-practice support, and online information to dispensing staff and optometrists. Once they understood how data measurement of the eye parameters and the ocular aberration measurements are applied to different lens designs, it became part of the discussion with most patients.
Mr Parsons' practice uses the ImpressionIST 4 to ensure the selected frame will be a perfect fit on the patient's face and that the lenses will perfectly fit the frame as it sits on the patient's face. The process starts with measuring and, without a bothersome measuring attachment, it is convenient and fast. Using Rodenstock consulting, the perfect lens for both the frame and patient's lifestyle can be discussed, resulting in spectacles that are perfectly matched to the customer.
While DNeye technology requires a greater investment in consultation time and a higher degree of dispensing precision, the ImpressionIST speeds up the process.
"As a consequence, we can now spend more time advising our patients on the individualised options available to them. This is a real positive as it generates a better, more trusted patient experience," Mr Parsons explained. "We have found that our customised lens design and average lens sales have increased significantly. But the major benefit is definitely the overwhelmingly positive reaction we get from most patients and the real sense of achievement our staff enjoy."
Contact: Rodenstock (AUS) 02 9748 0988 
ESSILOR VISIOFFICE 3.0 AND EYERULER 2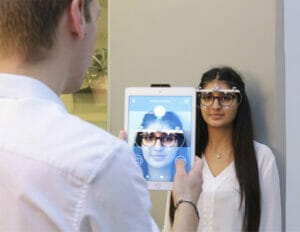 Digital measuring devices have been growing in popularity since Essilor introduced the Visioffice 1.0 in 2006.
The most recent iteration of this technology is the Visioffice 3.0 (VO3) which has facial recognition that adjusts the height of the cameras and laser projection to locate the patient at exactly the right distance. With COVID-19 still circulating, this user friendly device makes it possible to offer contactless dispensing.
The V03's unique Eyecode system locates the centre of rotation of the eye for more accurate measurements, and includes H3D – a 3D scan of the patient's eyes, head and eyewear that accounts for their natural head posture. VO3's high precision results are an essential part of the Near Vision Behaviour measurement; together they give an outstanding level of personalisation and performance to the Varilux Xclusive progressive.
Eyecare Plus in Wagga Wagga, regional New South Wales, upgraded from the VO1 to the VO3 and according to Martin Gregory, the differences between the two technologies are noticeable.
"We were renovating so, knowing that the VO3 was coming, we created a clear space in the practice for it. It was easy to transition from the VO1 to the new tower, and it's proving to be smoother in terms of integrating with our dispensing app on the iPad and our Sunix data management system – everything talks seamlessly.
"The VO3 is useful when it comes to refining scripts for premium lenses, and essential for the Varilux Xclusive progressive. Patients are impressed by its presence in the practice – when staff take the time to explain the measurements they're gathering and why those measurements are important to the final visual outcome, they really get the 'wow' factor.
"With it in our practice, we look much more professional and can really demonstrate that we care about giving our patients the very best lenses available."
Also easy to use and impressively accurate is Essilor's Eyeruler 2 (ER2).
Optical dispenser Rochelle Vellacott, from Brennan and Smith Optometrists in Inverell, northern New South Wales, says it has been exciting to get to know this compact device.
For her, the most impressive thing about the ER2 is its portability. "Now, anyone can take it straight to the patient, which is particularly useful when we're working with people who are elderly or have a disability," she explained.
This light and compact yet powerful tool incorporates the algorithms and technology born from the Visioffice.
"What I love about the ER2 is that it's so easy for us to use and for patients to understand," said Ms Vellacott. Operating on a broad range of iPads and with a number of embedded technologies that make it plug and play as well as Bluetooth compatible, she said, "any new staff member can pick it up easily".
Eyeruler 2 is ideal for practices wishing to provide a premium, contactless customer experience, without impacting on floor space. Like the Visioffice 3.0, it links to the Near Vision Behaviour app, allowing the practice to dispense the Varilux Xtrack Fit progressive.
"We use the ER2 for every prescription, from the most basic through to the most complex, which can be achieved with just a few extra measurements," Ms Vellacott added.
Contact: Essilor Account Manager 
ZEISS VISUFIT1000
Zeiss Visufit1000 is the dispensing platform of choice for Bryan Stevens Optometrist in Atherton, Queensland. Described by Zeiss as "a dispensing platform for digitally determining fast and accurate centration data", the impressive looking platform has nine cameras that capture a 180° view of the patient's face with a single shot. This enables eye care professionals to capture all the frame data and position of wear parameters needed to produce customised lenses.
"We installed the Visufit after O=MEGA 2019," explained Mr Stevens. "We chose this over other technologies because we already had the previous Zeiss instrument, so it was a natural progression. Zeiss did training with our staff when it was installed and, having already used the older instrument, it was easy to adapt to the new one. We have all found it very easy to use."
Mr Stevens said the Visufit1000 has lived up to expectations by delivering increased accuracy and speed when obtaining data for premium lenses.
Additionally he said, "The new instrument does away with needing a jig to place on the frame, and we now get all the images we need in one photo, rather than having to take two different photos with the old instrument."
As Zeiss points out, because there's no need to place a jig on the frame, the Visufit1000 gives patients the best digital centration at a safe distance, something we've all become particularly sensitive to during the pandemic.
In recommending the Zeiss Visufit1000 to colleagues Mr Stevens said, "I would say that you need to make sure you have somewhere that it will fit into the practice layout. It doesn't have a huge footprint, but when you have patients and staff around the instrument, you don't want it in a tight space."
Zeiss also offers basic digital centration in their i.Terminal mobile centration system for iPads. The Zeiss i.Terminal mobile gathers and calculates basic fitting parameters in a few seconds. The application is designed to guarantee userfriendly control through intuitive handling to allow easy capturing of centration images. To further increase usability, the Zeiss i.Terminal mobile needs no bulky accessory to the iPad, such as additional cameras or flashes.
Contact: Zeiss Account Manager