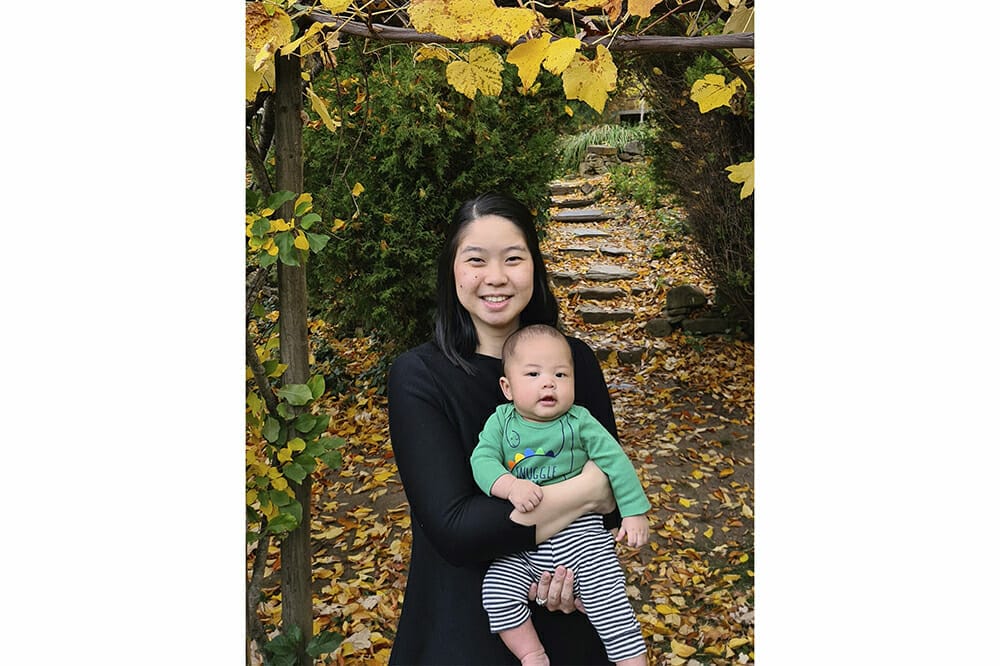 A conversation with an optometrist who was a young mother inspired Kim Hoang's career choice. Now she finds herself in the same shoes.
I was in my last year of high school and struggling to see the classroom board when I made my first trip to an optometrist. Without a clear career path in mind, my conversation in the consultation room with a young and ambitious optometrist changed everything. She spoke passionately about the profession and explained how she was able to spend time with her young family as her employer was supportive of flexible working hours.
Having a baby hasn't changed the way I work… what motherhood has changed, is my understanding of children and empathy for their parents
My career started at one of Victoria's biggest corporate practices and this is where I was given my first opportunity to become a practice manager. It was observing and working with different management styles through those years that influenced my own approach.
In 2016, I joined EyeQ Optometrists, accepting the role of optometrist in their company-owned Camberwell practice and shortly after, I was offered the role of practice manager. When I started planning for a family, I discussed my ability to succeed as a practice manager in a part-time capacity. Without any hesitation, both the team at EyeQ National Office and my colleagues in practice were encouraging and wholly supportive.
Over the last five years, I focussed on creating a cohesive, respectful and supportive culture within the practice. Despite the diversity among team members, everyone is flexible, trusting and has developed a 'we not me' mentality. This was evident when I went on maternity leave after having my first child – Cooper, born in January this year – and my role was shared among team members in practice and at National Office.
As I wasn't taking a long period of time off, I was keen to stay connected with the practice, dropping in for visits with Cooper and taking on tasks such as budget forecasting and remuneration reports while on leave. I also found it important for my mental well-being to keep a little normality as well as clinical competency by completing continued professional development.
Admittedly, I was anxious upon returning to work part-time. I was nervous about leaving Cooper all day, despite being in the care of his grandparents, missing him and wondering how I would cope with the sleep deprivation. I was also concerned about whether I was clinically ready. My first patient took their seat and after talking about Cooper for a while, I picked up my trial frame and it was as if I had never left. As luck would have it, having been through lockdown while pregnant with Cooper, I had only returned to work for one day before we went into lockdown again.
Having a baby hasn't changed the way I work. I've always been very organised, though now, ensuring everything is prepared a little earlier, delegating, attempting to have a structured day and adapting as things rarely go to plan with a baby, is key. What motherhood has changed, however, is my understanding of children and empathy for their parents. With a special interest in paediatric optometry, I work closely with both parent and child every day. I now understand the constant concern a parent has for their child. For us as optometrists, glasses may not be a big deal, but for the parent of a child who may not be absorbing everything around them, I can now see their worry. When it comes to eye diseases, which we deal with every day, I am more aware of how confronting it can be for the patient and carer.
I'm excited about being back at work part-time but I also love being a mother. Watching Cooper grow and develop brings me so much joy and striving to be an expert in eye care brings me professional fulfillment. I have found my perfect balance.
Kim Hoang graduated with a Bachelor of Optometry from University of Melbourne in 2010. She is the practice manager at EyeQ Optometrists, Camberwell, Victoria.