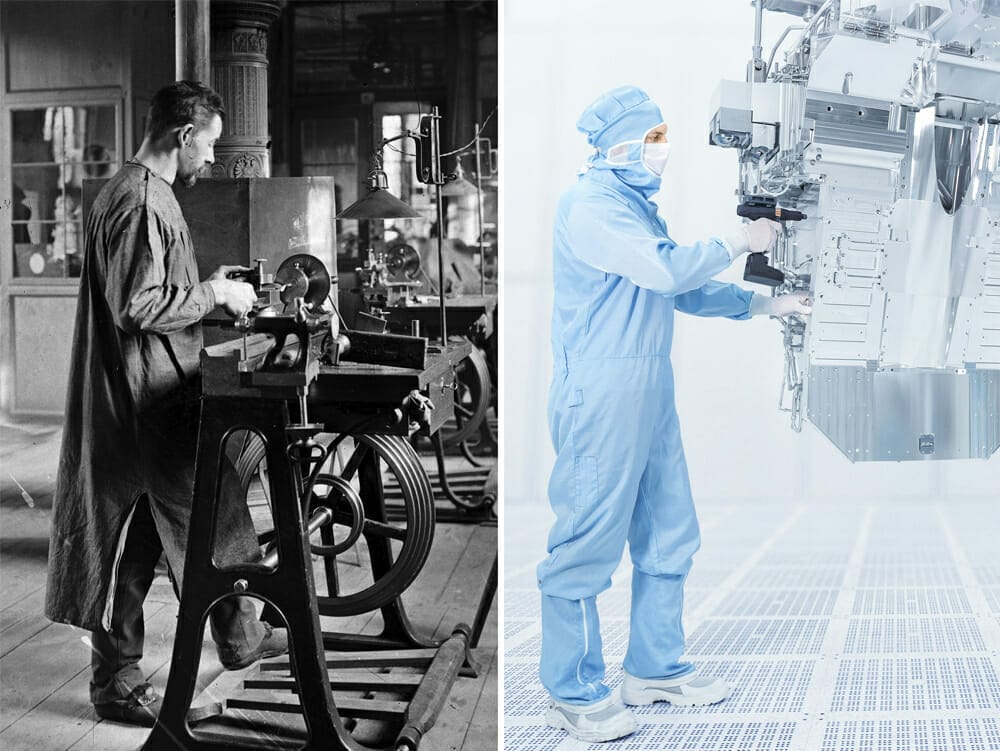 This month (November), Zeiss, an internationally leading technology enterprise operating in the fields of optics and optoelectronics, celebrates 175 years of pioneering innovative solutions for our optical industry.
2021 also marks 60 years of the global tech giant's operation in Australia and New Zealand.
To celebrate these milestone anniversaries, mivision takes a look at Zeiss' rich past and how its humble beginnings in Germany led to global success.
When a young mechanic by the name of Carl Zeiss opened a small workshop in the hilly landscape of Jena, a city in Germany, nobody could have predicted the scale to which his operation would evolve.
Zeiss' many technological milestones attest to its repeated – and successful – attempts to challenge the limits of what is physically and technically feasible
From the initial beginnings on 17 November 1846, to a collaboration with physicist and mathematician Ernst Abbe 20 years later, Zeiss started on a long and fruitful path to global recognition. Along with a team of gifted practical and theoretical opticians and glass makers, the pair were responsible for helping reshape most aspects of optical instrument production, with the ultimate achievement of revolutionising the optical industry.
However, in tune with the ups and downs of Germany's tumultuous history, Zeiss' own journey was often turbulent and, in the very least, unique.
"Zeiss' many technological milestones attest to its repeated – and successful – attempts to challenge the limits of what is physically and technically feasible," says Dr Karl Lamprecht, Zeiss President and CEO. "This unique innovative spirit has imbued the company with real staying power while helping both us and our customers to be successful."
TRIAL AND ERROR PAYS OFF
In the early days of the opening of Carl Zeiss' workshop, Mr Zeiss employed a process of trial and error to experiment with, and develop the innovative instruments that would later advance Zeiss on a trajectory of international success. This process involved him designing, building and repairing physical instruments, beginning with simple microscopes in 1847, and moving on to compound microscopes only ten years later. With Ernst Abbe on-board, he was subsequently able to produce objective lenses on the basis of mathematical calculations and, further to this, thanks to Abbe's development of his eponymous formula in 1973, the team were able to limit the optical resolution in a microscope – a pivotal finding that has since been adopted in other fields of optics.
It was this milestone that really earnt Zeiss its place in the optical industry, signifying a time of great growth as new products and business ideas flourished. These early discoveries were further strengthened when, in 1879, glass chemist Otto Schott, sent Abbe a sample of glass that offered new optical properties.
Set in motion by a pioneering spirit, the technological innovations that emerged from Zeiss were a result of the perfect blend of scientific research and entrepreneurial vision.
"Optical technologies are vital for making progress in the life sciences, medicine, IT, telecommunications, automobile, consumer products and many other fields. The aim of every innovation at Zeiss is to go beyond just advancing the product by benefitting society," said Gail Giordani, Head Vision Care, Australia and New Zealand.
TIMELINE OF MILESTONES
Capturing the Journey to the Moon 
When, in 1962, a store-bought camera was sent into space to photograph one of the early space missions, it was quickly realised that new technologies and a purposedesigned photography system were needed to survive the extreme conditions and produce clear, quality images. Responding to this challenge, Zeiss embarked on a process of refinement. In 1966, Zeiss cameras and lenses became a standard component of the astronauts' on-board equipment, responsible for helping document missions and serve as a basis for analyses.
On 20 July 1969, when man first landed on the Moon, Zeiss played a crucial role in capturing the historic moment with its specially designed Biogon 5.6/60 wide-angle lens. The goal was for the photographs to capture the moon's surface with excellent edge-to-edge contrast and maximum definition. During the Apollo Project, more than 30,000 images were captured, providing the world with images of the lunar surface unlike anything seen before.
The camera lenses used during the mission formed the nucleus for the lenses that would later be developed for optical lithography.
In the space world, Zeiss is also renowned as a supplier to planetariums – dome shaped buildings in which images of stars, planets, and constellations are projected for public entertainment or education. The first planetarium, which was built for the Deutsches Museum in Munich, Germany, opened its doors in 1925 and attracted great crowds, inspiring international demand. By the end of the 1930s, Zeiss had built 21 planetariums in a number of cities around the world, including Chicago and Philadelphia in the US, Milan, Italy and Tokyo, Japan.
the technological innovations that emerged from Zeiss were a result of the perfect blend of scientific research and entrepreneurial vision
Jena, where it all began, is also home to a Zeiss planetarium, as well as the Optical Museum, which showcases vintage Zeiss microscopes and a spectacles collection. This museum was the only one of its kind in Germany until 2014, when the Zeiss Museum of Optics opened in Oberkochen.
Nobel Prize Winners Trust Zeiss
From Robert Koch in 1905, to present day, Nobel Prize recipients continue to place trust in Zeiss microscopes. Considered the "founder of modern bacteriology", Koch was awarded the Nobel Prize for Medicine and, in a letter to Carl Zeiss, wrote: "A large part of my success I owe to your excellent microscopes".
The prestigious associations don't end there.
Playing an important role alongside Moritz von Rohr as Head of Development at Zeiss, Swedish ophthalmologist Allvar Gullstrand was awarded the Nobel Prize in 1911 for his work in dioptrics. Gullstrand's eye model and the determining of the eye's centre of rotation, alongside other jointly developed advancements, culminated in the first Zeiss slit lamp, launched in 1912.
Another product of their work was the Punktal. This world-first precision eyeglass lens, featuring point-focal imagery, delivered razor-sharp vision into the corners of the eye. Unlike previous lenses made for static eyes, this lens was developed for the moving eye with the aim to improve vision in the periphery.
Furthermore, in 1953, the same optical system used for Zeiss' first slit lamp formed the basis for the development of the OPMI 1, the first Zeiss surgical microscope.
These early innovations were responsible for firmly establishing vision care at Zeiss.
21ST CENTURY TRIUMPHS
In the aftermath of World War II, Zeiss was split between the plant in Jena and Heidenheim in southern Germany. This action divided the company, forcing them to operate independently and develop in different directions. However, with German reunification in 1990, the two companies were re-joined to form the single entity that exists today – arguably stronger and more successful than before.
Since then, Zeiss has had its sights set on its global potential and continues to invest heavily in infrastructure, state-of-the-art buildings and production facilities, as well as in the important fields of digitalisation and sustainability.
A Digital Future 
Sparking the transition to digitalisation, in 2019 Zeiss partnered with other European companies and research institutes to begin series production for a revolutionary new manufacturing technology set to yield highperformance microchips: EUV lithography. This technology enables major advances in the miniaturisation, performance and energy efficiency of chips, and hence of digital end devices and infrastructure.
In late 2020, Zeiss' EUV technology was recognised when it won the German Future Prize (Deutscher Zukunftspreis).
Marking 100 years since the launch of a precision micrometre screw, 2019 was also an important year for Zeiss Industrial Metrology. Today, this team within Zeiss manufacturers multi-dimensional measuring solutions for coordinate measuring machines, optical and multisensor systems and metrology software for the automobile, aviation, engineering, plastics and medical technology industries, including 3D X-ray measuring machines for quality assurance.
The microsurgery team's recently launched product portfolio includes technologies such as the Zeiss Kinevo 900, which is used for spine and neurosurgery. Comprising more than 100 innovations and 180 patents, the system combines robotics, digital visualisation and modern assistance solutions.
The camera lenses used during the mission formed the nucleus for the lenses that would later be developed for optical lithography
In ophthalmology, Zeiss has integrated digital technology into optics designed specifically for the surgical environment, with precision scanning, imaging and laser therapy technologies for eye disease detection and management.
The Zeiss portfolio for ophthalmology – comprising data management and OCT systems, optical biometers, perimeters, refractive and therapeutic lasers, and retinal cameras, to name a few – is designed to support ophthalmologists to make decisions, increase efficiency and improve patient outcomes in the surgical areas of cataract, corneal refractive, retina and glaucoma.
This technology, combined with Zeiss image management software, has been revolutionary in improving the workflow in busy hospital departments. Westmead Hospital in Sydney, New South Wales has implemented Zeiss Forum. Designed to streamline practice workflows by connecting devices and providing access to all patient examination data, Zeiss Forum has significantly increased the efficiency and accuracy of clinical results, leading to an improvement in patient outcomes and workplace culture.
Striving for Sustainability 
In 1961 Zeiss established itself in Australia, setting up operations in Sydney first, followed by New Zealand in 1978 and later in Lonsdale, Adelaide in 2005. Coinciding with the Lonsdale manufacturing site relocating to new AU$6 million premises at nearby Tonsley Innovation District in 2017, the Zeiss Vision Care strategic business unit began to pool more than 280 initiatives in a global program to drive sustainability.
This culminated in a significant shift to solar energy as part of Zeiss' "green, safe, and responsible" environmental sustainability ethos.
"We're fortunate to be located in a technology park in Tonsley, with access to renewable energy. A percentage of our power comes from renewable solar – at 60% right now – but plans are in motion to progress to 100% solar power," said Brenton Paris, Zeiss Vision Care's operations manager in Australia and New Zealand.
Mr Paris says Zeiss has invested in Computerised Numerical Control (CNC), a computerised manufacturing process in which pre-programed software and code controls the movement of production equipment, to help progress the company's sustainability targets.
"Where water consumption is concerned, we're moving away from wet-edging – which involves cutting lenses using a diamond wheel where water acts as a lubricant and wastewater goes down the drain. Now we're using dry-edging with CNC-type machinery – and there's no wastewater."
As well as managing water use, the site in Tonsley also has big plans to reduce plastic waste.
"We work with waste disposal providers, such as Veolia, to recycle or repurpose waste, such as waste materials used in concrete manufacturing.
"Small projects, like reducing paper, moving away from printing, and recycling are really in every facet of our business," says Mr Paris.
Zeiss' long-term target is to eliminate landfill across all four Australian and New Zealand sites – Tonsley, South Australia; Sydney, New South Wales; Caloundra, Queensland; and Auckland, New Zealand.
CONTINUED GROWTH
Having assumed responsibility to develop, produce and distribute "highly innovative solutions for industrial metrology and quality assurance, microscopy solutions for the life sciences and materials research, and medical technology solutions for diagnostics and treatment in ophthalmology and microsurgery," today Zeiss employs over 34,000 people in almost 50 countries with around 30 production sites, 60 sales and service companies and 27 research and development facilities.
Operating under four umbrella areas – Semiconductor Manufacturing Technology, Industrial Quality & Research, Medical Technology and Consumer Market – in the last fiscal year Zeiss Group generated an annual revenue totalling 6.3 billion euros. In what the company says "represents our investment in the future", Zeiss invests over 10% of its annual revenue in research and development and, in fiscal year 2019/20, invested 13% in this area.
PROMISE OF A BRIGHT FUTURE
In recognition of its longstanding strength and many historical milestones, Zeiss is celebrating its 175th anniversary through a variety of activities and events, including the Zeiss Beyond Talks. This series consists of interviews with pioneers and eminent figures, including climate researcher Professor Antje Boetius, who share their visions and speak of their work, passions and important world topics.
In Germany, the company's commitment to encourage children and young people to consider a career in the sciences and conduct open-minded research remains an important backbone as they enter the next chapter in their longstanding reign.
Zeiss says its aim is also to use its anniversary year to focus attention on new initiatives, strategic efforts and funding.
As part of this, Gail Giordani says, "the #ZEISS175 campaign includes the launch of our latest Zeiss BluePro lens technology which addresses our patients' need for superior eye protection from digital devices, modern LED light exposure and during outdoor activities".
As for our local market, Ms Giordani says the coincidence of Zeiss' 175 year anniversary with 60 years serving the ANZ region, means 2021 is "an extraordinary year for Zeiss Australia and New Zealand.
"Zeiss ANZ continues to partner with our valued customers, inspired by curiosity and a passion to turn challenges into opportunities," says Ms Giordani.
Carl Zeiss Foundation Re-invests in Research
Founded in 1889 in Jena by Ernst Abbe with support from Otto Schott, the Carl Zeiss Foundation is one of Germany's oldest company-affiliated foundations and today, one of the largest private foundations which provides scientific funding in Germany.
The foundation companies, Carl Zeiss AG and Schott AG, are solely owned by the Carl Zeiss Foundation with the purpose of ensuring their long-term future, promoting science and re-investing in research.
With the dividends of Carl Zeiss AG and Schott AG, the Carl Zeiss Foundation provides funding for research and teaching in the fields of science, technology, engineering and mathematics.
With a focus on visionary and outstanding academic work, as well as basic research and application-orientated science, the Foundation's goal is to create an open environment for scientific breakthroughs in the disciplines of natural science and engineering.
Hero image (Figure 1): Zeiss has always focused on enabling tomorrow's technologies: be it at the optician's lathe in 1900 or while producing the EUV illumination system that comprises 15,000 individual components and weighs in at 1.5 tons. With this move, the Zeiss Semiconductor Manufacturing Technology (SMT) segment, in collaboration with ASML, achieved a breakthrough in EUV lithography that enabled the duo to make a major technological leap in the history of chip production. The efforts of Zeiss and its international partners in developing EUV lithography were officially recognised when the team was awarded the German Future Prize in 2020 (©Zeiss Archives and Zeiss).