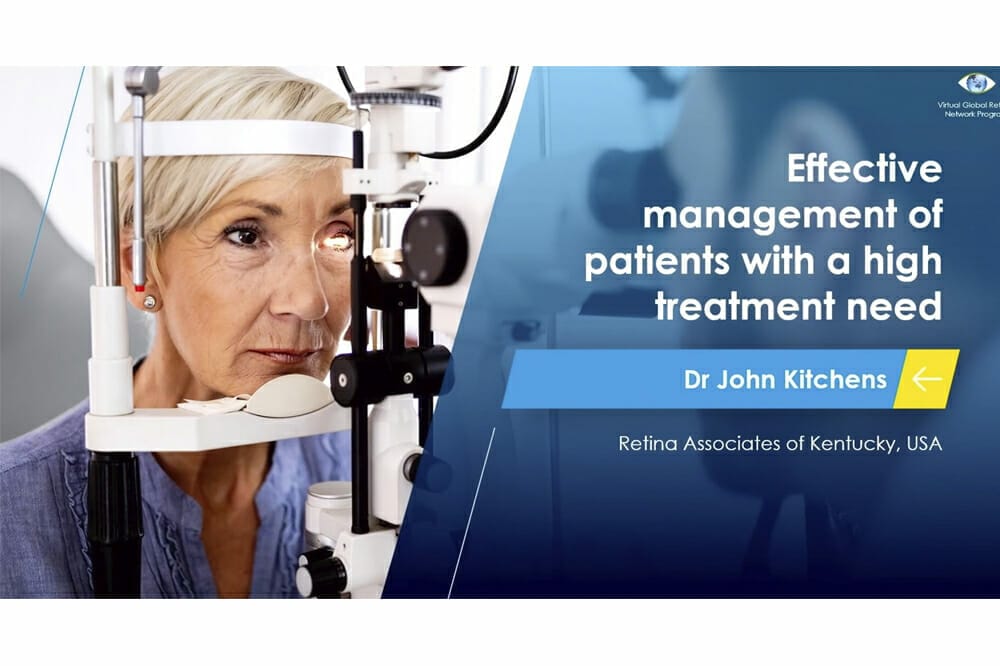 Neovascular age-related macular degeneration (nAMD), polypoidal choroidal vasculopathy and diabetic macular oedema were topics under the spotlight at Bayer's Global Retinal Network Program (GRNP) for Australia and the Asia-Pacific 2021.
Held during August, the two-day annual GRNP was presented by Associate Professor Sam Fraser-Bell, Professor Adrian Fung, and Professor Paul Mitchell from Sydney, Dr Caroline Baumal, Dr John Kitchens and Professors Rishi Singh and Neil Bressler from the United States, Professor Gemmy Cheung and Professor Tien Wong from Singapore and Dr Voraporn Chaikitmongkol from Thailand.
In this article, we review presentations on the significance of treatment intervals for the effective management of patients with neovascular age-related macular degeneration.
There's no doubt that anti-VEGF treatment is an effective management tool for patients with nAMD; however reactive or fixed monthly dosing regimens have been associated with a high treatment or visit burden. As host of the GRNP, Professor Adrian Fung commenced proceedings by stressing the need to balance outcomes with the burden of treatment for nAMD. While under treatment leads to poorer outcomes, over treatment can increase safety risks and place unnecessary burden on patients, their carers and the health care system.
a patient who in their first year requires monthly injections… may eventually extend out to 12 or even 16 weeks
Finding the "sweet spot" where outcomes are maximised and the burden minimised, is a key driver behind the adoption of proactive, individualised treatment plans, the mainstay of which is a treat-and-extend regimen.
Patients on a treat-and-extend regimen are given three monthly injections as an initial loading, before attempting to extend the injection period if the macula remains dry.
"With treat-and-extend we inject at every visit but can extend the time out between visits," Prof Fung explained. "We treat the patient until dry, then extend the interval as far as we can. At some point fluid will recur and then we step back to the previous time point at which the macula was dry."
Data on treat-and-extend is increasing, both for ranibizumab (Lucentis, Novartis) and aflibercept (Eylea, Bayer), with both showing good results.
The TREND, TREX and CANTREAT studies showed vision outcomes with ranibizumab were non-inferior with a treat-and-extend regimen compared with monthly treatment. On average, patients received around 18 injections over two years. The ALTAIR and ARIES studies, as well as real world studies such as the University of Sydney Save Sight Registry Fight Retinal Blindness! (FRB!), showed that patients treated with treat-andextend aflibercept also had non-inferior visual outcomes compared with monthly treatment, but only around 12 injections over two years. This reduction in the number of injections was driven by fewer injections in the second year.
Brolucizumab, (Beovu, Novartis), was the first anti-VEGF aimed to extend the treatment interval to12 weeks, however at two years only about 39-45% of patients were able to maintain this dosing; a significant number needed more frequent treatment.
Faricimab (Roche) is a biospecific antibody that may soon be on the market.
The TANAYA and LUCERNE studies compared outcomes of aflibercept (2mg three times q4 then q8) against Faricimab 6mg. Prof Fung said the study looked at four monthly loading dosing intervals initially, then treatment at eight to 16 week intervals dependent on activity at the 20 and 24 week points.
"Once assessed for disease activity at weeks 20 and 24, patients were not able to deviate from their treatment interval to meet any individual treatment needs during year one… The primary endpoint measured mean change in best corrected visual acuity (BCVA) from baseline at week 48, as an average of weeks 40, 44 and 48," Prof Fung reported.
Other studies are looking at whether increasing drug dosage will enhance durability, and at what point, with increased dosing, the intraocular molar concentration will fall below the threshold required to suppress CNV exudation. The Pulsar trial, started in August 2020, will compare standard 2mg aflibercept given at eight weekly intervals with 8mg aflibercept given at 12 week or 16 week intervals. Results are expected in the next two years.
GROUPING PATIENTS
Studies show that in terms of required intervals between treatments, patients cluster three main groups:
High treatment needs: injection frequency intervals of four to eight weeks,
Moderate needs: injection frequency intervals of 10-12 weeks, and
Low treatment needs: injections only required every 12-16 weeks.
However, there are no hard and fast rules, and one can only know which group a patient will fall into after they have commenced treat-and-extend and their response has been observed. Dr Baumal stated, "Regardless of the treatment group, the number one goal is to control exudation because exudation can lead to photoreceptor loss and retinal damage with resulting vision loss".
Dr John Kitchen explained that there are no biomarkers or trends that can predict the treatment group a patient will fall into. Age, years, BCVA and central retinal thickness are all relatively similar between injection intensive and non-injection intensive. Furthermore, a patient who in their first year requires monthly injections is not necessarily going to be an injection intensive patient in their second year – they may eventually extend out to 12 or even 16 weeks. Patients with a high injection frequency should be reassured that they are not at additional risk of inflammation or adverse events – the VIEW 1 and 2 studies showed that both patients given aflibercept every four and eight weeks, did very well.
Dr Kitchen reported that intraretinal fluid (IRF) seems to portend a poorer visual acuity outcome for patients. In the ARIES study, patients who had no IRF typically presented with better visual acuity (VA) gains than those with IRF throughout the treatment course. This was also seen in ALTAIR, VIEW 1, 2, CATT and multiple other studies.
He advised that a patient who receives monthly injections of aflibercept and has persistent fluid though all three injections, will do better if maintained monthly for the rest of the year – if they are extended, they will not achieve the same visual gains (equivalent to a line of VA improvement).
"We're able to take great care of these patients and most (60%) can eventually be extended out to eight weeks or more if treated appropriately. We need to remind them of this and reassure them of the safety profile of aflibercept, even when injected monthly. Visual acuity that allows for independence is the end goal," Dr Kitchen said.
Adding to the discussion, Professor Rishi Singh said analysis of patients provides evidence suggesting the impact of fluid on patient vision is different, depending on its location in the retina in patients with nAMD.
There is good evidence to suggest that following initial maximal resolution of retinal fluid, some SRF in patients can be tolerated and may allow for extended treatment intervals alongside clinically meaningful VA gains.
"We have patients with IRF, which is typically associated with worse VA throughout the treatment course compared to SRF. We have patients with stable, residual SRF in the absence of IRF, and this is typically associated with better VA throughout the treatment course compared to those with IRF.
"We have patients with sub-retinal pigment epithelium (RPE) fluid, which is linked to poor visual acuity outcomes if correlated with IRF and /or SRF. However, the role of sub-RPE fluid in retinal disease is yet to be fully elucidated. This needs to be studied further to understand its impact."
He recommended that patients with nAMD, "receive anti-VEGF therapy according to a treat-and-extend regimen with treatment intervals determined according to fluid-based disease activity parameters observed using optical coherence tomography.
"The signs of disease activity that should trigger a reduction in treatment interval include new haemorrhage beneath or within the retina, new or persistent IRF, new or increased SRF, increased size of PED or the presence of subretinal hyperreflective material, which would indicate the presence of neovascular membrane," said Professor Singh.
RISK OF SUSPENDING TREATMENT
A presentation hosted by Professor Singh on tailoring treatment for patients with a low treatment need, highlighted the importance of maintaining treatment, even when all seems to be stable and the patient has achieved and maintained clinically meaningful vision gains.
Dr Baumal cited a study authored by Dr Rahul N Khurana, which found that suspending treatment is dangerous because recurrence of the disease may lead to vision loss that is not recovered.
Additionally, she referred to the FRB! Study, which showed that 41% of suspended eyes experienced choroidal neovascularisation (CNV) reaction in year one, with 79% reactivating by year five (suspended treatment was defined as a three month or longer period of inactivity of the CNV lesion, with no further treatment until lesion reactivation). In eyes with CNV reaction there was a net loss in visual acuity of 3.3 letters from baseline and 4.2 letters from the last visit prior to treatment suspension.
Patients never fully regained their lost vision following treatment suspension.
Professor Fung concluded that a treat-andextend approach can achieve comparable outcomes to fixed treatment regimens and achieve random control trial-like outcomes when implemented in clinical practice.
"We always need to balance maximum outcomes with minimum treatment burdens – treat-and-extend is the best way to do this," he said.