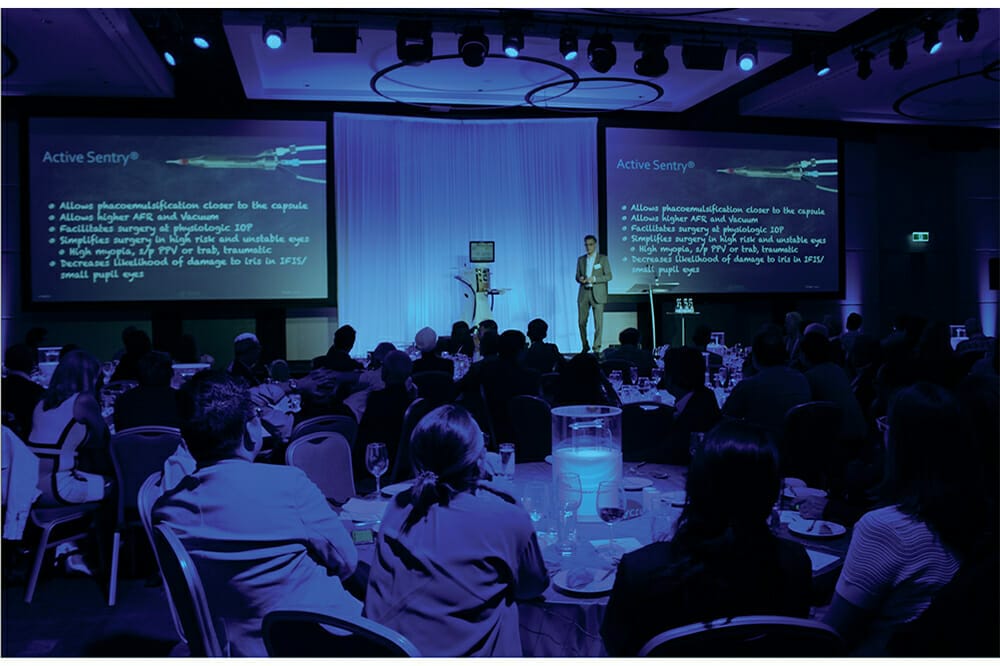 Are you ready to shop?
The Royal Australian and New Zealand College of Ophthalmology (RANZCO) Scientific Congress will be held virtually, with live streaming from 25 February to 1 March 2022. Delegates will be able to access session recordings for three months after the event.
The virtual format replaces the original plans for a face-to-face congress at the Brisbane Convention and Exhibition Centre.
Attendees will still be able to enjoy a comprehensive program, with an expansive trade show where all your preferred suppliers will showcase – and demonstrate – the latest technology.
Explore all the options available to improve workflows, margins and patient outcomes, and to satisfy your professional curiosity.
Find some of the suppliers that will be exhibiting on the following pages.
Enjoy!
IC-8 IOL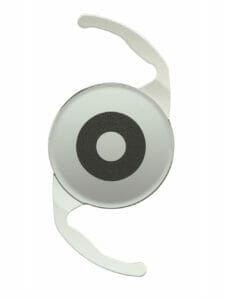 The IC-8 IOL is a first-of-its-kind presbyopia-correcting lens that uses a wavefront-filtering, small aperture design. The IC-8 IOL delivers true extended depth of focus and enhanced adaptability, an alignment-free astigmatism solution, reliable high-quality vision, and breakthrough refractive forgiveness of up to 1.0D of deviation from the intended refractive target.
Visit: acufocus.com 
Vivity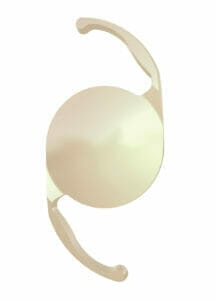 Vivity is a first-of-its-kind, non-diffractive presbyopia-correcting IOL providing good distance and intermediate vision with functional near, with a visual disturbance profile comparable to a monofocal.1-4 Patients who may not have been suitable for a presbyopia correcting IOL can now experience an extended range of vision.1-4 
Contact: Alcon Account Manager 
References 
AcrySof Vivity DFU.
Alcon-Data-on-File, TDOC-0055575.
Alcon-Data-on-File. TDOC-0055576.
Alcon-Data-on-File, US Patent 9968440. ©2021 Alcon Inc. Alcon Laboratories-(Australia) PtyLtd.1800224153. NZ. 0800101106. ANZ-VIV-2100051.
Eikance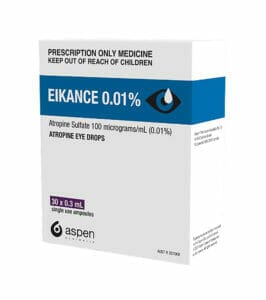 Aspen Australia launches Eikance 0.01% – new ophthalmic prescription eye drops to slow the progression of myopia in children aged four to 14 years. Atropine treatment may be initiated in children when myopia progresses ≥-1.0 D per year.
Eikance 0.01% single-use ampoules are sealed in foil pouches and are available in packs of 30 x 0.3mL ampoules.
The ophthalmic solution is sterile and preservative-free. It is available on prescription at community pharmacies across Australia from February 2022. Eikance 0.01% is not listed on the PBS.
For prescribing information, turn to page 63.
Contact: Aspen Pharmacare (AUS) 02 8436 8300 
iStent inject W
The iStent inject W is designed to reduce intraocular pressure by bypassing the primary source of resistance to improve aqueous outflow through the conventional pathway. It is indicated for the treatment of mild-to-moderate open angle glaucoma in patients undergoing cataract surgery or as a standalone procedure.
Built on a solid, dependable foundation of proven efficacy and safety, trabecular micro-bypass technology developed by Glaukos has been studied extensively around the world and its efficacy has been demonstrated in over 200 peer-reviewed articles and over 800,000 eyes.
Contact: Glaukos Account Manager
iLink V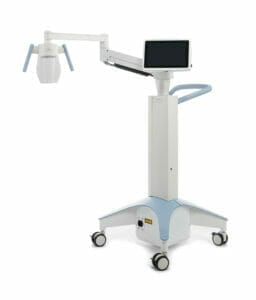 Intervene early with the iLink V corneal cross-linking platform to slow or halt progressive keratoconus and help preserve your patients' vision.
Now available from Glaukos, it comprises of proprietary VibeX Rapid riboflavin and the ultra-violet A (UVA) light from the KXL System used for the treatment of progressive keratoconus.
Contact: Glaukos Account Manager 
Lumenis x OptiLight
Lumenis, the inventor of IPL, presents the first and only IPL that is FDA-approved and TGA-listed for the management of dry eye disease due to meibomian gland dysfunction. OptiLight elevates dry eye management with Lumenis' patented Optimal Pulse Technology (OPT) and usercentred design. Get the safe, precise, elegant procedure you want and the comfortable, effective therapy your patients need, to manage dry eye disease with OptiLight.
Contact: Lumenis infoau@lumenis.com 
Lacritec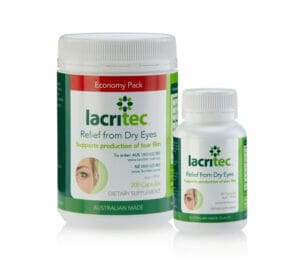 Lacritec, as a systemic approach to dry eye treatment, is ideally placed to augment other dry eye treatments and provide superior outcomes. Lacritec uniquely combines the benefits of concentrated fish oil, borage oil and the proven and professionally researched flax seed oil.
Contact: Stiltec (AUS) 1800 622 883 
Optovue OCT Models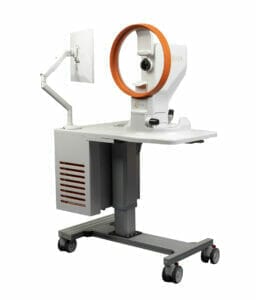 The latest Optovue optical coherence tomography (OCT) models include the i-Scan 80, i-Vue 80, Avanti XR3 and Solix Ultra-High-Speed FullRange OCT.
The multi-functional Optovue Solix delivers pristine images of retinal structures with 16mm wide x 6mm retinal scans. Full range anterior segment imaging captures the entire anterior chamber with 18mm wide scans. Multi-volume merging and 3D projection artifact removal (PAR) produces OCT angiography images with unprecedented image clarity.
Contact: BOC Instruments (AUS) 02 9643 7888
Bp VIP.net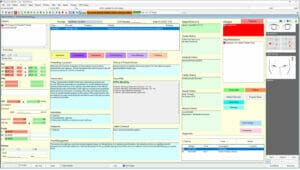 Bp VIP.net is an intuitively designed practice management software solution for ophthalmologists, offering purpose designed features and functionality. Bp VIP.net is designed to improve the operational efficiency of an ophthalmology practice by helping to make smarter, more informed decisions for patients.
Visit: bpsoftware.net 
Hoya Vivinex IOLs
Vivinex intraocular lenses (IOLs) are designed to provide outstanding optical quality, clarity of vision and rotational stability. The Vivinex IOL family includes XY1 and XC1 aspheric and XY1A toric IOLs, preloaded on the reliable and consistent iSert injector.
Contact: Designs For Vision (AUS) 02 9550 6966 
Oculus Pentacam Family

The hero of your refractive, cataract and glaucoma practice, the Oculus Pentacam family of diagnostic devices combines high quality Scheimpflug imaging with complete measurement of the anterior eye segment.
Additionally, the Pentcam AXL includes high-precision measurement along the visual axis for IOL power calculation. Pentacam AXL WAVE adds wavefront aberrometry of the entire eye.
Contact: Designs For Vision (AUS) 1800 225 307 
Sophi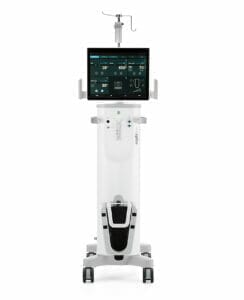 Sophi is the first wireless ophthalmic phaco-system to offer high flexibility and mobility, free from cords and cables. Safety is taken to a new level with triple pump fluidics and a dedicated pump for intraocular pressure control. Efficient Sinus phaco reduces overall heat, Clean Venturi and an automated Cassette Slot-In-System reduce contamination risk.
Contact: Designs For Vision (AUS) 1800 225 307 
Reflex Technology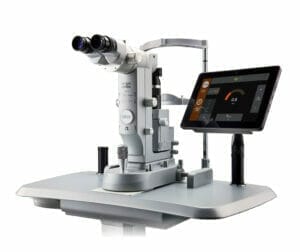 Advances in technology are a key driver in any ophthalmic practice. Speak with an Ellex Quantel Medical – Lumibird Medical representative at RANZCO, to learn how you can treat with the clarity and efficacy of a True Coaxial Illumination (TCI) with Reflex Technology.
Visit: ellex.com
Silverstone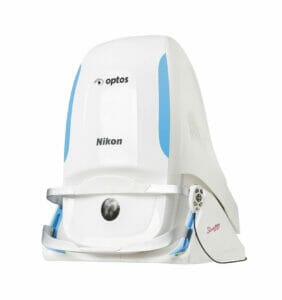 Silverstone, a powerful tool for examining the retina, is the only ultra-widefield imaging device with integrated swept source optical coherence tomography (OCT). Silverstone produces a 200° singlecapture retinal image of unrivalled clarity in less than half a second and enables optomap guided OCT scanning across the retina and into the far periphery.
Contact: Optos Australia auinfo@optos.com 
IOL Formulas: Bausch & Lomb Hosted Morning Symposium
There are various cutting-edge tools available today that can accurately measure ocular biometric parameters. However, all this would amount to nothing in the absence of an intraocular lens (IOL) calculation formula that can accurately predict postoperative refractive outcomes. At this symposium, an expert panel will review the evolution and development of IOL formulas as well as discuss their similarities and differences to assist in improving refractive outcomes.
Join us Sunday 27 February 2022, 7:00am – 8:15am at Brisbane Exhibition and Convention Centre (rooms M1 & 2) to hear all about IOL Formulas – The long and short of it, with:
Dr Damien Gatinel – France,
Dr Tun Kuan Yeo – Singapore,
Dr Nishant Gupta – Australia, and
Moderated by Prof Gerard Sutton –Australia.
Contact: Bausch & Lomb Account Manager 
Credabl
Credabl offers a quick, easy and pain-free way for you to get the finance you need.
This team of finance specialists tailors solutions for ophthalmologists, ensuring you receive the financial attention you deserve in both your personal and professional lives. With niche finance knowledge and specialist industry skills, Credabl is your partner on call.
Contact: Credabl (AUS) 1300 273 322 
MD EyeCare
Affordable MDeyes Once Daily Capsules deliver quality ingredients with blisterpacking to ensure dosage compliance.
DRYeye Forte is patented, advanced, and evidence-based. Containing pharmaceutical-grade re-esterified Omega-3, GLA from borage oil, vitamin D3 and rich antioxidants, it provides powerful systemic and anti-inflammatory dry eye relief.
Contact: MD Eyecare (AUS) 07 3056 0960 
Revo FC Mark II
Revo FC Mark II has enjoyed resounding success due to its versatility in providing extra functionality compared with other optical coherence tomography devices, while staying very competitively priced and quality driven.
It incorporates a 12.4 megapixel true colour fundus camera with improved functionality that saves space and is easy to operate.
Contact: Optimed (AUS) 1300 657 720
Zeiss
Zeiss will showcase multiple new products at RANZCO in Brisbane.
Zeiss Cataract Workflow will highlight developments in devices and data management. This includes EQ Workplace and Zeiss Quatera 700, a whole new experience in phacoemulsification.
The Visumax 800 fr.om Zeiss represents the latest generation of Zeiss femtosecond lasers, offering reduced laser time in comparison to its predecessors, while making tissue separation with, SMILE pro from Zeiss easier than before.
Contact: Zeiss Account Manager
NovaTears + Omega 3
NovaTears + Omega 3 is a new and unique eye lubricant and tear film stabiliser in a multidose bottle, that's specifically designed for the relief of evaporative dry eye disease and meibomian gland dysfunction. It combines high quality and highly concentrated Omega 3 fatty acids of algae origin and perfluorohexyloctane. NovaTears + Omega 3 spreads quickly and easily on the eye with a long-lasting effect, and provides enhanced lubrication and protection for dry and irritated eyes.
Contact: AFT Pharmaceuticals (AUS) 1800 238 742 or (NZ) 0800 423 823 
RayOne EMV
RayOne EMV extends a patient's range of vision with a patented non-diffractive optic profile, enabling the depth of field of many presbyopia-correcting intraocular lenses (IOLs) but with reduced dysphotopsia and importantly, high patient satisfaction. Provided with the RayOne fully preloaded two-step injector, RayOne EMV is an IOL solution unlike any other.
Contact: www.raynor.com 
NuLids At-home Treatment for Dry Eye Disease
NuLids is a natural and effective at-home treatment for dry eye disease. Easy to use, 89% of users surveyed said they had no discomfort when using the NuLids product.1 All said the NuLids oscillating Soft Tip was more convenient than manual treatments,1 and 82% found the device easier and more comfortable to use than manual lid scrubs.2 An AUSCRS ASOA abstract noted that NuLids did not damage corneal tissue when accidental contact was made.2
With daily use, patients reported a noticeable improvement in both the signs and symptoms of dry eye in as little as eight days.3 Treatment takes just one minute a day, and according to NuLids, patients report a significant reduction and/or elimination in their use of manual lid scrubs, artificial tears, gels, ointments, warming masks and antiinflammatory medications.
Contact: Good Optical Services (AUS) 03 9645 1066 
References 
Data on file, NuSight Medical. 
Olkowski, J. Use of a personal at-home mechanical eyelid cleaning device for the treatment of dry eye disease, blepharitis and meibomian gland disease. ASCRS ASOA Abstract, Los Angeles, CA, 2016 
NuLids Patient comments available upon request. 
iTrack Canaloplasty Microcatheter
Measuring just 250 microns in diameter, the iTrack canaloplasty microcatheter comprises a sophisticated set of inner workings including a proprietary guidewire mechanism that enables it to traverse the full 360° of Schlemm's canal in a single intubation. Importantly, it provides surgeons with a stent-free, tissuesparing treatment option in the earlier intervention of glaucoma.
Visit: nova-eye.com 
Topcon Harmony Data Management Solution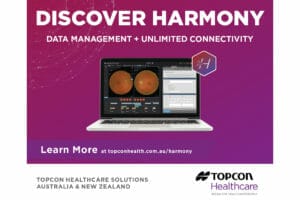 Topcon Harmony is a web-based data management solution that allows raw examination data to be viewed simultaneously, regardless of DICOM or device manufacturer, giving you the freedom to select the best devices to provide quality eye care for your patients. Custom templates enable simultaneous viewing and more efficient assessment of raw data for a more streamlined approach to diagnosis and management.
Visit: au.info@topcon.com