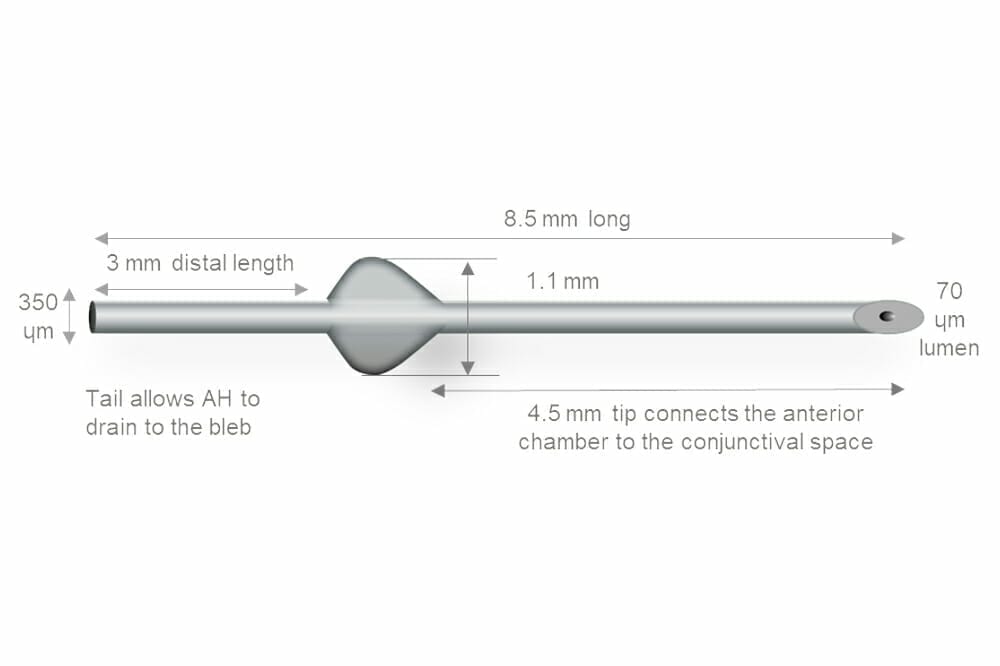 The Preserflo MicroShunt, a controlled, ab externo filtration device that delivers a unique combination of efficacy and safety for patients with primary open-angle glaucoma (POAG), is now available in Australia and New Zealand.1
This device is intended for the reduction of intraocular pressure (IOP) in patients with POAG where IOP remains uncontrollable while on maximum tolerated medical therapy and/or where disease progression warrants surgery.
Engineered to control IOP while decreasing post-operative risk, the Preserflo Microshunt is 8.5mm in length and made from a proprietary, biocompatible material called SIBS [poly(styrene- block-isobutylene-block-styrene)]. It is flexible and features a 70μm lumen to optimise aqueous flow and decrease hypotony risk; a 3mm distal tail enabling formation of posterior bleb; a 1mm fin which prevents migration and periannular leakage; and a bevelled tip which visually aids in correct device orientation.1-3 
Contact: Glaukos Account Manager 
References 
Baker D, Barnebey H, Moster M, et al. Ab-externo microshunt versus trabeculectomy in primary open-angle glaucoma. Ophthalmology. May 2021. DOI: https://doi.org/10.1016/j.ophtha.2021.05.023
Pinchuk L, Riss I, Batlle JF, et al. The development of a micro-shunt made from poly(styrene-block-isobutylene-block-styrene) to treat glaucoma. J Biomed Mater Res Part B. 2017;105B:211-221. DOI:10.1002/jbm.b.33525. 
Sadruddin O, Pinchuk L, Angeles R, Palmberg P. Ab externo implantation of the MicroShunt, a poly (styrene-block-isobutyleneblock- styrene) surgical device for the treatment of primary open-angle glaucoma: a review. Eye Vis (Lond). 2019;6:36.