When Daniel Tracton took a leap of faith and decided to open his own practice in the competitive heart of Bondi Junction, Sydney, little did he know the pandemic would be the first visitor to come knocking.
Daniel Tracton graduated as an optometrist 26 years ago in the mid-90s. He spent much of his career working in corporate optometry before moving to Luxottica's head office, where he was the Group Director for Lens and Contact Lens Products. However, after a few years worked in senior management, he realised what he was missing – working in practice, face-to-face with patients, solving their ocular issues.
I did consider buying an existing practice – I spent a long time looking at existing practices – but I realised that I wanted to create my own vision, so I started looking at new sites
Mr Tracton decided it was time to set up his own practice – an independent practice that would build relationships in the community and provide continuity of care, complemented by state-of-the-art equipment.
"When I was first practising, I was mentored by optometrists who had graduated in the 70s and 80s – they were legends of the profession at their time, working in what I'd describe as the 'golden years' of optometry. They're now heading towards retirement and in doing so, leaving a space for this level of service and care. I did my therapeutics training about four years ago and I could see this space emerging for high level therapeutic eye care, working in with other healthcare professionals – like GPs and ophthalmologists – to offer patients more comprehensive care," he said.
Having grown up, and lived his life in Bondi, Mr Tracton decided the Junction was the place to be. "I know so many people here – I hoped that simply walking down the street would enable me to build my practice as I bumped into people I knew and other health professionals that I've known over the years. It proved to be true."
Additionally, rather than setting up in a shopping mall, he chose to establish his practice on the high street. "The High Street is ideal for me. Having worked in practices within shopping centres before, I have observed the short-comings. I have seen, for instance, a decline in foot traffic over the past pre-pandemic years. I've also seen practices forced to renovate premises at the end of their typically five year tenure, and I know it can be terribly difficult to recoup the cost of doing so. High street premises are generally better value and come with more freedom."
PURPOSE BUILT FROM THE GROUND UP
With 13 optometry practices already established in Bondi Junction – a mix of the corporates and an independent – many would consider opening a greenfield site in the area highly risky, however Mr Tracton saw this as an opportunity to create exactly what he wanted.
"I did consider buying an existing practice – I spent a long time looking at existing practices – but I realised that I wanted to create my own vision, so I started looking at new sites. The shopfront I wanted had unfortunately been leased, however, because of COVID setbacks, that tenant did not end up fitting out the premises and eventually the lease became available again. On the day the 'For Lease' sign went up, I made sure it was mine.
"At 50m2, it is the perfect space for my dream practice. We have an exceptionally high ceiling and very wide shop front which gives us good visibility from the street and abundant natural light. Clever design ideas have maximised the space for frame display and ensured the space works well for patient flow. Good placement of drawers and cupboards also assist with practical functionality."
Mr Tracton and his wife Michelle worked closely with a designer and shopfitter who brought the vision to life.
"For me, being a technical, nerdy optometrist, there are things that I know I need to ensure my physical well-being – like dimmer switches close to my desk so I'm not up and down, twisting around more than necessary.
"I also planned data cabling and ports for current equipment and future needs, considering how the practice will function now, and into the future, to ensure all the enabling technology is in the right place when the time comes," he said.
COVID SET-BACK
With his wife employed as the practice operations manager and two part-time optical assistants ready to come on board, Mr Tracton had every intention of opening his practice in June and then COVID's Delta strain hit – in fact his practice was smack bang in the centre of the hotspot where the cluster emerged.
"We had construction taking place during the lockdown, then stock and equipment arriving with bills to pay, but no possible hope of opening the doors and generating revenue," said Mr Tracton.
It was nerve-racking to say the least. As a new business, with no record of prior revenue, Mr Tracton was unable to secure any financial assistance from the Government to cover rent or salaries. While the suppliers he'd partnered with were incredibly supportive, offering extended and flexible payment terms, he and his wife felt quite alone.
"There were nights when we'd sit at home, surrounded by boxes, watching Netflix with a glass of red and thinking, 'what have we done?'. We had to just do as much preparation as we could, recording and pricing stock etc., then cross our fingers and hope that things would turn around once the doors opened."
And they did.
"On the days and weeks after opening, it was fantastic. There was so much pent up demand for eye care, as well as people just wanting to get out and have human connection again. Unfortunately some of the patients had delayed their eye care to the detriment of their vision. This was all happening while we had to ensure a COVID safe environment with 100% compliance."
Having been in his own practice for a few months now, Daniel said it's great to "be back in the saddle again, seeing people and doing what I enjoy doing most – being face-to-face with my patients, and solving their vision and eye health problems.
"Never say never, but right now I can't see myself anywhere else."
Creating the Look and Flow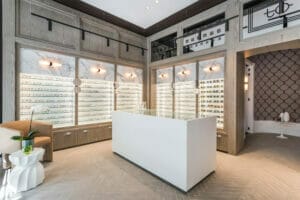 Conrad Perry, interior designer, was commissioned to create the interiors for Tracton Optometrists.
"When you design the interiors for an optometry practice, you have to keep in mind the clientele – what do they want to see, what will create the best experience for them?", he said.
"Tracton Optometrists wanted a classic feel but I didn't want to go down the path of standard cornices and mouldings – I wanted to use real timbers, so it felt warmer, and more authentic.
"Optometry is all about vision, selling glasses – so lighting is important. I was conscious to ensure every display was well illuminated so the displays and frames would glow with vibrancy."
Mr Perry said another important consideration was to ensure customers could move freely around the space.
"We were working with a smallish, awkward space. Getting order to the floorplan and creating symmetry helped to make the space feel calm."
Australian building standards dictate turning circles for wheelchairs, something Mr Perry used to his advantage by creating an oval lobby, from a formerly rectilinear space, that separates the retail space from the consult rooms.
"Having the retail space at the front and consult rooms at the back enabled me to create drama by designing an oval lobby. You move through the display area at the front of house, and into the lobby at which point you can go into consult rooms to the left and right."
With plenty of equipment to fit into the consulting rooms, all of which needed cabling and switches, he said this part of the interior design was most challenging.
"It was a planning exercise – a bit like a Tetris puzzle – to ensure everything would be accessible for the optometrist and the room would be accessible for anyone who is mobility impaired or in a chair.
"I think next time I'm engaged to plan a consult room, I'll sit and observe the practitioner in action so I understand how they and the patient use the room and the equipment. Then we'll discuss everything in detail after. We were unable to do this due to COVID, but I certainly think it would have helped. As experts in any profession, we tend to go about our work on auto-pilot and it's not until we stop and clearly think through every step of a consult – or an action – that we realise the true complexity of how we use the space around us and the tools we have."
Mr Perry said one of the greatest challenges with the project was the materials shortage and price rises that occurred, during the build, because of COVID.
"It would have been easy to swap some of the more expensive materials out for replicas, but Daniel understood that the authentic experience of being in the shop was critical for his patients/ customers, and so was happy not to cut corners."
Josh Nassi and his team at Soho Projects worked with Mr Tracton and Mr Perry to bring their concepts to life. Having fitted out optometry practices for over 20 years, for independent and corporate businesses, Mr Nassi said, "When you're planning a practice fitout, you work backwards. You need to have a vision of the completed project, of the design intentions, and then you need to work out how to achieve it."
Mr Nassi said listening closely to the client is essential to gain an understanding of what they need.
"Sometimes clients come straight to me for concepts and a fitout, sometimes I work with an interior designer.
"Regardless, I need to understand what outcomes the client is looking for, how they will use the equipment and how we can make the space work optimally.
"With this understanding, we can factor everything in, right from the beginning – we can plan the timelines and the costings down to the finest detail.
"In the case of Tracton Optometrists we were working with a small space, so we needed to be especially accurate to ensure everything fitted to the millimetre. The consultation rooms were especially challenging as there was a lot of equipment to be installed and we needed to ensure it was all easily accessible to enhance workflow when optometrists are examining their patients."
Despite the disruption caused by COVID-19 he said, "There were no variations whatsoever. I put this down to experience and a focus on planning".
Owning your own optometry practice provides independence and flexibility to manage your business as you wish. You'll also have freedom to manage how your patients are treated from first contact.
Whether you're establishing a greenfields site or acquiring an existing practice, there are many well established business models you can choose from – from 100% independence to becoming part of a buying group, joining a small franchise group or becoming part of a corporate partnership model.
mivision asked the experts in the industry about the service and support they can offer.
Options Optometrists 
Lance Schaffer, Managing Director 
Options Optometrists Kodak Lens offers a franchise model that harnesses the power of a global brand. The unique model extends the correct blend of independence and structure to its franchisees to enable them to become successful business owners in their own right.
With a combined industry experience of over 40 years, and having opened, run, owned and managed optical stores on two continents, the management team is well positioned to offer strong ongoing support and guidance to help ensure its franchisees' long term success.
Since 2021, Options Optometrists has held the long term exclusive retail brand licence to market and sell Kodak lenses throughout Australia. Kodak lenses are backed and manufactured by Essilor, ensuring substance, longevity, strong supply chains and logistics, as well as ensuring that only the best lens quality and technology will be offered to the consumer.
Visit: optionsoptometrists.com.au
Eyecare Plus 
Simon Lewis, General Manager 
Eyecare Plus is ready to assist members (new and current) who are opening a greenfields practice or purchasing an established practice.
As Australia's largest branded group of independent optometrists, with 149 members, we provide personal advice and assistance to new and existing members.
We help our members in many ways. There is always a National Office staff member to offer personal advice and assistance on matters that arise. Additionally, many Eyecare Plus members are happy to talk with and mentor anyone who does not have experience with the business side of optometry.
To protect our members, Eyecare Plus practices are geographically located in protected territories. This is a point of difference for Eyecare Plus. It means our members can exchange ideas and talk freely at meetings because they know their competitor will not be in the same room, and this creates a fantastic collegiate culture within the group.
Eyecare Plus' marketing service, known as Marketing Plus, is on hand to create and execute a marketing and communication plan for new practices. Additionally, new owners have access to a human resources consultant and the organisation's Human Resources Procedures. These procedures are valuable no matter how long you've been in practice. They cover areas such as recruitment and selection, performance management, pay reward and recognition, policies and procedures, workplace health, and safety and wellbeing. Many other policies for practices and patients are available on our Member Web.
Once you're established, Eyecare Plus' national office staff are available to accredit your practice and give on-site feedback to help improve practice operations and ensure the provision of quality patient care. Regular practice business performance reviews and monthly benchmarking guide new owners on areas with opportunity for improvement. Our national office staff are also available to assist with writing business plans.
Visit: www.eyecareplus.com.au/join-us
Specsavers 
Raj Sundarjee, Director of Professional Recruitment, Australia and New Zealand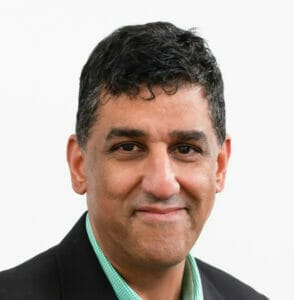 Since 2008 we have opened more than 350 Specsavers optical stores in Australia and our Joint Venture Partnership (JVP) model has become synonymous with growth and success for ambitious eye care professionals. Each JVP is made up of a minimum of one optometrist partner and one dispensing partner, who own all the profit-earning shares in their store. Their shares have a value and there is a ready market for incoming partners to buy those shares once they qualify for partnership, usually via our Pathway program (pathwayanz.com).
Specsavers Pty Ltd plays a non-profit earning role as JVP Support Partner in exchange for franchise fees. While our Australian marketing budget will top AU$70 million this year, and is the most visible support service, store partners usually point to the back-office administration service as the unsung hero of the JVP model. Covering payroll, accounts payable, tax payments, monthly P&Ls and more, this enables partners to focus on growing their businesses via two key items – providing the very best clinical care and service to patients, and developing their teams.
Store design, property management and shopfitting is also covered by this support package, as is finance. Whether it's a new store shopfit or an expansion into larger premises, we take the pressure off our partners by financing all the necessary work and managing the end-to-end process as well as the payback of loans, meaning our JVPs do not have to go to the bank for finance.
Looking ahead, the growth trajectory continues and, with average annual revenue per store of more than $3 million, partnership roles are in strong demand.
Visit: spectrum-anz.com
ProVision 
Mark Corduff, Business Services Manager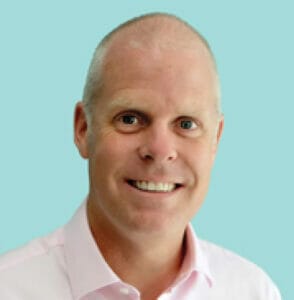 ProVision continues to play an active role in both facilitating the sale of our members' practices, as well as assisting potential purchasers or business partners with their search for the ideal practice to suit their requirements.
Whether optometrists are looking to buy an existing practice, or start a practice from scratch, the first step is to seek the right advice and guidance. We are acutely aware of how rewarding, but also daunting the process can be, and over the past 12 months have developed Launchpro, which provides industry specific guidance through eight modules from the very first important considerations new practice owners should work through all the way to branding, understanding financials, defining the range position and creating a dream team to ensure each business venture is a complete success.
To further support the next generation of practice owners, ProVision has invested heavily in our Associate Membership program. Relaunched in November 2021, the program now delivers regular communication to members, connecting them with our network, further educating them on practice ownership, and pairing them with a local contact to ensure they have an expert team behind them to provide assistance every step of the way.
What is truly exciting right now, is the increasing interest in independent practice ownership that we are seeing, with strong interest and activity from our Associate membership in partnerships, outright purchases and starting a practice from scratch. This, is great news for the industry.
Visit: optom.provision.com.au
Q Optical Network 
Lily Wegrzynowski, General Manager 
Q Optical Network (QON) enables independent optometrists to be represented as part of the Preferred Provider Networks of numerous health funds including Defence Health, AIA Health, Teachers Health, Queensland Country Healthclub, Nurses Midwives Health, and CBHS Health Fund, to name a few.
The network enables health funds to maintain relationships with independent optometrists without the need to negotiate on an individual basis.
QON was initiated by EyeQ Optometrists, however it has been established as a separate entity that independent optometrists are invited to be part of, without needing to join EyeQ or share patient or business data.
A dedicated website lists all participating health funds and has a search function that health fund members can use to find their nearest optometrist that is a QON member.
As a QON member, optometrists are obliged to offer consumers, who are members of participating health funds, the choice of a 'no gap' spectacle offer, or if purchasing a full price pair of spectacles:
A free second pair of single vision glasses, or
50% off the price of the second (lower priced) pair (some brand exclusions apply), or
A free pair of plano Cancer Council (or equivalent) sunglasses.
QON optometrists are free to source their own frames and lenses. A small administrative fee applies to membership.
Visit: qopticalnetwork.com.au
Credabl 
Craig Spiegel, Head of Sales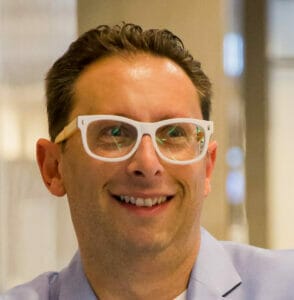 Buying or opening your own practice is a significant step in the growth of your business so it's crucial to start off on the right foot – and by right foot, we mean choosing the right finance partner. But it's often confusing to even know where to start.
Specialist lenders, like Credabl, can assist optometrists who are buying either an established practice or opening a new one. Since medical finance is all we do, we understand your profession and speak your language. We're not a big bank, so we're able to offer flexibility and more time to understand your unique needs. At Credabl, most of our team have been in the industry for over 15 years, which means we hold a deep understanding of optometrists – strong knowledge of your profession is part of the service. For example, we know the ins and outs of the optometry space, what projected incomes are for various specialists, and what a practice should sell for. We also help our clients make decisions over the long-term and throughout different stages of their careers, which is why our relationships are for life.
Choosing the right lender also means having the right financial structure from the beginning and avoiding potential problems. As your finance partner, we'll help you when it comes to the type of loan required, choosing between a fixed, variable or interest-only arrangement, calculating your borrowing power and ensuring repayments are manageable, along with stamp duty and capital gains tax concessions, interest rate movements, and fees and charges. These are important factors that we know well – and all add up to an outcome that best supports your cashflow at the most critical stages of being in practice.
We also keep things simple and explain finance terminology, all while helping you navigate the lending landscape to achieve your professional goals.
Visit: www.credabl.com.au
Optometry Finance Australia 
Paul McKinley, Managing Director 
Starting a practice from scratch is certainly harder (though often cheaper) than buying an established practice. Either way, you're going to needs funds to get it up and running. Banks see greenfields as higher risk – there are no prior year financials, existing database, or proven track record in running a practice that they can rely on to get comfort regarding the overall 'risk' profile for the application.
Having said that, with proper planning and a well-documented business plan, it's not impossible… it's about putting forward a compelling submission so the bank's assessor can only say "why wouldn't we lend to this optometrist?".
Some of the factors to include in your proposal are:
The commercial lease (this often determines the finance term),
A well put together business plan, which will include, inter alia marketing strategies; your own resume/experience; a 'SWOT' analysis, and a cashflow budget,
Proof of your prior earnings (you're not likely to accept going backwards in your earnings),
Quotes for your funding needs (equipment, fitout, stock), and
Your cash contribution to the start-up.
Given there is often a higher perceived risk associated with greenfields funding, the banks often look for 'landed assets' (property) that can be used as collateral (security). This will help considerably, but the absence of property as security can be mitigated with a very well put together proposal. Additionally, guarantees from family members are sometimes used.
Spend the time putting the above together, and get the support of an independent adviser (accountant, finance broker, or another experienced, successful optometrist) to get their feedback and guidance. With extensive experience supporting optometrists right across the country, Optometry Finance Australia can provide advice and support to help you establish or acquire a practice.
Visit: optometryfinance.com.au