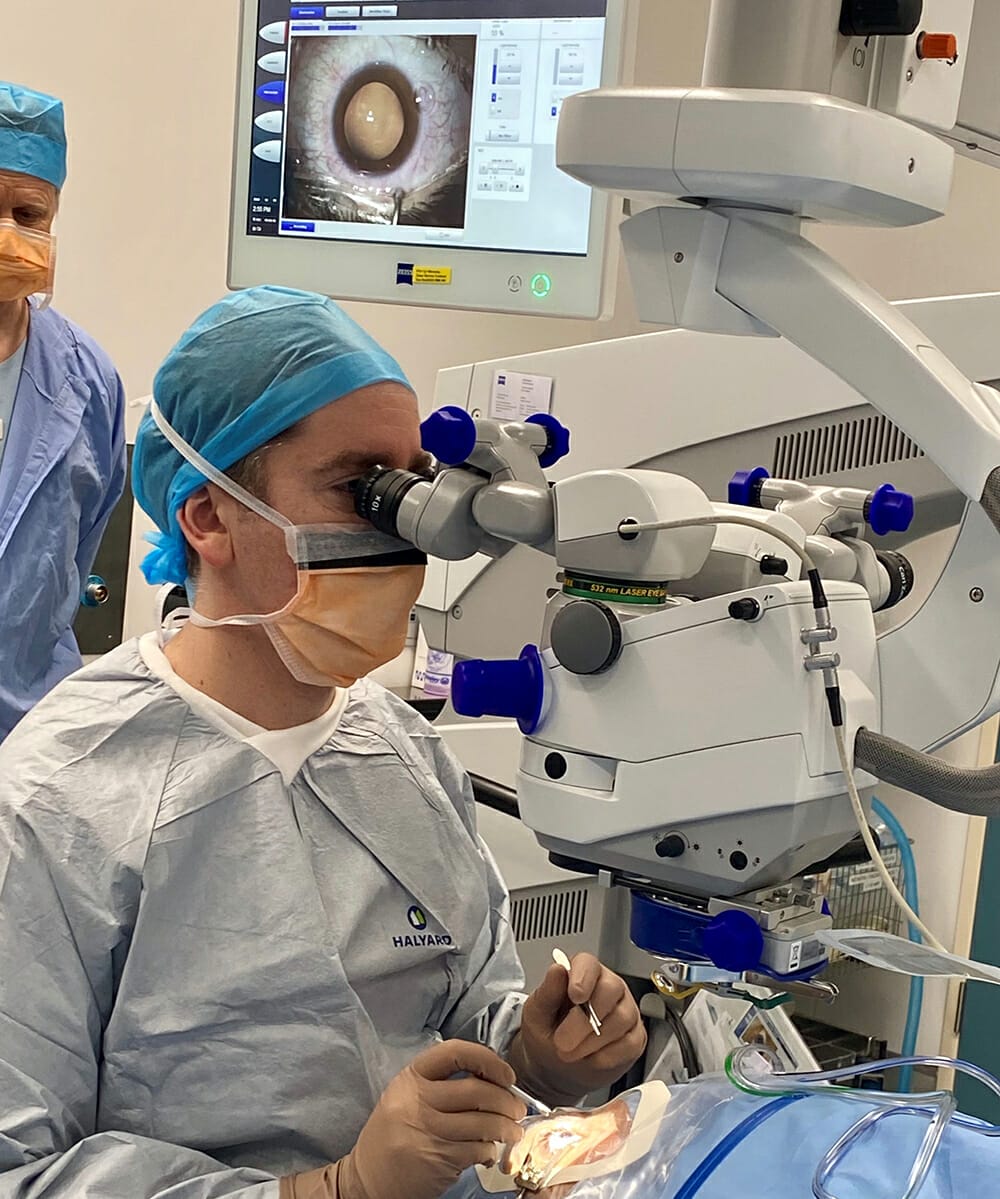 Zeiss Artevo Sydney Eye Hospital
A substantial fundraising effort from members of the Lions Clubs NSW/ACT Save Sight Foundation and Sydney Eye Hospital Foundation has enabled Sydney Eye Hospital to invest in the latest operating microscope technology, in the shape of a Zeiss Artevo 800 digital ophthalmic microscope.
Since the installation of the microscope in Sydney Eye Hospital, the surgical faculty has been quick to take advantage of this new equipment, helping them undertake innovative and pioneering surgical procedures across a variety of glaucoma, cataract, corneal and retinal pathologies.
The combination of the digital optics and digital cockpit offered by the Artevo 800 allows surgeons and theatre staff to view a three-dimensional image of the ophthalmic procedures on a 55" 4K monitor while simultaneously accessing real-time data, including optical coherence tomography (OCT) images, on the screen.
While it is the high resolution 4K screen and digital display that immediately attracts attention, Associate Professor Matthew Simunovic says it's the intraoperative OCT that has been a real game changer for many ophthalmic procedures.
Assoc/Prof Simunovic is a leading figure in ophthalmic research and is currently spearheading multiple clinical studies at Sydney Eye Hospital. These studies include evaluating novel techniques to quantify and compare different surgical approaches to sub-retinal drug delivery and comparing one step and two step sub-retinal injections.
Noting that in many of the cases linked to these studies the intraoperative OCT provides an added degree of accuracy, he said "…in these procedures it is necessary to define the correct plane for the sub-retinal injection, it is relatively easy to go too deep or too shallow – with intraoperative OCT technology it is possible to confirm definitively that you have found the correct surgical plane".
Recently, several members from the Lions and Sydney Eye Hospital Foundations were able to visit Sydney Eye Hospital and see firsthand the system being used by Assoc/Prof Simunovic to facilitate pioneering gene therapy injections.
As well as having clinical advantages, the technology has been identified as an exceptional teaching tool, as everybody in the theatre gains access to the 'surgeon's eye view' of the procedure, an invaluable advantage for younger surgeons seeking to develop their understanding of these complex procedures.
As Assoc/Prof Simunovic said, "Everybody in the theatre is able to follow the procedure in real time and see how the case is tracking, they have a surgeon's eye view with the same resolution."
The combined efforts of Lions NSW/ACT Save Sight Foundation and Sydney Eye Hospital Foundation have already had a big impact in driving access to the latest technologies and shaping the future of ophthalmic surgery in Australia.