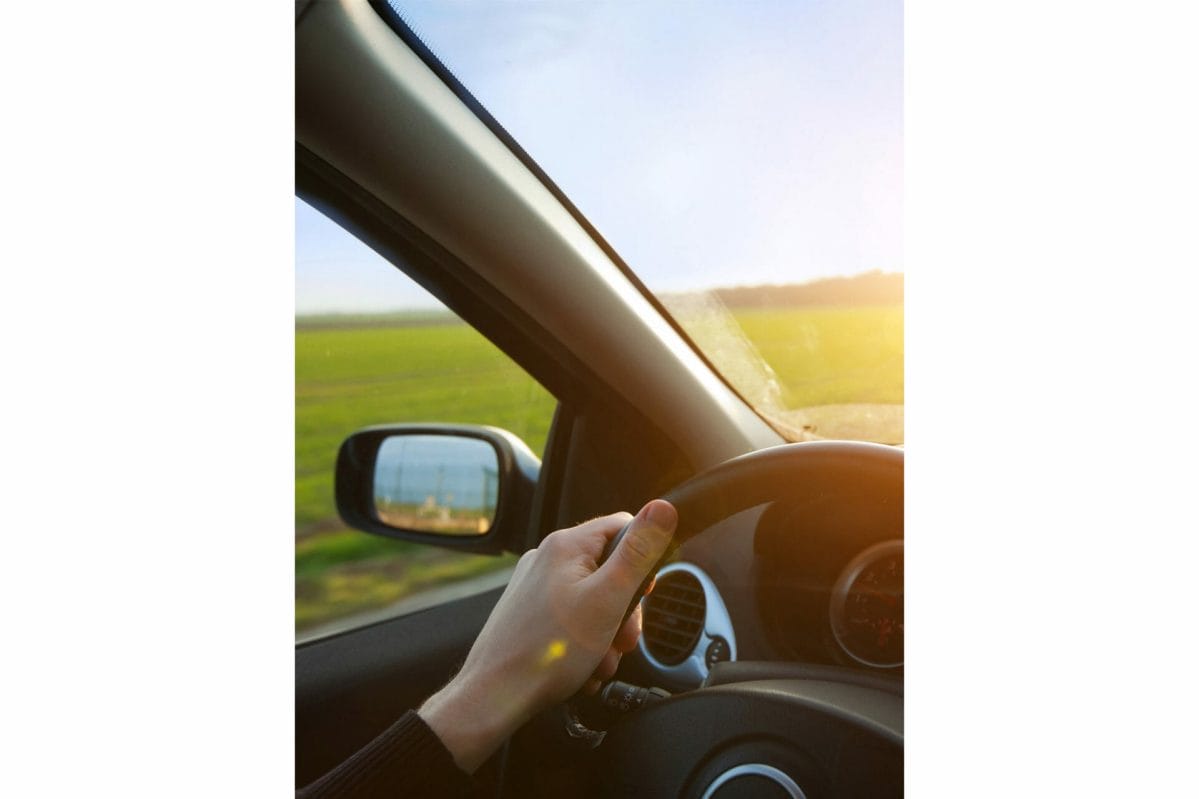 Ever thought of getting out of the clinic and hitting the road with the tools of your trade in the back of your car?
One optometrist in Sydney decided to do precisely that back in 2014 and now has a thriving business caring for the eye health of people who find it difficult to get into a practice.
How can we best take care of our ageing population; and how do we prepare for a future where Australia has a growing number of:
a) retirees who expect to enjoy their twilight years with good health, or at least equipped to deal with age-related health issues, and
b) a growing number of people living beyond their 80s, with frailty.
Unfortunately for many people living in residential care, and even people living independently or with assistance in their homes, there can be many barriers to accessing eye care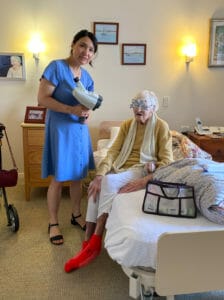 These were the questions that Louise Chen found herself pondering back in 2003 when she was first approached by a Director of a Nursing Home who was looking for an optometrist to provide on-site services at her aged care facility.
"At the time I was working in my private practice. She invited me to provide an onsite vision care service once a month, and as more aged care facilities heard about my service, the workload increased until I was working two days a week across various facilities. In 2014, I closed my retail optometry practice in Riverwood, NSW to concentrate on aged care."
A MARKET IN NEED
With an ageing population, the opportunities to service this sector of the community are growing. According to the Australian Human Rights Commission, Australians enjoy one of the highest life expectancies in the world, with men living nearly 80 years, and women living 84 years, both up 25 years from a century ago.1 The number of centenarians increased by 271% over the past two decades, compared with a 31% increase in the general population over the same period.1
The majority of our elderly population lives independently at home, with one in four people aged 85 years or over living in care accommodation.1 And, while the term 'Aged Care Services' is typically associated with nursing homes, or residential care accommodation, more than two-thirds of people using aged care services do so from home.2
In fact, the aged care system offers care under three main types of service: the Commonwealth Home Support Programme, Home Care Packages, and Residential Aged Care, each of them offering different levels of care determined by the individual's needs. According to the much-discussed Royal Commission into Aged Care tabled in March 2021, Aged Care Services were delivered to around 1.3 million people in 2018–19. The most commonly used service in this period was the Commonwealth Home Support Programme (about 841,000 people), followed by Residential Aged Care (about 243,000 people) and Home Care Packages (about 133,000 people).2
Relevant to vision care is the Royal Commission's finding that people in aged care have limited access to services from allied health professionals, with a survey finding that in 2018–19, only 2% of Home Care package funding was spent on allied health.2
The report stated that, "Under the Commonwealth Home Support Programme in 2018–19, while 29% of people received services categorised as allied health and therapy services, more than half of the people received fewer than five allied health services per year."2 
Additionally, the final report of the Royal Commission expressed concern about an insufficient provision of allied health care in Residential Aged Care, potentially influenced by funding arrangements.2 
We all know that good vision and healthy eyes are critical to enjoying quality of life, which makes access to allied health services, including regular eye examinations and optical correction, essential to support our ageing population, whether they are active or bed-bound, living at home or in residential care.
BARRIERS TO ACCESS
Unfortunately for many people living in residential care, and even people living independently or with assistance in their homes, there can be many barriers to accessing eye care.
Geography, physical mobility, transportation, language and cognition can all be prohibitive. But it's not only the elderly who are faced with these barriers. People of all ages with disabilities and chronic physical or mental illness can find visiting an optometry practice challenging, especially if their days are complicated by multiple medical appointments.
The Royal Commission's Report highlighted major areas of concern being:
Older people, who make up a greater share of the population in regional, rural and remote areas,
Aboriginal and Torres Strait Islander people, due to social and economic disadvantage, a lack of culturally safe care, and the ongoing impacts of colonisation and prolonged discrimination, as well as additional vulnerability arising from higher rates of disability, comorbidities, homelessness and dementia,
People from culturally and linguistically diverse backgrounds,
Veterans,
People who are homeless or at risk of becoming homeless,
Care givers and legal guardians, and
People from the lesbian, gay, bisexual, transgender and/or intersex (LGBTI) communities.
Acknowledging that, "Across the aged care system, staff are often poorly trained in culturally safe practice", the report states, "People receiving aged care, particularly those in residential aged care, do not consistently receive the health care they need. This includes doctor visits, mental health services, oral and dental health care, and preventative and holistic care. This is a result of a number of factors. People in aged care have increasing health care needs. Their care needs are often not identified or are identified late. Older, frail people often cannot travel to access health care services and yet health care providers, particularly specialists, are reluctant to provide their services in a person's place of residence."
Is it any wonder then, that seven years after closing her practice, Ms Chen now provides vision care services to people living in 65 aged care facilities in the Sydney Metropolitan, Newcastle and Wollongong areas, along with home care and schools? Not that she is doing it on her own – she currently has three locums working for her and is looking for more optometrists to meet increasing demand.
CHALLENGE OF COMMUNICATION
While the work is incredibly rewarding, Ms Chen says, "Communication is one of the biggest problems when delivering health care to elderly people.
"From my experience, a high number of elderly patients suffer visual impairment due to macular degeneration, glaucoma, cataracts, and diabetic retinopathy. They also suffer from a combination of other health conditions.
"The majority have some kind of cognitive dysfunction and memory loss. They rely on others, such as family members, carers and legal guardians to organise visits and consultations and effect payments. Typically, these patients do not recall their last eye examination or the names of their eye specialist or optometrist. Referrals often get misplaced, and vision reports are not readily accessible in the aged care facilities. There is often a lack of follow-up on patient referrals to eye specialists. As a consequence, the health of these people can deteriorate very quickly, and with that, their quality of life."
In an effort to help overcome these communication challenges, in 2013 Ms Chen and her friend and business advisor, Geoffrey Thipthorp, commenced designing and developing a cloud-based software system, now called Longiviti.
"The design and development of Longiviti places a strong emphasis on patient-centred care, and promotes collaboration between health professionals and their carers," Ms Chen explained.
With consent from a patient, carer, or their legal guardian, the Longiviti software platform enables a healthcare professional to access a patient's relevant medical history, and to store reports, prescriptions, referrals and details of follow-up appointments in one place.
"So, rather than relying on a patient, a guardian, or a busy carer in an aged care facility to be able to communicate vital information about a patient's health, the source information is right there, accurately recorded by the optometrist at the time of the visit. That means when other professionals become involved in the patient's care – for example a GP, an ophthalmologist or a legal representative – they can refer to the patient's file and continuity of care can be assured," Ms Chen said.
Longiviti was registered for a provisional patent on 14 February 2017 and granted a patent on 14 February 2018. Its development has been supported by a Research and Development Tax Incentive Program since 2015, and with the help of Tony Belfield, Director STAXS Chartered Accountants, commencing in 2020.
The locums that Ms Chen has working with her, all work through the Longiviti platform, ensuring a consistently high level of patient care and communication is maintained across the residential care facilities and home care agencies they service.
"We book and confirm all appointments on Longiviti so our locums know exactly where they are going, and who they are seeing on any one day. This provides certainty and ensures no surprises for patient or practitioner," she said.
"Our objective is to use the latest technologies that are at or above existing market standards in vision care that change lives, as defined by Optometry Australia's 2040 vision," Ms Chen added.
While she developed the platform to enhance delivery of vision services to aged care, in the future Ms Chen plans to evolve it for the use of all healthcare professionals working in aged care, as well as in schools and for people with disabilities.
REWARDS OF SERVICE
As an optometrist, Ms Chen says she gets great satisfaction from providing vision care to elderly people.
"When I started offering mobile optometry services, my priority was to find a balance in my life. I had four young children and while I wanted to continue practising, I didn't have a lot of time and I certainly couldn't be in a practice five or six days a week. Working as a mobile optometrist enabled me to schedule appointments that fitted in with my children's timetables.
"I soon realised how professionally and personally rewarding it is to care for elderly patients.
"I enjoy talking to them and hearing their life experiences – elderly people have so much wisdom to share," she said. "Some of the people I see have only months to live. They may be bed-bound and for various reasons, need new glasses. Perhaps their vision has deteriorated over time, and they've been so busy with medical treatments they haven't had a chance to get new glasses, or they may have misplaced their glasses. It gives them great pleasure to be able to see, even for a short time – to be able to read a book, look out at the view or see the smile on their grandchildren's faces."
Ms Chen uses a collection of portable equipment that she can take from home to home, set up within a room in residential aged care facilities, or take from room to room for patients who are bed-bound.
"I use a portable autorefractor, digital camera, tonometer, portable phoropter head, and slit lamp as well as vision charts. It's all about adapting to the environment and the patient's needs," she said.
Acknowledging that this is a significant investment, Mr Thipthorp said, "We estimate it requires an investment of about $40,000 for the equipment, so we are now leasing equipment to optometrists who apply to work within our Longiviti model.
"Because of the way we are structured, locums have appointments confirmed and their hourly rates are above industry standards. Our locums also earn a share in the benefit on the sale of frames and lenses," he added.
Ms Chen added, "This is really about finding innovative ways to meet the health needs of a growing market of elderly patients, people with disabilities, and the children in schools we are now being asked to provide services to.
"Patients and legal guardians often ask me to recommend a specialist in a different field – audiology, ophthalmology etc. who provides a mobile service.
"Unfortunately, there are few around. I very much want more optometrists to get involved in mobile eye care, as well as specialists across all areas of aged care health. People think it's difficult, but it's easy. The elderly are people, just like us. They want to enjoy the best quality of life possible, and sometimes they just need some extra help to do that."
Mr Thipthorp added, "It all comes down to communication – caring for elderly patients, people with disabilities, and school children requires excellent communication skills, so for optometrists who enjoy communicating, these patient groups present a good professional challenge."
Mobile in the Community
Ms Chen's mobile optometry service has been an enormous help for Jack and Helen Baseley, who live on Sydney's northern beaches.
Ms Baseley recently had cataract surgery, and while her intermediate and long distance vision is now good, she needs glasses for reading. However, as Mr Baseley explained, getting her into a consult room at an optometry practice was proving too difficult.
"We managed to attend the followup appointment with the cataract surgeon but planning a trip to an optometrist proved too much – Helen is not physically capable of getting into the consult chair or being positioned in front of the equipment," he said.
"I discovered Louise's services in an ad online and she has made everything so easy for us. She came to our house, did the testing in the lounge room, and brought a selection of frames, which Helen was happy to choose from."
Ms Chen dispensed new glasses for Ms Baseley, however not long after, they were accidentally broken.
"I mailed the glasses back to Louise who was able to replace them, re-fit the lenses, and return them to us by post," Mr Baseley said.
He said having glasses makes an enormous difference to Ms Baseley's quality of life.
"Helen enjoys reading and she knits trauma teddies. Knitting is particularly important because she has extremely arthritic hands – if she doesn't knit, her hands will stiffen up and become very painful."
Mr Baseley expressed his gratitude for the mobile optometry service which has made all of this possible. "Louise is charming. It's hard to get the people you need to be mobile in their service delivery, and yet it makes such a difference to our lives."