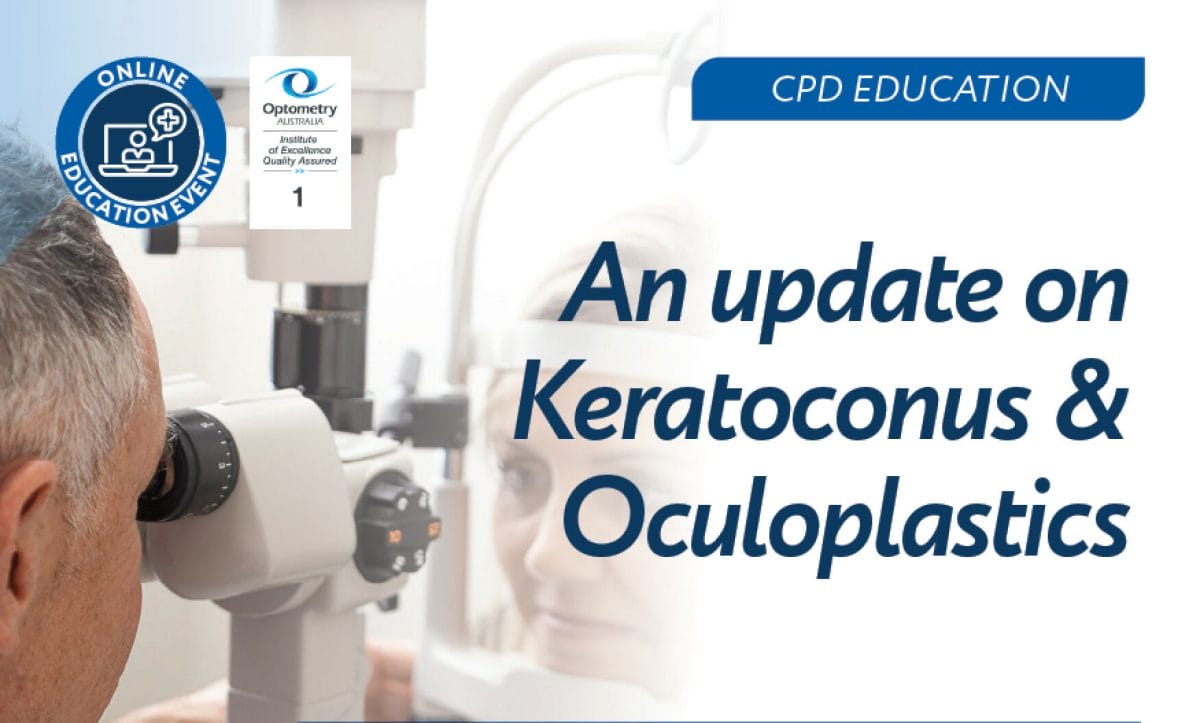 Would you like to explore the latest on keratoconus and oculoplastics?
From 6pm-7pm, on Wednesday 17 August, ophthalmologists Dr Tanya Trinh and Dr Peter Montgomery will present an update on these key topics for optometrists via a live webinar.
Keratoconus – a Deep Dive
Traditionally, once contact lens options are no longer suitable for keratoconus visual rehabilitation, patients have been considered for intrastromal ring implants or corneal grafting procedures in attempts to regularise their corneal topography.
Increasingly, topography-guided photorefractive keratectomy combined with corneal collagen crosslinking can be an effective option for suitable candidates. In this presentation Dr Tanya Trinh, a specialist in cornea, cataract and refractive surgery at Mosman Eye Centre and George Street Eye Centre, will discuss topography-guided photorefractive keratectomy combined with corneal collagen crosslinking and its benefits, as well as describing suitable candidates for this procedure. As presented at the 2021 AUSCRS meeting, with this technology, 93% of patients met driving vision or better in treated eyes.
An Update on Oculoplastics
Dr Trinh's presentation will be followed by an update on oculoplastics, presented by Dr Montgomery. He will discuss the different basic types of ectropion and entropion eyelid mal-positions and the anatomical abnormality that causes each of them. Dr Montgomery will then talk about how to repair the mal-position using this anatomical knowledge.
Register Now
An Update on Keratoconus and Oculoplastics, is free to attend and has been accredited for one hour of CPD by the OA Institute of Excellence Quality Assurance.


Registration is essential for this online event.
Log in details will be provided prior to the event.
About the Speakers
Dr Tanya Trinh specialises in refractive, cataract, corneal and complex anterior segment surgery. She has published over 30 scientific journal articles in national and international journals, written book chapters on advanced corneal transplantation techniques and ocular surface disease and is a regular presenter on the national and international conference circuits. Dr Trinh teaches medical students, residents, registrars and fellows, is involved in the development of anterior segment curriculum teaching at the University of Toronto and contributes regularly to community optometry education. She is also a clinical associate lecturer for the University of QLD and University of Sydney.
Dr Peter Montgomery underwent two years of sub-speciality training in oculo-plastic surgery; the first year in Manchester with Dr Brian Leatherbarrow and the second in Montreal with Dr Francois Codere. Today Dr Peter Montgomery specialises in adult oculoplastic surgery, paediatric lacrimal and oculoplastic surgery, endonasal DCR surgery, cataract surgery, pterygium surgery and medical retina with Eye & Laser Centre on the Gold Coast. He was among the first surgeons in Australasia to perform endonasal DCR surgery for tear duct obstruction. He was also one of the first surgeons in Queensland to use the FLACS system (Femtosecond Laser Assisted Cataract Surgery).