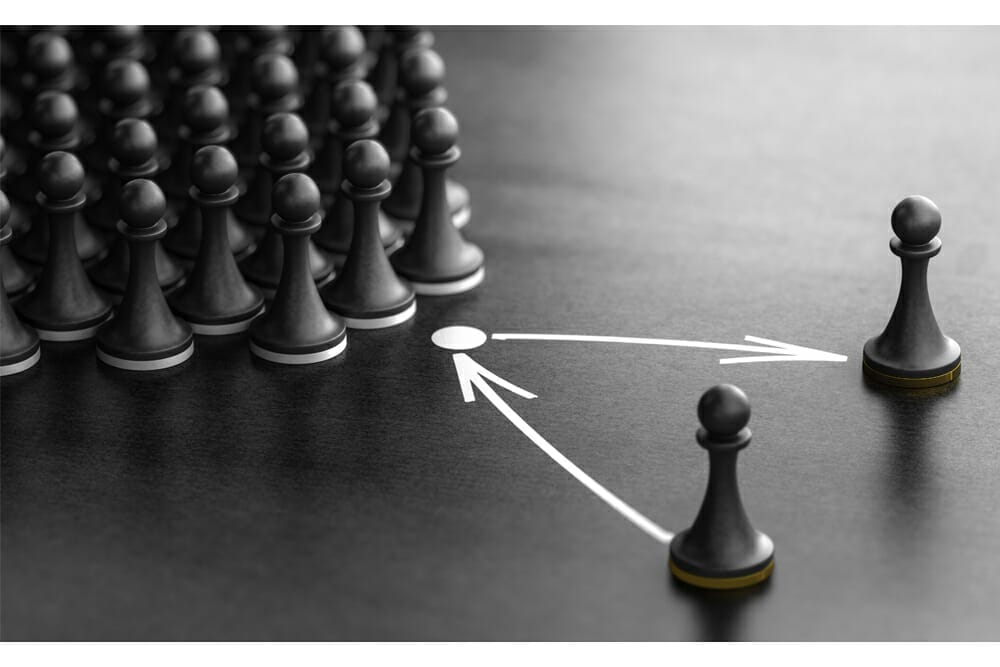 While most optometrists have either exited, or are in the process of exiting their practice as they approach their seventh decade, Richard Vojlay decided to buck the trend and buy in. The heritage practice he bought was being sold as part of the succession plan of an optometrist younger than himself…
In 2020 Richard Vojlay, a Melbourne optometrist and contact lens practitioner, left the practice he had developed for over 30 years.
After a break for reflection, he started looking for a new practice with advice and support from Ideology Consulting. Getting a good cultural fit and a practice with first class standards was non-negotiable.
Following an extensive search, Mr Vojlay commenced discussions with Gordon Kirk, the Principal of Collin & Kirk Thornbury, one of Melbourne's older practices with over 40 years of history. The purchase was completed at the end of May this year.
The practice is located in a classic 1940s corner building on a main road and is well known by the locals.
To put his stamp on the practice, Mr Vojlay has invested $250,000 in new equipment and plans to undertake a small renovation, while maintaining its essential character.
Taking on a new challenge at the age of 71 is not without its considerations, but Mr Vojlay is not your average 71-year-old. Besides having a passion for optometry and a recognised leadership in contact lens practice, he is also a black belt karate exponent and an Associate Professor at Melbourne University.
For Mr Kirk, the sale has presented a welcome opportunity to reduce his workload significantly. However, he didn't take the decision lightly. When he set about finding a buyer for his practice, an important consideration was ensuring the right match – and this extended well beyond simple commercial considerations. After spending the past 40 years of building a practice that focused on patient care, service, and integrity, Mr Kirk wanted to be confident that the new owner would continue to look after the patients with the same focus. Having met with Mr Voljay several times during the negotiation process, and now commenced the hand over, he is very comfortable that this will be the case.
MAKING A WINNING DECISION
Objectivity and careful assessment are always essential in the process of succession planning and in purchasing a practice; but equally important are considerations of professional fit, existing relationships and matching the people to the opportunity. Otherwise, the concept could be flawed.
Mr Vojlay's new practice is not without its challenges and opportunities, but that is true of all optometry practice purchases.
In this case, a long-term dispenser has taken the opportunity to retire and replacing her will be tricky in the current market.
A decision to add a major contact lens practice into a successful mainstream community practice has also been the subject of much discussion, but if managed correctly will be a very positive opportunity for practice and patients alike. Mr Vojlay and Mr Kirk are very pleased with the outcome and the practice has a bright and long future as its new centre of excellence for contact lenses is integrated into an already iconic local practice.
YOU NEED A SUCCESSION PLAN
Every practice owner needs to have a succession plan – whether you've just taken on a practice or you're heading towards the end of your career, a strategy for your exit will help you maintain focus and build value in your business so that all parties – buyers, sellers and patients – benefit from the transition of ownership.
The options for succession planning are varied – from selling your practice to an independent optometrist to selling into a corporate or franchised structure. Take a look at the propositions put forward by industry members to find out about some of the options and the assistance that's available.
Practice History
Mr Herman Collin established his practice around 1940. His two sons – Barry and Michael – both played roles in its growth.
Mr Collin's eldest son, Barry, went on to have a very successful career in research and academia. Professor Barry Collin retired as head of Optometry at University of New South Wales.
Michael Collin worked in the practice as an optical mechanic and partner.
The practice was purchased by Vincent Penry when Mr Herman Collin retired and Gordon Kirk purchased the practice in the early 1980s.
Guidance for Your Succession Plan
Ideology Consulting
Mark Overton, Principal 
Succession planning is one of the most important strategy moments in your professional life.
There are many important decisions practice owners make during a lifetime in business, and one of the most important is how to bow out gracefully, effectively, and profitably.
You may be considering retirement in some form, which could involve selling your practice. Perhaps you are considering joining a group or franchise and would like to look at all your options?
Careful succession planning maximises the value of any practice – but it takes take time. Your options will be limited unless you have planned well ahead. Unfortunately, many practices do not consider the implications and interrelation of the elements that decide if you can achieve your preferred option.
Ideology Consulting succession planning services include:
Helping to identify options, key people and timelines,
Evaluating the positives and negatives of each one and developing a clear written plan,
Assessing the potential to improve your practice return on sale,
Assisting and referring for formal valuation, and
Helping you find succession candidates and negotiate a way forward.
Our objective is a smooth transition and continuation of leadership and operational management throughout the practice and achieving the best exit result for you in your preferred time frame.
With over 20 years of experience working with independent optometry practices, I can help you achieve your desired outcome. Ideology Consulting is a completely independent advisor. We work only for you and 100% for your benefit to ensure you receive the best outcome.
Visit: ideologyconsulting.com.au 
Eyecare Plus
Philip Rose, National Business Development Manager 
There are myriad opportunities for prospective practice owners to take on established optometry businesses around Australia, and Eyecare Plus is on hand to help them through the process.
Well presented practices with strong cashflow look appealing, but of course they come at a price which can be unattainable for many, especially for younger buyers. Other practices, that perhaps have been left to run down and so have a weaker cashflow are more affordable. These can be the ones that present the greatest opportunity for an enthusiastic optometrist to really get involved, put their stamp on the business and get it off the ground.
Understandably, acquiring a run-down practice may sound daunting, however there are a few things to keep in mind that will support you while you put plans in place for growth.
The first is that when you're buying from a retiring optometrist, you'll usually have the old owner on hand to show you the ropes of the business. Secondly, as a business that is operating in the health industry, you're assured of generating a baseline revenue as there will always be a health component to your turnover, regardless of the economy or consumer sentiment.
Those who buy into or join the Eyecare Plus group also get the benefit of flanking protection. We can connect you with a number of people in our group who, just like you, have recently become practice owners and are available to offer advice.
Our national office will also provide valuable support. Because we're a branded group, you'll share in the cost of ongoing evidence-based marketing campaigns, supported by strong search engine optimisation. This means you won't have to build your brand by yourself – and you can rely on your practice being found by prospective patients in your area whenever they search online for an optometrist or eye health professional.
Importantly for new owners, and especially in the current market, our team at head office can also assist to attract and retain productive staff.
Visit: eyecareplus.com.au 
ProVision
Mark Corduff, Business Services Manager 
Preparing a practice for sale, well in advance of executing the sale itself, is critical to ensuring the process runs smoothly for both parties.
ProVision has been a vocal advocate over the past decade around the importance of planning. We have been delighted to see a significant number of practice owners looking forward to their retirement, in the comfort of knowing they either have a partner within the business in the process of taking it over, or have their practice ready to hit the market in an attractive state for buyers.
When planning at least five years out, ProVision Business Coaches focus practices on making sure they are growing and addressing key industry benchmarks that buyers look for when considering purchasing part, or all of a business.
Investing strategically is also important as buyers look for up-to-date equipment, a modern fitout, engaged staff, and digital marketing to ensure buyers can see the value of what they are purchasing.
When it comes to negotiation, both buyers and sellers should come to the table as prepared as possible to prevent any delays or issues.
For sellers, ensuring the lease has around 10 years security of tenure is a critical starting point. It's also important to have all financials in order as well as a practice valuation prior to commencing negotiations. Most buyers and their accountant will look for a prospectus that houses all this information with transparency and answers most, if not all, their questions.
For buyers, having support from an accountant to review financials, ensure the opportunity is viable, and set up the buyer's company structure is a key first step, yet this is often missed. Furthermore, creating a business plan and establishing the accessible finance is also key prior to entering negotiations.
At ProVision, we assist both buyers and sellers with preparation and negotiation to ensure they get the best outcome. More often than not, it is the first time either parties have undertaken a commitment like this, so having people and resources to lean on throughout the process offers peace of mind and a neutral ground for both to access when questions or problems arise. We also have templates and referral partners that can assist at any stage.
Communication, preparation and transparency are key to ensuring a successful purchase and sale. ProVision helps sellers in the preparation and process of a sale and guides them on the decision of selling privately, or through a business broker. For the purchaser, it is a different level of preparation that needs to take place and we provide key assistance around what to be looking for prior to jumping into ownership so they make the right decisions.
Visit: optom.provision.com.au/succession 
Specsavers
Kimberley Forbes, Partnership Recruitment Manager 
With a workforce of close to 1,700 optometrists across 363 Australian practices, Specsavers' recruitment team is a well-oiled machine when it comes to assisting optometrists both entering and exiting the business.
It is critical that when managing an optometrist's resignation, especially an optometrist who is also a store partner, unique care must be provided to ensure no disruption to ongoing patient care, team cohesion or business management.
With most Specsavers stores beginning to surpass their ten-year anniversaries, it is becoming more common for store partners who have co-owned their stores since the beginning to retire or change careers.
When this occurs, collaboration between the store and other store partners, as well as several support office functions, including finance, recruitment, retail and optometry support is critical. The beauty of the Specsavers model is that it ensures a smooth and fair transition for partners who not only are coached and supported through the selling of their store's shares, but also assisted in the development of new contracts and any other unique complexities along the way.
As a company, we're very focussed on the professional development of our team members. We have a formal process and training program called Pathway that ensures there are candidates ready to fulfill store partner positions when they become available.
Not only is our Pathway program available for all team members to apply to be a part of, but store partners are also encouraged to refer promising candidates. Pathway gives optometrists and retail staff the tools and knowledge to run their own Specsavers store. It's fully funded by Specsavers and free for store staff to complete, in fact, we even have a financial bonus system for partners whose referred team members become partners themselves.
Partners can give us up to five years' notice when they wish to leave, so by the time they retire or move on, we aim to have someone who has already transitioned into the role, connected with patients, trained to be a store partner and ready to take the reins. This means that the impact to the patients, team and business is minimal. If different circumstances are at play, we then source the best suited external optometrist to join the business and begin the same process in ensuring a smooth transition.
As an example, when our New South Wales store partner Scott Priddle decided to start the process of leaving his partnership role at Specsavers Orange, he already had the perfect candidate in mind to take on the business. He flagged his intentions in his annual people planning meeting with our Support Office and over the next few years, supported Chris Pooley to complete Pathway, increase his practice management skills and integrate him into the Orange community.
Chris told us that having a strong relationship with Scott, as well as those in Support Office has been one of the most helpful parts of his transition to becoming Specsavers Orange's new optometrist partner.
In his words, "My main recommendation for a smooth process is to be as transparent as possible, which is only achievable with trust and strong relationships. While true transparency may mean a few difficult/awkward conversations, ultimately, I feel that it provides the best chance of producing a win-win for all parties involved".
Visit: www.pathwayanz.com and www.spectrum-anz.com 
EyeQ/NOC
Lily Wegrzynowski, General Manager Eyecare and Professional Services 
The Alliance of EyeQ Optometrists and National Optical Care are on a growth path which involves buying up suitable practices from owners who are moving towards retirement.
EyeQ and NOC are focussed on practice acquisitions and in recent months we have acquired over 10 practices across the eastern seaboard.
The practices choosing to join our structure are doing so for a variety of reasons, some as part of their succession plan. That's because we are at a time when a lot of the optometrists who graduated in the 70s & 80s – a period considered to be the golden era of our profession – are now preparing for retirement, and while they want to sell, they don't necessarily want to stop practising. Our model is enabling them to do that, which in turn enables them to maintain – or even expand – their connections with the profession and their network.
When you decide to continue working in a practice after you've sold it, it's essential that you choose the 'tribe' that you want to continue to work and be associated with. One that will continue to offer your patients the high level of clinical care they've come to know, while also supporting your staff with opportunities for growth and development.
Practices that sell into the EyeQ and NOC network report that having survived the pandemic and as we enter into unsettled economic times, they appreciate the opportunity to de-risk their business practice by joining a bigger group that offers structure, support and economies of scale. Additionally, they are excited to be part of a group that can offer networking, clinical and professional development with conferences, workshops and exclusive CPD.
Life becomes easier for optometrists that move to a model like ours. The pressure of ownership is removed, and they have more time to spend with their patients. As a group, we provide administration, marketing and technology expertise that they've never had before, which unlocks new opportunities for efficiencies and practice building.
While some practices continue to operate under their own brand name, others are choosing to adopt the EyeQ brand, which provides marketing strength in a competitive market.
Visit: eyeq.com.au 
The Optical Company
Aaron Kangisser, Chief Operations Officer
A very important consideration for any business owner is, 'what is my exit or succession plan?'
Often, an exit is not planned and considered due to contributing factors out of one's control. This can put unnecessary pressure on the business owner to find a willing buyer and negotiate a deal.
To avoid this, every business owner should have a planned exit strategy and be open to opportunities when they present themselves. Additionally, whether they want to sell all or part of the business now or in several years' time, it is a good idea to open conversations with potential buyers when the business is operating well, and the time is right. Allowing appropriate time will enable you to find a buyer who has significant industry experience and shares a similar track record and approach to business.
Selling a business is a big decision and there are many considerations. First, the sale price needs to be a fair reflection of the value of the business and secondly, a smooth transition plan must be in place that benefits all: the new business owners, the seller, team, and customers.
Since December 2020, The Optical Company has been part of ASX listed Healthia Limited, Australia's largest integrated group of allied health businesses which has grown to 300+ locations throughout Australia and New Zealand via acquisition and partnership in various disciplines including podiatry, physiotherapy, optometry and audiology. With 55 optometry practices across Australia, we are actively growing our eye health network.
At The Optical Company, we take the time to understand each business owner and their personal goals or reasons for selling. Rather than adopting a 'one-sizefits- all' approach, we consider the seller's priorities and structure a deal that suits both parties.
As part of Healthia there are several options available for business owners:
Full purchase of a business with the desire for an immediate exit by the current owner,
Partial purchase whereby the owner has a phased move onto the next stage of their life, or
A partnership model, whereby the owner remains as a partner to benefit from Healthia and The Optical Company's scale and services to support even greater performance and outcomes. This "Clinic Class Share" program is successfully in place across Healthia's various allied health businesses, including physiotherapy and podiatry.
Healthia's mission is to enrich the lives of people through world-class health services and we are committed to building a worldclass optical network, while retaining our independent local store feel.
We believe that it's important to start a conversation and consider your options as early as possible.
Contact: Glen Fickling, Business Development Manager on (AUS) 0412 124 477 or by email at glenf@theopticalco.com.au
George & Matilda
Cassandra Gersbach, General Manager of Partnerships 
Considering the future for you, your family and practice can be emotional, however it does not have to be onerous. No matter what phase of your career, George & Matilda (G&M) Eyecare can provide options that will benefit you in a meaningful way. It all starts with a chat.
At G&M, partnership is not just a word; it's a relationship and a value. We help bring to life your plans and goals, personally and professionally, while continuing care for your team and patients.
Be part of a growing community of independents and Australian brand that is values driven. Our partners join G&M for many reasons such as:
Exit/retirement: They're planning to retire soon, or simply want time to explore something new. We take care of their team and legacy.
Lifestyle: They're still enjoying what they do at work but need more hours to enjoy life. We enable a flexible working schedule that compliments their personal needs too.
Support: They want help to run their business so they can maximise practice potential, dedicate more time to patient care, spent more time with family or enjoy opportunities to connect with like-minded professionals who are still enjoying their clinical independence. We provide support, like back-of-house systems, processes, and expertise in each function such as human resources and marketing – will provide the time you need.
Financial: They want to enjoy the value of all their hard work now by using proceeds from their partnership to pay off debt, enhance their super/investments or anything else they choose. We also offer an attractive remuneration package for the time you stay with G&M. Our proven model enables growth in revenue and margin so that partners can continually benefit from profits.
A GROWING COMMUNITY
Since 2016, G&M has successfully united some of the best independent optometrists to create a community of passionate, locally connected professionals. Servicing over 100 communities in Australia, we are in a very healthy position to partner with more practices. Our success has allowed us to be more flexible than ever, with our model types (yes more than one) and competitive offerings. We can complete the process within 90 days, depending on your timeline and needs.
Our proven models attract a wide range of independents at all phases of their working life. In partnership, we have maximised the value of their practice, facilitated growth and looked after their legacy, while enabling them to achieve a balance to their work life challenges.
If you wish to retire now, or in the near or far future; if you need support to grow your practice; if you want a better lifestyle – or all the above, G&M could be the model of choice for you.
Successful transitions are best when planned and the liberty is all yours. Articulate what is meaningful to you, be wise and explore your options; your efforts will be rewarded.
Visit: georgeandmatilda.com.au