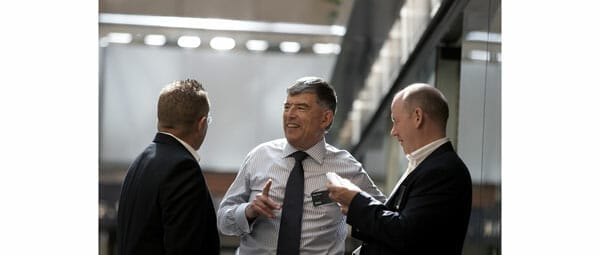 By the end of 2008, in just 10 months, Specsavers will have opened 150 stores in Australia and is now embarking on a NZ store roll-out. Doug Perkins explains the model that's taking the optical world by storm.
Simply put, Specsavers empowers commercially minded optical professionals to open their own Specsavers practice under our store ownership program – often referred to as our 'partnership' or 'joint venture partnership' program. We have found over the past year that there are many world class optical professionals in Australia who thought they would never have the chance to open a store of their own. With the Specsavers store-ownership program, they quickly find that they can open their own Specsavers store and continue to earn the salary they're used to while they build their business and local reputation.
The Specsavers Partnership
The typical Specsavers 'partnership' is between an Optometrist and a Dispenser or Store Manager, with a full range of support services being provided by Specsavers as the franchisor partner.
This is a tried and tested turnkey optometry business that now operates through more than 1000 stores in 10 countries. It offers a total support service even covering the accounting, administration and back-office functions, paying team members, providing their tax summaries and so on.
In 2009 the pace will continue with New Zealand very much in the mix too. So, if you've ever thought about the possibility of starting your own practice, now's the time to talk to me and my team at Specsavers
The participating Optometrist and Dispenser 'partners' earn a full salary package for the day-to-day role they perform in the practice and, as owners of the practice, reap 100 per cent of the profits of the business. There is also 'future value' of the business to look forward to when it's time to retire and sell the business.
Importantly, our Specsavers store-owners receive a full range of support services, including:
Intellectual Property and Brand value
'Brand' Specsavers has been built over a 25 year period and covers everything that the company has learned, implemented and improved since the very first day of trading in the very first Specsavers practice back in 1984. The value of the Specsavers brand is as intangible as it is invaluable, but it forms the backbone of the relationship between the Specsavers support team and Specsavers stores and is the ultimate reason why potential store owners approach us.
Without the Specsavers brand, a store is just another optometrist. With the brand and all the intellectual property that comes with it, a store is part of the fastest-growing, highest volume optometry led optical network in the world. It is worth noting that since February 2008 we've opened almost 150 stores across Australia, being a mixture of 'converted' stores (independents who've joined the franchise) and brand new 'greenfield' stores.
Converted stores, since launch, have already achieved turnover growth of, on average, more than 45 per cent.
Brand new 'greenfield' stores are growing fast and, in September 2008, the average weekly takings for these stores was more than AUD$25,000 per week.
The power and value of the brand goes a long way towards explaining why, to date, a Specsavers store, once opened, has never been closed.
Business Development
Any network of stores depends on growth and momentum. A key feature of Specsavers support service is to continue to develop new stores. It is important that every Australian and New Zealander has easy access to a Specsavers store and there is a major, ongoing investment made by Specsavers to ensure that the right optometrist/dispenser partnership teams are identified for the right stores in the right locations.
Helpdesk
A fully-staffed product helpdesk is on hand six days a week to handle all practice orders, queries, customer and product support.
Product and Supply Chain
Specsavers has an enviable reputation for a world class product range and also for negotiating skills that drive down the cost of goods for practice owners. Relationship management with the world's largest lens, contact lens and frame manufacturers and designers means store owners gain access to Specsavers world class range of more than 1000 frame styles and colours, designer brands, Pentax and Transitions Lenses and Specsavers Contact Lenses.
With a focus on innovation as well as cost management, approximately 25 per cent of the Specsavers range is refreshed in any one 12 month period. Worldwide, in 2008 Specsavers will supply stores with almost 10 million frames, 20 million lenses and 140 million contact lenses.
Marketing Services
Specsavers is renowned in all countries of operation as a marketing led business -both in the profession and by consumers. In Europe this gives the Specsavers name a 75 per cent recognition rating among consumers. Already the name is gaining traction across Australia with a broad-based marketing and advertising program now in place covering national and local TV, Radio, Print Media, Door-drop, Direct Mail, Recall and Public Relations activities.
IT and in-store Systems
All Specsavers practices install and use Specsavers own award-winning customer and store IT system. A touch screen in-store customer oriented system; we have undertaken a complete conversion of the system to meet the requirements of both Australian and New Zealand markets.
Training & Development
All practices receive a broad-based training program, tried and tested across Specsavers international network, modelled to suit the New Zealand market, covering everything from customer service to in-store systems and processes. Beyond this, Specsavers provides a development program to all stores to help teams and individuals at all levels achieve the highest levels of service available in any optometry environment.
Accounting & Administration
Preparation of monthly management accounts, annual financial statements, annual returns, profit distributions and accounts payable are often cited as the parts business owners enjoy least in their daily routines. Specsavers joint venture practices have all these time-consuming and often complex items managed for them, allowing them to concentrate all their time on looking after the customers and developing their teams' performance.
Typical Store Turnover and Profits
Specsavers has distributed more than AUD$1 billion to participants in the store ownership program over the past four years and the annual sum is growing as the number of stores grow. As an example, in the UK in 2007, on average annual turnover per store of £1.2m (AUD$2.7m), an average profit distribution for the year of £188,000 (AUD$425,000) was made. In Ireland, average annual turnover of €1.7m (AUD$2.8m) saw an average profit per store of €241,000 (AUD$400,000) distributed.
Of course, the UK and Republic of Ireland are mature markets, so it is important to offer a perspective on a newer market such as Norway. Specsavers stores opened for business there only in 2005 and saw average store turnover of AUD$1.94m in 2007.
Importantly, in addition to the annual distribution to practice owners of the profits they have generated in their own stores, every owner also receives a full salary package covering their day-to-day role within the practice.
The time to talk is now
The past year has been an extraordinary time in optics throughout Australia and New Zealand. In Australia we have seen our own Specsavers store roll-out come to life and by the end of December we will have opened 150 stores in just ten months.
In 2009 the pace will continue with New Zealand very much in the mix too. So, if you've ever thought about the possibility of starting your own practice, now's the time to talk to me and my team at Specsavers.
For more information on how you can qualify for a store of your own, contact our Partnership Enquiries Hotline on (AUS) 1300 773 272 or email your interest to recruitment@au.specsavers.com.