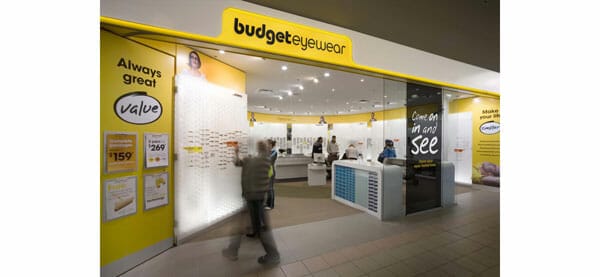 Optometrists Cecil and Barry Zinn have been licensees with OPSM for more than 20 years. Gaining a wealth of experience at the Hornsby and Macquarie Centre stores in NSW, the brothers are proud to be part of a brand that mirrors their own values and customer service philosophies.
When Luxottica initially announced franchising opportunities across the brand networks of OPSM, Laubman & Pank, and Budget Eyewear in May this year, Cecil and Barry knew this was the perfect business opportunity for them.
"As optometrists, the opportunity to build the business that we are so passionate about, whilst having the support of an established brand, was too good to refuse," said Cecil.
Matching Individuals with the Right Opportunity
Luxottica is committed to the development of the optometry industry and is proud to have the only wholly documented succession and development plan for optometrists, throughout every stage of their career.
You need a shared philosophy on how the business is run, a similar set of values based on integrity, and a joint commitment to creating a profitable enterprise. Obviously, these things should not be rushed or taken lightly, but if it feels like the time is right for you, let's talk
Recognising that the skills and goals of each optometrist differ dramatically, Luxottica provides a range of options, which align with individual skills and an operational focus for graduates, employees, and now franchisees.
According to Chris Beer, Chief Executive Officer of Luxottica Australasia, franchising is a long-term incentive for their optometrists.
"It opens the way for them to secure equity and participate in the growth of the stores they consult in," says Beer.
"We are also aware of large numbers of independent optometrists who are now considering exit strategies for their own business. Many of these would consider some form of equity partnership with Luxottica, as a way to realise the value built up in their businesses."
No Two Franchise Models Are Created Equal
Rather than taking the one size fits all approach, Luxottica has developed two franchise models – the Optometry Franchise Model and the Full Format Franchise Model.
Both models provide business partners with Luxottica's unique product assortment channels, the world class EyeBiz laboratory, and extensive business support infrastructure; from marketing and merchandising, through to training, comprehensive IT and financial systems.
However, the chief difference between the two models is the level of risk and investment.
Optometry Franchise Model
Through this franchise model, the optometrist owns and operates an optometry practice within an existing Luxottica store, allowing them to focus on their practice while Luxottica focuses on dispensing. Unlike other licensing models, this one also allows the franchisee to benefit from growth in dispensing and capital growth, as well as the security of a franchise.
Revenue and Capital Growth
Each franchisee is entitled to sell the franchise at the conclusion of the term. As the value of the sale will be linked to the turnover of the optometric business at the time of the sale, it allows for capital growth.
Another advantage is that there are no royalties to be paid. Nevertheless, there will be contributions to a marketing fund that will be used to create greater brand awareness and further drive growth, as well as the normal operating expenses associated with running your own business.
This is a lower risk model that offers several revenue opportunities that compound in returns. The model offers reward for effort, a return on investment, links optometry and dispensing, and allows for capital growth.
This allows maintaining involvement in the business with the security of a franchise, minus the commitment and responsibility of operating a full store franchise.
Full Format Franchise Model
Optometrists who are ready to enter into a full franchise arrangement may benefit from Luxottica's Full Format Franchise model, which encompasses both the optometry and dispensing aspects of the business. This allows the prospective franchisee to take a holistic approach to owning and operating a branded Luxottica store and practice.
This opportunity is implemented via the establishment of a Greenfield location, the conversion of an existing Luxottica company-owned store or the conversion of an independently-owned store, to the Full Format Franchise Model.
Luxottica has established key relationships with banks to facilitate the funding for the right operators. Under the Full Format Franchise agreement, each franchisee is required to pay a once off franchise fee of $35,000 and will need to fund the costs of establishing or acquiring the business. These costs, and network financial performance, will be discussed in detail through the recruitment process.
Benefits to Both Models
In addition to Luxottica's business support infrastructure, franchisees also have access to the world class EyeBiz laboratory. EyeBiz is the largest optical laboratory in the southern hemisphere, servicing Luxottica's retail outlets and producing 55,000 lenses per week.
While equipment at EyeBiz is comprised of the very latest developments in technology, the most important feature of the laboratory are the underlying IT systems used to manage workflow, work in progress, and relaying information back to the retail stores.
Career Expansion
Supporting Luxottica's optometrists' professional and career development is also a key priority for the business. Luxottica's Institute of Learning (IOL), led by Dr Peter Herse, is rapidly emerging as a leading centre for continuing optometry education and learning in Australasia, ensuring Luxottica's optometrists continue to refresh and develop their essential skills.
The IOL supplies distance learning CDs, seminars, workshops, and in-house optometry magazine, Illuminate, to optometrists who want to specialise their career path with the right educational tools.
In fact, the IOL has delivered in excess of one million OAA accredited continuing education points to Australian optometrists.
Forward Thinking
The decision to enter into any business partnership is one that must be taken seriously and with careful consideration for the benefits to both parties.
"You need a shared philosophy on how the business is run, a similar set of values based on integrity, and a joint commitment to creating a profitable enterprise. Obviously, these things should not be rushed or taken lightly, but if it feels like the time is right for you, let's talk," says Beer.
For further information, contact: Russel Klugman, Group Business Development Manager, on (AUS) 02 9815 2711 or (AUS) 0413744730
russel.klugman@luxottica.com.au
Heading
The Optometry Franchise Model relies on each optometrist working with the store manager to monitor and address key customer needs. The collaboration should contribute to store performance and each franchisee will be entitled to share in the growth of the dispensing business.
A collaborative bonus linked to this growth, is recognised through two components:
Bonus part 1: a return on any incremental uplift in dispensing sales calculated yearly (or for new stores incremental over the feasibility model).
Bonus part 2: an annual bonus equating to a return on a percentage of the eyewear sales at the time of the agreement.
Bonus part 3: an annual bonus equating to a return on the Pool Total. The Pool Total is the aggregate sum of Bonus 1, Bonus 2 and the Pool Total from the previous year. This accumulated total will be paid out at the conclusion of the term.