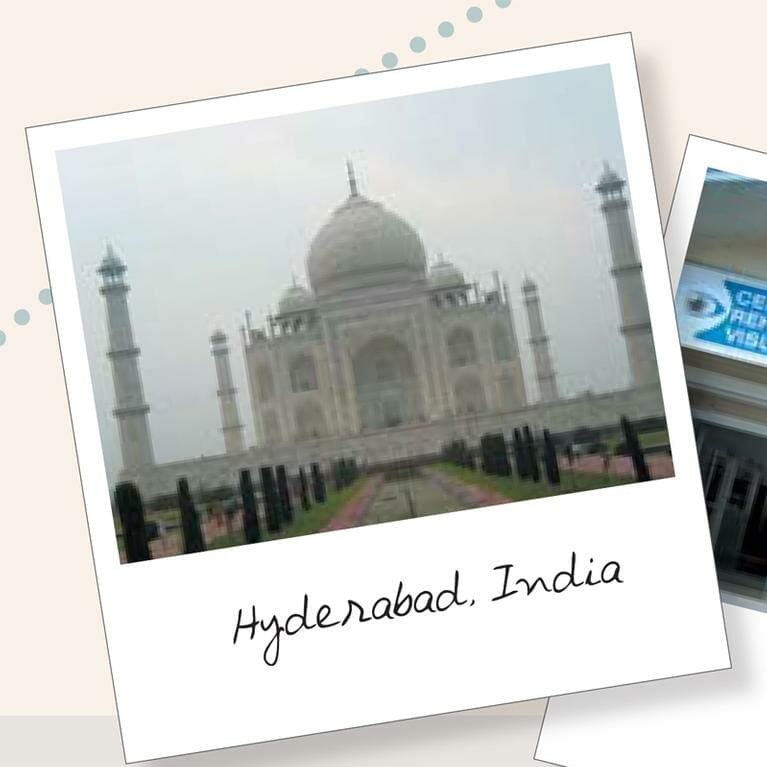 Forty-four final year students from the University of Melbourne's Department of Optometry and Vision Sciences have taken part in a new initiative – compulsory overseas externships. Each Bachelor of Optometry student spent at least one month at one of ten regions, aimed at broadening his or her experiences in eye care practices. Bao Nguyen is one of those students and her report appears below.
Fellow student Alistair Bruce and I chose to travel to India for our final year externship purely because we wanted to see this extraordinary country. We had been warned of the confronting poverty, the crowds, the crazy and exasperating nature of Indian bureaucracy, but nothing could have prepared me for this trip of a lifetime!
Our first two weeks were spent experiencing as much of India as we could possibly fit in – dodging cows and potholes in muddy, monsoon-flooded New Delhi alley ways, watching the sun rise against the famed pietra-dura white marble work of the Taj Mahal, drinking freshly brewed chai on the streets, camping in the sand dunes of the Great Thar Desert with camels at our sides, walking the sacred path towards the glorious Golden Temple that sits magnificently in the Pool of Nectar, bargaining like a local in the frenetic bazaars… the list goes on.
After a bout of food poisoning (after which I felt invincible) and having learnt how to haggle, weave my way through hordes of traffic and adjust to the cacophony of strange sights, sounds, tastes and smells, I felt ready to take on the next challenge: optometry in Hyderabad, India.
Hyderabad eye care
Hyderabad was a walk in the park compared to the 'real' India. Known as the City of Pearls, Hyderabad has taken on a second nickname, 'Cyberabad', as a reference to its sheer opulence, affluence and abundance of jobs and wealth. The LV Prasad Eye Institute (LVPEI) is located in Banjara Hills (the 'Beverly Hills' of Hyderabad, as we called it), an amazing institution founded by leading ophthalmologist Dr. Gullapalli Rao that prides itself on providing world-class treatment, research and training opportunities for optometrists, ophthalmologists and other associated professions. Every day, hundreds of people who could not otherwise afford it, receive care from some of the best eye health professionals – not just at the central clinic but in rural centres and satellite clinics in urban slums.
We stayed within the main hospital, with comfortable accommodation and Indian meals provided (for a small charge) and the chance to observe and interact with hospital staff. For four weeks from Monday to Saturday, we would visit the specialist disease clinics, children's clinic, the Centre for Sight Rehabilitation, diagnostics clinic, the eye bank, ocular prosthetics and the operating rooms and actively participate in the diagnosis and management of patients, both paying and non-paying.
The sheer volume of patients lining the corridors and filling the waiting rooms meant that we had to be quick at using |the slitlamp, fundus lens and BIO. It also meant that we did not have the chance to see our own patients (in India, optometrists perform refraction, slitlamp examination, drop instillation, tonometry and sometimes gonioscopy but leave the fundus viewing to the doctors) but the myriad of ocular diseases we saw made up for that! By the end of my first day in the cornea clinic, I had seen enough cases of severe microbial keratitis and opaque corneas to last me a lifetime!
Besides the clinical experience, I was especially amazed at the dedication of the staff and the respect and humility of the patients. Not one patient is ever turned away and the hospital staff work until the very last patient is seen – from 8am until sometimes 9pm at night. People travel from all over the country (and even the world) to receive the excellent and equitable care and the gift of sight that the LVPEI provides. Every day swarms of people set up camp outside the main entrance gates and wait patiently in the overcrowded waiting rooms – but no one complains.
Despite not understanding a word of Hindi or Telugu or any other Indian language, I could understand when the patients wanted to thank me profusely for spending the time looking into their eyes. To me, I had done nothing, but to the patients, it meant the world!
As Alistair said: "Our externships were not simply academic experiences. Optometry may not be the same around the world, but our knowledge and skills are transferable to almost any situation, wherever in the world that may be".
Intrepid group
Besides our Indian sojourn, the intrepid group of students had some amazing experiences including: working in a small mining town in Mexico; riding a health train in South Africa; new treatments in Shanghai and a hospital in Kathmandu.
They gained exposure to a wide variety of ocular pathology and active disease in the more exotic locations, often not seen in developed countries such as Australia.
A small group ventured into Canada to the only English-speaking Optometry University in the land, while others worked in Singapore – the gateway to Asia. Not to be outdone, one of the adventurers experienced the beautiful Fijian Islands, while others traversed the land of the 'star-spangled banner'.
Mexico
Students Alison Wong and Jess McMillan travelled to a rehabilitation clinic four hours outside of Mexico City. Wong and McMillan said that the clinic was government run where the low socio-economic status of the patient base and poor education on nutrition, ocular manifestations of diabetes and hypertension were the daily norm.
"Overall the four weeks did not feel long enough. Not only were we humbled by the low vision patients that presented, we were also rewarded by the patients who were just grateful for a pair of reading glasses (not usually close to their actual prescription)," Alison said.
According to Jess: "It was definitely a useful experience clinically, and for developing our communication skills. Once we could perform our consultations in Spanish, none of our English speaking patients back home seemed as daunting".
South Africa
On the Phelophepa Health Train, affiliated with the University of KwaZulu-Natal in South Africa, Kristine Churchman, Lauren Kharsas, Kate Harvey and Angela Dare had an amazing experience.
The train runs for 36 weeks of the year, stopping in small communities in the Northern Cape, Douglass and Modderrivier. Krisitne summed up their experience saying: "We encountered many people with diabetes and hypertension, dense cataracts in the elderly and the star of cataracts, even in the younger generations. We saw many children without glasses who needed them, and a high incidence of strabismus. Notwithstanding this, the people were great, the travelling was amazing and the country was beautiful."
Chicago, U.S.A.
Amanda Douglass spent a month at the Illinois College of Optometry, participating in a hands-on placement program. "We participated in general, paediatric, contact lens, low vision and advanced care clinics, where we were given our own patients to treat. American optometrists do a lot more therapeutic work than I expected," she explained
"We also participated in the final year seminar sessions every Friday afternoon, which were a great review of eye diseases, paediatrics and contact lens lectures. The Illinois College of Optometry was an extremely valuable experience, not only for the clinical experience, but also the exposure to a different population of people (mostly African American) and an incredible boost to my confidence as a clinician".
New York
Eric Cheng was immersed in the bustling metropolis of 'the City that Never Sleeps'. Describing his experience, Eric said: "We attended clinical observation sessions at the State University of New York College of Optometry, in mid-town Manhattan. We observed interesting cases in the retina, neuro-ophthalmology, vision therapy and paediatric clinics. These observations exposed us to cases of suspected Shaken Baby Syndrome and examination of children with special needs."
Eric was surprised by the lack of a national health care/insurance system, in the United States, preventing many paitents from seeking the help for what were essentially preventable disorders. "It makes you really appreciate our Medicare system in Australia!" he said.
Shanghai, China
As the world had their eyes focussed on China in anticipation of the Olympic Games, Lynette Chua was examining eyes at the Ninth People's Hospital, a subsidiary of Shanghai Jiao Tong University, in Shanghai.
"We sat in with ophthalmologists, and were also involved with the various specialist clinics and observed surgery. It was a huge eye-opener and learning experience, particularly as optometrists rarely manage patients with some of the problems of those who presented at the hospital," said Lynette.
Katmandu, Nepal
Julijana Baltinas spent four weeks in Kathmandu, Nepal, and two weeks trekking in the Himalayas. At the Tilganga Eye Hospital, she saw cases of uveitis, retinal detachment, retinoblastoma, mature cataract, pigment dispersion and angle closure glaucoma, retinitis pigmentosa, and many types of keratitis.
"I had the opportunity to practise my retinoscopy, refraction, contact lens, gonioscopy, Goldmann tonometry, and other procedures. The hospital sees on average 600 patients a day and the patients were always friendly and happy to be examined by me!" said Julijana.
Phillipa Munday, Wendy Zhang and Loc Le also visited Nepal a few weeks later. Their placement began in Bakatapur, where they observed patient examinations at a small community eye centre and participated in a rural outreach program and cataract screening camp.
"Between us, we screened 326 patients in one long, but fun, day! A very interesting case was one of 'caterpillar hair' where a caterpillar had shed its tiny hair follicles onto a patient's eye, and became embedded in the cornea. Apparently this is quite a common occurrence in Nepal," said Phillipa
Waterloo, Canada
Mei Ling Ong and Yi Shen Yang found Optometry in Canada very similar to Melbourne. The University of Waterloo is the only English-speaking Optometry University in Canada. "We were rostered to examine patients in primary care, that also included special needs clinics and aged care visits. The contact lens clinic had a large patient base of keratoconics, and this provided a great learning experience for us. However, we definitely will not miss verifying hard contact lenses," Ong explained. "The staff, students and patients were all extremely friendly. We tried to bring a bit of 'Aussie' vernacular to them, teaching them how to abbreviate things like 'sunnies', 'arvo' and 'uni'. We in turn picked up a bit of Canadian colloquialism – saying 'hey' at the end of every sentence!" said Yang.
Singapore
Caryn Yong and Diana Loo boast of their experience at one of the major public hospitals in Singapore. "Tan Tock Seng Hospital is fully equipped with the latest technology and friendly and approachable staff. Our days were never dull. We observed a large spectrum of ocular diseases from uveitis to neurological diseases. We also observed surgical procedures such as LASIK, cataract surgery and corneal grafts", said Yong. "Singapore indeed lives up to its name 'Garden City' as lush greenery thrives in the sunshine and monsoon showers", Loo added.
uva, Fiji
Suba Arunasalam soaked up the sun in the Fijian Islands, while doing work at the Colonial War Memorial Hospital in Suva.
"Our time was spent seeing an average of ten retinoscopy and subjective trial frame refractions a day, actively using our fundus lens, BIO and direct ophthalmoscopy in various clinics.
"We also spent time in remote villages to provide very basic refraction and ocular health examinations and prescribing spectacles. The externship allowed us to improve and develop our optometric skills, particularly refraction and retinoscopy, and exposed us to a variety of ocular diseases. Fiji was a wonderful cultural and optometric learning experience for us!" said Suba.
This article was compiled in consultation with final year optometry students from the Melbourne Optometry and Vision Science Students Society and the Department of Optometry and Vision Sciences, University of Melbourne, Victoria – Alistair Bruce, Alison Wong, Jess McMillan, Kristine Churchman, Lauren Kharsas, Kate Harvey, Angela Dare, Amanda Douglass, Eric Cheng, Lynette Chua, Julijana Baltinas, Phillipa Munday, Wendy Zhang, Loc Le, Mei Ling Ong, Yi Shen Yang, Caryn Yong, Diana Loo and Suba Arunasalam.