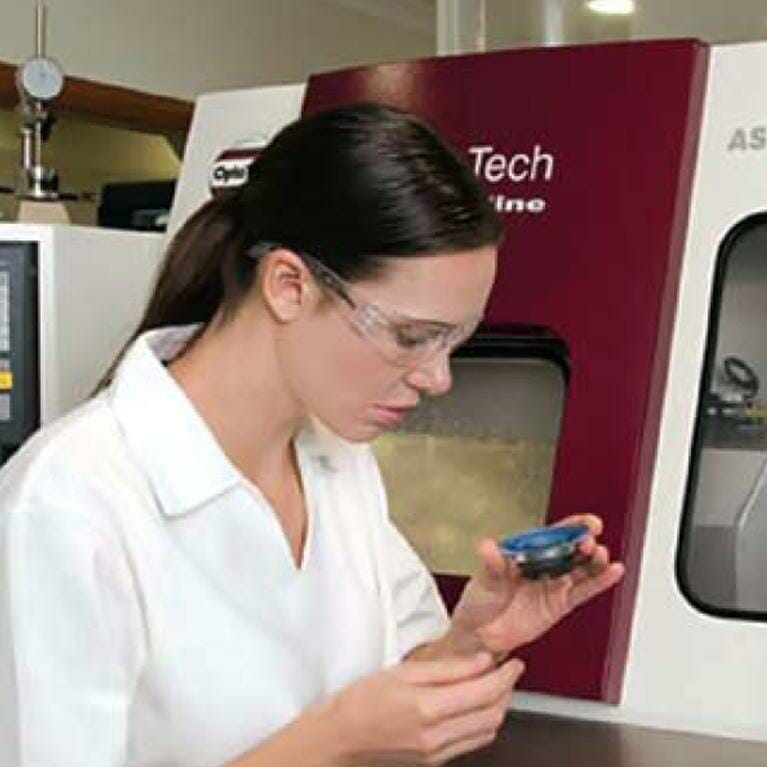 The recent demise of Vision Lab has sparked concern in the industry of the viability of independent labs in Australia. However, in spite of this, and the current economic uncertainty, local independent Rx labs are not only holding ground, but are stepping up. In this issue, we look at two such labs in the first of our two part series.
Despite 32 years of customer loyalty and an exceptional reputation the story of Vision Lab, and its subsequent demise, shows how difficult it is for independent labs to compete with the multinationals. The high cost of new technology, operation size and inability to match the selling price of lenses manufactured by the larger labs, played an instrumental role in its downfall.
In today's competitive lens manufacturing market, optical retailers are faced with the difficult choice of working with the local independent or multinational labs.
Although the health industry appears to be more recession-buffered (more so than recession-proof) from the global economic downturn than other wholesale and retail sectors, the increase in competition and consolidation has forced suppliers to adopt more proactive strategies to retain clients.
"In today's competitive lens manufacturing market, optical retailers are faced with the difficult choice of working with the local independent or multinational labs."
In the case of independent labs, they can no longer have the hallmarks of a backyard business. Their products need to be as good as the multinationals and their service needs to be on par, in order for them to deliver an equal or superior product to the optical retail stores. Production, dispatch and oneon- one service are also crucial elements. As independent labs keep improving these areas, an increasing number of practitioners align their business with local independent labs.
OPTICARE
George Nasser, Optometrist and Director of Opticare, believes in support for independent practitioners as well as optical labs. He says this is imperative to the success of the optical industry as a whole, as it promotes competition, which in turn, encourages the development and improvement of products and services, and can help maintain prices at a fair and reasonable standard.
Georges believes his company's "streamlined approach" is the result of "more than two decades of personal extensive experience on both sides of the retail and optometry industry," he says.
"The research and development team prides itself on dedicating time and commitment towards conducting worldwide study and research.
"Travelling globally to attend major optical fairs, seminars and courses, to explore new product developments and technology, helps us implement new concepts and structures back home to maximise our company's efficiency and in turn, pass on the benefits to our clients, and to theirs," explains George.
"The team constantly reviews the market to assess the needs of our clients. Despite the uncertainties of the current economy, we're holding our ground, while consistently increasing the value of our products for the retailer by introducing new products, upgrading our technology as required, upselling our products with package deals, and providing one on one customer focus, service and support."
Product Points of Difference
Opticare specialises in lens manufacturing, fitting and multi-coating. They also provide frame and lens package deals, online ordering and remote tracing for their clients. Their independent Instyle Frame series is practical and cost-effective, and ranges from basic, standard and premium packages to ultimate and rimless package options.
The Opticare suite of lens products also includes the:
Back Service Freeform Progressives: Clear Pro (n three designs and three fitting heights) and Smart Pro
Single Vision lenses: Transitions, Nupolar, Trilogy, and Drivewear
Office lens: Clearpro and Shamir Office
The Opticare lens multi-coats include Transitions, Nupolar, Trilogy, Drivewear and Platinum EP anti-reflective coating, which provides easy to clean clearer vision and improved night vision.
Optotech technology
Boasting state of the art, German technology, Opticare's Sydney labs is fitted with Satisloh multicoating systems and robotic surfacing and polishing equipment and Optotech's Freeform machinery, producing high standard Rx lenses – ideal for smaller labs due to flexibility for enhanced lens quality, decreased lens adaption problems and subsequently, lower production costs.
Using high quality materials and innovative procedures, the Opticare team act as lens consultants, regularly providing their retail practices with high quality, intensive client material outlining and explaining up to the moment, international emerging services, developments and innovations.
Opticare has also introduced the Ocelot Practice Management System – an online budgeting programme offering easy and efficient interaction between retailers and their patients, and an uncomplicated, instant means of contact with the lab. Clients can try the fully functional system at no charge for 30 days prior to purchasing the software. As well as this, Opticare offers Optilink, an online ordering system which has been designed to simplify the ordering process.
Actually, it is Personal
According to George, the key distinctions between an independent optical lab like itself and a multinational, lies in its local proximity, attention to detail, and genuine client rapport.
"Our clients have told us that being able to communicate with the same person every time shows we genuinely care about our work and service is more customised. If you encounter a problem with your lenses or an order is running late in production, some of the bigger labs don't appear to care or it takes a long time to get a response, while the smaller independents can react instantly to resolve the problem."
George claims that while the standard multinational optical lab has a delivery and turnaround of up to one to two weeks, Opticare can produce a pair of Freeform lenses in around 24 hours; while a 1.67 transition, multi-coated Freeform design may take up to 48 hours – undoubtedly, a massive selling point.
"Using smaller, independent labs means your lenses are locally made, rather than internationally produced in Thailand or China. Therefore, if a prescribing error is made, a new lens can be dispatched locally, rather than from Asia, and at a fraction of the time. As we move now into a time of economic uncertainty, there is no better time than the present to support strong independents."
Seeing Positive Change Firsthand
Reiterating this notion, optometrists Terry and Greg Izzard, who own and operate two independent practices, one in Woy Woy and the other in Umina on the New South Wales Central Coast, are advocates of independent labs. Over the years they have had a string of negative business dealings with the larger multinational companies. These experiences have left them feeling increasingly frustrated, specifically in regards to the inconsistent level of service and delays in delivery.
"When we initially started out, we used a small independent lab, which was then bought out by another Australian-owned company, to be later bought out by a multinational U.S. company," says Terry. "Greg and I lost what I consider to be 'small talk' – we were constantly dealing with a bunch of different people and then fobbed off to another person whenever there was a problem, rather than having the familiar rapport of dealing with the same person on the other end of the line."
A three month delivery delay was the final straw for the Izzards, with overseas time delays beginning to impede on their business. In a bid to eliminate these difficulties, they struck up a working relationship with George Nasser and Opticare. Twelve months later, it's still going strong and they're not looking back.
"We find one-on-one service to be an absolutely integral ingredient of our business' success and we are happy to pay a fair price for an excellent product range," says Terry.
"While the prices of the overseas company were not particularly competitive, we were advised that in order to get a discount, we would need to go into a buying group and buy in bulk. Opticare is not only highly competitive with their prices, but also provide us with regular, up to date information on technological advances and developments. They even have a rep who makes regular visits to ensure we are satisfied with their service and to answer any of our questions. Try getting that sort of service with a company that's based off-shore," he says.
Terry remains cautious about the sustainability of multinational labs in the current economic crunch and believes the market may inevitably become bombarded with an increasing number of multinational labs down the track.
"Sometimes bigger is not necessarily better," says Terry. "The bigger they are, the harder they fall."
ARC OPTICAL LABORATORIES
Newcomer Arc Optical Laboratories, based in Western Australia, is a growing independent lab making rapid inroads in the local region, which until now, has been dominated by the big companies.
"While Western Australia probably has approximately 10 per cent of the national market, we believe it is an emerging area and gives us a good opportunity to fly somewhat under the radar initially, without drawing too much attention from the rest of the industry," says Gus Fernandez, Arc Optical National Business Development Manager.
"Geographically, we have a distinct advantage being two hours behind the Eastern States, as we're able to provide longer hours of service to these clients," he says.
Arc Optical long-term vision is to expand the business nationally. Since launching in May 2008, aside from being able to provide longer service times, they also provide their clients with "premium quality products, superior one-on-one service, and executing fast and reliable delivery every time," says Gus.
"Advantage-wise, being an independent lab manufacturing locally on-site, allows us the flexibility to respond more rapidly to our clients' needs to ensure we fulfil their expectations," says Gus.
State-of-the-Art Technology
Like Opticare in Sydney, Arc Optical also employs the state-of-the-art robotic Optotech Freeform machinery – ideal for labs needing to produce high-quality, Rxlenses with a minimum of stock costs.
"Our machinery is operated by some of the Australia's finest lab technicians. Freeform's flexibility enables enhanced lens quality, reducing lens adaption issues, and in turn, decreases production costs," says Gus.
The lab also features the latest robotic surfacing and polishing equipment combined with a Satisloh MC360 coating laboratory and Weco 950 industrial edgers with integrated drill function and fitting equipment.
"We're also currently marketing our Widevue lens. It's unique to Australia. Widevue gives up to 40 per cent wider fields of vision and up to 50 per cent less distortion. While we produce 9mm corridor lenses, at this point in time, Arc Optical has exclusively secured the 7mm design from Germany, which gives us an edge over our competition," says Gus.
Striving Beyond Expectations
Gus explains that flexibility to respond quicker to their clients' needs and expectations is paramount to their continued growth.
"We are fortunate to have effective international networking, and buying directly from casting manufacturers in Asia. This allows us to deliver superior quality, service and ultra-prompt delivery.
"Our integrated and seamless semiautomated online ordering system, Rx Office, will soon be fully-automated and Arc also employs a controlled production process, air-conditioned 'clinical' environment, and pressure-tested coating room," says Gus.
Next issue, in Part Two of our series on Independent Rx Labs we profile CR Surfacing Laboratory from Melbourne, Shaan Labworks from Brisbane and Precision Optics, from regional New South Wales.
FAST FACTS – Opticare
Principal / Director: George Nasser
Lab manager: Wally Zgheyb
Based: Sydney, Melbourne, Brisbane
Founded: 1984
Number of staff: 30
Equipment: Optotech; Satis Multicoating
Daily lens turnover: fitting – 230 to 300 frames; grinding -200 to 280 lens pairs
Key Clients: Albert Ravanello Optometry; Darren Browne Optometry; Murray Nagle Optometry; Izzard Optometry • Phone: (AUS) 02 9748 8777; (AUS) 03 9558 7318 • Email: info@opticare.com.au
FAST FACTS – Arc Optical Laboratories
Principal / Director: Matthew Robinson
Lab manager: Shane Dammert
Based: Perth
Founded: 2008
Number of staff: 15
Daily lens turnover: On application
Equipment: Optotech; Satisoh; Weco
Phone: AUS (08) 6253 0799
Email: admin@arcoptical.com.au