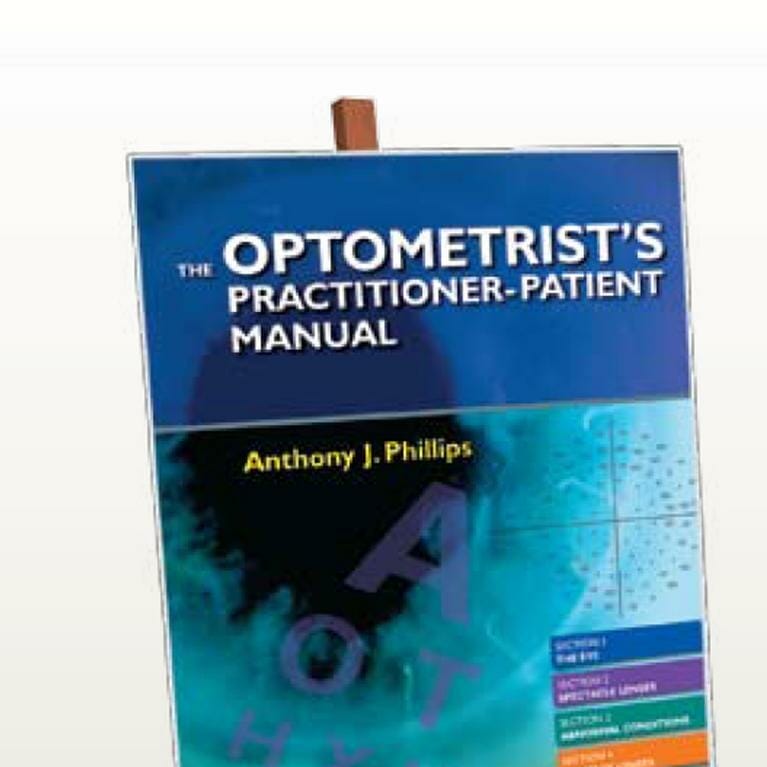 The Optometrists' Practioner-Patient maual has been designed for all optometrists who want to be able to show their patients simple, clear illustrations of procedures and conditions. Author Tony Phillips explains the reasoning behind the Manual and how it can help practioners
A successful optometric practice depends on a multitude of factors. Whilst a small percentage of patients will be motivated by cost, most look beyond the simple cost factor and will accept all the processes involved in a visit to their optometrist. In all aspects of this, expertise and communication are the over-riding factors.
In terms of the eye examination, it is of little value if a particular pathological condition is found, or a particular lens prescribed, if the patient does not fully understand what it is that the practitioner has found, or why they are advising a particular course of action.
Getting the Message Across
Some 15 years ago, I attended a lecture given by an educational psychologist on children's learning. In simple terms, he said that all of us are either visual, audio or kinesthetic learners (although many people are mixtures of these). Teachers who acquire a reputation of overall excellence with their classes are those who can get their message across to all three groups. This is, of course, now more widely accepted, but at that moment in time, this was an eye opener for me!
"For many years I have tried to supplement the verbal advice I gave patients with leaflets and, where appropriate, drawing sketches or finding pictures in text-books."
It struck me that most clinicians are, or largely are, audio learners. They have been to university and have learnt by listening to lectures. An audio learning optometrist trying to explain Fuch's Dystrophy, for example, to an 85 year old visual learner, is wasting their time. This can lead to confusion, misunderstanding and a patient who may well go elsewhere next time for a better explanation. All this coincides with a public who are increasingly demanding in terms of understanding their health problems and the treatment and risks involved.
For many years I have tried to supplement the verbal advice I give patients with leaflets and, where appropriate, drawing sketches or finding pictures in text-books. More and more I have found this to be a very mediocre approach and also very time-consuming.
Text book pictures are also largely aimed at the expert clinician and not to the lay person. Sketches can look very amateurish and may not be very clear. In the Manual, I have put together 250 pictures and diagrams relating to questions I am often asked, spectacles lens designs, common abnormal conditions, contact lenses, and binocular vision.
The aim is to simplify the explanation to the patient. Clear visual explanations, which can be supplemented by a verbal explanation tailored to the patient's interest, their intellectual level, and the time available. Wording on each page has therefore been kept to a minimum.
Although I have covered all the common conditions and questions that my practice career has covered, undoubtedly, colleagues will think of other areas of need or may be able to provide better diagrams or photographs. Please contact me!
PAL Designs
My aim is also to show the patient the different designs of PALs, their advantages and their limitations. Many patients have little understanding of the limitations of a progressive lens design let alone the differences in design and those prescribed for a specific visual task. Understanding all this makes for a significantly happy patient! Doing drawings of these, often once or twice every day over the years was one of the major factors that drove me to produce the Manual. However, we have a very high rate of PAL prescribing and a great many happy patients so it has been well worth the effort. Whilst manufacturers often produce their own leaflets, these are typically biased towards a single product and can rarely be found at the end of a busy eye examination.
The Manual also attempts to answer the commonly asked questions, such as, "What do you see at the back of my eye?"; "What do you mean by 6/6 or 20/20?"; What does my colour defective son see?", to name a few.
The Optometrist's Practitioner-Patient Manual is available from the publisher Butterworth Heinemann Elsevier, online at www.elsevierhealth.com, or at the OAA Bookshop.
Anthony J. Phillips, MPhil., FBOA, HD, FAAO, FBCO, FVCO, FCLSA, DCLP, Department of Ophthalmology, Flinders Medical Centre and The Women's and Children's Hospital, Adelaide, Australia.