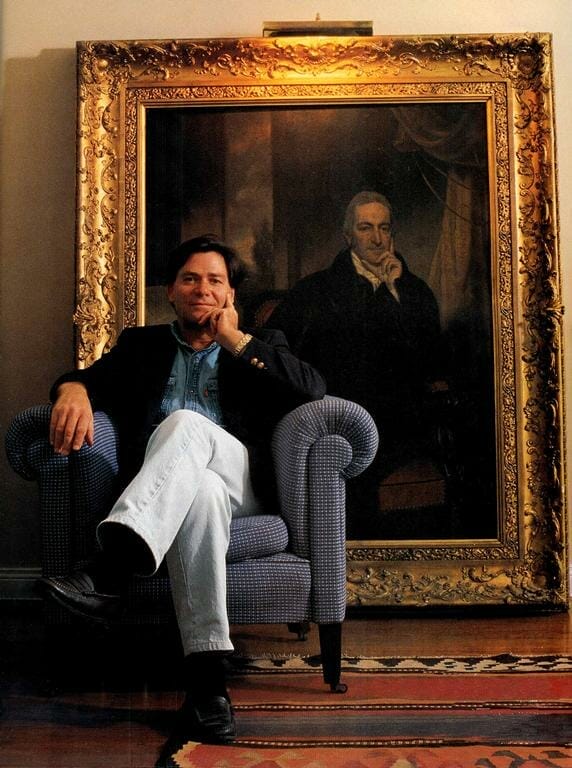 The name Jonathan (Jono) Hennessy Sceats is synonymous with Australian eyewear. He is to the Australian eyewear industry what the iconic Pop artist Martin Sharp is to Australian art.[/vc_column_text][/vc_column]
Jono Hennessy Sceats is passionate about Australian eyewear and design.
"Australian design has always been my passion," he says. "I believe through design, innovation and the exterior styling of products, Australian design can compete anywhere in the world."
His philosophy extends beyond fashion trends, he believes fashion's evolution comes from being excited by change, and managing this change. Jono is inspired, and his designs, fresh. People are drawn to his originality.
In the 1980s we had no design or marketing rules dictated to us by big brands – we just made and did what we liked and what people enjoyed being seen wearing.
Fashion Forecast
Jono Hennessy's introduction to design was inspired by the canvas of the Yellow House, the radical enterprise started by Sydney artist Martin Sharp in the 70s. This Mecca to Pop Art motivated many, now great Australian artists aside from Jono, including George Gittoes, Gary Shead, Bruce Gould and Brett Whiteley.
Jono dropped his Arts/Law university degree immediately and enrolled in art school, studying at night to become a commercial artist and designer. His father Filmer Sceats was also a great inspiration to Jono. Back then, his father, a well known Sydney optometrist, employed an optician who handcrafted bespoke optical frames for clients. It was from here Jono learned the technical side to eyewear design. Pop art and the Aussie surf culture served as his creative influences and he began designing optical frames and sunglasses.
When he started his company Jonathan Sceats Design (which he sold in the 90s), there were no international monoliths dominating the industry. This gave him the freedom to experiment.
"In the 1980s we had no design or marketing rules dictated to us by big brands – we just made and did what we liked and what people enjoyed being seen wearing. In doing that maybe we helped change the optical landscape in Australia," says Jono.
Jono's daring experimentation with colour and the quality of his craftsmanship has not gone unnoticed. He was appointed inaugural Chairman of the Design Council at the Sydney's Museum of Contemporary Art; represented Australia in the design section of the World Fair in Barcelona and the Powerhouse Museum in Sydney holds a permanent exhibition of his ground-breaking early work.
New Century, New Name
Wind forward the clock to this century and Jono launches a new brand with his same distinctive signature – Jono Hennessy. Launched at SILMO in Paris, October 2007; exhibited at MIDO in Milan last year and earlier this year at The International Vision Expo East in New York, Jono Hennessy and Jono's iconic style has been swept up by his proponents.
Jono Hennessy Eyewear is now in 20 countries and "having fun in some of the best stores in Paris, London, New York, Denmark, Finland, Auckland and Sydney," he says.
Jono Hennessy Eyewear came about as a result of a desire to create a new Australian brand that could stand up overseas, and also working directly with independent optometrists and dispensers who were frustrated with the offerings elsewhere.
"Jono Hennessy is a fashion forward brand, so the dispensers and optometrist can feel confident in answering the patient's question – "Is this frame 'fashionable'?" They know Jono Hennessy is an international fashion eyewear brand that is working with the coolest independent optometrists around the world.
"I can't explain it, but I'm very grateful. There have been a few ups and downs, yet people out there seem to want to be involved. I think they feel that there is an honest approach. It hasn't always been great, but everything we do we've always put our heart and soul into it."
At Odmafair Jono will launch a new high quality value brand called Carter Bond, which is a cheeky, irreverent character brand set in East London.