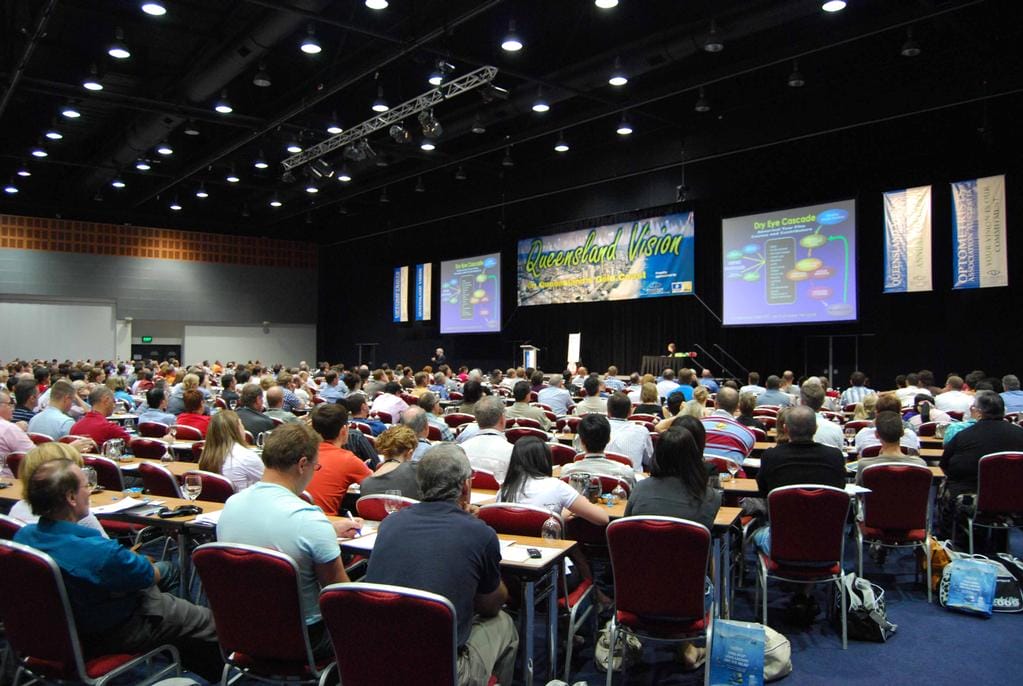 In a time said to be a global downturn in trade shows and seminars, Queensland Vision has surged ahead with a near record attendance of 600 delegates from Australia and New Zealand.
High profile presenters Dr. Bill Townsend and Dr. Rosemary Stanton were "smash hits" and all presenters were well received by delegates, according to post meeting surveys.
Accompanying the educational seminars was a strong exhibitor trade show that displayed the latest instruments, equipment, frames and lenses. Boosted by the Federal Government tax rebate, there was added interest in ophthalmic equipment exhibitors.
With the excellent location of Queensland Gold Coast and its attractions, many interstate optometrists chose Queensland Vision (QV) 09 as a time to get away with their family for a holiday as well. In fact, Greg Johnson, CEO OAA Qld & NT, said QV nowattracts more interstate/overseas delegates than Queenslanders.
Special mention must go to Ciba Vision for their Gala dinner at Movie World. Delegates and their families enjoyed a great show over dinner by Austin Powers, Elvis and Madonna whilst the Batman ride, the Superman ride, and the Shrek show were all fired up for our exclusive use.
Gold Coast optometrist Geoff Reynolds was debating with his colleagues about the merits of giving away a car at QV09. The money spent on the Holden Barina prize, he considered, might be better spent elsewhere. This comment was short-lived when his name was pulled out of the barrel as the winner of the QV09 Exhibition Passport Competition. The Holden Barina prize "is a bloody great idea", he said as he was handed the key to his new car.
[/vc_column_text][/vc_column]
Queensland Vision is fast becoming known as the "friendly" and "innovative" congress. Leading the way with many new ideas, QV09 organisers outsourced the production of the Congress Handbook to the publishers of mivision. The end result was a well designed, attractive and comprehensive congress handbook that became the guide for the show. QV09 was also the first congress to introduce a special exhibitoronly seminar. Presented by mivision and Shirlaws, the "Thrive not Survive" seminar provided invaluable advice to more than 70 exhibitors on trading and management during a recession.
Greg Johnson and his team did a fantastic job in putting the congress together. Many delegates would agree the event has the perfect blend of education, exhibitors and location, which makes QV09 the congress of choice for many optometrists in Australia and abroad.