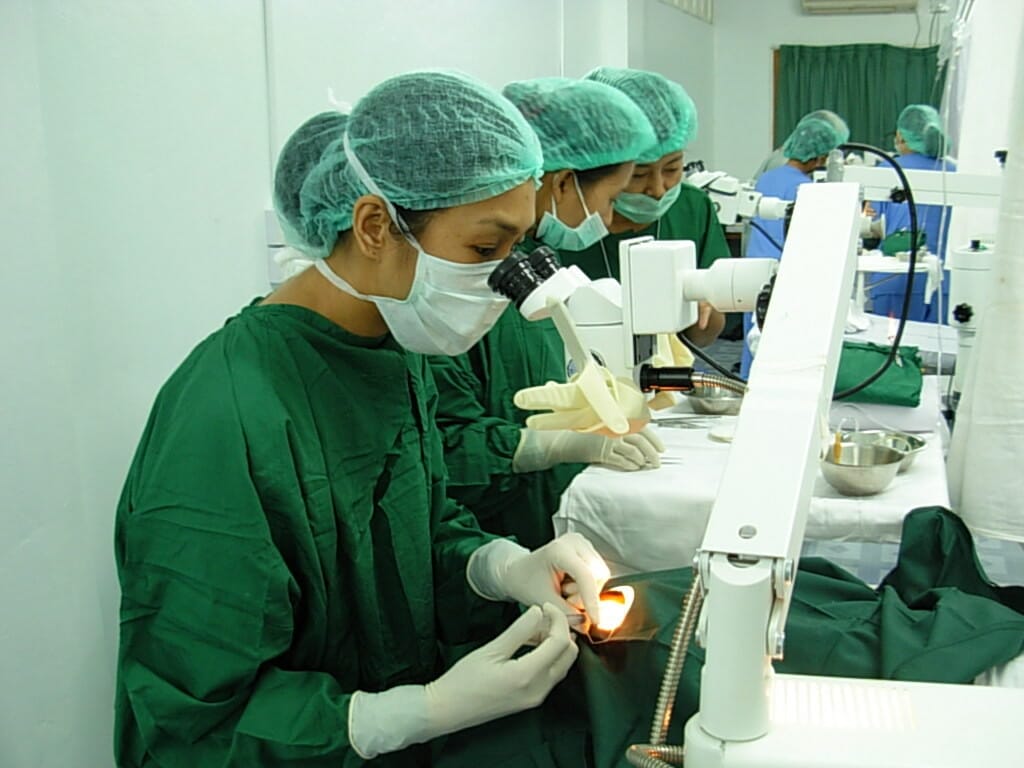 The eye care professions have changed markedly over the past decade or two. Medical science and technology has seen enormous changes and improvements in treatments and the gender ratio has also seen a marked change, with more women becoming eye health professionals. We talk to four such women, current members of the workforce… all part of the eye care industry by accident.
Dr. Leanne Cheung Ophthalmologist
Visionary Eye Specialists, Sydney Eye Doctors, Sydney NSW and VMO Outback Eye Service, Bourke
Leanne Cheung was a fifth year medical student at the University of New South Wales when the thunderbolt struck. She attended a lecture by visiting Nepalese ophthalmologist, Dr. Sanduk Ruit, who spoke about his work and showed slides depicting the outreach camps and the important work being done in eye health.
"His lecture touched me and it was then that I decided that's what I'd like to do. Nepal seemed an amazing country with beautiful images and its people were so in need of decent eye care that I decided to go over there and do my elective term with him."
Working and learning at these camps gives you an overwhelming scope of the differences in the levels of eye health between First world and developing countries
Having the opportunity to work with Dr. Ruit in a clinic in Kathmandu, Leanne had an opportunity to see what ophthalmology was all about – and she was hooked.
"Although it really appealed to me, I still wasn't 100 per cent sure until I returned to Nepal in 2000 and spent another six weeks there as a resident doctor. It was then that I was convinced ophthalmology would be my specialty.
"It made me appreciate what was being done by Dr. Ruit and how important proper vision is to mankind. As a student I could not properly appreciate that.
"Working and learning at these camps gives you an overwhelming scope of thedifferences in the levels of eye health between First world and developing countries," explains Leanne.
Leanne says of her time in Nepal, that despite her lack of experience and training at the time, her fluency in English attracted queues to her slit lamp consultations, boosting not only her skill, but her confidence.
When she returned to Australia, Leanne began working as an assistant surgeon for an ophthalmologist and in 2007, became a qualified ophthalmologist herself.
"The perception of ophthalmology from the student stage to the qualified stage is hugely different," she says.
Leanne also agrees that there are more and more women getting involved in eye health professions as well as other specialty medical services. "Certainly ophthalmology…if you look at the cohort now as compared to say 15 years ago – it is almost 50 per cent," she points out.
Today, Leanne specialises in general and ocular plastics in Sydney as well as the northwest region of Bourke, through the Prince of Wales Hospital's Outback Eye Service Programme.
"We run the clinics monthly and perform surgery twice a year at the fully functional clinic. There we treat patients with cataracts, lid cases, and diabetic management and general pathology. The programme has recently been getting referrals from the nearby town of Cobar, where we're seeing advanced stages of eye diseases in diabetics that would have previously gone unnoticed," says Leanne.
"Being in a team of two nurses, two ophthalmologists, an optometrist and registrar, is crucial to this type of work. To me, this environment is one that's similar to working in a hospital, which gives the balance of being an associate at private practices, in a more solo role."
Kellie Hegarty Optical Dispenser
Eyre Eye Centre, Port Lincoln, South Australia
Kellie Hegarty never dreamt of being involved in eye care. Like so many other young Australian adults, Kellie and her then boyfriend and now husband, decided to embark upon a backpacking trip to Europe before coming home to the small fishing town of Port Lincoln in South Australia and finally settling down in 2002.
"When we returned from overseas, I needed to earn some money, so I went around to various retail stores in town handing out my resume. I was actually looking for a job as a receptionist or salesperson," she said.
One of the retail outlets Kellie visited was the Eyre Eye Centre, as she was acquainted with the owners from a previous sporting association.
"They agreed to give me a job, but they didn't really need just a salesperson. They wanted me to train as a dispenser so I said 'why not?' I thought it was more of a career rather than just a job, so I enrolled in TAFE and here I am – an optical dispenser".
But Kellie is not just the run-of-the-mill dispenser. Although she didn't know it, she seemed to have been cut-out for the role – completing her course by correspondence, she won the NSW TAFE Course Prize and State Medal for Optical Dispensing.
"I consider the health/retail area to be a stable and reliable industry as well as a challenging one. I find it really rewarding in the sense that I am now helping the folks from my part of Australia and it is not just retail work, but has a medical aspect as well," she says.
And Kellie also agrees that more and more women are joining the profession, especially in her part of the world where the only three optical dispensers are in fact women.
Kellie's role involves cutting lenses, conducting optometrist pre-testing -involving retina photos and autorefraction, making frame selections, teaching patients the importance of contact lens cleaning techniques, and attending to reception work.
"Now that I'm qualified, I no longer feel like the 'rookie' of our team," laughs Kellie.
"I was always encouraged to persevere with my studies and after five years, emerged at the end of it with increased confidence and a clearer perspective of my role and responsibilities," says Kellie.
"Being a colour consultant, and working in a retail environment, it's also an obvious advantage to stay in touch with the latest fashion trends and news from Australia and overseas."
Kellie admits that although she has no future plans to work predominantly in the managerial side, the nature of the industry calls for regular skills maintenance and attending seminars and training.
"While the retail industry sometimes cops a negative beating, I actually enjoy the hours, seeing a variety of patients and making a positive difference in the lives of others," she says.
Stina Heath Optical Dispenser
Tim Duffy Optometry, Gunnedah NSW
It was 1994 when young Swedish woman Stina Heath arrived in Australia with her Aussie husband, farmer William Heath from Gunnedah in north-western New South Wales. She had been a most proficient high school student back home and had excelled in science, but as she says: "It was a very handsome Australian man I met in Sweden who brought me to Gunnedah and when I arrived, I wanted to get a job.
"There was an advertisement for a trainee optical dispenser in town, but I was already pregnant with my first of three children, so I couldn't apply for the job."
As fate would have it, Stina had just given birth to her third child when the job came up again and this time she could not resist and she decided to give it a go.
"I approached them and said 'I'm not trained, but I'd be happy to learn … what do you think?' and they said 'yes' and I got the job," Stina explains.
That was almost four years ago and the girl from Sweden not only balanced a young family and household chores, but worked for the local retail optometrist while studying dispensing by correspondence. In fact, as mivision went to press, Stina completed her final exam with a result of 100 per cent!.
"My youngest son is not at school yet and he's halfway through the course himself," Stina jokes.
Stina says she's well aware of the importance of her work in one of the more isolated regions such as Gunnedah, a town with a population of just under 13,000 people.
"We do our best to meet everyone's eye care needs in Gunnedah because there is no option unless you are prepared to travel more than an hour to Tamworth.
"We see detached retinas and children with really high prescription glasses; we have to be prepared to deal with anyone and everyone out here. It's very rewarding when someone comes in and says: 'those glasses or those contact lenses saved my life'."
Living and working in Gunnedah, where Tim Duffy Optometry is the town's sole optometry practice, Stina also sees patients in the nearby town of Coonabarabran, which houses a small office catering for those in isolated regions.
"We deal with patients of all ages, nationalities and with a range of needs and wants. Being open-minded and prepared to deal with whatever circumstances are thrown at you is part and parcel of my daily work," says Stina.
"I've found that patience and an eye for detail is one of the most important requirements. There's simply no room for error when you're managing another person's health.
"Putting a pair of glasses onto a child who is then able to see clearly for the first time is so rewarding. From having first-hand experience of the vulnerability one can feel as the result of not having perfect vision, it's empowering to help give this gift to another person."
And yes, there are more women getting into this field, as far as she can tell because: "I think it's like nursing … the need for that little extra bit of compassion and understanding".
Ritcha Fulwaria Optometrist
OPSM, Castle Hill, New South Wales
Ever since she was a small child, Sydney girl Ritcha Fulwaria wore glasses. Ritcha suffered from myopia and had to make regular visits to the optometrist, but little did she know back then that she would become an optometrist herself.
When she graduated from high school with outstanding results, particularly in science, Ritcha was in a predicament. She could enter almost any university course she wanted, but what to choose?
"I began discussing my future with my mum. I couldn't decide whether to try medicine, law, pharmacy, physiotherapy or something like that and that's when my mum came up with optometry. She thought it would be good for me because it involved a little medicine, a little science and it was something in the business world which would still give me a normal work life in a residential area.
"I was reminded of the many times I used to visit the optometrist and I thought 'it's a very good profession…I'll give it a try'," Ritcha explains.
During the second year of her four year Bachelor of Optometry degree at the University of Sydney, Ritcha says she was able to put her theoretical studies into practice, while working part-time as a dispenser at OPSM.
"Being in a retail environment gave me good exposure to that side of the job, which I otherwise wouldn't have experienced until completing my degree. It helped me learn how to deal with patients, but I didn't really do any of the clinical work then."
According to Ritcha, her biggest hurdle from university to full-time optometry in 2007, was learning to rapidly, yet thoroughly, reduce patient consultation times from two hour appointments to 30 minutes.
"Practice improves your communication skills and the ability to build rapport with your patients. Without confidence or support from your colleagues, it can stop you from performing at your optimal ability," says Ritcha.
During a consultation on an 85 year old patient who hadn't been tested in a decade, Ritcha located a tumour and immediately referred her to an ophthalmologist, who then referred the patient to a cancer specialist.
"Fortunately, the tumour was removed in time; so essentially, I saved not only this woman's eye, but her life. That's an overwhelming experience for a new graduate, but it also gave me confidence to realise I'm doing my job to my best ability. It's a feeling I want to consistently experience throughout my career," she says.
Ritcha says optometry is becoming more attractive to women because "it's a nice, clean profession … a good job with no poststress and there's the flexibility of choosing your work hours if you have a family".
"Also, there's a sense of satisfaction because people thank you so many times during the day".
Ritcha plans to study therapeutics this year and eventually locum in rural Australia to see the differences in eye care, and to later perform pathology or behavioural optometry.