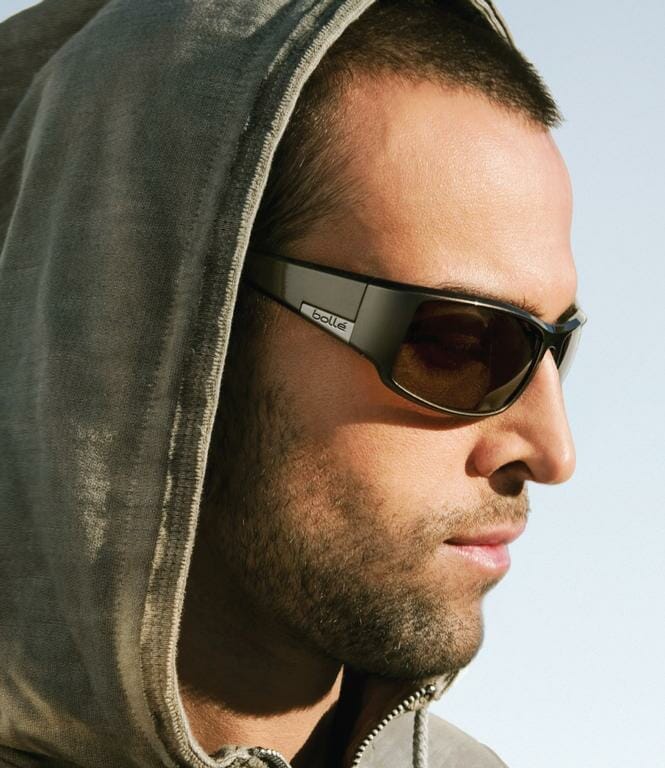 …for sport, for life, for anything
The Bollé brand is constantly refining their trademark combination of fit, fashion and comfort. One of the eyewear's world's longest established brands is far from resting on their well established laurels.
The Bollé story can be traced back to the year 1888, where, in a small town in France, called Oyonnax, the entrepreneurial Georges Bollé saw the opportunity to manufacture eyewear using a celluloid as the basis for the product. Since then, Bollé has been known to produce some of the most technologically advanced eyewear in the industry. From their premium sunglasses to optical frames, ski goggles through to safety eyewear, Bollé continues to inspire and delight wearers with their sports lifestyle eyewear.
[/vc_column_text][/vc_column]
"The brand maintains an enduring popularity and respect among elite athletes around
the world including six time PGA winner Sergio Garcia; snowboard Olympic gold
medallist and World Champion, Seth Wescott; as well as the two of the best aerial
skiers in the world – Alisa Camplin, Jacqui Coopers and Lydia Lassila."
Fiona Marty, the National Marketing Manager of Bollé Australia says the success of the brand not only lies in their designs and extensive research and development, but also in their marketing:
"Bollé marketing has always had a mix of sports and lifestyle with a touch of controversy. Bollé as a brand is synonymous with delivering the ultimate in protection, performance and discerning style."
For Sport, For Life
Aside from the history, Bollé sunglasses provide athletes with both function and style in the competitive arena.
The brand maintains an enduring popularity and respect among elite athletes around the world including six time PGA winner Sergio Garcia; snowboard Olympic gold medallist and World Champion, Seth Wescott; as well as the three of the best aerial skiers in the world – Alisa Camplin, Jacqui Coopers and Lydia Lassila, to name a few.
Where extreme conditions and demands are the norm in marine sports, skiing or even tennis, Bollé provides protection from the elements and offers some of the most performance-enhanced sunglasses in the world.
Tech Specs
Proving that they have more than earned their outstanding reputation, Bollé offer several features in their frames that in unison provide a fashionable frame with a comfortable fit.
Frame technology
B-88 Frame: by only using the finest grade nylon available, Bollé manufacture frames that are extremely strong, yet lightweight and flexible.
Adjustable nose pads
These can be tailored to fit the nose perfectly, keeping the frame securely on the face.
Wire-core temple tips
In addition to adjustable nose pads, adjustable wire-core temple tips help increase comfort by letting you customise the fit.
Thermogrip
Bollé's Thermogrip rubber temples and nose pads offer moisture-absorbing properties which ensure comfort through solid yet soft adhesion at all times.
Spring hinges
These integrated spring hinges have been designed to exacting standards, allowing the right amount of tension for a secure and comfortable fit.
Microfusion
Exclusive to Bollé, this manufacturing process injects molten metal alloys into custom moulds, providing highly precise frame styling and design. This process is also used on their machine-stamped and hand-finished frames.
Lens Technology
B-20.3 polycarbonate lenses
Made from lightweight, premium-grade resin 20 times more impact resistant than glass and three times lighter, their polycarbonate lenses are safe and virtually shatterproof.
Additionally, as the colour is embedded throughout the lens, as opposed to a tinting process, it remains optically correct and will not peel or scratch off.
Modulator lenses
The modular lenses have been formulated to change from light to dark in mere seconds via their patented Active Cell Technology. This breakthrough technology works on a molecular level to provide optimal eye protection, performance and comfort for any light condition. As with Bollé's lens colour, their photochromic technology is embedded within the lens, under a highly protective hard coat, ensuring that it will never wear off or wear out.
Premium injection moulded polarised lenses
Addressing the single most dangerous aspect to driving in varied light conditions, Bollé has managed to address the issue of vibrating and radiating light, which when reflected, scatter or refract the light, causing it to polarise.
Bollé's polarised lens filters serve to organise the chaotic light coming through the lens and compensates for this occurrence by eliminating glare and visual discomfort.
Anti-reflective carbo glass coatings
Bollé's research states that glare not only comes from the front of the lenses, it can also be a problem on the inside of sunglasses. To counter that, they have put a scientifically engineered coating on the back of most of their lenses to reduce eye strain. The propriety, industrial-strength coating is applied to both sides of the lens to protect against scratches.
Bollé is an established and recognised brand with an extremely loyal and strong customer base. Their extension into optics, and more recently kids, provides customers with a good range of options.
Athletes Wearing Bollé
Bollé is a proud sponsor of many athletes and athletic organisations. There are a number of world class athletes sporting Bollé's protective eye gear:
Cycling: Kerrie Meares
Freestyle Aerial Skiing: Alisa Camplin, Lydia Lassila, Jacqui Cooper, Liz Gardner, Amy Sheehan, Lyndon Sheehan.
Freestyle Mogul Skiing: Ramone Cooper, Robert Lovick, Michael Robertson.
Golf: Sergio Garcia
Ironman Surf: Shannon Eckstein
Motorsports: Kevin Harvick, Jeff Burton
Slalom: Ben Griffin.
Snowboard: Seth Wescott, Andrew Burton, Ben Wordsworth, Ryan Gardiner, Steph Hickey, Johanna Shaw.
Surfing: Sunny Garcia, Jamie Sterling
Triathlon/Ironman: Chris Legh
Volleyball: Tamsin Barnett, Brett Richardson, Kerri Pottharst, Andrew Schacht, Josh Slack, Peter Jones, Brendon Heath, Greg Lindsay-Brown
Wakeboard: Scott Green
Sharon Smith is mivision's fashion writer. Her eyewear columns in Australia and New Zealand have become a 'must-read' for both fashion-forward optical retailers and fashion editors.