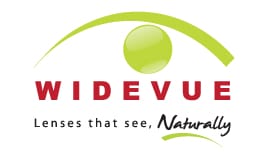 The Widevue lens is precision crafted using in-house German developed, intuitive calculation software that creates a lens design uniquely for the wearer, based on their prescription. The technology is called Freefocal.
The Widevue lenses mimics natural vision incorporating Lifestyle assignment; Thickness optimisation (weight reduction); Fitting the feld of vision to the selected frame; Workplace related power assignment; Frame related decentration in X and Y (adjustment to inter-pupillary distance and frame shapes); Special ftting needs for spectacles with a large horizontal inclination angle (sports eyewear); Ease of wear for beginners and Aesthetic optimisation for strong minus lenses (lenti).
Widevue lenses come in corridor lengths of 7mm, 9mm, 11mm and 13mm to ft any frame size.
For further information about the Widevue lens contact Arc Optical on: 08 6253 0777 or: www.arcoptical.com.au
[/vc_column_text][/vc_column]